200+ zipper pouch sewing patterns
|
All posts may contain affiliate links.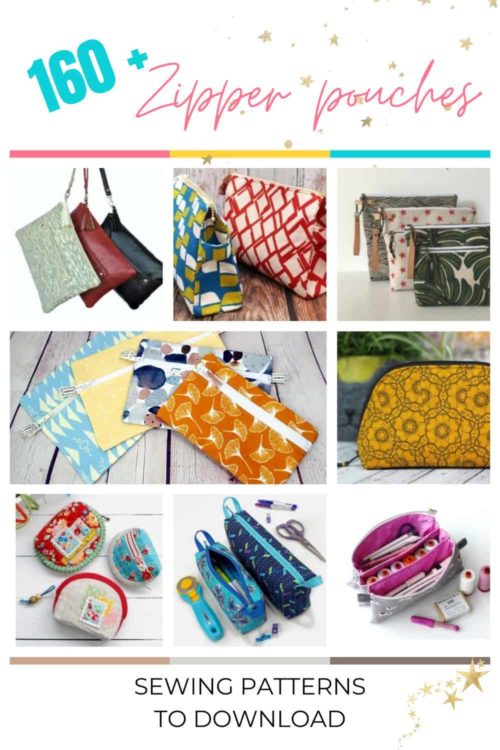 Please save and share this awesome list of zipper bag sewing patterns by Pinning these images to your Pinterest boards, or sharing this post in your Facebook sewing groups.
The zipper bag or zipper pouch is one of the first sewing patterns we master when learning to sew bags. It may be our first time sewing a zipper or it may be the type of pattern we sew again and again to try different techniques to get the perfect zipper ends that look neat without being 'dented in.'
Endlessly useful for storage of all of our small bits and pieces, the zipper pouch sewing pattern comes in a dazzling variety of styles. Some may be simple and plain, practical and used every day. Some may be more elaborate with applique, quilting, fancy fabrics, or lacy zippers. Some tiny for use as coin purses, some flat for smaller items like pens, pencils or brushes, some that stand up on a flat bottom for cosmetics and toiletries, and some with a variety of zipper pockets inside and out that can be carried as clutch bags and wristlets.
No matter how simple or elaborate, we all enjoy sewing these essential zipper bags, and using them every day.
So enjoy our HUGE list of zipper pouch and zipper bag sewing patterns below. More than 100 [NOW UPDATED TO MORE THAN 200+] and growing. Click on the image to go to our article and read more about the pattern.
Before you go to the list, can we ask for a favor. With 1700+ patterns featured on the site now, it is a never-ending job to keep checking all of the links to make sure all of the downloads and tutorials are still 'live' and available, and blogs haven't closed. If you find a broken link or pattern that is no longer available, please let us know in the comments below. Thank you.
Zipper pouch sewing patterns