Card It Card Pouch FREE sewing pattern
|
All posts may contain affiliate links.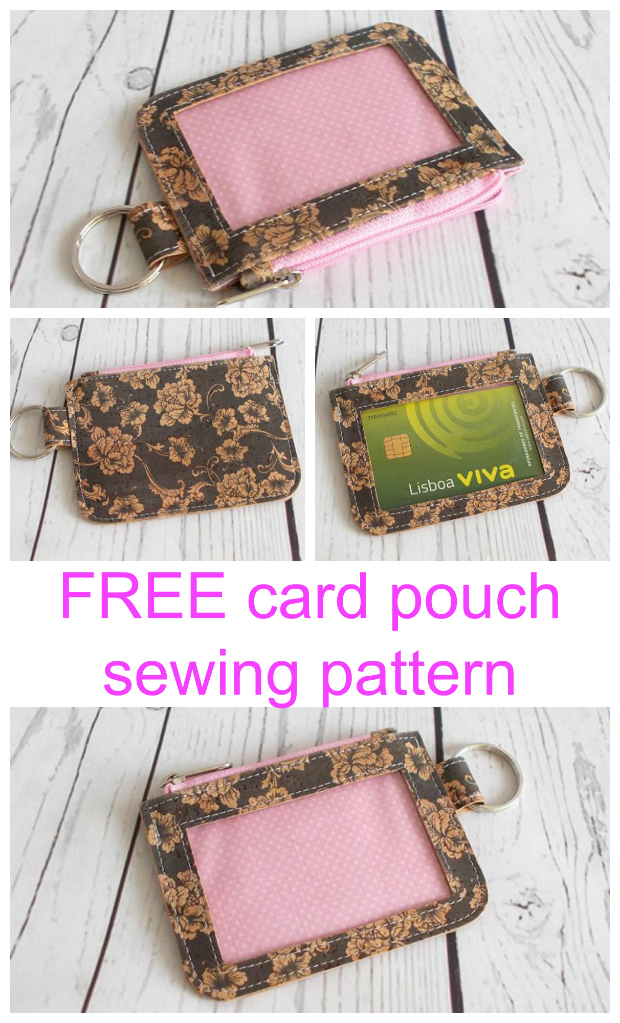 The free sewing pattern for this little card pouch has one pocket/divider on the inside and it closes with a zipper. It also has a split ring so you can put your keys on it, or you could add a lanyard.
We can all make use of a small zipper coin purse either for coins, or for other small bits and pieces to keep organized in our main purse. This cute one has a divider pocket on the inside (notes on one side, coins on the other perhaps). The clear pocket on the outside allows you to store a bus pass, an ID card or your work pass.
The little purse can be sewn with a ring to allow you to hang it off your keys, snap it somewhere safe and easy to find inside a big purse or handbag, or to hang it from a lanyard.
This card pouch has RAW EDGES, so it should be made with non-fraying materials like cork fabric, kraft tex, felt, vinyl, leather, etc..
When you have finished making yourself a Card It Card Pouch it will measure approximately 3 1/8″ high by 4 1/2″ wide.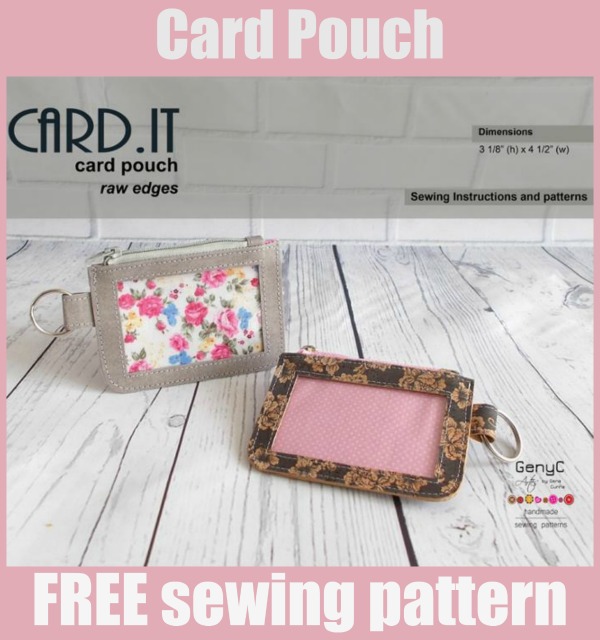 What you will need to make a Card It Card Pouch:-
This pdf downloadable pattern and instructions are easy to follow and suitable for beginners. It has ten pages with detailed instructions, fully illustrated with colour photographs and real size pattern pieces.
Click here for the free pattern
Liking this free pattern? Great! You would make our day if you 'bought us a coffee' to help with the site running costs. Thank you.

GenyC Artes is so generous for offering this free pattern for you to sew. Don't forget that all of these freebies are offered as a "try me" in the hope that you will like their patterns and go on to try a paid one. GenyC Artes always offers beautiful bags to sew. You can find a selection of them below.
Want more wallet sewing pattern ideas?
If you love sewing wallets but this one isn't quite right for you, then don't worry, we have LOTS more wallet sewing patterns for you to choose from. Check out just a few from our selection here.