How to store, organise and backup your digital sewing patterns
|
All posts may contain affiliate links.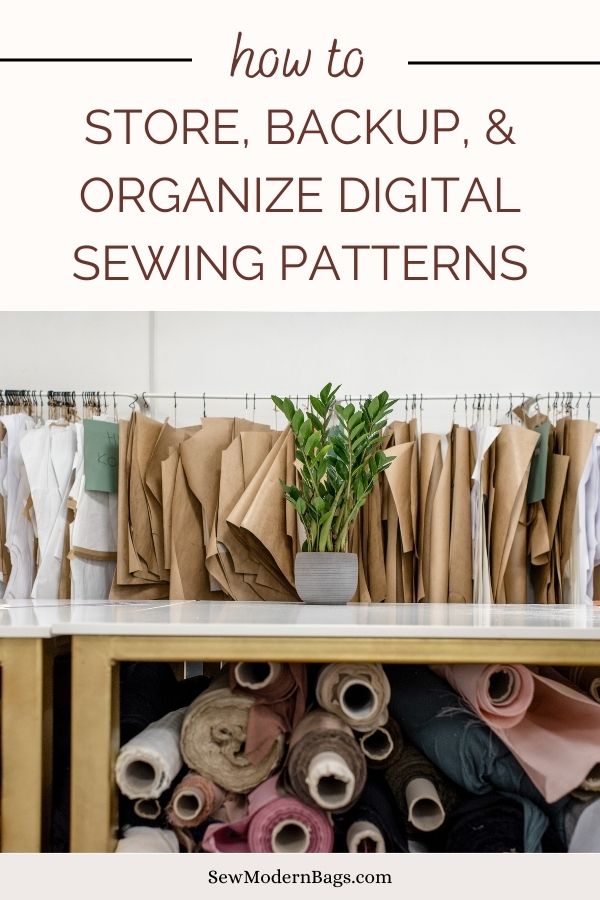 Let's think about different ways you can store, organize, and backup all of your digital pdf sewing patterns so they are safe, and easy to find when you are ready to sew your bags. We will look at online and offline options for saving digital files.
Have you ever bought one of our Big Bag Bundles? We run this very special sale twice a year. It's such awesome value, 20+ patterns at a very special price, but with all those exciting new designs you won't be able to sew all of those patterns right away. So you'll want to download all the files and keep them safe somewhere.
But how do you store, organize and keep those digital sewing pattern files safe to use later on? There are a number of options and you don't need to only use one. It's better to use more than one option for 'redundancy' and backup just in case something goes wrong. Let's look at some of the many available options.
Your cell phone is NOT ideal for storing your sewing patterns
With phone screens being too small to really see pattern instructions in detail, and usually responsible for not printing patterns to the correct scale, we don't ideally recommend them for storing your sewing patterns for the long term.
Lose your phone – lose your patterns. Download to your phone when you buy, sure, but then transfer the files to somewhere for safer storage.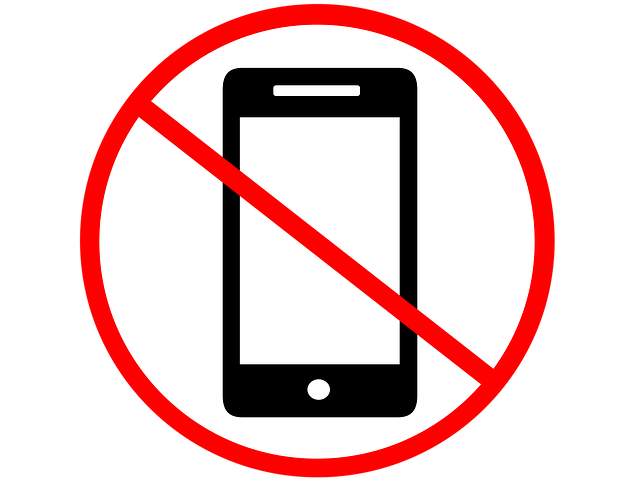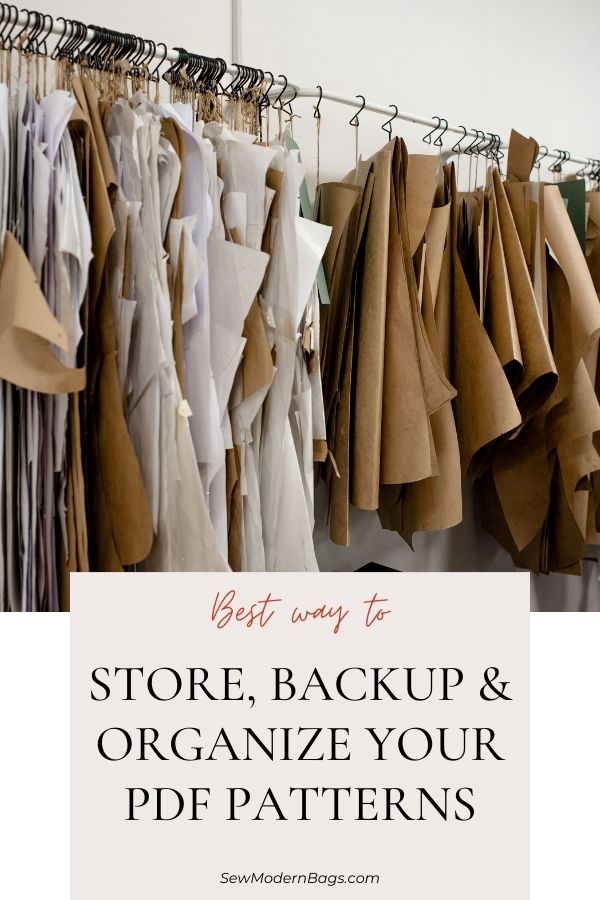 Options for storing, organizing, and backing up your digital sewing patterns
1 – store them on your computer/tablet hard drive
The first and most obvious place to keep your digital files is on the laptop or tablet where you downloaded them. You can save your patterns into various folders to organize them (more on that below). They are available immediately to click and open right there to follow the sewing instructions. And your laptop or tablet may already be linked to your home printer so the pattern pieces can be conveniently printed out, if you need to.
A tablet is a great option for working with sewing patterns. A screen large and bright enough to see the photos and instructions clearly but without it being bulky and heavy like a laptop. Good battery life, lightweight to carry around and use in your sewing space. Works well for downloads and printing too using the free Adobe Reader app.
All good. Until something bad happens and your device suddenly won't turn on, or you drop it and it breaks, or something gets corrupted and you lose the files, or even worse, if you have a break-in and your device is stolen 🙁 Now all of your digital files are gone too. That's why we are going to look briefly at backing up your files later in this article, so that you have a second copy if the worst happens.
But to start with, this is your most immediate and obvious answer for where to store your digital files.
Pros – immediate. Store the file where you downloaded it. Can open and print without looking elsewhere for a file. Files can be sorted into folders. Tablets are great to use for following along with patterns and instructions as you sew.
Cons – data can get lost or corrupted so this should not be your only option. Always consider backing up your files with one of the alternative methods below.
2 – store them online with DropBox (or other cloud storage)
Cloud storage is a great idea for sewing patterns. We use DropBox. It's free up to a certain amount of storage, most likely enough for all of your precious sewing patterns and more.
Create a login, upload the files, save and organise them into folders as you like, and then they can be accessed from any device at any time. So if your laptop or tablet fails or is lost, all of your files are still there saved in DropBox, and you can get a new device, login and download them as needed. Easy!
If you download files to your phone, this is probably the easiest option to then login and send them to dropbox, without having to try to connect any external device.
Note – We prefer DropBox over Google Drive – we had a google account suspended once and lost all of our content for no reason. There is also no customer support from Google in the event of any problems, so DropBox has been much better for us.
Pros – free of charge, secure cloud storage, accessible from anywhere.
Cons – Limited amount of storage on the free plan, but it should be enough for most sewers. None other that we can think of.
3 – store them on an external hard drive
An external hard drive is often used for file storage and backup. It plugs into the USB port on your laptop and can be used to either move files back and forth or to copy them. So you could have the original that you have downloaded on the laptop, and then copy the file across to the external drive as a backup.
Or if disk space is limited on your laptop, move the files across to the external drive to keep them there and free up laptop space. An external drive is easy to use, portable and affordable and they have a LOT of space which means you can buy a lot of great sewing patterns, in our pattern shop for example (wink).
You can also choose to password-protect the drive (or some of the folders) just in case you should lose it, but if only using it to save your sewing patterns, there's no need to do so. TIP – get a solid state drive. They are very fast and reliable.
Pros – affordable, easy to use, and convenient. Lots of storage space. Very mobile. No need to remember a password. Reliable.
Cons – a bit more expensive than the following option, but still good value for the amount of storage space.
4 – store them on a thumb drive/flash drive
A thumb drive, sometimes called a flash drive or a pen drive, is a tiny hard drive for storing your files. It slides into the USD port on your laptop and you can copy files from your laptop onto the drive for safekeeping. You can make folders and subfolders the same way you do on your laptop.
It's very easy to use, cheap to buy, doesn't take up much room and they are very reliable. I've had one go through my washing machine on at least 3 occasions and it still works just fine. Yes, hubby uses one at work and keeps it in his trouser pocket…and then washes his trousers with it still in there.
The drive or folders can be password protected if you like.
You can even get cute sewing themed flash drives, or fun designs, so you will be absolutely sure which thumbdrive contains your sewing patterns. Check out some of these pretty ones.
Pros – very affordable, easy to use and convenient. Very mobile. No need to remember a password. Reliable.
Cons – small, you might lose it or forget where you put it. Not so much storage as an external hard drive.
5 – print them out and file them
We know there are some of you who prefer the print and file method and it's a great way to see what patterns you have, and have them immediately available should the desire come to you to sew. No need to look for the file and print it off. It's ready printed, instructions and pattern pieces. Pull out the sheets and off you go!
In the event that all of the other methods should fail you, or you are away somewhere without your devices, the paper pattern is king! Great to take on vacation or to a friend's house for a little sewing away from home.
You can get all sorts of filing solutions to help you keep the files sorted. We like to use the expanding file folders with the tabs and labels.
Pros – no electricity needed! Easy to flick through (unless you have a lot of them), instantly available, and already printed.
Cons – can take up a lot of room and it's not always easy to organize unless you have a good filing system. Printing all the instructions can be expensive if you don't really need them in paper form.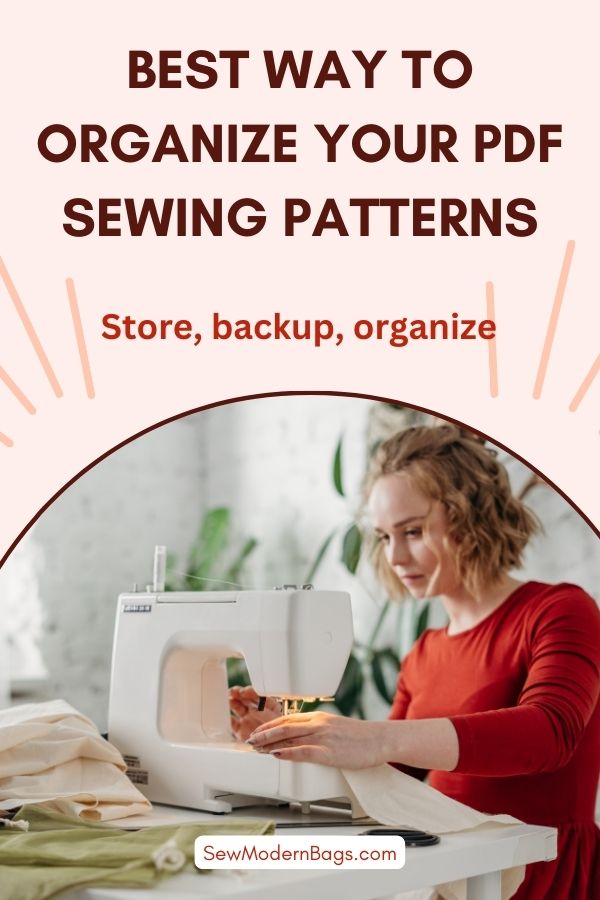 How to organize your pdf sewing patterns
So now you have somewhere to save all of your patterns, how do you organise them. Well that depends. How many do you have – a couple of dozen? Just keep them all in one folder called Sewing Patterns, and sort them in alphabetical order. With only a few you can scroll through to find the pattern you need.
More than a couple of dozen? Maybe you need to think about how to organize them to make the one pattern you are looking for easy to find. How you decide to do it depends on what patterns you buy…are they all just from a handful of designers? Are they just a few types, i.e. crossbody bags and zipper bags? Do you have a lot of free ones you want to keep in a different folder?
Here are some ideas for how you might save and organize your patterns
By designer
Alphabetical by name
In folders according to pattern type, i.e. crossbody bags, clutch bags, wallets, etc
Keep free patterns in a separate folder
Save them by complexity or sewing time, i.e. quick sews, easy patterns, scrap-friendly, intermediate designs, complex bags
Organize potential sew to sell into a separate folder
Have a folder according to intended use, i.e. gifts to sew, stocking stuffers,
According to future plans, i.e. projects completed, next projects to try, longer term future projects
Or any and every combination of these.
So now you know where to save your patterns and how to organise your patterns there is no reason not to buy more! Happy sewing.