How do I download a pattern I bought on your site?
There are a number of ways to download your purchase:
Download immediately after purchase. Watch out for the DOWNLOAD HERE link just after you've paid. (Best way to get the pattern)
If you miss downloading when you bought the pattern, you'll get an email receipt. That receipt includes a DOWNLOAD HERE link. Click the link in the email to download.
No longer have the email? You can access your account at any time to find download links. Go to MY ACCOUNT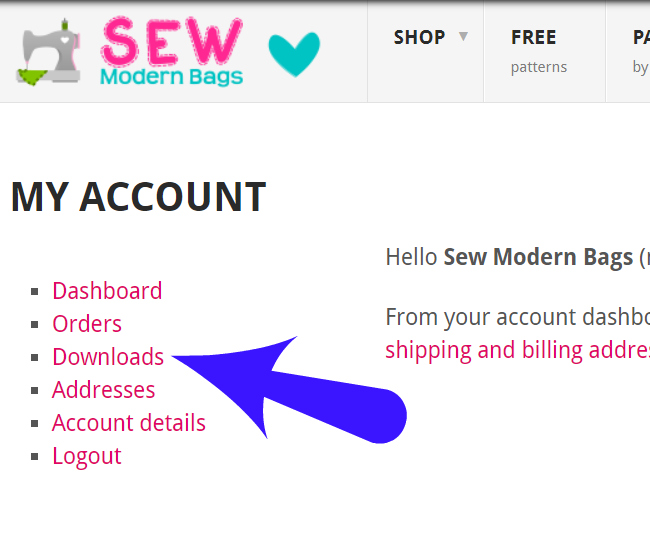 I don't use PayPal. Can I pay with a bank/credit card?
Yes, you can pay with your bank card if you don't have a PayPal account. We will still use PayPal to collect and process your payment for security (your payment details are never passed to us) but you can still pay without having or opening a PayPal account. Here's how…
On the checkout page, click the PayPal button to begin the checkout process.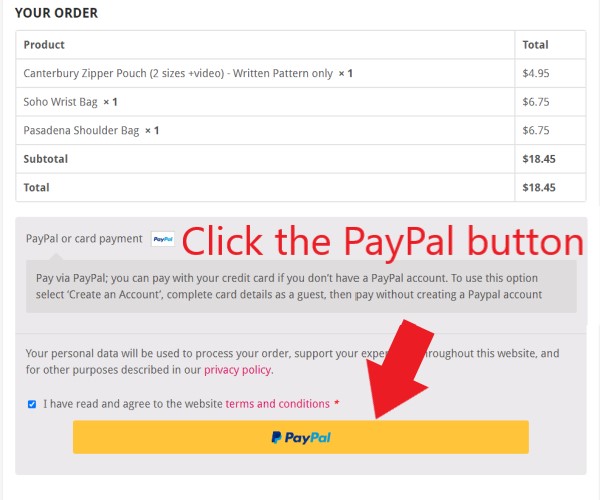 A pop-up box invites you to Log In to PayPal or to Create An Account. (Or you MAY see the option to Pay with Debit Or Credit Card depending on your location.) Click the box to Create An Account – but don't worry, you don't have to do so.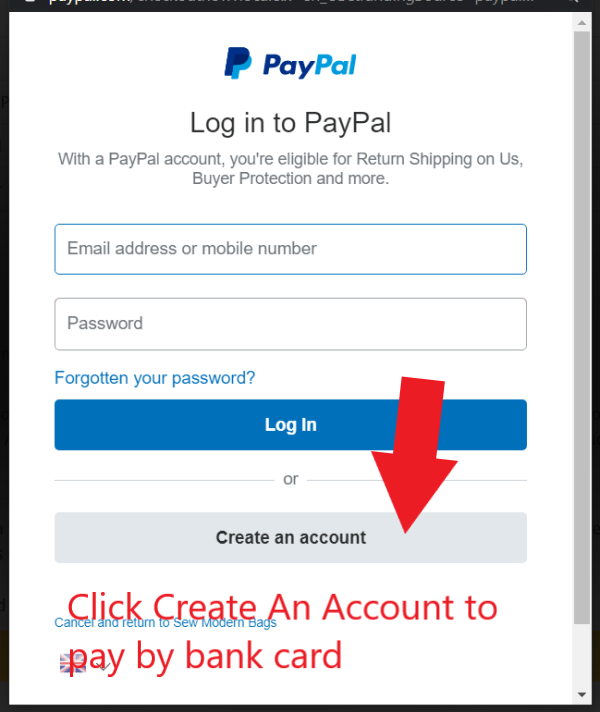 The text at the top confirms you are checking out as a guest (without a PayPal account). Complete your card details, your name, address, phone number etc to authorise your card payment. None of these details will be passed to us for security reasons.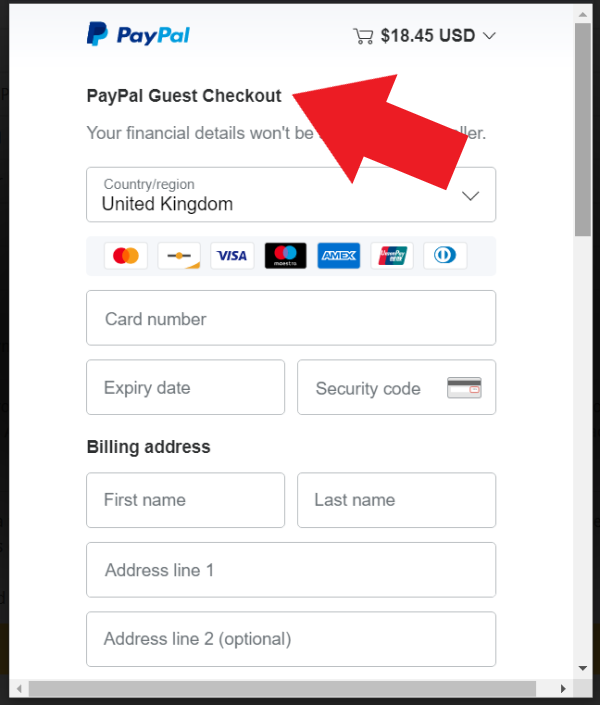 At the bottom of the page, click to confirm that you do not want to set up an account. You still need to give your email address so that you can receive a receipt for your payment, but no account will be set up for you.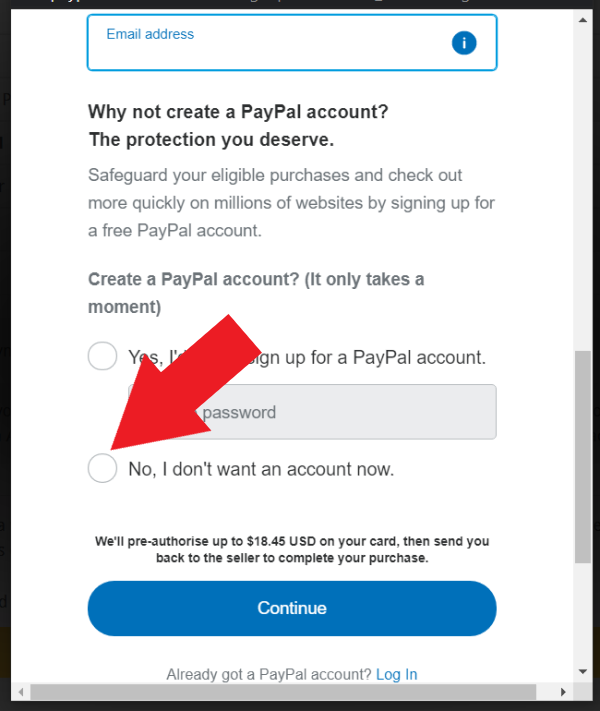 You will now return to the Sew Modern Bags site to download your pattern. This may take a little while as your payment is processed and authorised so please wait for the download page to load.
I've forgotten my login or password.
When you make your first purchase from Sew Modern Bags, you are sent a confirmation of your login details which includes the email address you used, and a randomly generated strong password. You can save this email for later. (It may have gone to your spam or junk folder so check there first.)
If you no longer have the original email and have forgotten your password, go to MY ACCOUNT and if asked to log in, use the LOST YOUR PASSWORD link on the login page to reset it. Enter your email to reset your password. The password reset email MAY go to your spam or junk folder.
How can I change my password?
You can change your password as one of the options on the MY ACCOUNT page. Click where it says 'edit your password'.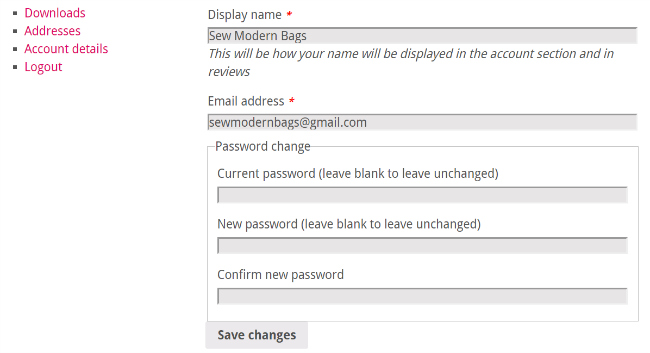 When I open the pattern it's a jumble of weird symbols!
Don't panic, it doesn't mean that the download hasn't worked properly. It's much more likely that your device is trying to open the PDF file with the wrong sort of software. All of our downloads are PDF files and we recommend using the (free) Adobe Reader to open them. You may also just need to update your PDF reader to the latest version. Download or update Adobe Reader here.
This problem is much more common when trying to open a sewing pattern on your cell phone. Phones are just too small to be able to use sewing patterns really, and almost certainly won't print the pattern pieces to the correct scale. We recommend using a laptop computer for best downloading, opening and printing results.
I've downloaded the pattern but I can't find where I saved it
It happens much more often than you'd think. You aren't alone. Again, cell phones aren't the best for this so if possible we recommend using a laptop computer for downloading and printing.
It's really difficult for us to advise you on where you might have saved the download. Look on your device for these sort of folders -> Files or Downloads or Saved Documents or Gallery. If that doesn't work, try searching for the document by name of the pattern i.e. Sofia.
If you still can't find it, try downloading on another device (laptops are usually easiest) and it might be easier to track it down there. (See above about how to download patterns if you need help.)
I'm having trouble printing a pattern.
We've all been there and totally understand how frustrating this can be. Here are a few tips for you:
Check out this very useful tutorial that will help you with printing issues and includes a video how-to. How to Print PDF Sewing Patterns.
Usually, patterns will be in a PDF format.  These can be opened in your browser but this can often be the cause of printing problems.  Best to save the PDF file to your computer and open it with Adobe Reader, which is free.
If you have an older version of Adobe Reader, older than the pattern was created in, then that also might cause printing issues.  You can download the current version here.
Check your print options in the preview window before printing.  You should NOT select any scaling options, centering, or fit to page.  Check that scale is at 100%.  Preview the pattern in the window before printing.  Does it look OK in the preview?
Many patterns will come with a test square that is a set size.  Print that page first and check the measurement of the test square before wasting paper and ink printing the whole pattern if your settings are off.
If you are really stuck, you can usually email the file to a friend and see if they have more luck.
Or try printing at your local library or give the file to your stationery store and ask them to print at 100% scale.  They can often print these files for you at very low cost.
If all else fails, try contacting the pattern designer and asking for help.  It might be something they have come across before and can advise you on how to print correctly.
I don't understand the sewing instructions. Can you help?
We don't personally design any of the patterns we recommend or sell so we aren't best placed to help if you get stuck. Ideally, you would contact the original pattern designer or the blogger who wrote the tutorial. There may be contact details within the pattern itself, or you may be able to contact them via their Etsy store page, Facebook Group, or via their website. Look out for a Contact Us page on their site.
Why aren't all the patterns free?
Most of us need to earn a living or be rewarded in some way for our time, and pattern designers and sewing bloggers are no exception. We will always share free patterns with you each week, but we also choose to showcase small independent pattern designers too and help them to support their families through sewing pattern sales. Many designers and bloggers already include so much wonderful free content for you to use and enjoy, as well as free patterns for you to try.
From time to time, where a pattern takes more time to develop or comes with extras such as a video tutorial, or several designs/sizes in one pattern or is just a step above in terms of the design, time and testing that went into it – well, we think those excellent sewing patterns are worth the small investment. We'd sooner link you to a well-designed and well-written paid pattern than to send you to a link for a similar pattern that's free but isn't quite up to the same standard. We think you'll agree that some of the free patterns you may have downloaded in the past have been frustrating, and that takes the fun out of it for all of us.
Why do you have adverts on your site?
Sadly it's pretty common with websites these days, from the smallest blogs to the largest news sites to use this kind of generic advertising.  The internet might be free for you as a user, but it costs quite a bit of money for us to run a website, and send a newsletter.  Adverts do pay us a small amount towards the cost of running the site for you. It doesn't cost you anything to have the adverts on the site, and that's better than us trying to sell you something we think. You can either choose to ignore them or if you do click on one by mistake using the back button will bring you right back to the page you left. We can't control the content of those adverts, which are usually geared towards your unique browsing history and interests.
How can I contact you?
Most questions we get are on the same sort of topics, those sort of things covered on this page so we hope these Q&A will help. But if you need to contact us on another topic, please check out our contact us page here.
Do you accept submissions?
Yes we do! If you have a bag pattern you have designed yourself, a tutorial on your blog, or a video somewhere like YouTube, we'll be delighted to consider them for featuring on our site.  You can share a URL with us, as well as write your own article ready to publish on the site by using the form on our submissions page.  If you don't already have something online and just would like to write a review for the site, then please use the contact details on our contact page.
Can I sell my pattern on your site?
We're delighted that you would trust us with your pattern. Our pattern store has been a great success and we'd like to share that success with you. Instead of sending our readers to Etsy, BluPrint or lots of individual websites, they are able to buy patterns, including perhaps your patterns, directly here on Sew Modern Bags. If you would be interested to learn more, please see our Sell Your Patterns page and complete the application.