Printing PDF's and how to size and resize them – video tutorial
|
All posts may contain affiliate links.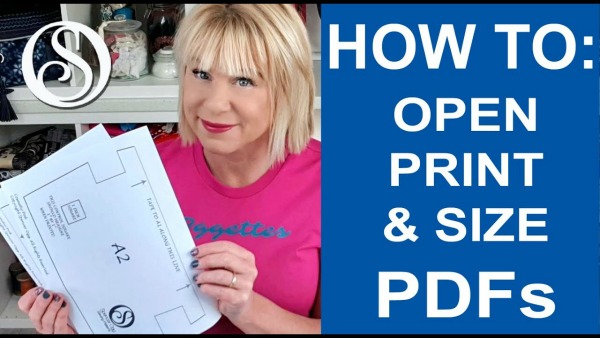 This is one of those free video tutorials that you just have to watch if you have ever been puzzled, confused, or stuck while trying to properly print a digital sewing pattern.
Diane from Spencer Ogg has made an 18-minute YouTube video tutorial, which you can see below, about the one subject that she gets asked about all the time, questions about downloading and printing PDF patterns.
Diane has covered the following topics in her free tutorial:
What program to use when opening your PDF file,
How to Download and save your PDF,
How to print at the right size,
How to print just selected pages,
Troubleshooting how the pages print out,
How to save ink,
How to increase or decrease the size if you wish to make your pattern smaller or larger.
You will need Adobe Reader to open PDF pattern files. There are other PDF readers you can use, especially on your cell phone, but we find Adobe is the one that will give you the most consistent results and the best print settings. It's the industry standard.
And we agree with Diane when she says always use a desktop or laptop computer to print your PDF's. Tablets and phones can alter the size, just not have the right software or not 'talk' properly to your printer.
This must-watch video of Diane's has received some excellent feedback, some examples of which are shown below:
Polly Nelson says – Thank you so much for sharing how to resize a pattern. I have been having the worst time trying to do this so your video has helped me out so very much. I have been waiting for someone to share this info with us all. I appreciate you very much for taking the time to do this very easy to understand video for us all. Thank you, Thank you!
Kate Morris says – Amazing Diane, thank you so much. I have always wondered how to increase the size of patterns, I hadn't thought that I did on the computer, I had been trying to work out how to do it on my printer. Every day is a school day, & I've certainly learned something today!
Maite Castro-Chaca says – I just learned things I had no idea. Thank you for this video it really taught me a great lesson.
J A Kehoe says – Thanks, that is very helpful! I never knew how to enlarge a pattern before watching your video.
Donna Neal says – Thank you!!! This helps immensely!
Helen Hart says – wonderful information, thank you for showing us.
Want MORE Free sewing patterns?
Want to find more
FREE sewing patterns
for bags and more? Why not follow the Sew Modern Bags board dedicated to our favorite FREE sewing patterns here. Pin and save your favorite bag sewing patterns to your own boards for later. Don't forget to pin this article too.