Vinyl project pouch free pattern
|
All posts may contain affiliate links.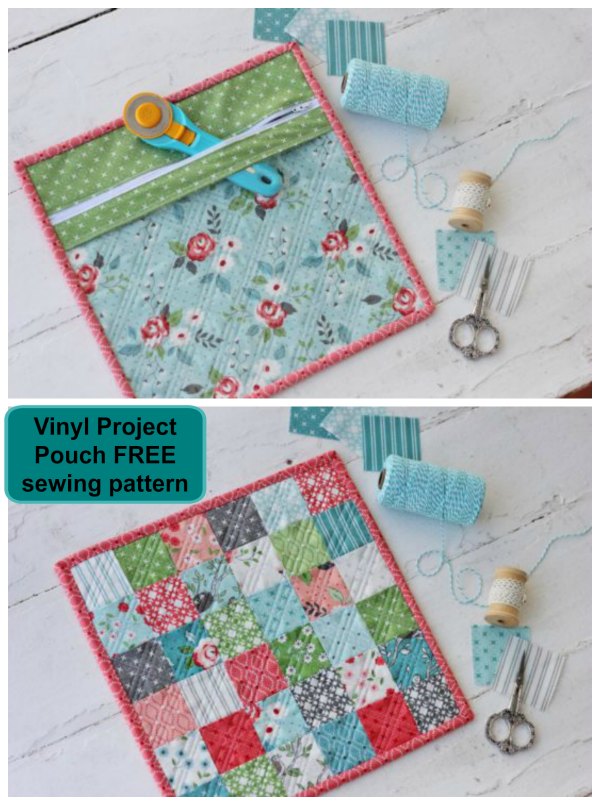 We've found you another free pattern to make and this time it's for a Vinyl Project Pouch. Clear vinyl is thin and flexible so it's easy to sew with on a regular home sewing machine. It's also fun – creating clear bags or pockets is great for storage.
The designer has found a fun way to use those cute mini charm packs that lots of us like to buy. The Vinyl Project Pouch is actually a quick project to make that will give you a great place to store your quilting accessories etc. And when you make yourself one it actually looks just as cute from the back as it does from the front.
Don't have a charm pack? No need to worry, you can cut your own squares from scraps of fabric to make your own patchwork – or just make it from a single piece of fabric with no patchwork needed!
The designer says that if you have never sewn a zipper or used vinyl before, you should not be worried as she has provided detailed instructions with step-by-step photos that will guide you through it all.
When finished the Vinyl Project Pouch measures approximately 12″ by 12″.
What you will need to make the Vinyl Project Pouch
One mini charm pack
Two fat quarters of coordinating fabric (each a different print)
1/4 yard of binding fabric
One 14″ by 14″ piece of batting
One 14″ by 9″ piece of heavy vinyl
One 14″ or longer zipper