Half Moon Pouch FREE sewing pattern
|
All posts may contain affiliate links.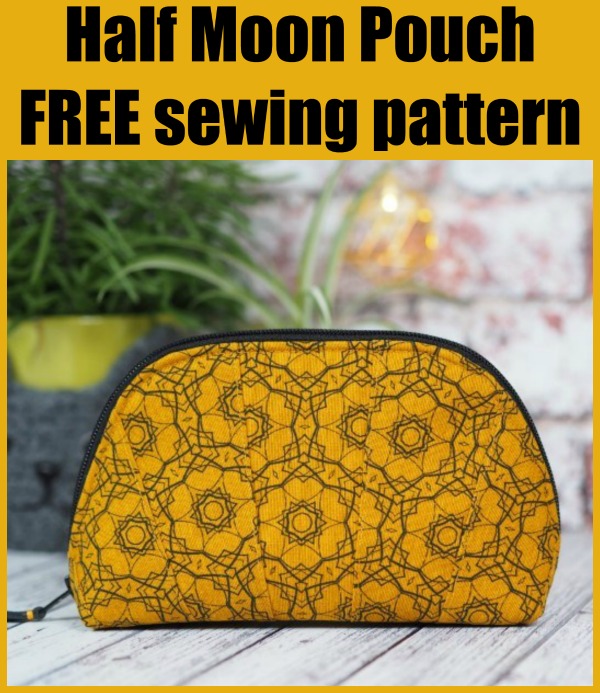 This is the Half Moon Pouch sewing pattern. It's a FREE sewing pattern and it's also a great opportunity to use up some of your fabric scraps.
This little zipper pouch can be made up either from the one color as the designer, The Folk Art Factory, has in her example, or from a few different scraps.
Either way, it is simple and quick to make and it makes a great gift or an addition to a craft market. The designer says – I have a few of these around the house and they are never empty!
Pouches can be used in so many settings – the designer has one in the car with things in it that she cannot do without and the pouch stops things from migrating around the glove box. Makeup pouches are a given and she also has one handy pouch in her everyday bag that is full of essentials and she just swaps it from bag to bag when she wants a change.
This pattern is particularly useful because it is quite tall and slim which means it holds a lot but doesn't take up a whole bunch of space – perfect to put into a Tote Bag.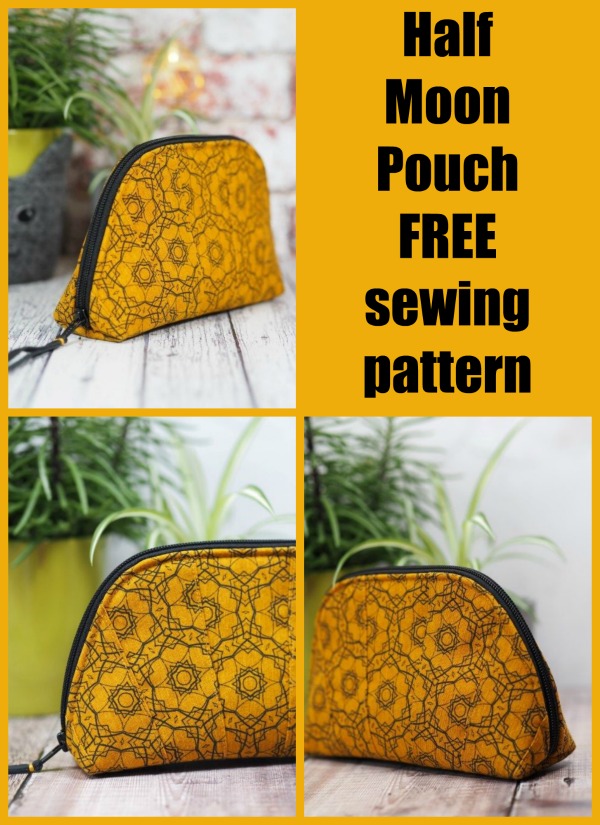 This bag is actually called the QAYG Half Moon Pouch. So what does the QAYG stand for? It is actually short for Quilt-as-you-go.
This pattern, as was mentioned earlier makes great use of scraps and also of interfacing. It is another lesson in not throwing much away in the sewing room!
The real secret is to have a long enough zipper. Don't scrimp here, especially if you are a newbie. It is the secret to ease of construction.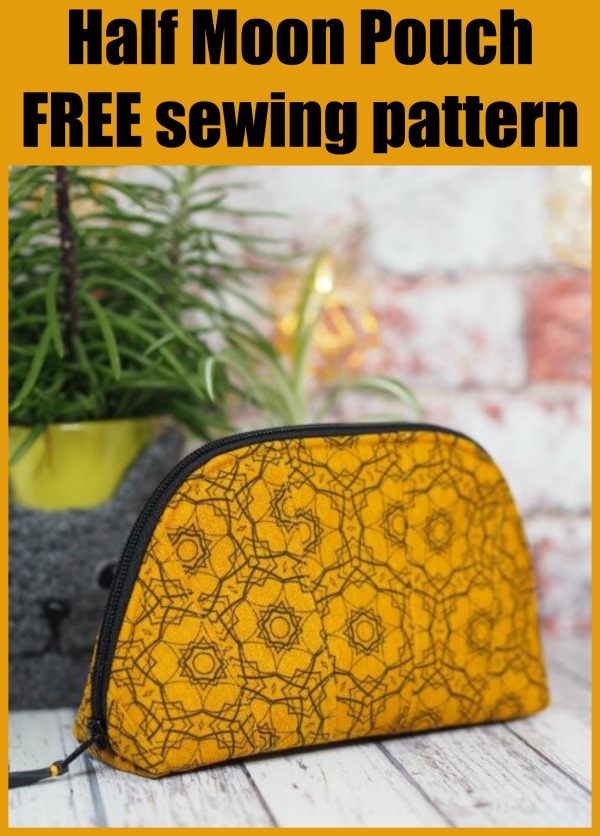 What will you need to make a QAYG Half Moon Pouch:-
One fat quarter of canvas in a pretty print for the outer. You can also use scraps as long as they are big enough to fit the wedge,
One fat quarter of lining fabric to coordinate,
Thread to match,
One fat quarter of wadding. The designer used #279 80/20 cotton mix by Vlieseline,
One fat quarter of foam interfacing. The designer loves Style-vil by Vlieseline,
One 20″ zipper. The designer says you should choose a plastic one that can be easily trimmed,
Something to decorate the zipper pull. The designer used a scrap of leather but you can use vegan leather or a charm too,
That is all the bits and pieces that you will need to make one of these excellent pouches. We are sure that once you have made one you'll want to make many more, as they are super useful and a great way to use up your scraps.
The designer adores the way the foam interfacing adds to the structure. So many pouches are a bit flat and sad and they look homemade rather than hand made. Interfacing will really lift the quality of your work.
If you would like to download the free pattern then you can click on the purple button below.
And if you like what you see here then the designer, The Folk Art Factory, has lots of other great patterns in the Sew Modern Bags SHOP that you can see if you click HERE.
Liking this free pattern? Great! You would make our day if you 'bought us a coffee' to help with the site running costs. Thank you.

Want MORE Free sewing patterns?
Want to find more
FREE sewing patterns
for bags and more? Why not follow the Sew Modern Bags board dedicated to our favorite FREE sewing patterns here. Pin and save your favorite bag sewing patterns to your own boards for later. Don't forget to pin this article too.