Sven Wristlet and crossbody bag sewing pattern (with video)
|
All posts may contain affiliate links.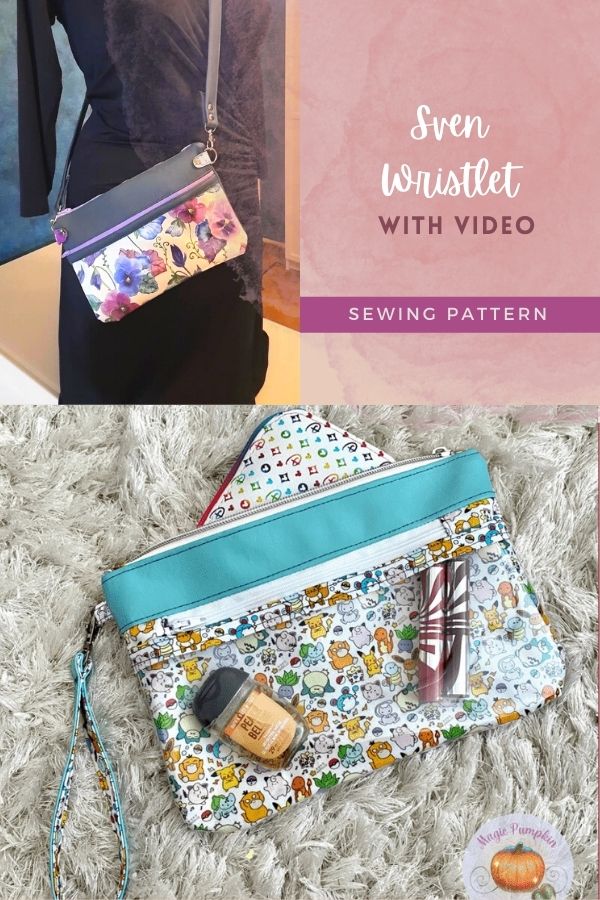 A fun Sven Wristlet Clutch Bag to sew with a clear vinyl pocket on the outside for easy access to your phone.
A video tutorial (included with the pattern but available for everyone to watch) shows you step-by-step how to get great results with this pattern.
This pattern was designed and tested to be suitable for beginners who want to try a pattern in clear vinyl. The clear vinyl front pocket allows you to see and use your smartphone without taking it out of the wristlet.
Features of the Sven Wristlet:
A clear vinyl front pocket.
An interior zipper pocket.
Six credit card slots.
Wristlet version.
Crossbody version.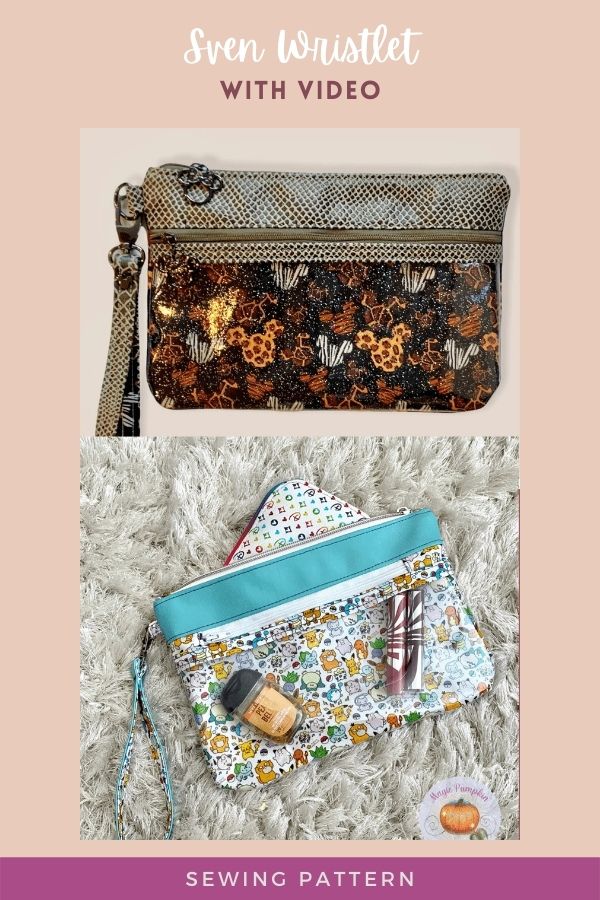 Finished measurements: 6 3/4″ high by 10″ wide.
Skill level: Beginner.
Video YouTube tutorial:
There is a Youtube video made by Christine Davis of Bags by Bags of Style to help you with this pattern every step of the way. We've put all the videos together into a single playlist to make them easy to watch here.
Materials needed:
Fat quarter quilting weight exterior fabric,
Fat quarter quilting weight lining fabric,
Fat quarter contrasting fabric/vinyl/cork,
1-yard fusible woven interfacing (Shapeflex SF101/Legacy L-SF101/Vilene G700/Wovenfuse),
Clear vinyl – 10″ wide by 6″ high (Guage 16 is recommended),
One 11 ½" #3 or #5 tape with 1 pull (Front zipper),
One 10″ #3 or #5 zipper tape with 1 pull (Main zipper),
One 8″ #3 or #5 zipper tape with pull(Interior Zipper Pocket),
1/2″ wide D-ring (1 for Wristlet strap, two D-rings if doing crossbody strap),
One 3/4″ wide Swivel Clip for wristlet strap or ½" wide Swivel clips – two for the Crossbody bag version,
A rivet for Wristlet Strap (Optional),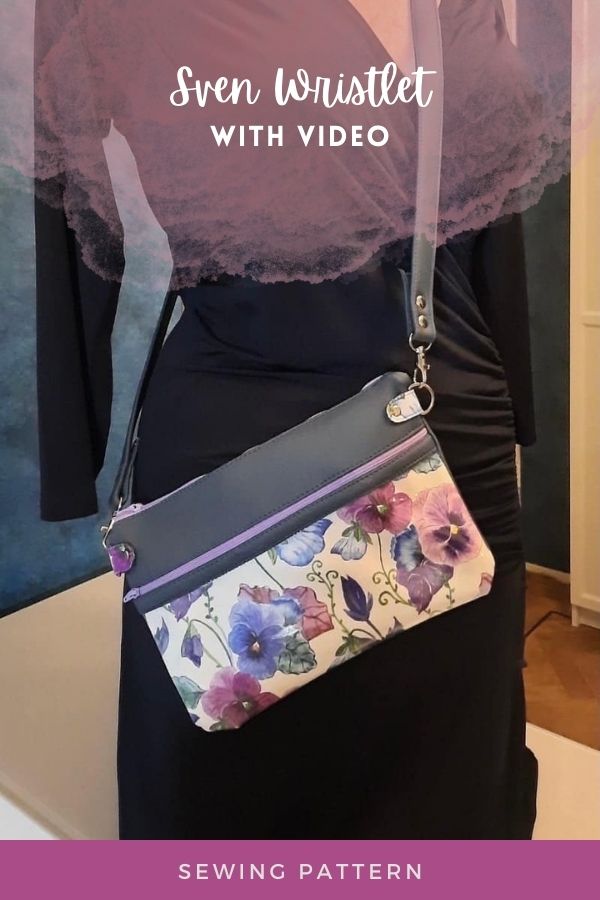 The pattern:
The pattern includes twenty-one pages of easy step-by-step instructions with color photos to help you through each step. This also includes pattern pieces in A4 size to print in the home printer and an A0 file to print in the local copy shop. The A0 file can also be used as projector files.
If you would like to download the pattern you can click on the blue button below.
And if you would like to see other bag sewing patterns from this designer then you can click on the red button below.
See all the patterns from this designer here
Sew more crossbody bags and you'll be happier - we promise 😉
For the easiest shopping and days out, you can't beat a crossbody bag for leaving you hands-free. We've got 60+ of our favorite crossbody bag patterns hand-picked for you in the store. Go to the shop page to find them all saved by category.