The Viewables – a set of 5 pouches (plus 2 bonus sizes)
|
All posts may contain affiliate links.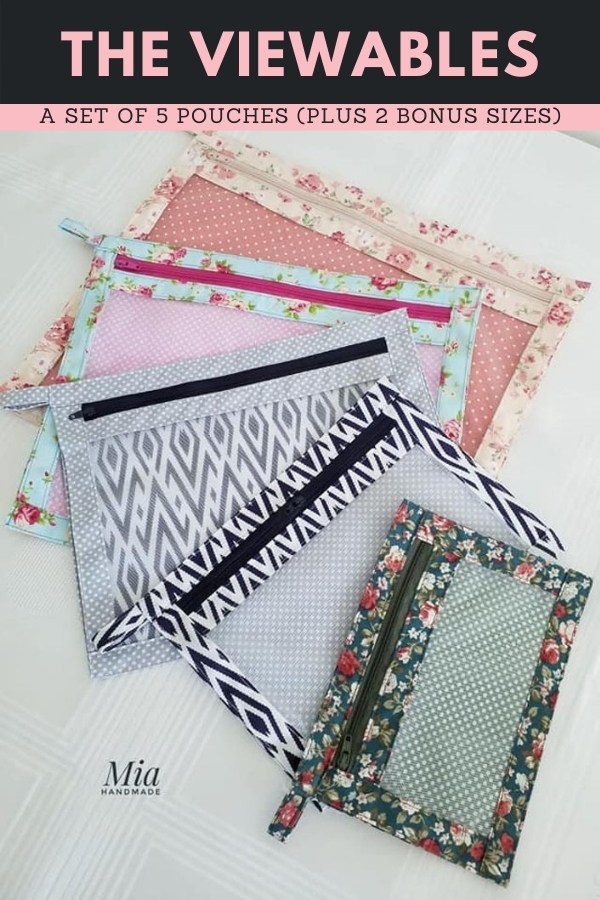 The Viewables are a set of five pouches (plus two bonus sizes) that are quick and easy to make and a great stash buster pattern. This is a perfect beginner's sewing project to get the most of those beautiful fat quarters!!
You can see what is in each one and the sides expand so you can get more space when you need it. They have so many uses it's amazing.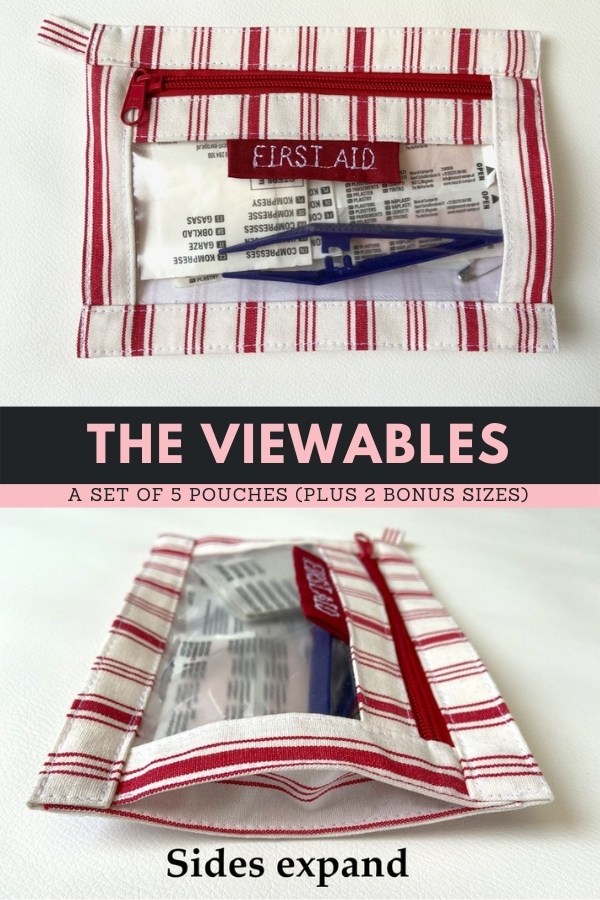 They are perfect to put your projects in to keep them nice and neat. Or for your special lingerie, for a weekend trip. Maybe you could use them for pencils, medical supplies, kid's toys, sewing notions.
Whatever you use them for you will love them because you can see what is in each one and the sides expand so you can get more in them.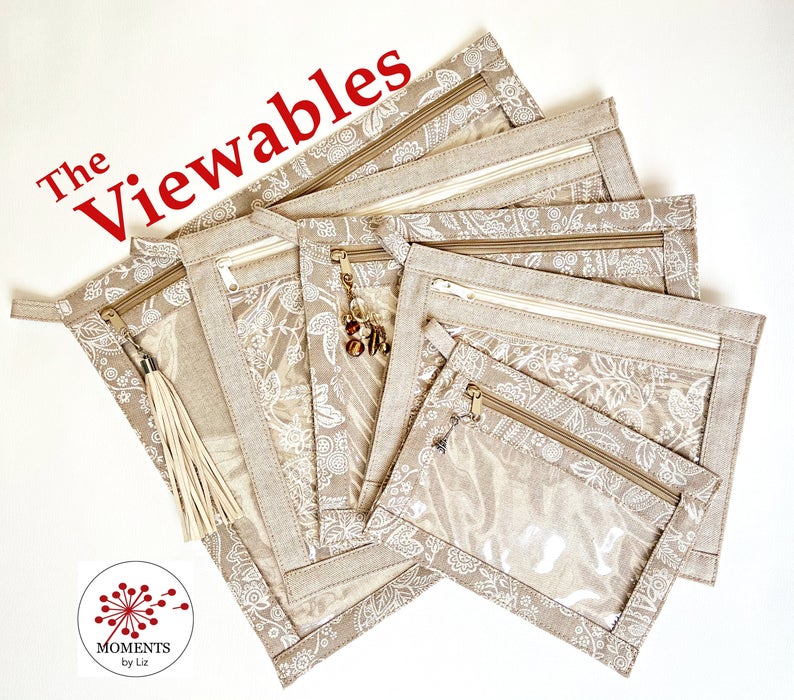 Make them as a matching set or with different fabrics, colorful and fun. The possibilities are endless. Be warned though these Viewables are a little addictive!
As a BONUS, the designer has included the cutting measurements for two extra sizes that fit in the DRÖNA boxes (Kallux cupboards by Swedish furniture maker). Even if you do not have the DRÖNA boxes, you might like some bigger Viewable pouches?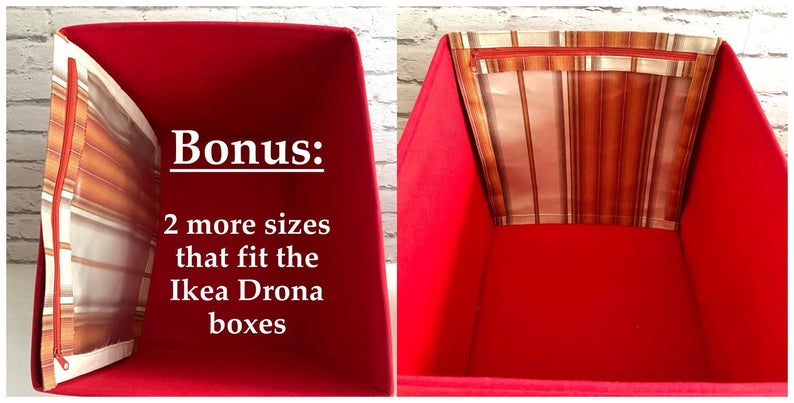 Finished sizes:-
Tiny – 7 ½" wide by 5 ½" high.
Small – 9″ wide by 7″ high.
Medium – 10 ½" wide by 8 ½" high.
Large – 12″ wide by 10″ high.
X-Large – 13 ½" wide by 11 ½" high.Bonus sizes: (width by height):
Wide – 12″ by 12 ½".
Long – 13 ½" by 14″.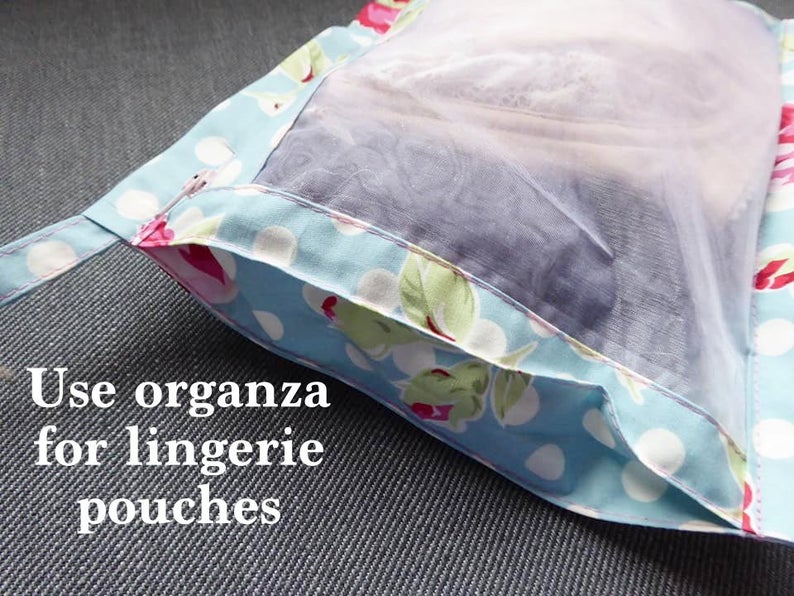 What materials are needed for all five of the Viewables:–
⅝ yard of exterior fabric – Cotton, Decorator weight, Cordula, Linen,
*Not suitable for obvious directional fabrics or very thick fabrics,
⅝ yard of lining fabric – Cotton,
1 ⅛ yard (16″ wide) or ½ yard (36″ wide) Fusible Web – Heat & Bond, Bond a Web, Vliesofix,
1 yard (16″ wide) or ⅓ yard (140″ wide) Clear Vinyl *Organza or a fine netting can be substituted,
1 ⅜ yard (50″) #3 Continuous Zipper tape (Pre-packaged zippers – 7″, 9″, 10″, 12″, 14″),
* Instructions for using #5 Zippers also included,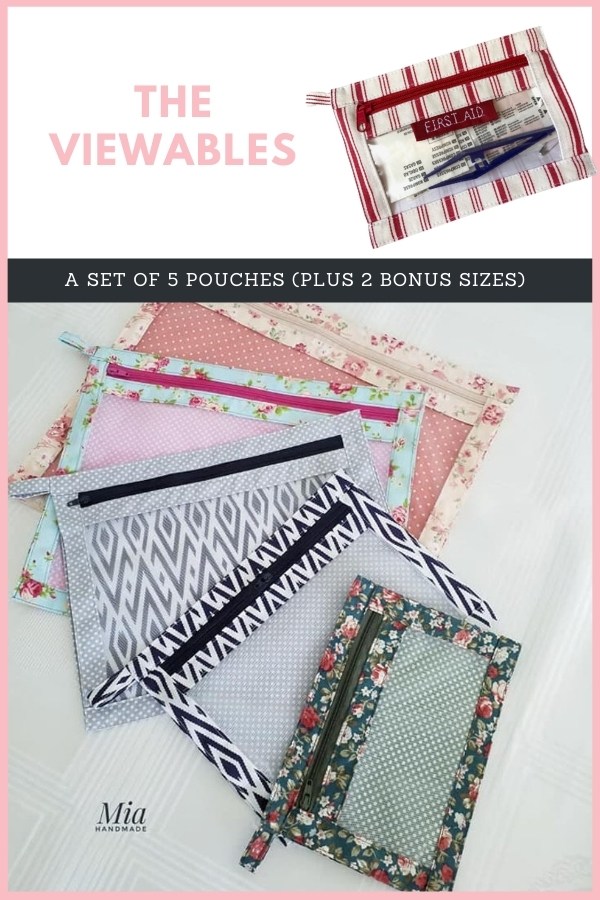 This is a PDF pattern made up of sixteen pages of step-by-step instructions with tons of color photos and cutting charts. Since all the pieces are square or rectangle, NO pattern pieces are included. You will be cutting the pieces from a cutting chart, using a ruler and rotary cutter.
If you would like to download the pattern you can click on the blue button below.
And if you would like to see other bag sewing patterns from this designer then you can click on the red button below.