The Overview Pouch FREE sewing pattern with video
|
All posts may contain affiliate links.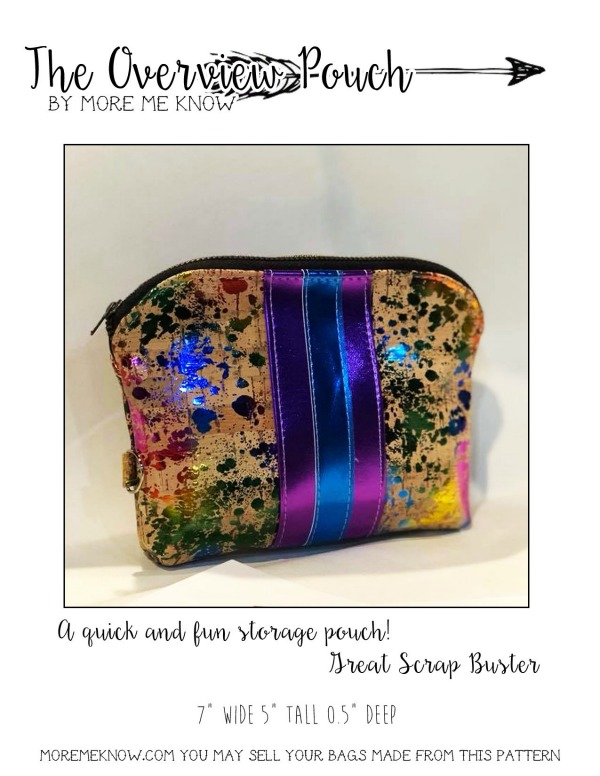 Here's a simple unlined zipper bag that is ideal for using up scraps and smaller pieces of your non-fraying fabrics such as leather, cork or vinyl. A video tutorial is included (see below for the video).
This storage pouch is a great way to introduce yourself to working with leather, cork or vinyl. This unlined zipper pouch is designed to sew with these non-fraying fabrics. It has a slightly curved zipper top, and the option to add a connection for a wristlet strap. If you're familiar with these materials it's a great way to use up scraps for a simple project!
You can accent the outside of the bag with vinyl/cork or contrasting fabric scraps if you like.
Please note that this bag is unlined but because the designer used non-fraying fabrics, there were no raw edges.
Skill level:
The designer rates her project as suitable for a beginner sewer and she estimates a sewing and prep time of 30 minutes to 1 hour on average.
Sizing info:
When you have finished making your own Overview Pouch it will measure approximately 7" long by 5" tall by 1" wide.
Do you want to take a look at how this pouch is sewn? The video, shown below, was recorded live in real-time.
What is needed to make the Overview Pouch:-
One 8" by 6" strip of Contrasting Cotton fabric,
One 8" by 6" strip of Sf101,
One 9" All-Purpose or Handbag zipper,
*Optional* 14" by ¾" scrap of Vinyl or Leather or Cork,
*Optional* ¾" D-Ring,
Coordinating Thread,
Basting Spray or Glue Stick or Double-Sided Tape.
The pdf pattern includes four pages – 1 front page, 2 instruction pages and 1 pattern piece page. Click on the light blue button below to get the pattern.
Click here to get the FREE pattern
Liking this free pattern? Great! You would make our day if you 'bought us a coffee' to help with the site running costs. Thank you.

More Me Know is so generous for offering this free pattern for you to sew. Don't forget that all of these freebies are offered as a "try me" in the hope that you will like their patterns and go on to try a paid one. More Me Know always offers beautiful bags to sew. You can find a selection of them below.