Pop-It Pouch (FREE in 3 sizes with videos)
|
All posts may contain affiliate links.
Everyone loves a pouch. When you need to store smaller items what do you do? Pop it in a pouch! This quick and easy pouch won't disappoint. With three sizes to choose from and three different QAYG (quilt-as-you-go) designs to learn the options are endless.
This is an amazingly easy technique that gives maximum impact to your work. Use as pencil cases, make-up bags, or to keep your sewing notions or any other small things organized. This pouch has so many uses.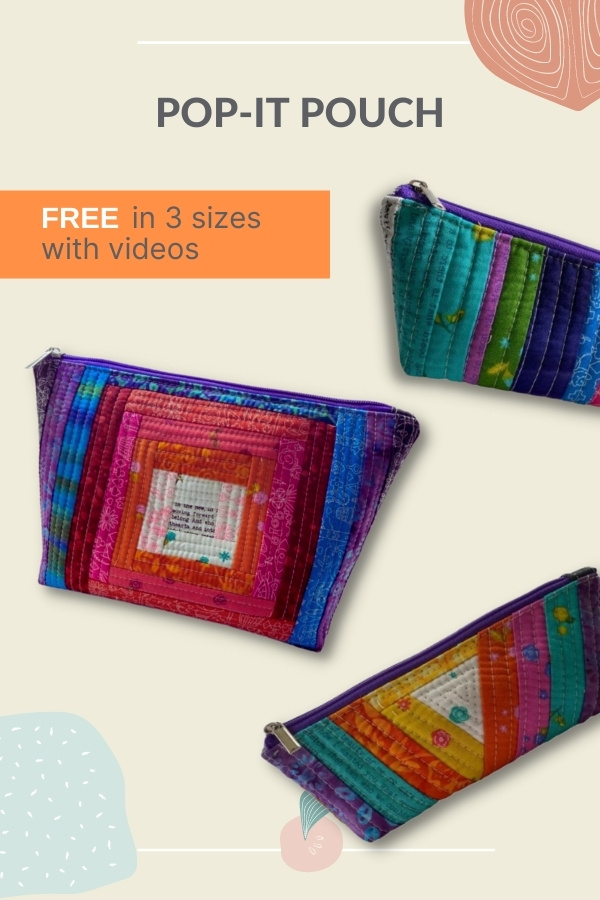 The exterior panels of our pouch will be made using the QAYG (quilt as you go) method of creating fabric. For this, you will need some sort of 'batting' to create your exterior fabric. I like to use headliner scrim foam but you can use polyester wadding, quilt batting, thick curtain interlining, or even scraps of antipill fleece fabric. I have used this technique using felt and even Aldi cotton dishcloths in place of batting so you really don't have to shop especially for this project.
The QAYG technique is huge fun and you can be as creative as you want to make it.
Accurate precision cutting is essential for this project. Using quilting rulers and a rotary cutter is the most efficient way to get accurate-sized pieces.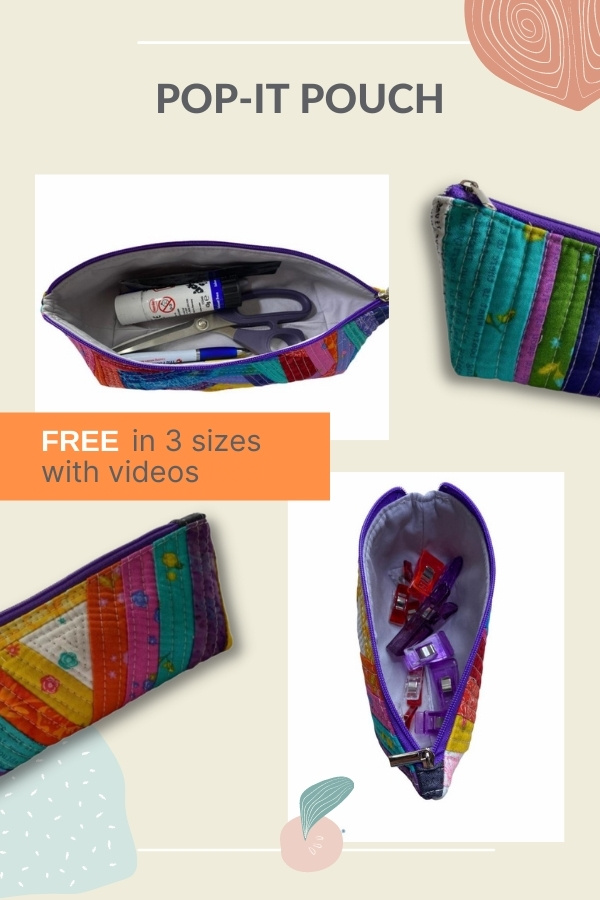 When you make yourself a Pop-It Pouch it will measure:-
Large = 11″ wide by 7⅜" high by 2 deep.
Short = 13¼" wide by 3″ high by 3¼" deep.
Tiny = 6¼" wide by 2⅝" high by 1¼" deep.
The designer created six video sewing tutorials for these pouches which we have combined into one video playlist. You can view the video by clicking on the play button below.
The pattern includes fabric and additional requirements, printing instructions, links to the six instructional videos, zipper information, and pattern pieces for printing. This is a FREE VIDEO sewing tutorial with zipper information but no written instructions for sewing the pouch, that's what the videos are for!
If you would like to download the pattern you can click on the blue button below.
And if you would like to see other bag sewing patterns from this designer then you can click on the red button below.