Zoey Zips Pouch sewing pattern
|
All posts may contain affiliate links.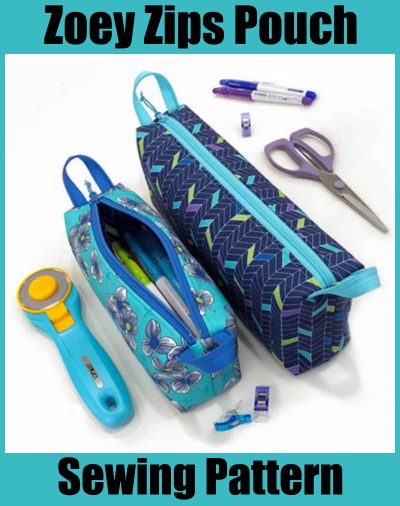 This is the Zoey Zips Pouch sewing pattern. You can stitch up these adorable zip pouches with basket-style handles.
They are a quick and easy project that means you'll be done in no time! They are perfect for a pencil case, sewing notions, treasures, and more.
Skill level:
The designer rates her project as suitable for an intermediate sewer. It's a rotary cut project, so there are no pattern pieces included.
Sizing info:
There are two sizes of the pouch, which measure approximately:-
Small = 7½" long by 2½" high by 2″ deep.
Large = 9½" long by 3½" high by 2″ deep.
The Zoey Zips Pouch has the following features:-
Easy zipper installation,
A trick to trim and secure zipper ends,
Basket-style zip handles,
Manage directional fabric,
80+ color photos and illustrations,
Presser foot and stitch recommendations,
Pressing and finishing tips,
Pattern tested for the accuracy and quality you expect from Lazy Girl Designs.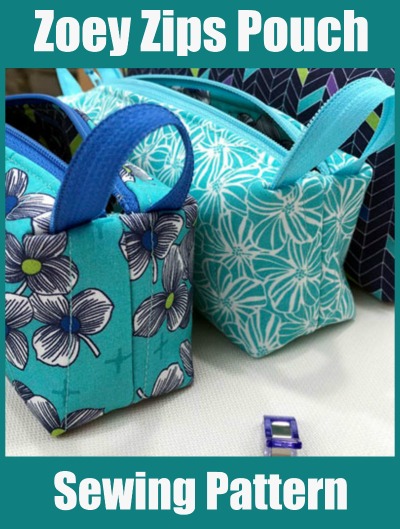 What you will need to make a Zoey Zips Pouch:-
Small = 1″ squares. Large = 3″ squares.
Two squares of 100% cotton quilting weight fabric,
One square of fusible fleece, polyester, medium loft,
One square of lightweight woven 100% cotton fusible interfacing, Face-It Soft by Lazy Girl Designs recommended,
One zipper, all-purpose, polyester, YKK brand recommended. Small = 14″ minimum, Large = 16″ minimum. Note zipper lengths are minimums. A longer zipper is nice to give you more room to work with when attaching handles, but will result in a little unused zipper length.
3″ by 5″ piece of template plastic or an index card,
Size 70/10 or 80/12 Schmetz brand Universal or Microtex machine needle,
If you would like to download the pattern you can click on the light blue button below.