Canterbury Zipper Pouch sewing pattern in 2 sizes with video
|
All posts may contain affiliate links.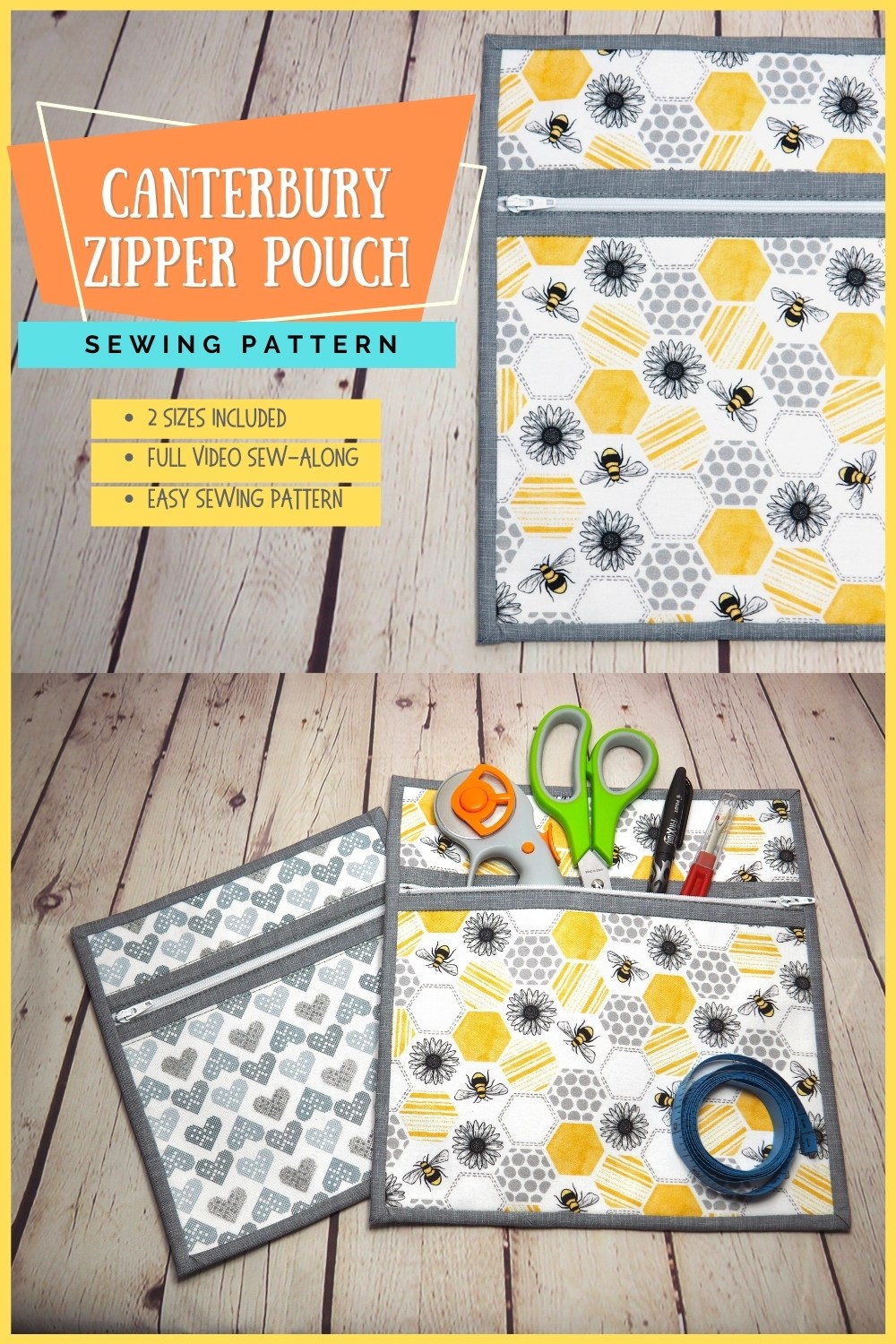 For the longest time, I've avoided sewing any project with binding. I tried it once and urgh, what a mess. But when this pattern was released I loved the look of the bag so much I was determined to beat my binding phobia. Turns out I'd been doing it all wrong, and that was why I was finding it so difficult.
With the video tutorial that accompanies this pattern, I learned several ways to sew the binding, and found I'd been trying to sew the 'expert level' finish when my sewing skills are anything but expert level! Now my binding is neat and even, and I take pride in sewing a neat finish.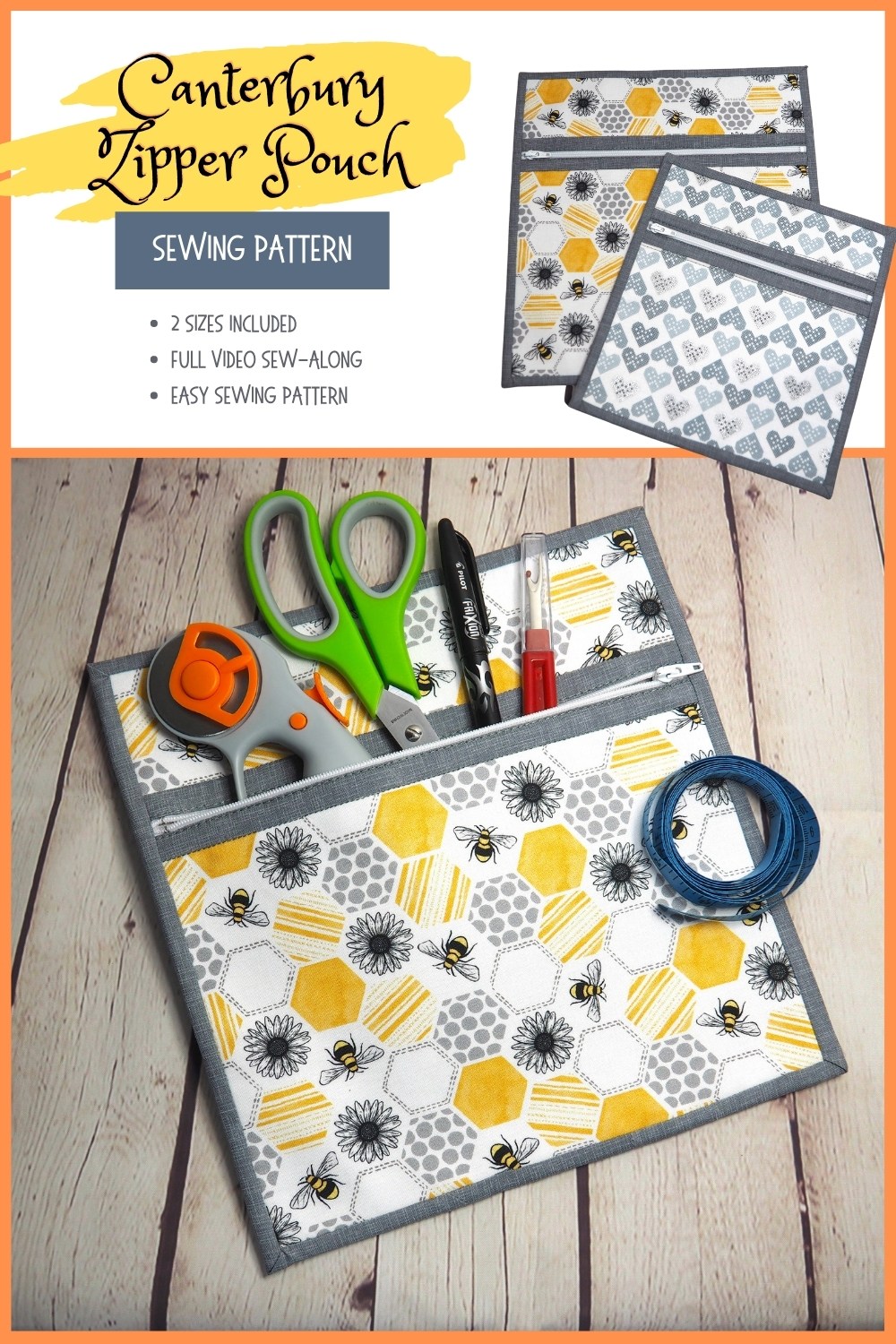 This bag is such fun to sew. You'll need to concentrate a little, and really just slow down and take your time to get the perfect binding – but it is possible! I turned down the speed on my sewing machine (I usually race along because my sewing time is short) and concentrated on sewing neat straight lines and wow, turns out I CAN sew neatly if I try!
We love the beautiful trimmed zipper on these bags. It matches perfectly in style with the neat bound edges of the bag. Make a feature with a contrast fabric, or use the same fabric throughout if you aren't feeling so confident to start. But we think with this video tutorial you get the chance to try out some new skills and make these fun zipper bags in two different sizes.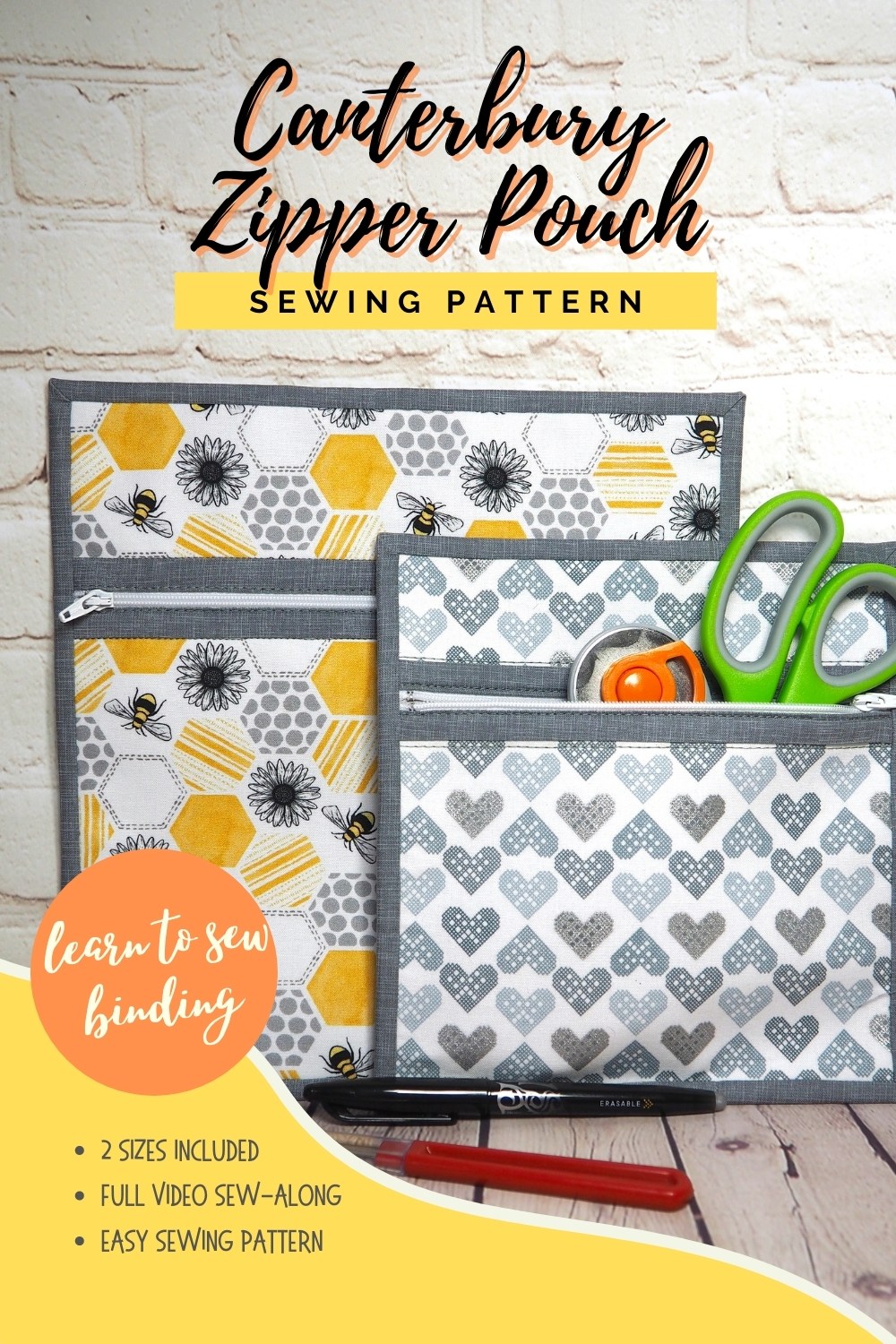 Features of the Canterbury Zipper Pouch pattern
* Feature binding on the zipper
* Bound edges
* Flat construction, no turning
* 2 sizes in the same pattern
* There is a full-length video tutorial upgrade
* Printless pattern – no printed templates needed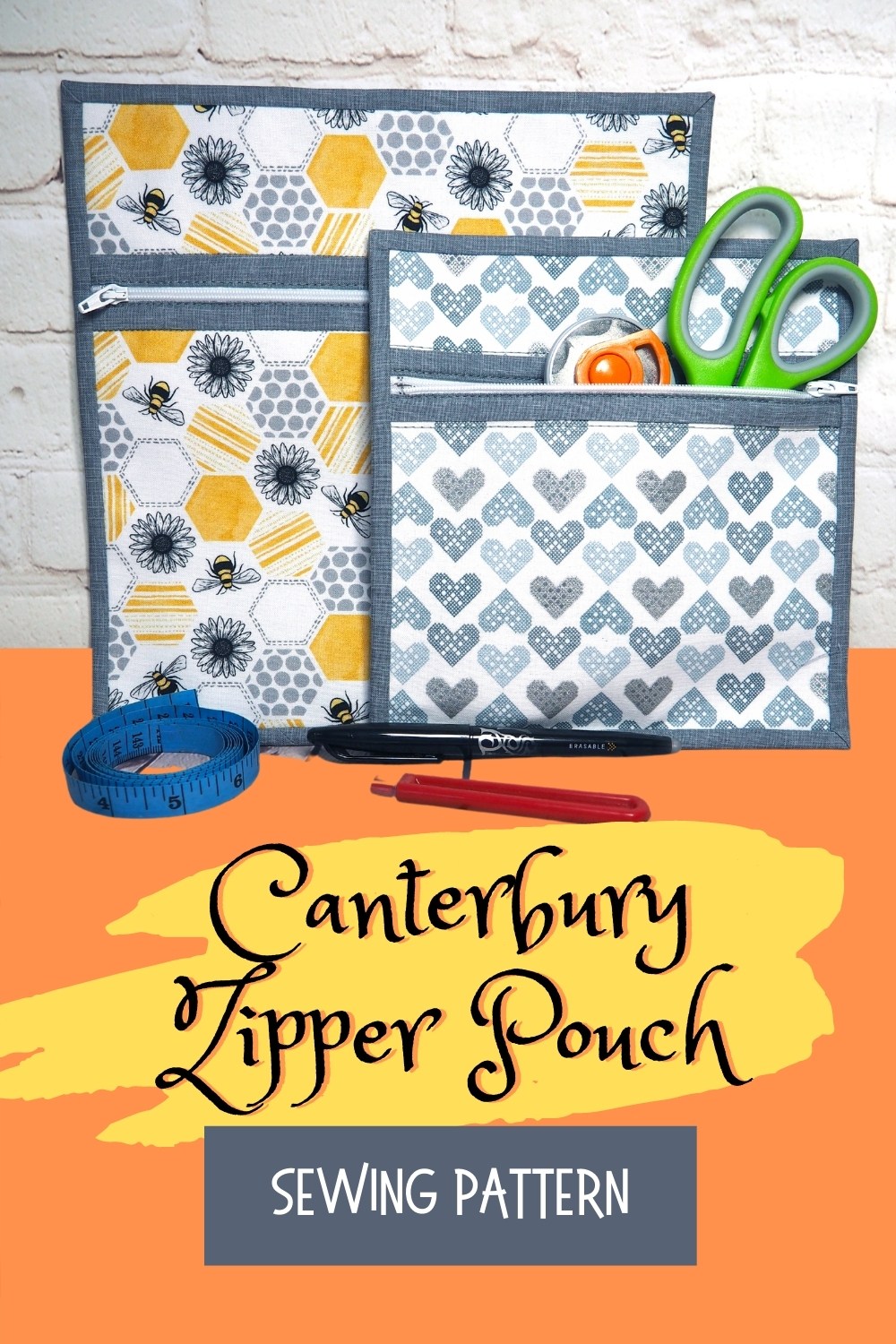 Take a quick preview of the Canterbury Zipper Pouch sewing pattern and video class
Skill level: Confident beginner and above. Should be able to sew an accurate seam allowance and be confident sewing a neat straight line.
Finished sizes (approx)
Large – 10 inches (25cm)
Small – 8 inches (20cm)
This pattern is easily scalable so you could make this easy zipper pouch in any size you need for your storage or project needs.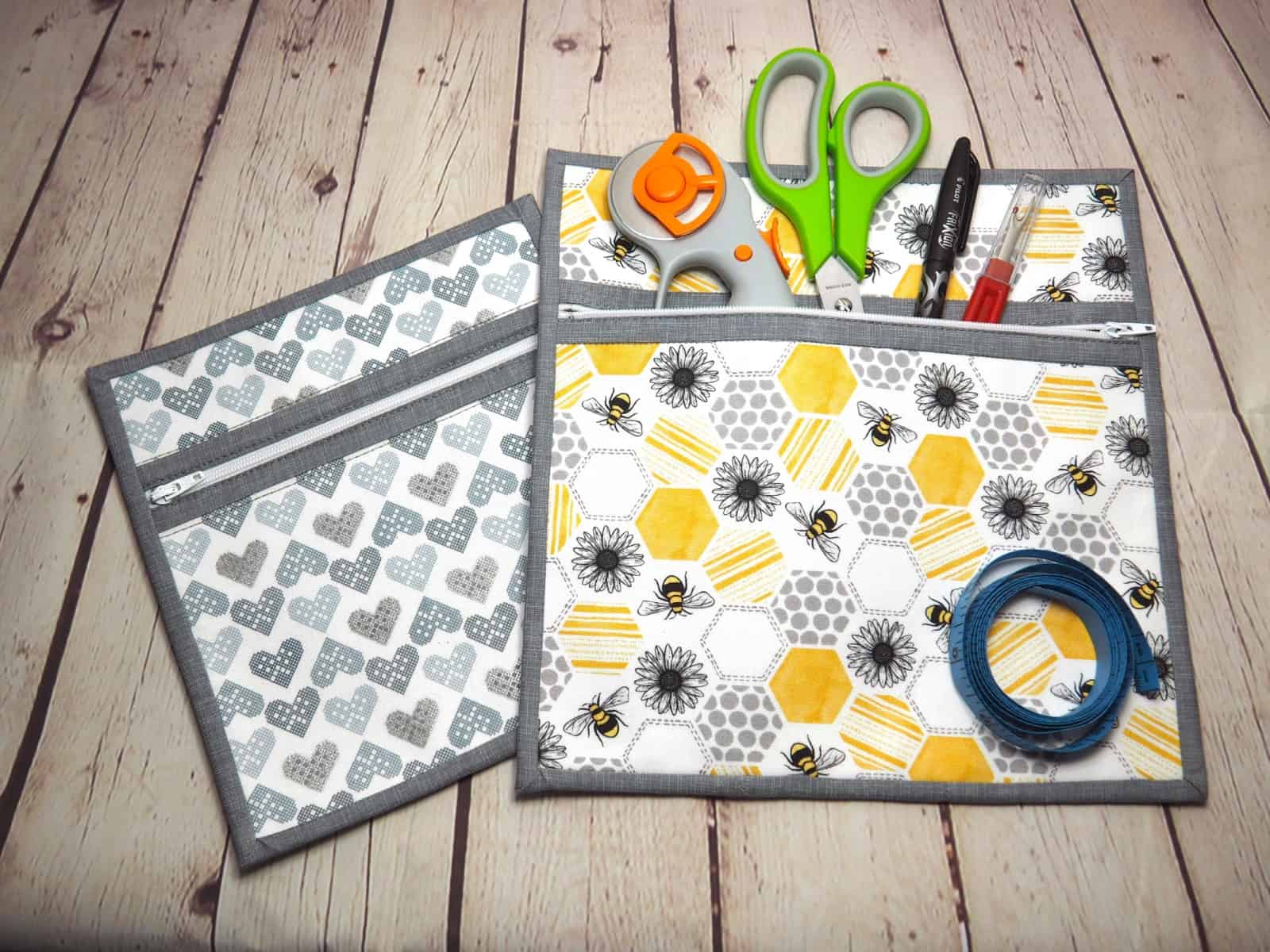 What skills are covered in this video class:
Understanding the cutting chart
Tips for sewing a 1/4 inch seam
Sewing a trimmed zipper
Complete step by step assembly of the bag
Truing the pieces
How to sew binding to cover a raw edge
How to turn corners when sewing binding
Three different ways to finish the back of the binding
Packed full of advice the whole way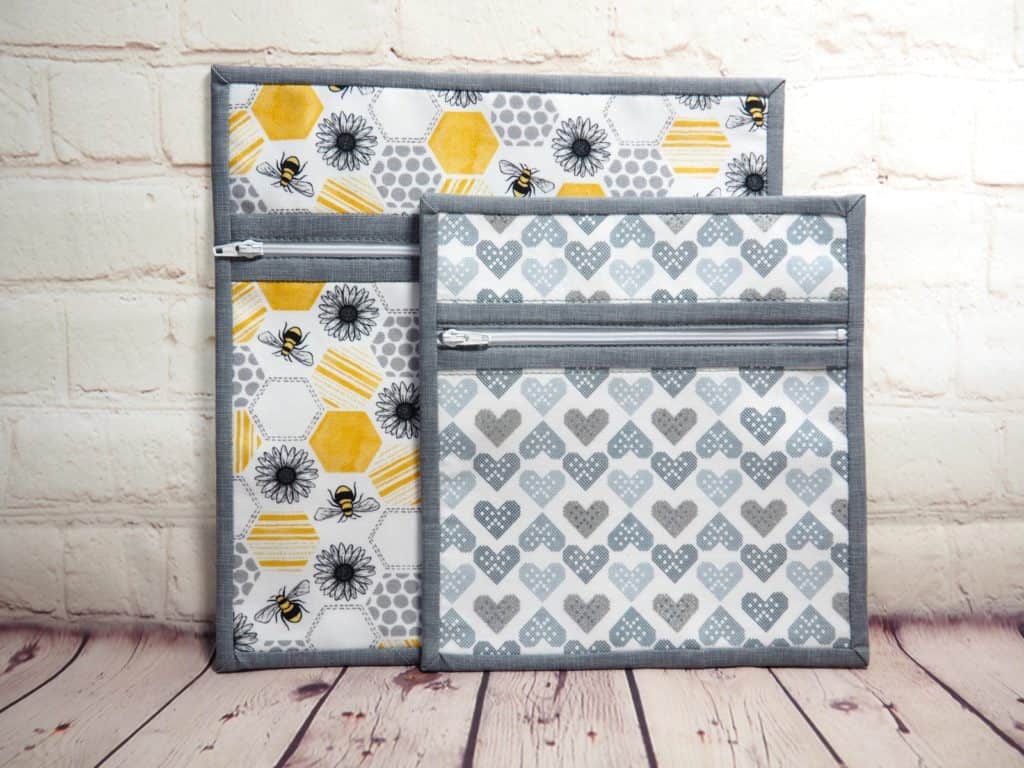 This sewing pattern has two options:
1 – written instructions only with step by step color photos. Ideal for sewers of all levels
2 – upgrade to the full video sew-along and you'll get the same written instructions PLUS the full-length video. Ideal for beginners and those who prefer to see the bags being sewn in real time.