Mini Shades Pouch with Shoulder Strap sewing pattern
|
All posts may contain affiliate links.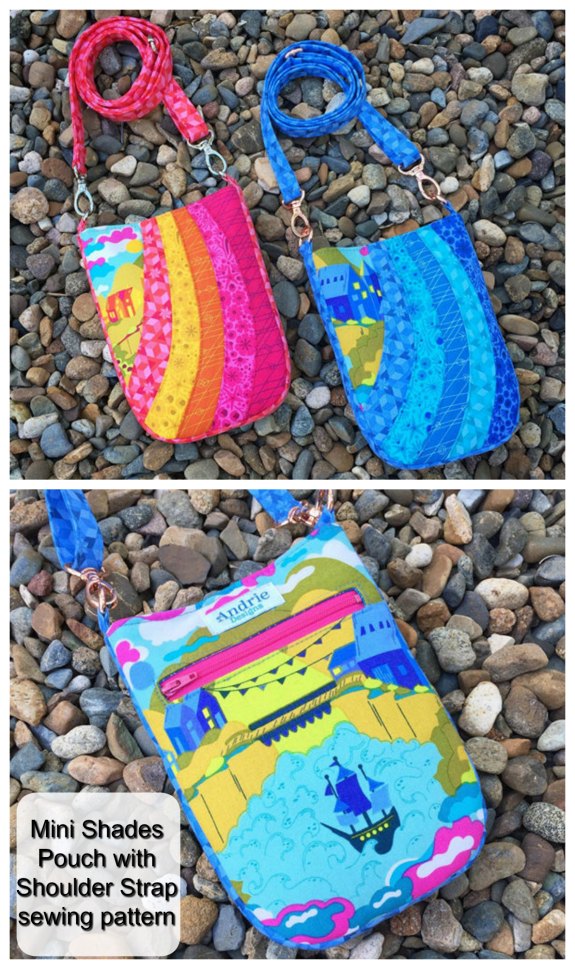 The Mini Shades Pouch by Andrie Designs is an easy to follow sewing pattern that will help you create a beautiful pieced pouch. The outer front panel is constructed with a series of stunning curved pieces, allowing you to play around with a collection of coordinating or contrasting fabrics. Or why not make a plain front pouch using the outer back pattern piece for an even easier and faster sew.
This pattern makes up beautifully and will quickly become your go-to for last-minute gift ideas!
The Mini Shades Pouch features a simple magnetic closure with a detachable crossbody strap (using super-cute ¾" hardware).
The finished size of the Mini Shades Pouch is 8" high, 6″ wide and 1" deep.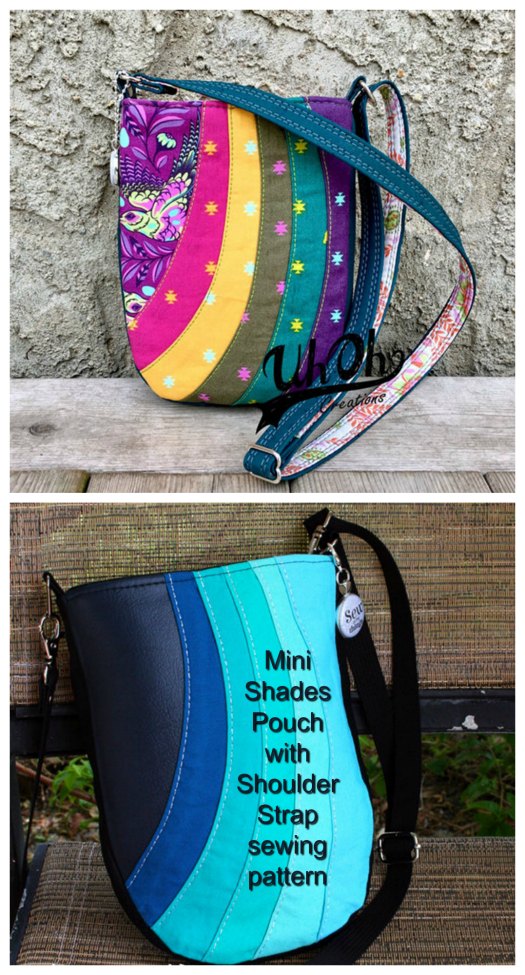 What is needed to make a Mini Shades pouch:–
Quilting cotton for six outer front pieces,
Quilting cotton for the outer back piece,
Quilting cotton for the outer gusset, strap & strap connectors,
Quilting cotton for the zipper pocket & lining,
Fusible Fleece (i.e. Pellon Thermolam 971F, Vilene H640),
Medium Weight Fusible Interfacing (i.e. Pellon Shapeflex SF101, Legacy Shapeflex L-SF101),
Firm Fusible Stabilizer (i.e. Pellon's Peltex #71F, Legacy #71F),
One Magnetic Snap,
Two D-Rings, two Swivel Hooks, one Slider,
One Coordinating Dress Zipper,
Sew more crossbody bags and you'll be happier - we promise 😉
For the easiest shopping and days out, you can't beat a crossbody bag for leaving you hands-free. We've got 60+ of our favorite crossbody bag patterns hand-picked for you in the store. Go to the shop page to find them all saved by category.