Fold-Up Tote Bag – FREE Sewing Tutorial
|
All posts may contain affiliate links.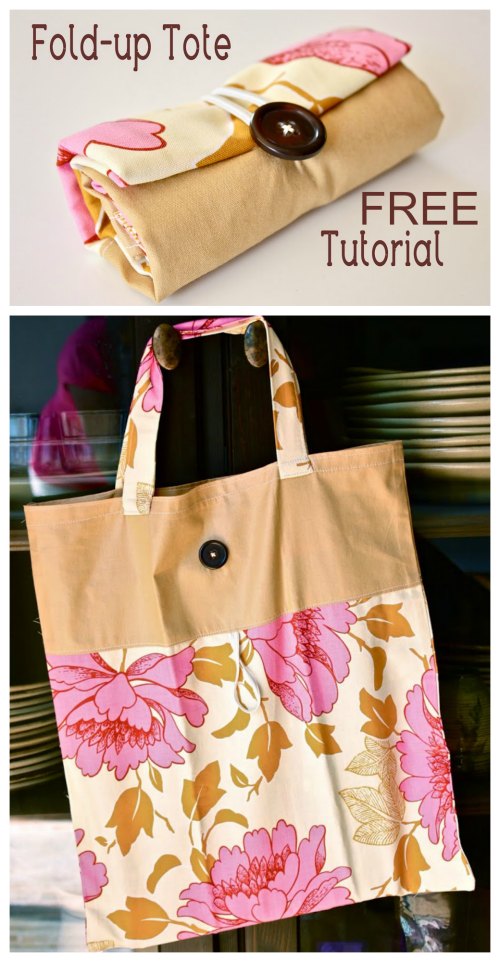 The designer of this tutorial on how to make her Fold-Up Tote Bag has been very kind and given us all her tutorial for FREE. She even shows you the best way to fold-up her tote bag so it's small and easy to carry.
This is a simple project for a beginner sewer with the added bonus of being a stash buster!
This cute little tote bags main use is as a reusable bag. You can carry all sorts of things in it whenever you need it. So pop it in your main bag or in your pocket where it will stay until needed. Keep one or two in the car, and stuff one in your bag when you go on vacation. There are so many times when having a fold-up bag with you will be so useful.
What you will need to make the Fold-Up Tote Bag:-
Two fabric pieces 15″ by 10″ for the main body of the bag – pick a pretty quilting cotton
Two fabric pieces 15″ by 6″ for the contrasting top of the bag
Two fabric pieces 4″ by 16″ for the handles
6″ of thin elastic
One button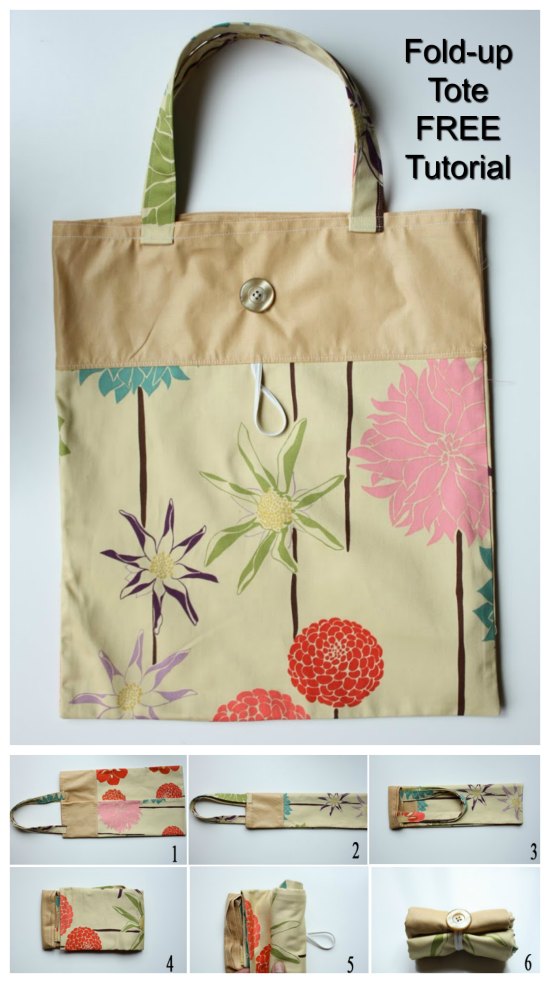 This is a super popular tutorial. Here are some comments from some very happy customers:-
chattypenny said – Thank you so much for such a wonderful pattern and tutorial. I've just made my first one and it is adorable. Your directions are so easy and the step-by-step photos are fantastic. My new fold-up tote will store easily in my glove box, purse or even suitcase when traveling.
Heather said – Super easy to follow! Thank you for sharing:) Love the flowers as well.
GailM said – I made it and blogged about it today. It's a great pattern. Love it. Thanks for posting.
Jeremiah and Stephenie said – Thanks, Ruby! I made one of these bags today and it turned out just adorable. I can't wait to make more.
Cuscini said – I made this for my co-worker today; it's looks so nice, and I think she'll love it. Thanks very much for the excellent instructions! Judith
Alicia Slater said – Made 8 of these this past weekend for gifts- LOVE them!!
If you would like to download the free tutorial all you have to do is click on the purple button below.
Our Very Best Patterns
Looking for the best of the best bag sewing patterns? This article is one of the TOP 20 Most Visited on the Sew Modern Bags site in the last 12 months. Here is the full list of our Top 20 most popular patterns to sew: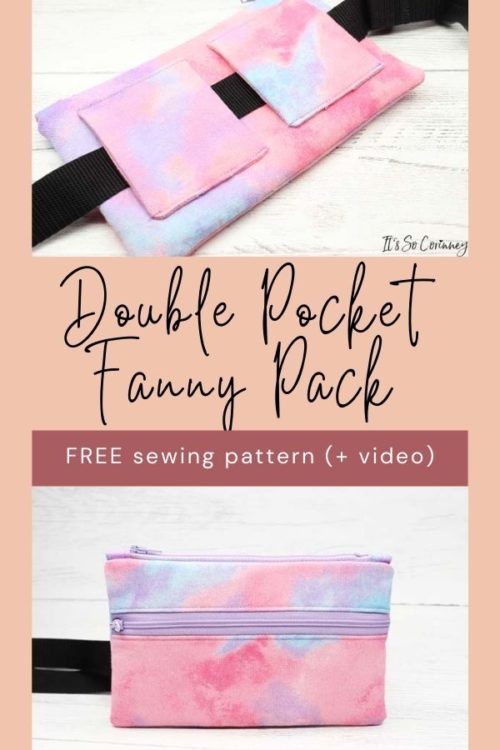 Liking this free pattern? Great! You would make our day if you 'bought us a coffee' to help with the site running costs. Thank you.

Sew more tote bags and you'll be happier - we promise 😉
When you just need to sew and don't want to get into a really complicated project, you can't beat a classic sewing pattern for a tote bag. We've got 50 of our favorite tote bag patterns hand-picked for you in the store. Go to the shop page to find them all saved by category.