Brancaster Messenger Bag sewing pattern
|
All posts may contain affiliate links.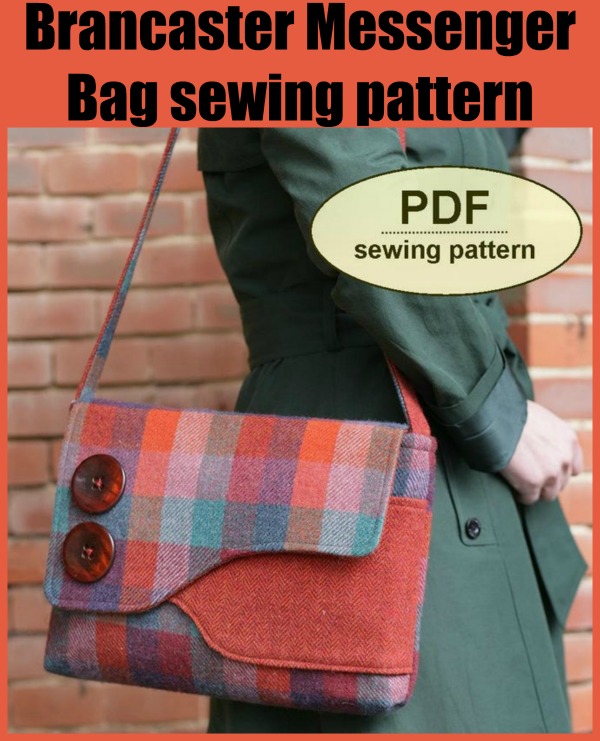 We love this designer here at Sew Modern Bags. She produces top quality patterns that turn into awesome looking bags.
This great looking bag of hers is called The Brancaster Messenger Bag and is influenced by vintage fishermen's bags. This simple 1940s inspired messenger style bag features an asymmetrical flap and front pocket.
The Brancaster Messenger Bag is a practical shape and size for all occasions and can be made in a variety of fabrics, and with a contrasting strap/pocket. It has an interior pocket with a divider.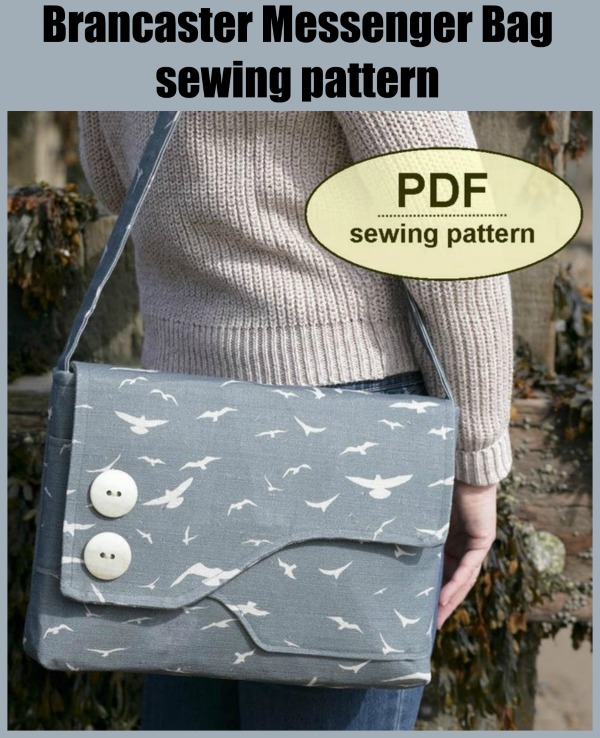 Sizing info:
When you have finished making yourself a Brancaster Messenger Bag it will measure approximately 9.5" (24 cm) high by 13" (33 cm) wide by 2" (5 cm) deep.
What you will need to make the Brancaster Messenger Bag:-
With just one fabric, you will need 2/3 yard (60cm) of 60" (154cm) wide or ¾ yard (65cm) of 44" (112cm) wide exterior fabric,
To make with a contrast pocket and strap, you will need 2/3 yard (60cm) of 60" (154cm) wide or 44" (112cm) wide main exterior fabric AND 1/3 yard (30cm) of 60" (154cm) wide or 44" (112cm) wide contrast fabric,
¾ yard (65cm) of 44" (112cm) wide lining fabric,
1/3 yard (30cm) of 44" (112cm) wide firm sew-in interfacing,
½ yard (50cm) of 36" (92cm) wide fusible interfacing,
40" by 5" (105cm x 14cm) of fusible web,
A piece of plastic canvas 2" by 12" (5cm x 30cm) for the base,
One magnetic snap,
Two or three big buttons,
Thread to match the fabric,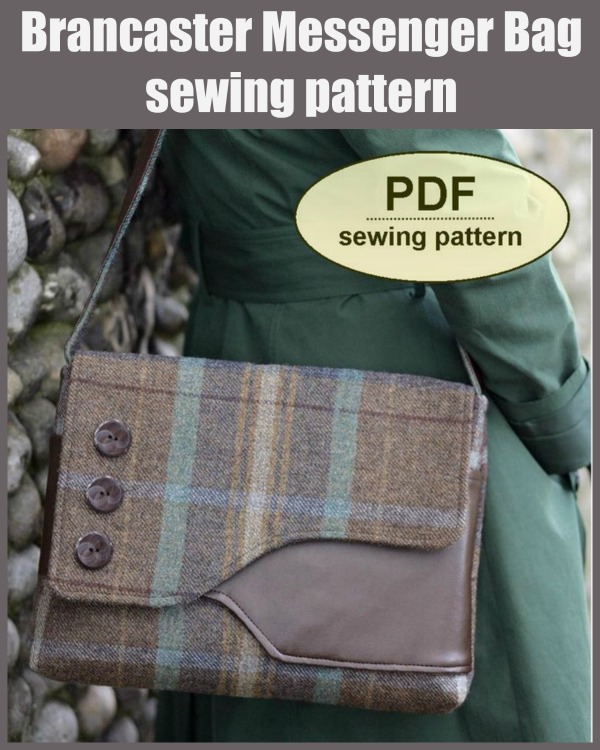 The designer, Charlie's Aunt, receives fantastic customer reviews. Here are just a few of her 5-star reviews:-
dwarriner1 said – I got the download pattern. It came right away and I made it the next day. It was very simple to make and instructions were very easy. I was well satisfied with this pattern.

Janice Hopper said – Finally used this pattern for a Christmas gift for my mother. Wonderful pattern with very easy to follow instructions. Love this bag. Will be back for more patterns. I do sell bags on my Etsy site but seldom more than 2-3 of each design. Thank you!

Nyra, Myrna, Marla S said – I love this beautiful bag. I have always liked messenger type bags and I am so happy to have a pattern for it now. Thank you so much. Nyra

sarahwooddell said – The pattern was super easy to follow and took me a couple hours. The pattern included helpful illustration of the steps. I would recommend this pattern to anyone, would be a good project to a confident beginner sewer.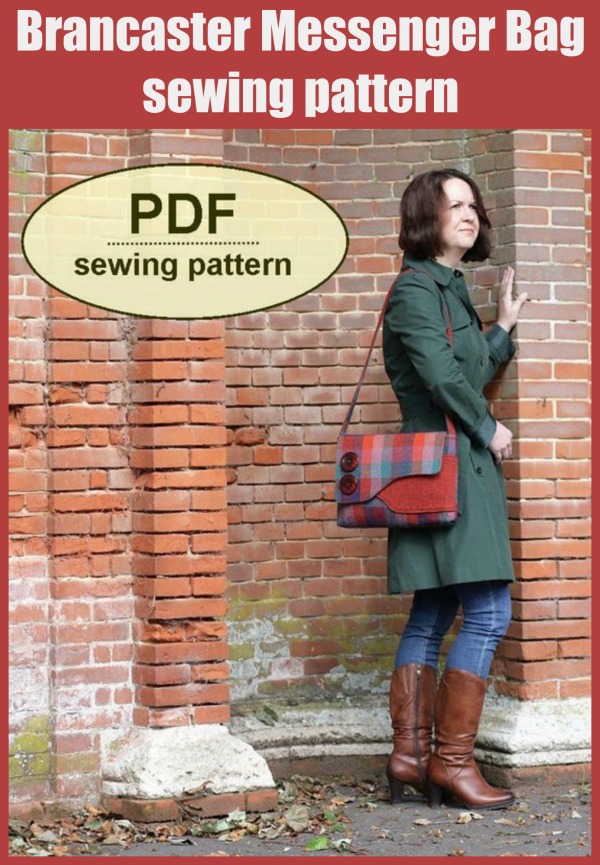 If you would like to download this pdf pattern you can click on the light blue button below.
Our Very Best Patterns
Looking for the best of the best bag sewing patterns? This article is one of the TOP 20 Most Visited on the Sew Modern Bags site in the last 12 months. Here is the full list of our Top 20 most popular patterns to sew:
More ideas for purses and handbags to sew
Want even more purses and handbags to sew? Our shop is packed full of hand-picked favorites from talented designers, big and small. Here are a few recent additions you might like. Check them all out in our shop.