Everyday Attache Bag sewing pattern
|
All posts may contain affiliate links.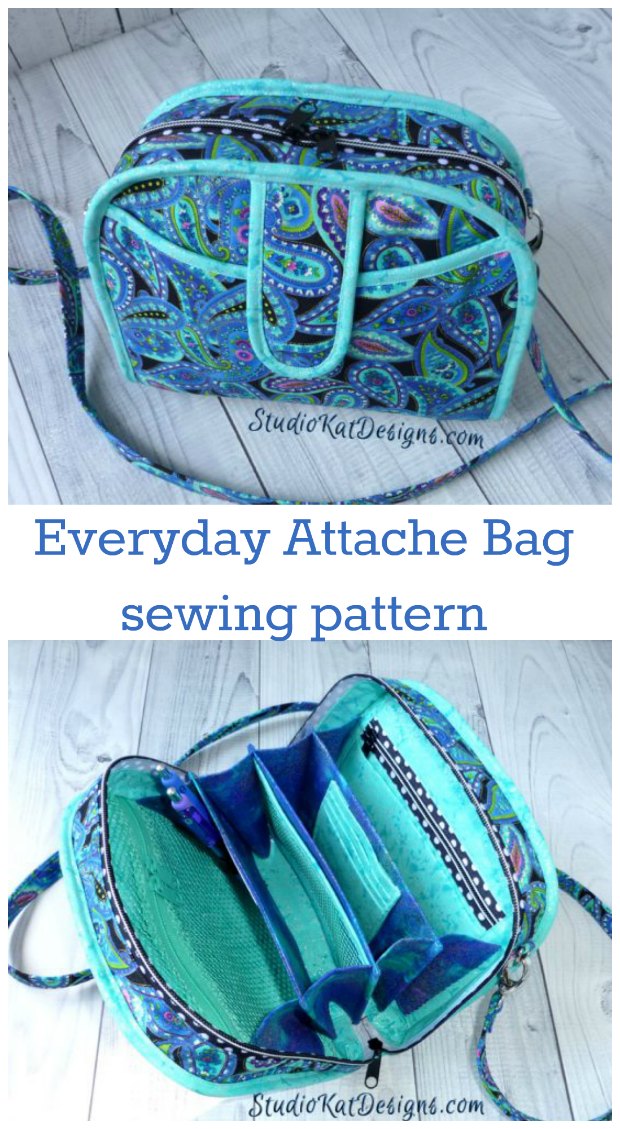 Oh, we think you are going to love this one! What an interesting bag pattern. The Everyday Attache Bag has pockets galore, a place for your cards, zipper pockets, a removable shoulder strap, and a really eye-catching design.
We think this pattern is very versatile and adaptable. Although many of the samples here are made in one fabric, imagine how it could look if you mixed some of your favorites to really show off the design of the bag – fabulous! Or stick with one fabric and accent it with a bold binding.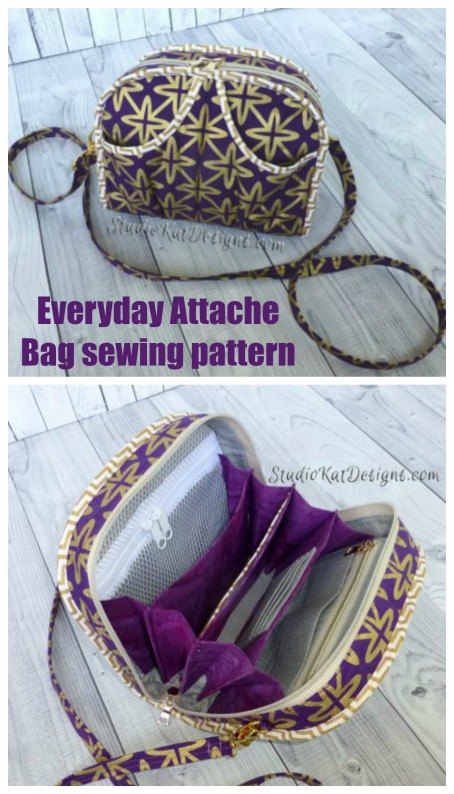 The Everyday Attache Bag has these fabulous features:-
A fleece-lined exterior slip pocket: the perfect place to store your smart phone! Fits phones & small tablets up to 6.9″ (175mm) tall X 5.32″ (135mm) wide.
Lots of secure storage: slot storage for 5+ credit/debit/loyalty cards, ID cards, currency, tickets, receipts, pen & much MUCH MORE!
Zippered interior pocket: perfect for coins.
A Secure zip-around closure
Two exterior pouch pockets: ideal for quick access to keys, sunglasses and MORE!
Full-sized zippered interior mesh pocket: small loose items are secure & easy to locate!
When you have finished making yourself an Everyday Attache Bag it will measure approximately 9″ wide by 7″ high by 3 ½" deep.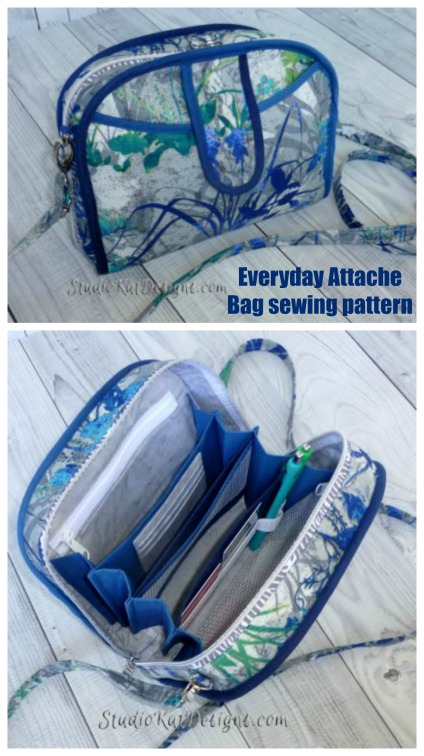 What you will need to make an Everyday Attache Bag:-
½ a yard of exterior fabric,
⅝ of a yard of lining fabric,
⅜ of a yard of contrasting fabric (add an additional ¼ yard if you are making your own bias tape),
¼ of a yard of 22″ wide fusible fleece,
1-yard of 23″ wide fusible interfacing,
One 9 ½" by 17″ piece of foam stabilizer,
One 9″ by 13 ½" piece of mesh fabric,
One ¾" invisible sew-in magnetic snap,
9″ of ¾" wide flat elastic,
88″ of extra-wide bias tape (1 ½" wide unfolded) or make your own,
Two 10″ (or longer) closed bottom zippers,
One 22″ purse zipper (closed on both ends w/2 zipper heads),
Two ½" wide D-rings,
One **⅝" wide slide buckle (to make the strap adjustable),
Two **⅝" wide swivel snap hooks,
53″ of **⅝" lightweight nylon webbing,
** If you choose to use a wide webbing for your strap, please note that your webbing, slide buckle and snap hooks must ALL be the same width,
Get the Everyday Attache pattern here
Our Very Best Patterns
Looking for the best of the best bag sewing patterns? This article is one of the TOP 20 Most Visited on the Sew Modern Bags site in the last 12 months. Here is the full list of our Top 20 most popular patterns to sew:
Keep organized with these storage and project bag ideas to sew
Want even more project bags, storage and organizers to sew? Our shop is packed full of hand-picked favorites from talented designers, big and small. Here is a sample selection you might like. Check them all out in our shop.