DIY Insulated Farmer's Market Tote – free pattern
|
All posts may contain affiliate links.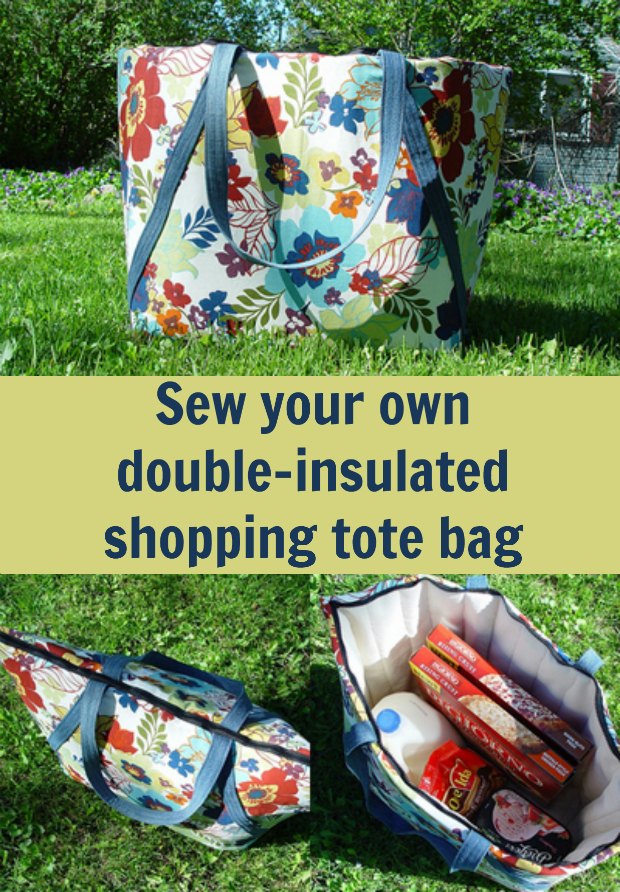 [UPDATE – the owner of the Sew Mama Sew website has retired and the entire website has been taken down. We don't know of any other active link for this pattern. Sorry for the disappointment, but sometimes these things happen and are outside of our control. You may find other patterns and ideas for insulated bags here.]
I don't know about you, but when I go grocery shopping in the summer, I feel like I have to race home like the wind so my ice cream doesn't melt or my yogurt doesn't get too warm. This is a great summer sewing project to help with just that. It's an insulated (stylish) tote that you can take with you on a picnic to keep your foods hot/cold or just on a run to the store in that hot summer heat to help keep your pizzas frozen and your ice cream from melting! The bag has a double layer of Insul-Bright to keep hot things hot and cold things cold.
It's fairly large; it can easily hold 4 boxed pizzas or 3 gallons of milk. The final dimensions are: 26″ (top width)/18″ bottom width x 17″ high x 8″ deep (at the base).
So here's what you'll need:
1 28″ sport weight zipper
2 pieces heavy duty / decor weight exterior fabric, 28″ w x 21″ h.
2 pieces plain canvas or other heavy fabric for lining, 28″ x 21″
1 2/3 yd. of 45″ wide Insul-Bright, cut into 4 28″ x 21″ pieces.
heavy duty sewing machine needle
For the handles and decorative stripes, you'll need:
4 pieces of 2″ x 28″ (stripes)
2 pieces of 4″ x 28″ (handles)
Pattern no longer available – sorry
Even more tote bag sewing patterns you won't be able to resist
Want even more tote bag sewing patterns? These are the top best selling tote bag patterns in our store. Take a look at the tote bag category on our shop page for even more!