Ultimate Carry All Bag sewing pattern
|
All posts may contain affiliate links.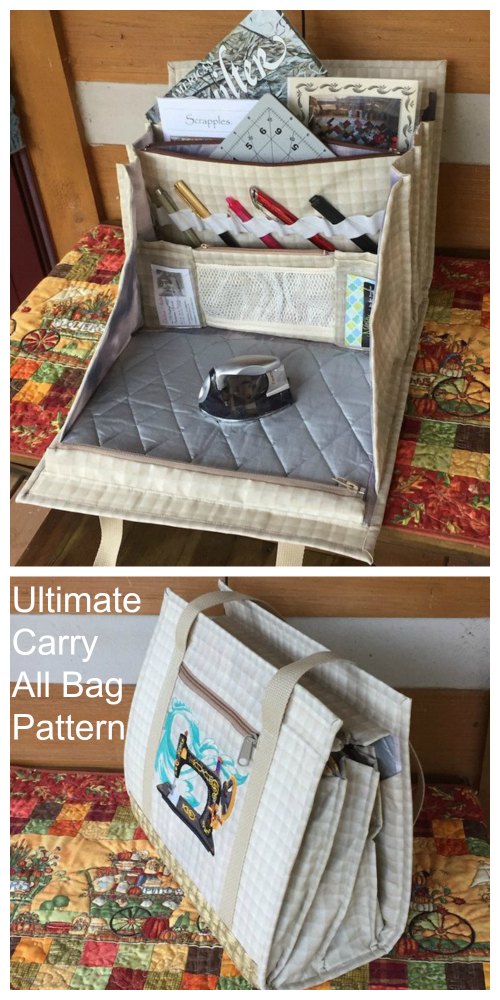 This designers Ultimate Carry All Bag sewing pattern is one of our BESTSELLERS and it's easy to see why. It's an EPIC pattern, to sew the most amazing bag and we think every sewer should make themselves one of these.
This elegant bag will carry and organize all your sewing, quilting or any other craft supplies. It has an amazing 18 pockets, plus additional vinyl clear bags, attached to the swivel hook for smaller items (needles, embellishments, templates, small rulers, thimbles, etc).
The large zippered pockets are the size of a standard magazine and will also fit an iPad/tablet or small cutting mat. Traditional size patterns will fit into the smaller pockets. You can store multiple tools, scissors, cutters, etc. in vertically stored in mesh pockets, efficiently saving the room and providing easy access.
There is enough room between the pockets for the fabrics, plastic divided boxes, miniature iron, thread spools, and other items. A 6" by 12" or any smaller ruler will easily slide under the pockets, making the bottom even sturdier.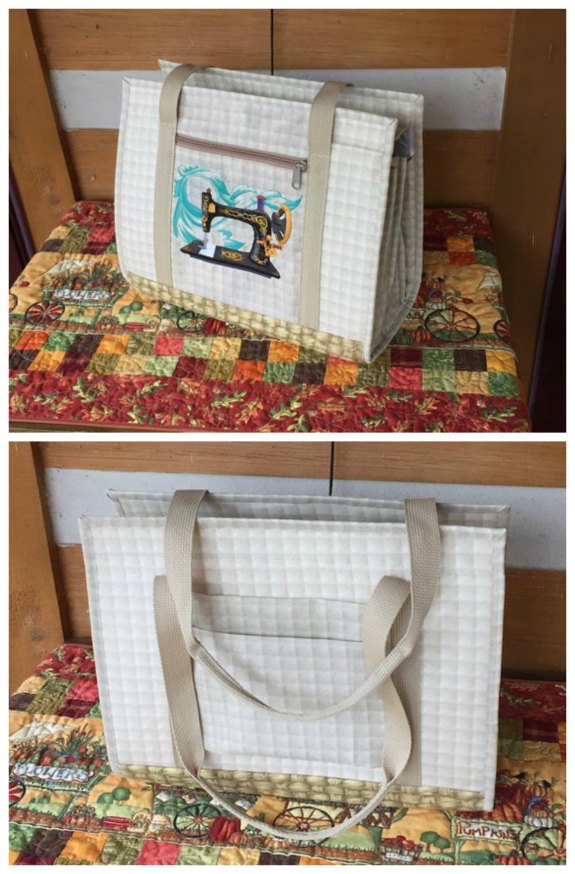 A separating zipper on the top provides using the flap side of the bag as an ironing pad, which can be replaced by a beading mat for jewelry makers or other craft pad.
The shorter zippered pocket with additional mesh pocket and 4 more pockets on the sides, will give you easy and convenient access to all your markers, pencils, pens, seam rippers, snipers, etc., which are efficiently organized in loops on elastic band, attached to the large pocket in front of you, when open. The loops are stitched by 45 degrees angle, which keeps your markers, pencils and tools from falling off and also gives you more space for longer tools.
There are also two pockets on the outside of the bag, one is zippered on the front and the other is folded pocket on the back, which also makes a sleeve to carry this bag on the top of the rolling sewing machine tote or any travel bag.
This video here allows you to see the finished bag and how you can use it to store all your sewing, quilting or any other craft supplies.
Sizing info:
When you have finished making an Ultimate Carry All Bag it will measure approximately 14″ by 11″ by 7″.
Step by step video sewalong
You can watch and pick up tips for sewing the Ultimate Carry All Crafts Bag in these sew along videos.
You can download the pattern by clicking on the button below.
Our Very Best Patterns
Looking for the best of the best bag sewing patterns? This article is one of the TOP 20 Most Visited on the Sew Modern Bags site in the last 12 months. Here is the full list of our Top 20 most popular patterns to sew:
See all the patterns from this designer here
Keep organized with these storage and project bag ideas to sew
Want even more project bags, storage and organizers to sew? Our shop is packed full of hand-picked favorites from talented designers, big and small. Here is a sample selection you might like. Check them all out in our shop.