Great sewing pattern giveaway for November
|
All posts may contain affiliate links.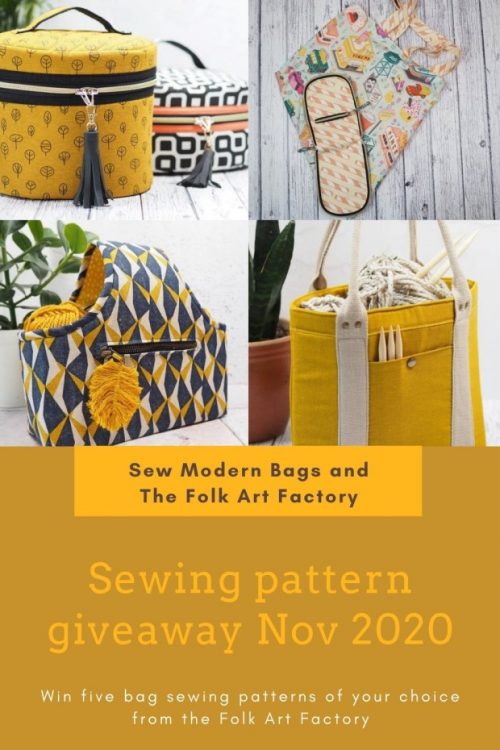 We are delighted to offer you a chance to win five sewing patterns of your choice from The Folk Art Factory. The lovely Debbie, the designer of all the patterns, wants to wish you all a very happy festive season, and give one of our readers a little gift of five bag sewing patterns.
Details of the giveaway
The Folk Art Factory is one of our recent additions to the Sew Modern Bags Pattern Store, and Debbie brings many years of pattern designing and writing experience. She even has 3 sewing books published here on Amazon.
She creates beautiful bag, tote, purse and organizer sewing patterns, suitable for sewers of all levels. We have 17 patterns for you to choose from so no matter whether you want a simple tote, a lunch bag, a folding grocery bag, a fancy train case or a craft project organizer, we think you'll find a pattern you love in her collection.
Check out all of the patterns from The Folk Art Factory here
Entry to the giveaway
Debbie will be taking note of all of the pattern purchases made during the month of November and each purchase earns you one entry into the prize draw. Buy two patterns, get two entries, etc.
At the end of the month, one winner will be drawn at random from all of the purchases made of The Folk Art Factory patterns from the Sew Modern Bags store. That one lucky winner will win 5 sewing patterns of their choice from her range. Debbie will contact the winner directly.
Good luck everyone and thanks Debbie for offering this fun giveaway. Don't forget to pin and share this, to give your sewing friends a chance to win.