The Big Craftsy Pattern Purge – MUST READ
|
All posts may contain affiliate links.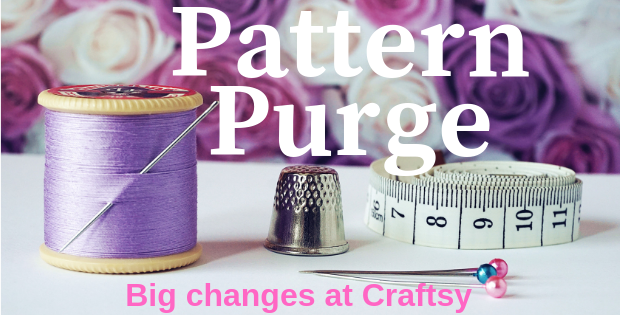 There are big changes at Craftsy today. As well as the online classes they offer, they are also one of the largest sewing pattern marketplaces. But that is all about to change. It's going to affect us here at Sew Modern Bags, it's going to adversely affect a lot of independant pattern designers, and it may impact on you as a pattern buyer. Here's what's happening and what we're going to be working on.
What's happening to all the patterns?
On 19th December all Craftsy members who had a pattern store received an email from Craftsy customer service. There were two different emails, one with bad news and one with terrible news. Let's start with the worst news first…
Pattern stores are being removed completely!
If you are one of the unlucky Craftsy pattern sellers, you received this email to let you know that your pattern store and all of your patterns were being deleted from Craftsy on 28th December.
Hi Designers,

As we near the end of 2018, we're looking forward to the new year and how we can continue to create exceptional experiences for our customers and our talented pattern designers. Over the years, we've received many suggestions for improvement from designers and members alike, and we are taking the first steps in re-shaping our marketplace now. While we do so, we will be significantly reducing the number of stores and patterns available on our site at the end of this year.

On 12/28, your pattern store will be removed from Craftsy.. You will still have access to your dashboard for all financial reporting after that date. We have enjoyed supporting your pattern business and look forward to sharing more as our marketplace evolves later on in 2019.

You can read more in our help center right here, or reach out to our team here anytime.

Thanks again from all of us for sharing your designs with our community.

Warmly,
The Craftsy/Bluprint Team
Any pattern designer unlucky enough not to be favored by Craftsy will have their pattern store and all their patterns removed from Craftsy today. Sadly they didn't give much notice and there was no right to appeal. They had made their decision and it was final.
Not ALL the patterns are going through…
If you were in the 'top designers' category then the news isn't so bad. They also received an email but the entire pattern store isn't being removed.
The email sent to the top designers was similar to the above, but the paragraph about the store being removed was replaced with…
Good news: you've been identified as a top designer on Craftsy! We love your work and we are excited to continue to share it. We thank you. Please note, in some cases, we were not able to include all patterns from all stores that are remaining on our site, so after Friday, 12/28, you may see the selection of patterns on your store reduced. Also, pattern upload will be temporarily disabled on all stores until later in 2019, as we revamp our marketplace and make it a more inspirational destination. Apologies for any disruption this may cause.
So in this case, although the pattern store will remain on Craftsy, some patterns will be removed (although the designer won't know which ones, and doesn't have any say in it), but they won't be able to upload any new patterns.
How will it affect me as a pattern buyer?
You won't have as much choice now on the Craftsy platform, and you may find that many of the free sewing patterns usually hosted there are removed. We've heard from various designers who had their shops removed, that most of their patterns were free ones.
Many of these pattern designers don't have anywhere else to make a free download available to you. They don't always have their own websites, and you can't make something free available on Etsy – only paid patterns are permitted there.
So it may mean that there will be less free sewing patterns available to you in future, or they may be a lot harder to find by looking through other sources.
What about all the patterns I have already bought and not yet downloaded?
All of the patterns you have already bought are safe. You can access them through your Pattern Library on Craftsy at any time to download. Even the free ones. They will all still be there.
Since the NEW Craftsy took over from BluPrint, you can no longer have access to those patterns in your account. Hopefully you downloaded them before the switch.
How will this affect Sew Modern Bags?
We've always been huge Craftsy fans and often link to both free and paid patterns on Craftsy. We know that this is the best option for pattern designers because of the low fees.
However, lots of these patterns we linked to in the past may now be missing from Craftsy. If you click on one of the links/buttons in our articles you might end up at what is known as a '404 page', basically, an error page which tells you what you are looking for cannot be found.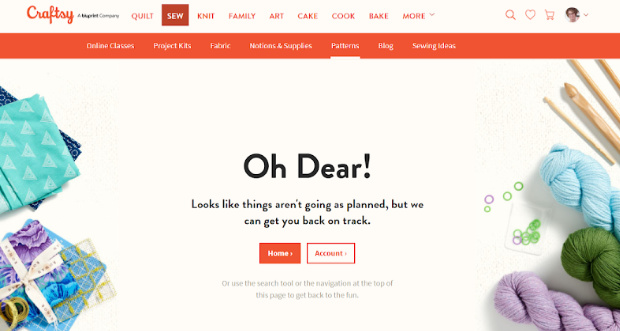 We have hundreds of patterns here already on Sew Modern Bags and we are burning the midnight oil going through each and every one of them, checking for broken links. It's a mammoth job, but we hate the disappointment of clicking on a link to find a pattern, only to find it's not there anymore.
So please bear with us during the transition period. If you do come across any links or patterns on the site which aren't working for you, it would really help if you let us know. You can use the Contact Us form and just drop us a quick line telling us the URL (website address) of the page that has the error. Or if you aren't sure how to do that, just the name of the pattern would help too. You can also leave us a comment here if you find something that needs updating.
Thank you for your patience and understanding and we hope you will continue to support independent pattern designers through their other marketplaces.