Big Bag Bundle Sale – limited time deal
|
All posts may contain affiliate links.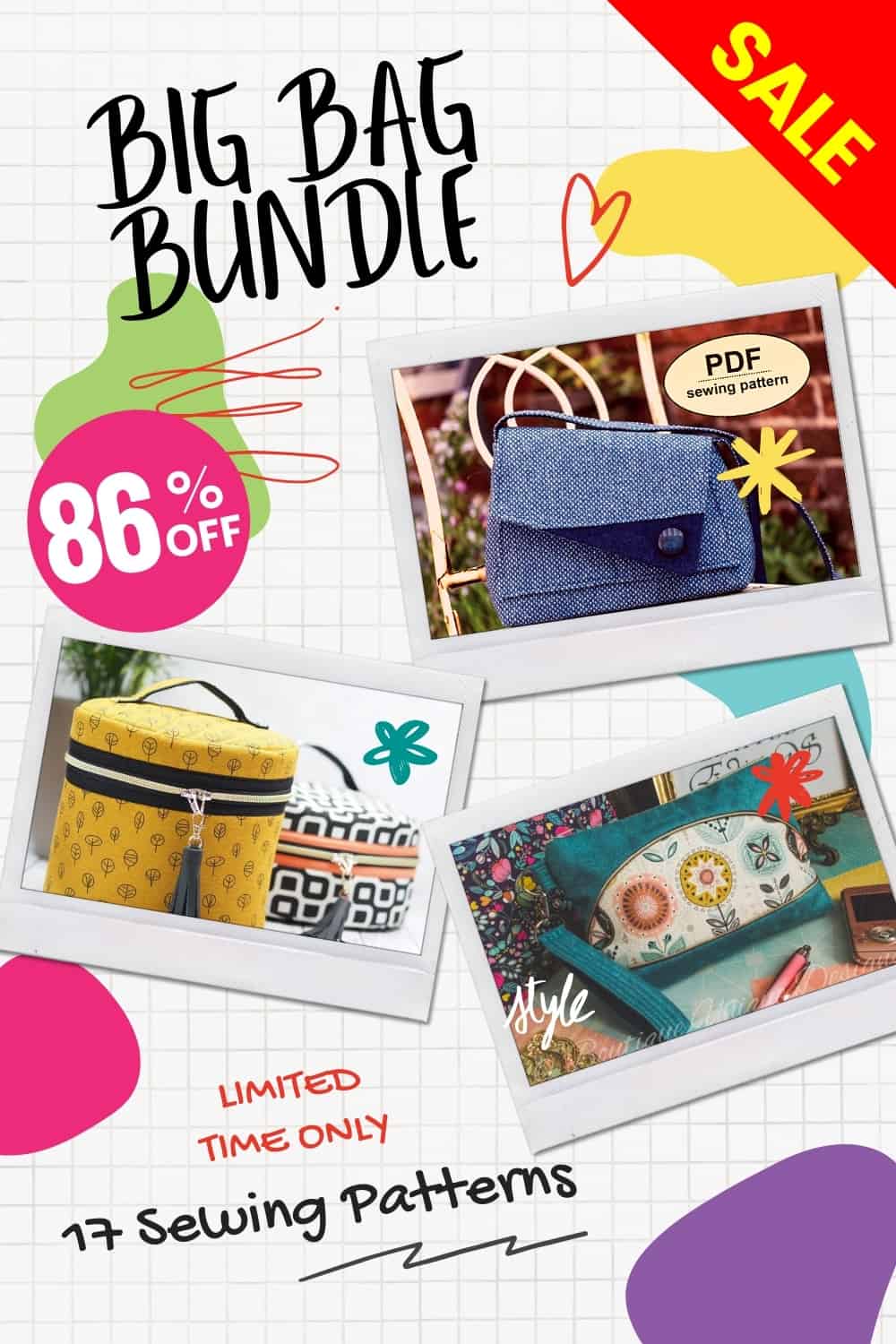 This offer is now closed. Thank you to everyone who bought this amazing bundle.
Looking to download your files? Look for your receipt from PayHip and click the Download Now button. Don't see it in your inbox? Check your spam/junk folder. Deleted the email? Check your trash or deleted items for the email. Click the download now button to get the list of files to download and save.
—————————–
Something very special is coming your way – a BIG Bundle of Bag Sewing Patterns at a price that's almost too good to be true…
We probably don't say it enough, but we LOVE our readers and the team of designers we work with. You are ALL appreciated more than you know. Times have been tough and so we wanted to pull together as a team, the designers you love and your admin team, Susan and Laura, to give you a little treat as a way to say Thank You for supporting our site and our designers.
We think we've done it with a 'super-special-once-only-limited-time-almost-unbelievable-offer' that we hope you'll love. If you like to sew bags (and we know you do) then you are going to love this package we put together for you. It's about time that you treated yourself for how you've held it all together this last year.
Introducing the BIG BAG BUNDLE SALE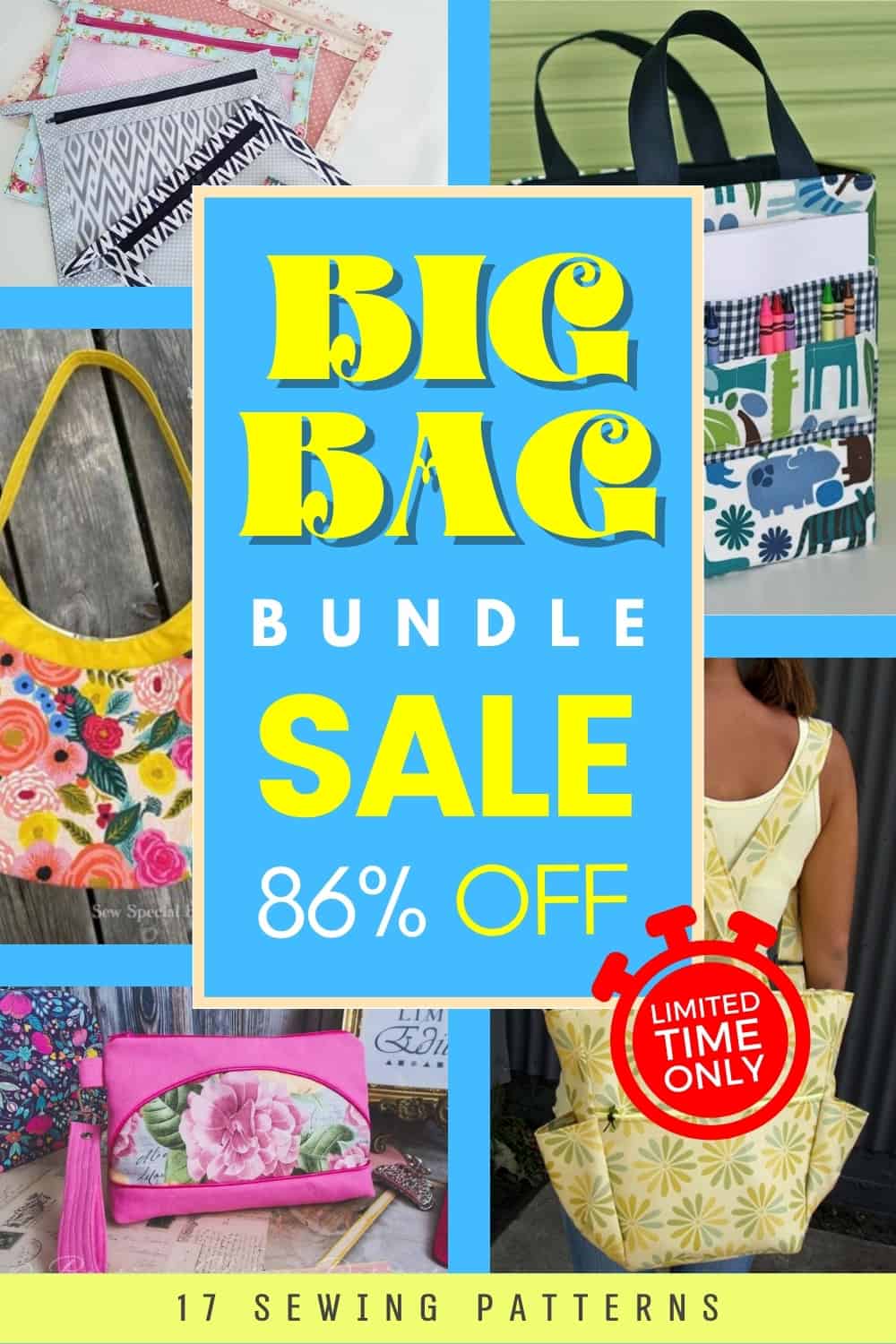 It's the BEST EVER sewing pattern deal carefully curated for you by the team at Sew Modern Bags, and incorporating some of your best-loved bag pattern designers. If you love to sew bags, purses, totes, wristlets, zipper bags, backpacks and storage, then THIS sewing pattern bundle is perfect for YOU.
There are 17 complete bag sewing pattern PDF downloads, and a bonus set of 10 printable sewing posters. Incredible value awaits with this Big Bag Bundle.
We want to blow you away with a total value of more than $157 available at a one-time only limited-time price of just $19.95 for everything.
Yes, that's 18 products for just $19.95, a little more than $1 each. You deserve it!
Even if you might already own one or two of these excellent patterns, it's still a fabulous deal to get the rest at such a discounted price.
Limited time offer – this will only be available for a short time
Yes, we can't believe it too – grab your bundle now before we change our minds. This sale is limited time only and the last day to buy the bundle is Monday 25th October 2021. After that, it will be gone for good.
What's included in the Big Bag Bundle Sale?
You'll get 17 full sewing pattern downloads. These are all the full patterns with step-by-step instructions that you would get if you were paying full price. Some also include video lessons too.
1) Liberty Shoulder Bag from Needle & Anchor (with video)
Here's the Liberty Shoulder Bag which is ready to be your everyday bag for the summertime! This bag has so many cool features, double exterior slip pockets (front and back of the bag), an interior slip pocket, and zippered pocket. The coolest feature is the connectors for the shoulder strap. It's sewn on the exterior gusset and holds the shoulder strap like a belt under a belt loop. The bag is generously sized without being too large and I've even included info within the pattern so that it can be printed at 85% if you'd like it a bit smaller. It can be made from various fabric mediums such as quilting cotton, faux leather, vinyl, and cork fabric.
2) Orford Bag by Charlie's Aunt
The classic simple asymmetrical lines of the Orford bag are reminiscent of the inventive styles of the 1940s but with a modern Charlie's Aunt twist. It has a sloped top, front pocket, and an asymmetrical flap featuring a contrasting panel. In addition to the front pocket, there is an interior patch pocket. The Orford Bag is a nice practical size for day-to-day use. It is made with two contrasting fabrics and is suited to anything from tweeds paired with corduroy or velvet for autumn/winter to heavy cotton canvas or patterned linen for spring/summer.

3) Hanging Storage Basket by Swan Family Patterns, size small with video
Hanging Storage Baskets to sew. Quick and easy. This is a great pattern for even a beginner! You can watch the video tutorial for full step by step tips and instructions. Organize your spaces by sewing Storage Baskets to hold all the things! There is a small loop at the back so you can hang your baskets. These baskets are perfect for so many things and can be full of yarns, sewing tools, mittens and scarves, diapers, toys, etc.
4) Art Caddy Tote Bag by Gingercake Patterns
Does your child's art area look like a big mess? Not very inspiring for a young artist! I got so tired of picking all those papers and trying to find the scissors for the 100th time that I designed this cute tote to help them get organized. The art caddy measures 8.5″ x 5.5″ x 10″. It is constructed of several layers of interfacing and batting. It is sturdy and yet flexible to fit all sorts of items. It has a crayon pocket that fits up to 18 crayons. There are 7 additional pockets to organize all your odds and ends. The inside is spacious and sturdy to hold a few folders or a bunch of coloring books.
5) Odyssey Convertible Bag in two sizes (with video) by Toriska
The Odyssey Convertible Bag is a trendy fashion backpack. It holds all your essentials and transitions easily from a backpack to a shoulder bag. Switch the straps around to create a crossbody bag or a sling. There are plenty of pockets so you don't lose anything in your purse.
The Odyssey works well in thin vinyl as well as fabric. The convertible option is written for the small size; the large size is written as a backpack only. The small size can also be made as a backpack only and works well as a children's backpack.
6) The Viewables from Moments by Liz
The Viewables are a set of five pouches (plus two bonus sizes). They have so many uses it's amazing. They are perfect to put your projects in to keep them nice and neat. Or for your special lingerie, for a weekend trip. Maybe you could use them for pencils, medical supplies, kid's toys, sewing notions.
Whatever you use them for you will love them because you can see what is in each one and the sides expand so you can get more in them. They are quick and easy to make and are a great stash buster! A perfect project to use up those fat quarters!! Make them as a matching set or with different fabrics, colorful and fun. The possibilities are endless. Be warned..they are a little addictive!
7) Tori Tote Bag and Clutch from Merge Patterns
The Tote Bag Sewing Pattern and Clutch makes a big tote perfect for a day at the beach, vacation, or an "Every Day" bag. Easy tote bag pattern to make even for a beginner sewer due to its simple design. Fully lined bag with an inside zippered pocket, wall and smartphone pockets. Nine total pockets on the inside. This bag is designed with an inside size adjuster with clips that allow you to reduce the bags top width. Left undone and you have a larger tote bag.
Magnetic snap closure and strong handles. The purse bottom has a removable insert that gives a firm base for strength. This can be removed so the bag folds flat when not in use. An easy bag to sew with a seriously professional look. Instructions for outside cord purse tie included.
Makes a great diaper bag with all the pockets!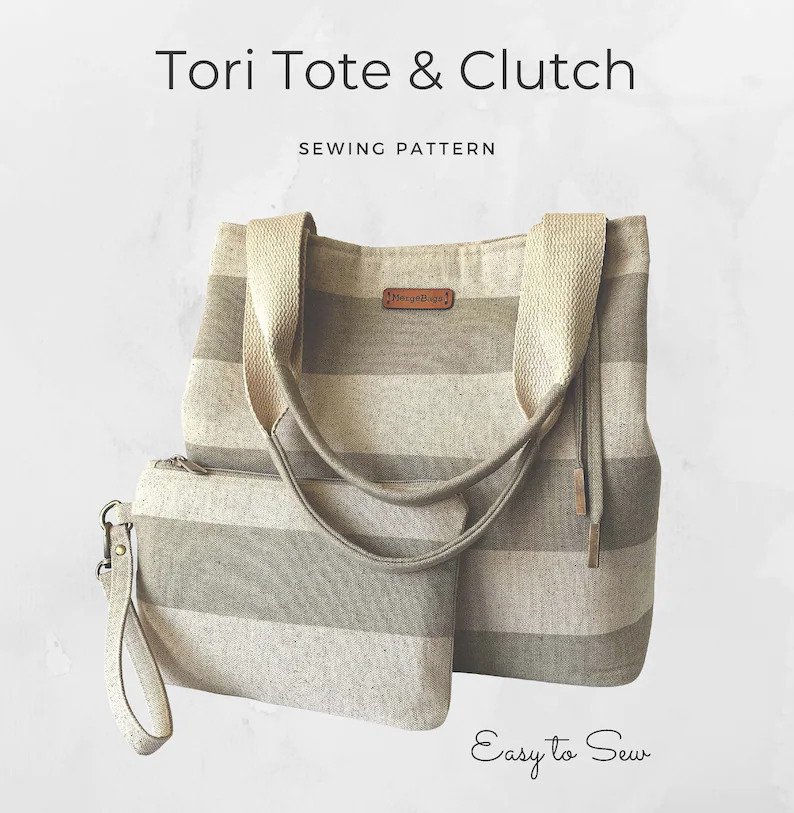 8) Canterbury Zipper Pouches, 2 sizes by Sew Simple Bags, with video
A flat zipper pouch in two sizes, ideal for sewing room storage, pens and pencils or small cosmetics.
* Feature binding on the zipper
* Bound edges (3 different binding methods included)
* Flat construction, no turning
* 2 sizes in the same pattern
* Full video sewing tutorial
* Printless pattern – no printed templates neededThe sewing video is perfect for beginners and those who prefer a visual explanation.
9) Chattanooga Train Case in two sizes by The Folk Art Factory
Stylish train cases in two different sizes, useful for both travel and use at home. Invoking the travel and romance of a bygone era and yet brought totally up to date for the modern home and sewer. I wish that I could go back to the time when going on a train was a bit of an event and people had special luggage for the occasion. Well that might not be possible but we can at least bring the luggage from that time to the present day. Number one on my list is a train case. Perfect for cosmetics or jewellery or even an on-the-go craft tote. This little case is not at all difficult (much easier than it looks) and you get two sizes! I guarantee you will want to make more than just one.
10) Cozy Nesting Boxes in 6 sizes from Cozy Nest Designs
A set of 6 nesting boxes that are both pretty and practical. Three rectangles and 3 squares in nesting sizes. You will find a million uses for these easy-to-make nesting lidded boxes! Perfect (and pretty!) storage for your sewing room, office or kid's room. They look so pretty in the bathroom, on your vanity, or in the guest room. Or, spread some love and use them for gift-giving!
You can make gift towers or nest one inside the another and they are a gift in themselves! Customize your fabric to suit any occasion or holiday. Scrap and fat quarter friendly!
Contains instructions for 6 boxes: 3 rectangular & square in 3 graduated sizes.
11) Lucy and Amy Wristlet Bag Duo by Boutique Unique Design
A stunning wristlet clutch bag duo, with two designs in the same pattern. Ideal for using those smaller pieces of feature fabric. The optional narrow piping really makes the designs pop. A handy-sized bag with removable wristlet strap, Lucy is suitable for many uses. Both bags have two roomy internal pockets one with a zip. The front feature panel is eye-catching and allows us to show off some of our favourite fabrics and colour combinations. These are an easy make and can be made with or without piping and wadding to suit your own taste. Very scrap friendly for using small pieces of beautiful prints.
We designed Lucy along with its sister bag Amy for those times when you don't want a big bag with you but still need to carry those essential items. We were very pleased with the way it turned out and realised it would also be a great make-up bag, pencil case or maybe to keep nail varnishes and manicure items in.
Lucy and Amy wristlet clutch bags are a great value combination that should be in every sewing pattern collection.
12) Tourista Bag from Lean Mean Sewing Machine
A convertible bag with top carrying handle and straps that work as a crossbody, shoulder bag or backpack. A great small bag for your day out. We're bringing back the '90s with the Tourista Bag!
The Tourista Bag is a backpack, a crossbody, a shoulder bag, and a toiletry case all in one! With the option to carry this either of four ways at any time, it makes the ultimate vacation or day-out bag!
This bag holds all of your necessities to have as much fun as your little heart desires while not weighing you down with all the extra stuff. Now you can go to your favorite resort, theme park, beach destination, or just a good ol' fashioned shopping trip while keeping your hands free!
13) Cruzer convertible tote to backpack in two sizes from Mackerilla Design
Two different sizes in the same pattern for this ingenious tote bag purse that converts from shoulder bag to backpack! One extra-large backpack for big hauls and one purse size backpack for your everyday running around. A fun to make bag!!
The Lil Cru – Must-have convertible backpack-style purse. Super simple transition from shoulder purse to backpack. Features include adjustable straps, zippered top closure, front exterior zippered pocket, rear center split pocket, interior center split pocket.
The Cruzer – The "it" bag for active women. Full-size convertible backpack-style purse. Super simple transition from shoulder bag to backpack. Combines function of backpack with style of handbag.
Great for trips to the store, farmer's market, school, baby bag, traveling, to the beach, etc….
14) Bootylicious Bucket Bag Step Up with video from Bags by Bags of Style
The Bootylicious Bucket Bag is a petite and stylish bag that can be worn cross body or on the shoulder. Externally she has simple lines with a clever double-fold flap top for security. Fastened with a simple magnetic fastener. Internally there is a small slip pocket and a zippered pocket.
Don't let her size fool you. This bag may be small but she's perfectly formed and can hold all of your daily needs.
The pattern gives full instructions and cutting templates for the unique cutwork and weaving design shown in the samples and two additional styles of strap connectors. It's accompanied by a full video sew-along.
15) Half Moon Coin Purse by AppleGreen Cottage
A cute coin purse that keeps your cash safe with both a zipper and a flap with snap closure. Room for coins, notes and a bank card. This scrap-buster is a fun project to sew when you only have a little of your favorite fabric print left. The whole coin purse needs a half fat quarter of fabric in total! But a lot is packed into a small package with this great coin purse pattern! It's small enough to carry in your pocket yet has enough space for coins, notes and a bank card or two.
You can attach it to your bag or keyring when you quickly run out to the shops or the school run, or use it in your evening bag when you don't need to carry a full wallet. There are two compartments – a main zipper section with room for coins and a front open pocket for notes or a bank card. For extra security, the flap closes with a snap to make sure nothing falls out.
Want something a little larger? The pattern is easy to scale if you want a different size.
16) HailieJade Mini 2.0 (with video) by KM Designs Pattern Co
Mini is a convertible backpack crossbody bag with minimal hardware. This is the second design of the HailieJade collection. The "Mini 2" version is almost the same as the original Mini but it does NOT have the hidden front zipper pockets. This makes it quicker and easier to sew for beginners.
It has a magnetic large edge lock closure, a slip pocket for your phone with a flap, and an interior sunglasses pocket. This is a great little backpack for beginners to sew with the added bonus of the convertible feature, so you can wear it as a traditional backpack, or as a crossbody bag too. Ideal for a busy day out.
There is a video tutorial included to guide you every step of the way.
17) The Scooter Bag by All Sew Petite
A Scooter pouch is a great alternative to store a charger, repair tools and other small items such as a smartphone, cash, keys, or a snack without the need to carry a backpack. It's designed to hang securely from the handlebars of your scooter but would be equally at home on your bicycle, the kids bikes, or attach a strap and wear it as a crossbody bag. Great for kids, commuting, or just for fun bike rides.
There is a video tutorial included to guide you every step of the way.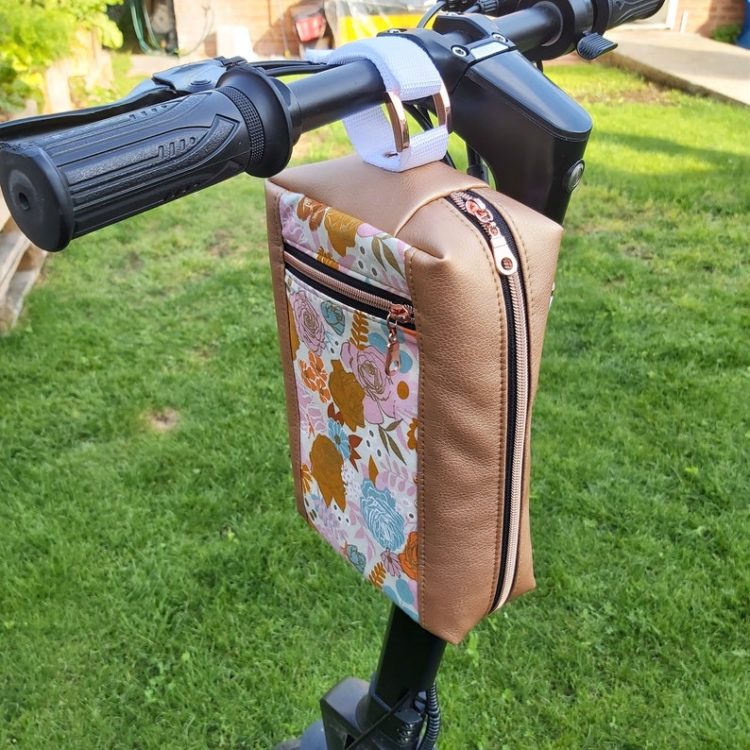 Bonus) Set of 10 printable sewing posters from Sew Modern Bags (see the posters here)
A big bundle of 10 of our printable sewing quotes posters. Ideal to decorate your sewing and crafting space. Print, frame, hang and enjoy.
Each poster is 8 inches by 10 inches. It will print on A4 or Letter sized paper, or on 8 x 10 inch photo paper. It fits perfectly into an 8 x 10 inch photo frame. If you wish you can shrink them down when printing to make a smaller size for a small desk frame or post card size. These could also be printed onto card stock to make your own sewing greetings card for your friends.
That's more than $157 of gorgeous sewing pattern value for just $19.95. It's a bargain you won't see here or anywhere else again.
Only available for a limited time
Don't delay, this amazing sewing pattern bundle is only available until Monday 25th October and then it will be gone for good. You can check out with Paypal or your bank/credit card. And the 25th really is the last day to buy.
How to get your Big Bundle of Bag Sewing Pattern
As this is a super-special limited time offer, it's kept separate from our usual pattern store. We ask that you make your purchase on PayHip and download your patterns from there.
Add your bundle to the cart
Checkout (you'll need to set up an account if you don't already have one with Payhip)
Pay with Paypal or a debit/credit card
Download your pattern files
Keep the files safely
Sew a bunch of totally awesome bags

Terms and conditions of the offer:
* The special bundle pricing is only available from 19th to 25th October 2021 (Timezone UTC -5). Sorry, no rainchecks.
* This offer is for digital PDF files only. There are NO paper patterns and nothing will be sent to you in the mail. Your patterns must be downloaded and saved to your device.
* As these are digital items, they cannot be 'returned'. Your purchase is final and no refunds can be given, either in full or in part.
* VAT/taxes may be charged in addition to the purchase price if that is relevant for your country. This is collected by PayHip and sent to the appropriate authorities.
* Digital file downloads will only be available for 30 days from the closing of this offer. Please download your files immediately as they cannot be resent to you later.