How to sew a fabric face mask
|
All posts may contain affiliate links.

Share this important article by pinning to your sewing Pinterest boards or sharing in your FB sewing groups.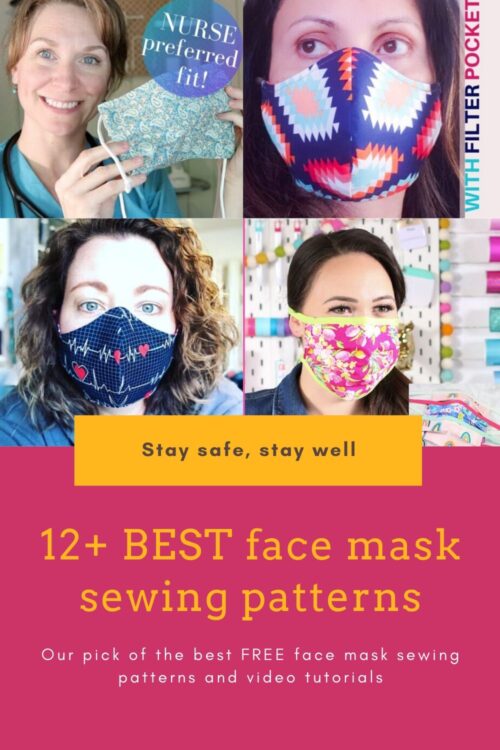 Let's start by saying we are in unprecedented times. Who could ever have believed that the situation developing around the world could ever come to be in real life, and outside of scary movies? It's a bewildering and scary situation for many, and now we need to pull together, everyone do their part to support our caregivers, emergency workers and the sick.
More governments and local health authorities around the world are now either suggesting, recommending or even in some cases mandating, the wearing of fabric face masks when leaving the home for essential travel for food or medical supplies.
Of course, these homemade face masks are NOT CDC compliant, not medical-grade, and do not provide full protection against viruses and other germs. However, with medical-grade equipment being in short supply, we are all advised to leave the medical-grade equipment for the professionals who need them. The fabric masks can be disposed of after use or washed and reused.
Who may be able to make use of fabric face masks:
Hospitals of course
Care homes for the elderly and disabled
Cancer care centres
Community nurses
Emergency services such as ambulance crews and police officers
Those recommended or mandated to wear them by their local authorities when leaving the home for essential travel and services
If you are considering sewing a face mask for a healthcare worker or hospital, please do make sure the design and materials used are approved by them or their organisation before starting work. Many are not taking any home-sewn fabric masks as they are non-compliant with medical needs.
If you DO wish to sew them for your own personal use and that of your family or friends, here is a roundup of some of the patterns that we consider look the best. Stay safe, stay well, stay indoors. Wash your hands often.
Where to get mask sewing supplies
Several of the large online fabric stores are not accepting orders or have a huge backlog. We've tracked down one specialist store we like for mask supplies (including filters) and lots of small independent sellers on Etsy who are ready to ship to you right away. Check out these:
Face mask sewing patterns
All of these are video tutorials to help get you started as sewing a face mask will be new to most of us. Check in the video description for a link to download any printable pattern if there is one.
Photo Credit: Designed by Geeks
Don't need a video to follow? Then this simple free mask pattern could be all you need. Available in three sizes and cut simply from a square of fabric, pick, small, medium or large and follow the easy sewing instructions in the free PDF download for these masks.
Can be sewn with ear loops or ties.
Photo Credit: Sweet Red Poppy
A full coverage and shaped face mask with full video tutorial. This uses ties instead of elastic so is adaptable for sizing and more comfy to wear long term without cutting into the ears.
Photo Credit: www.youtube.com
A simple unshaped mask with elastic and a space for a non-woven filter which can be removed and replaced.
Photo Credit: Dr. Ryan Southworth
Use this one with care and do your research first. We've read that HEPA filters used in vacuum cleaner bags may contain tiny pieces of fibreglass and should NOT be used to breathe through.
Photo Credit: EasyToSew
This mask has a space for a removable non-woven filter and also an adjustable nose wire to help it fit closer to your face.
Photo Credit: www.youtube.com
This pattern comes in 4 sizes so you can make one for each member of your family. A nice shape that fits close to the face and high on the nose. Elastic for the ears.
Photo Credit: Leah Day
A child sized mask with ties and filter pocket. A close fitting mask is important so if you are sewing for younger children, make sure to use a smaller pattern.
Photo Credit: www.youtube.com
A very quick and simple sew with NO PLEATS and a really good gathered fit and adjustable single tie.
Photo Credit: Daisy Multifacetica
If you can't source elastic, or don't have any at home, this face mask wraps around the face a little more and uses hair elastics to slip over the ears. Good close shaping and a filter pocket.
Photo Credit: Deaconess Health
The original hospital approved tutorial and pattern from Deaconess Hospital. The pattern and tutorial that started the trend.
Photo Credit: North Memorial Health
A tutorial from a medical doctor who also sews, on the North Memorial Health YT channel. Uses hair elastics for the ears and has a space for a filter.
Photo Credit: UnityPoint Health - Cedar Rapids
Photo Credit: Jennifer Maker
If you have a Cricut machine, this mask includes a pattern you can cut on your machine, so you can be cutting another as you are sewing the first. Can also be cut bu hand too.
Stay safe and well everyone and please follow your local medical advice.
Can you help us keep this site running? A small donation towards our costs would be so kind, if you've enjoyed our content. Thank you.

Our Very Best Bag Patterns
Looking for the best of the best bag sewing patterns? We've researched our TOP 10 Most Visited on the Sew Modern Bags site in the last 12 months. Here is the full list of our Top 10 most popular patterns:
We think you'll like these patterns for storage and organizers to sew
We know our readers just love to sew storage and organizer projects so we've got lots of them. We've handpicked some of our favorites to feature in our pattern store. These are some of the most popular that are readers are sewing now!