Seville Trug Basket sewing pattern (3 sizes)
|
All posts may contain affiliate links.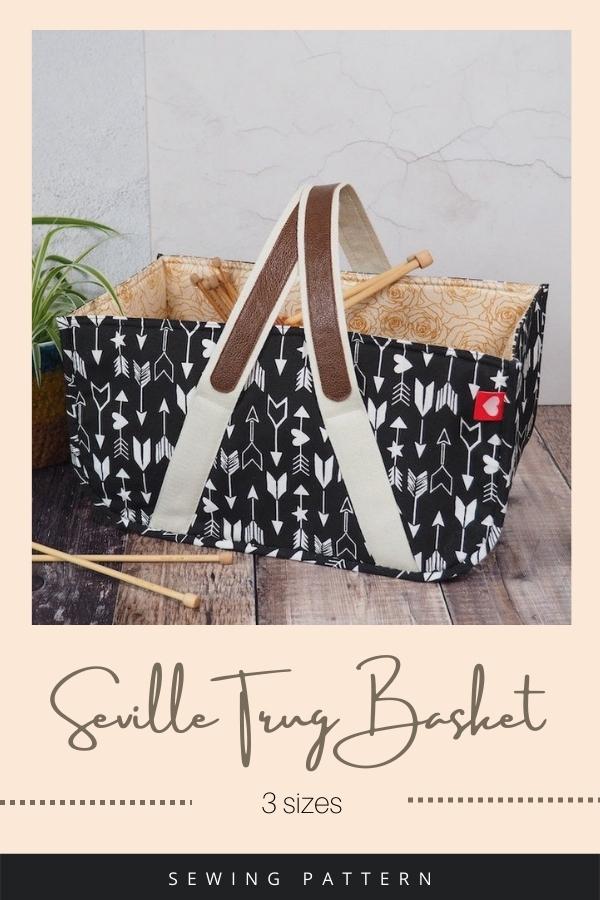 What could possibly be better than a new bag sewing pattern? Three bag sewing patterns! The super handy Seville Trug comes in three sizes and we think you'll want to sew them all. The smallest one is so handy for using scraps (both fabric and interfacing!) that you will make a lot.
The Seville Trug is great for gardening needs, as a project bag, something for children's toys, or plain good, old-fashioned storage. Put them in cupboards and on shelves. Use them for cosmetics and spare batteries. Pet bath needs and rolled up socks. Store them or tote them, either way, you will find a use for them every day!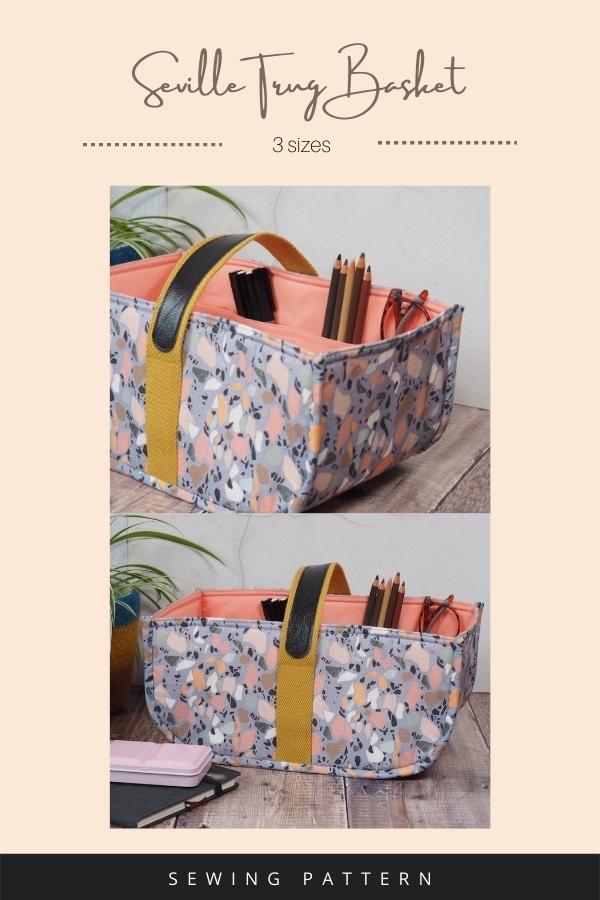 The large Seville Trug has inner slip pockets and two handles, the medium has one handle and slip pockets inside and the small one has neither handles nor pockets. In the requirements and instructions, the first will always be for the large trug and the other two will be shown in labeled brackets behind. The construction for all three is exactly the same unless shown.
Skill level:
Confident beginner with some knowledge assumed. This pattern comes with some handy printable labels to help you to keep track of the pieces. Simply print them off, cut them out and pin them to the pieces as you cut them out. There are no really nasty surprises in this pattern!
Sizing info:
Large = 16 ½" wide by 8 ¾" tall by 9″ deep,
Medium = 13 ½" wide by 6 ¼" tall by 7 ¼" deep,
Small = 7 ½" wide by 4 ¼" tall by 4 ½" deep.
Suggested Fabrics:
Quilting weight cotton, denim, canvas, furnishing fabrics, linen, needlecord, waxed cotton, oilcloth.
Materials needed:
1 yd. (m: ¾ yd., s: ½ yd.) canvas or similar weight fabric for the outer panels. This slightly larger amount of fabric allows for the bias binding and with your leftover, it is easy to whip up a small trug,
1 yd. (m: 22", s: FQ) quilting weight cotton fabric for lining,
1 yd. (m: ¾ yd., s: ½ yd.) Style-Vil foam interfacing (Vlieseline),
¼ yd. (m: ¼ yd.) G740 fusible interfacing (Vlieseline). For reference, this is super-thin interfacing, a bit like fine cheesecloth with glue on one side,
65" (m: 20") of 1 ½" wide webbing for the handles,
3" wide x 18" long (m: 3" x 12") thin leather or vegan leather for the handle trims. You should choose the thinnest, most lightweight leather that you can find, especially if you do not have an industrial or very heavy-duty sewing machine. If you don't have any luck, you would be better with the vegan option. There are lots to choose from!
Clear drying glue suitable for fabric,
Coordinating threads for all fabrics and trims. Always coordinate all of your threads to fabrics. Sometimes this means a different color thread in the top of the machine to the bobbin. It is a bit of extra work but well worth it in terms of style,
A sewing machine.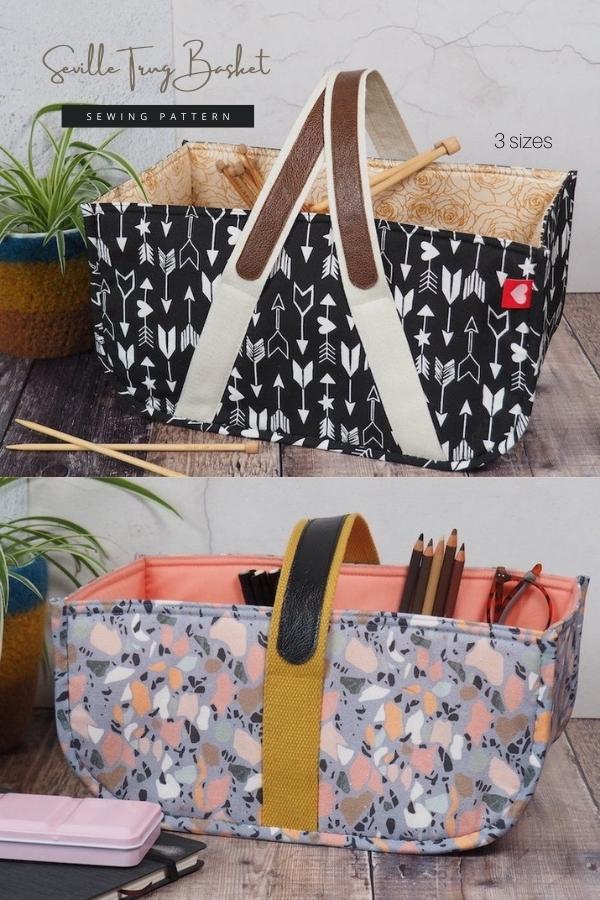 The pattern:
This is a measure and cut pattern which means that you don't have any templates to print off and match up! You need a rotary cutter, ruler, and mat and you can cut the pattern pieces straight from the fabric. This is easier than it sounds because the pieces are all simple squares and rectangles.
This pattern is super detailed. You will receive seventeen pages with twenty-two easy-to-see color photos to illustrate the steps and handy printable labels to help you to keep track of the pattern pieces. Simply print them off, cut the labels out and pin them to the fabric piece as you cut. You will find the labels on a separate PDF so if you choose to print double-sided to save paper, you will not lose any of your pattern instructions.
If you would like to download the pattern you can click on the blue button below.
And if you would like to see other bag sewing patterns from this designer then you can click on the red button below.
Keep organized with these storage and project bag ideas to sew
Want even more project bags, storage and organizers to sew? Our shop is packed full of hand-picked favorites from talented designers, big and small. Here is a sample selection you might like. Check them all out in our shop.