Melisande Slouchy Bag sewing pattern (3 sizes with video)
|
All posts may contain affiliate links.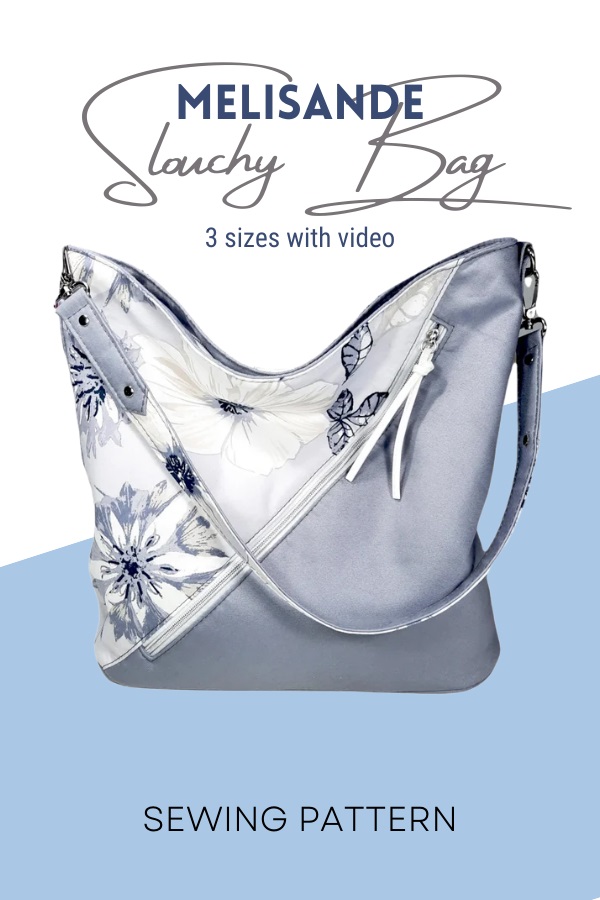 Melisande is a slouchy bag that is available in three sizes. The Large and Medium as shoulder bags with an exterior diagonal zipper pocket, and the small is a crossbody version with no exterior pockets, for a quick sew. There are slip pockets and a zipper pocket inside of each.
The Large is very roomy, can carry a lot of things, great as a diaper bag or even an overnight bag. Or just a regular large slouchy bag. The Small is great if you don't carry a lot of stuff around, and the Medium is everything in between.
The pattern is great for color blocking, mixing of materials, colors, and textures, and offers lots of room for modifications – diagonal in opposite direction, no diagonal pocket or one on either side, shoulder, or crossbody.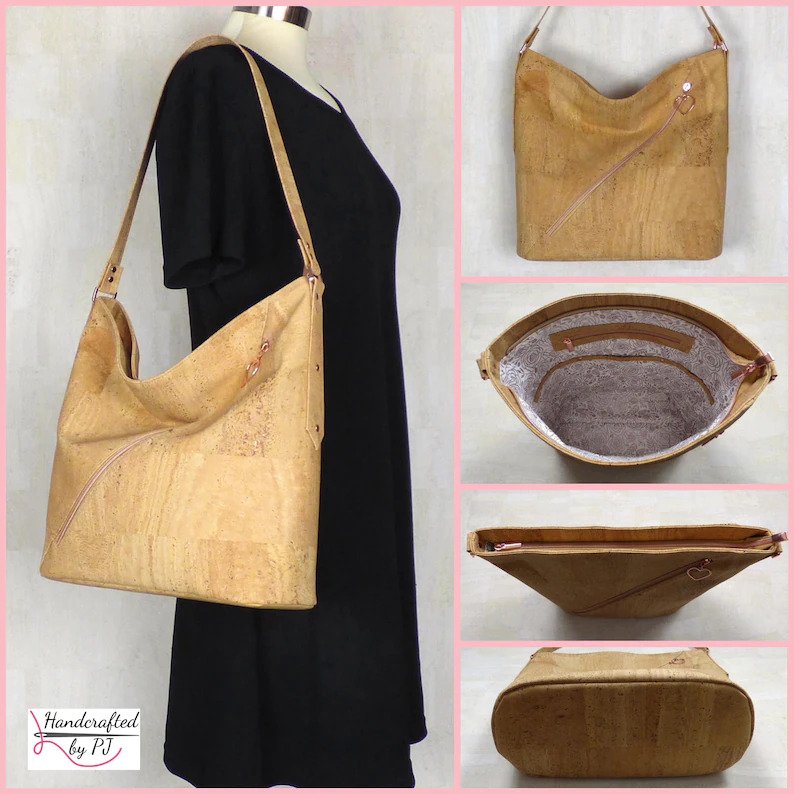 Main features:
Three sizes,
Small crossbody version (quick sew),
Domestic machine friendly,
Metric and imperial measurements,
Whole pattern pieces (no fold pieces),
All pattern pieces (except straps) available +,
Measurements for rectangle pieces,
Step-by-step instructions with over 250 photos,
Diagonal zipper pocket,
Interior zipper pocket with overlay,
Two-tone strap.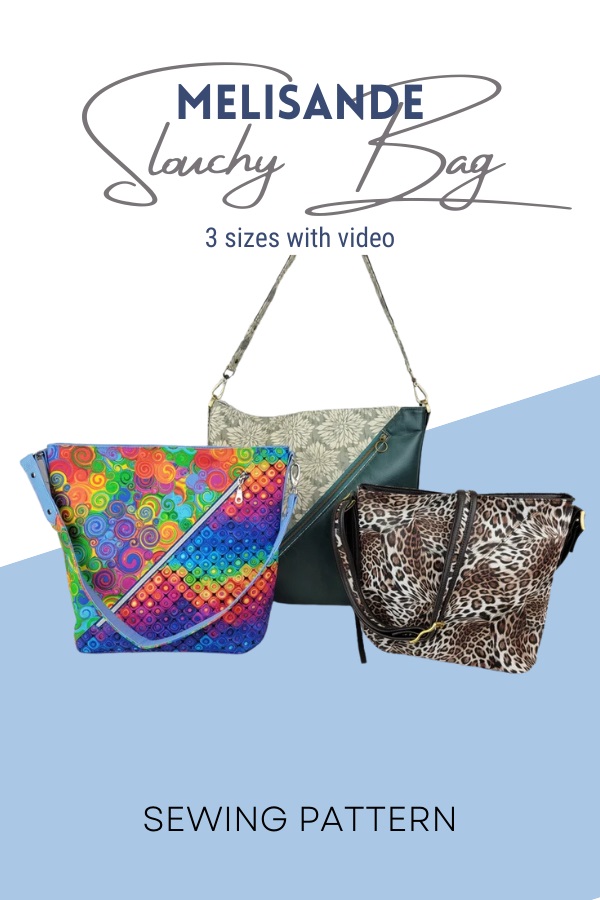 Skill level:
The pattern could be classified as advanced beginner/intermediate. It has step-by-step instructions with over 250 photos to guide you through the whole process, as well as a video tutorial.
Sizing info:
Large (shoulder bag) = 13 ½″ (34 cm) wide by 13″ (33 cm) high by 5 ½″ (14 cm) deep.
Medium (shoulder bag) = 10 ⅝″ (27.5 cm) wide by 10 ¾″ (28 cm) high by 4 ½″ (11.5 cm) deep.
Small (crossbody) = 8 3⁄4″ (22 cm) wide by 9″ (23 cm) high by 3 ½″ (9 cm) deep.
Video tutorial:
This pattern includes a full video tutorial (by Michelle Graham), links for which are included in your pattern download.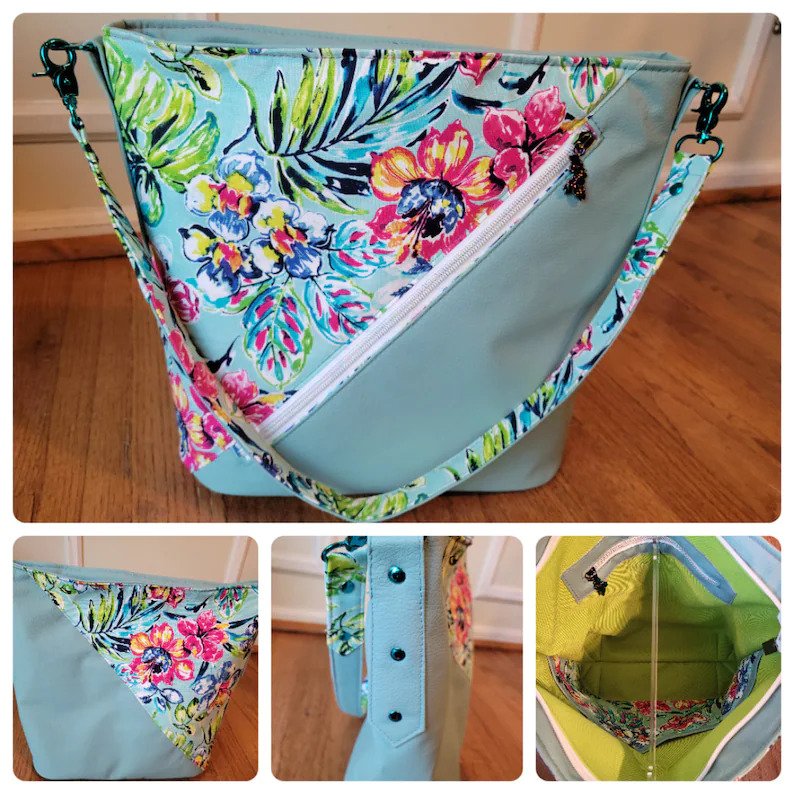 What's needed to make a Melisande Slouchy Bag:
Exterior fabric 55" (140 cm) wide: vinyl, cork, leather, waterproof canvas or quilting cotton, home décor, canvas… LARGE: 1 yard (meter), MEDIUM: ¾ yard (meter), SMALL: ½ yard (meter),
Lining fabric 55" (140 cm) wide: waterproof canvas, cotton, canvas, home déc.
LARGE: ¾ yard (meter), MEDIUM: ½ yard (meter), SMALL: ⅓ yard (meter),
Woven interfacing (SF101 or equivalent) for all cotton/lightweight fabric pieces,
Non-woven interfacing (H250, 809 Décor-Bond or similar) for cotton straps and connectors,
Decovil Heavy – bottom reinforcement,
Fusible fleece/H630/H640 for structure – optional (depending on the materials chosen),
Two D rings, two swivel clips: 1" (2.5 cm),
One Zipper end,
For small size only: two Strap ends: 1" (2.5 cm) – optional,
Twelve rivets (8/9 mm diameter, various post lengths), 10 for small size,
5# nylon zipper tape (zipper by the meter/yard) + 3 corresponding zipper pulls,
LARGE: 41 ⅜″ (105.2 cm), MEDIUM: 35 ¾″ (90.8 cm), SMALL: 18 ⅞″ (48 cm),
*If using premade zippers, the length of the teeth without the zipper stops at each end needs to be as listed, so the whole zipper will be longer.
Removable marking tools (silver pen/air erasable pen/chalk etc),
Wonder clips, alligator clips (optional),
Cutting tools (sharp scissors, rotary cutter, crafting knife, other preferred tools),
Fabri-tac glue (or equivalent),
Double-sided tape,
Heat press or iron,
Hole punching tool (for the rivets),
Rivet setting tool,
Painters tape/masking tape.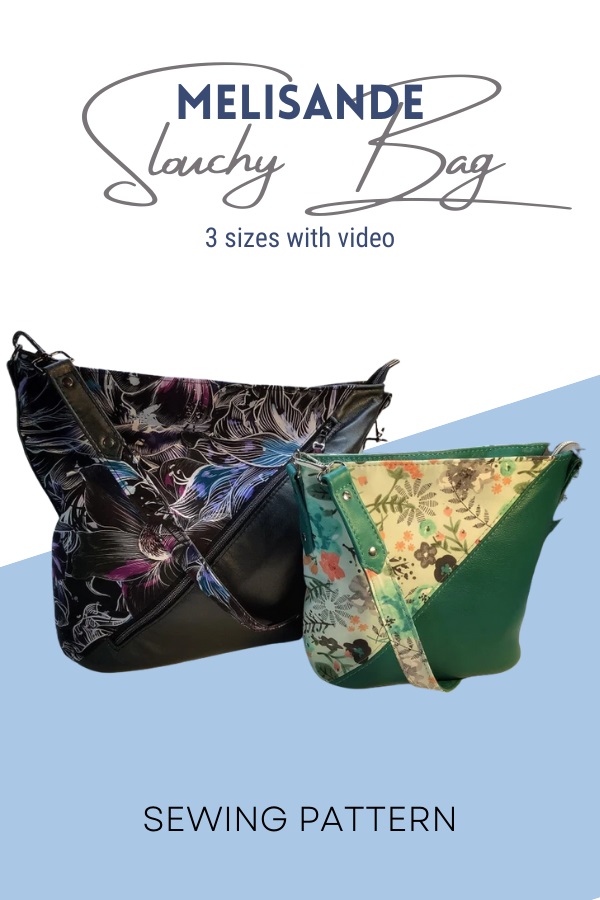 The pattern:
This is a PDF pattern with full pattern pieces in letter size and A4 format as well as measurements for rectangular pieces, detailed pictures, and step-by-step instructions on how to make your own Melisande bag. This is not a paper sewing pattern. Please download it immediately after check out.
And if you would like to see other bag sewing patterns from this designer then you can click on the red button below.
More Crossbody Bags to sew
For versatility, you can't beat a crossbody bag. Easy to wear, fun to sew, and a wardrobe essential. Everyone needs a few of these in their sewing pattern collection. Check out a few recent crossbody bag patterns to sew from our store.