Asymmetrical Crossbody Bag – free pattern
|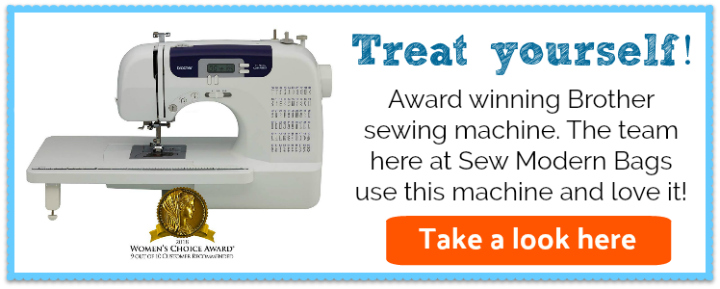 Here is a FREE pdf pattern for an Asymmetrical Crossbody Bag. Asymmetrical means having two sides or halves that are not the same.
This very unique looking bag has the following features:
The front of the bag is unbroken in order to accommodate a smooth fold-over, with a Swivel Hook and D-Ring keeping the diagonal closure in place.
The back of the bag features a full-width zippered pocket.
The bag's strap is fully adjustable, but is not fully detachable… since there are not alternative handles. Instead, the Swivel Hook at one side of the crossbody strap simply acts as a bit of great hardware embellishment.
The finished bag is approximately 15″ high by 11″ wide with a 4″ base and sides. When clipped into place along the diagonal, the short side height is 9″ The adjustable strap is about 57″ fully extended.
What you will need to make the Asymmetrical Crossbody Bag
¾ yard of 44″+ wide quilting weight cotton in a coordinating solid for the lining

2 yards 1" wide cotton webbing for the adjustable strap

¼ yard of ½" wide webbing for the riveted tabs (same color as used for the strap)

ONE 16"+ coordinating "chunky" zipper
½ yard of 44″+ fusible fleece
Scrap or ¼ yard of 20″+ mid-weight fusible interfacing (you need a 7" square)
All-purpose thread to match fabric and webbing
One 1/2″ swivel hook and D ring
One 1″ slide adjuster
Two 1″ D rings
One 1″ swivel hook
Eight 8mm by 6mm double cap rivets
One cutting and setting tools set for double cap rivets
Fabric pen or pencil – we like these frixion pens