BIG Bag Bundle Sale – limited time offer
|
All posts may contain affiliate links.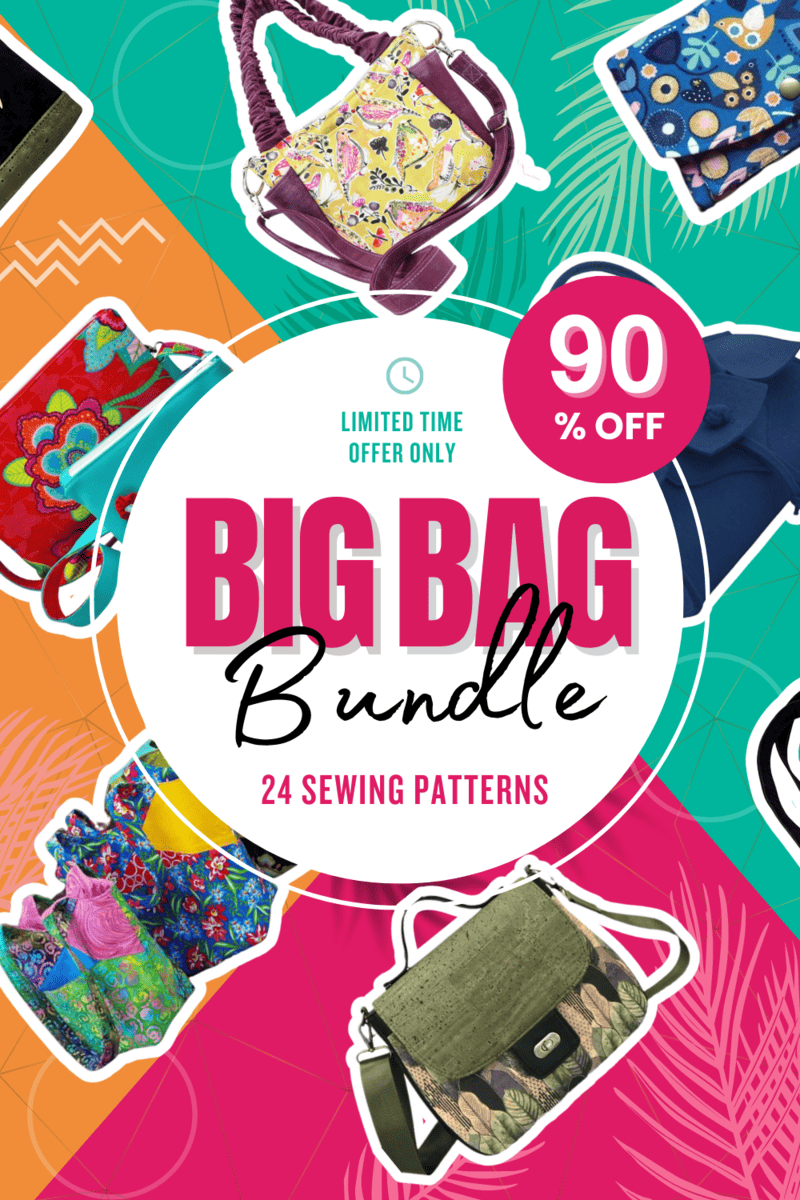 It's time for a big Thank You to all of our readers and followers. The design team and some very special guest designers have done us proud this year and created a deal which is our best yet. Bigger, more patterns, more brand new releases and patterns never seen before. All in a Big Bag Bundle that's almost too good to be true – except it really is! There's a discount which is hard to believe!
We've heard how much you loved our previous bundle sales, and the opportunity to try a wide range of different patterns from lots of different designers. This time we've expanded on the selection by including an even wider range of patterns, and designers you may not have seen featured on our site before. Each and every one of them offers outstanding patterns that should be in your bag sewing pattern collection.
We truly wanted to blow you away with this bundle deal, so it's out biggest bundle yet!
We think we've done it with a 'super-special-once-only-limited-time-almost-unbelievable-offer' that we hope you'll love. If you like to sew bags (and we know you do) then you are going to love this package we put together for you. It's about time that you treated yourself and we're here to make that possible.
It's the BEST EVER sewing pattern deal carefully curated for you by the team at Sew Modern Bags, and incorporating some of your best-loved bag pattern designers. If you love to sew bags, purses, totes, wristlets, zipper bags, backpacks and storage, then THIS bag sewing pattern bundle is perfect for YOU.

WHAT'S THE DEAL WITH THE BIG BAG BUNDLE SALE?
There are 24 complete bag sewing pattern PDF downloads from the design team plus our Custom Boxy Bag pattern generator as an extra bonus. Incredible value awaits with this Big Bag Bundle. We want to blow you away with a total value of more than $245 available at a limited-time price of just $24.95 for everything.
Even if you might already own one of two of these excellent patterns, it's still a fabulous deal to get the rest at such a discounted price. And this time we've gone the extra mile to bring you a wider range of patterns from designers we haven't featured before.
Yes, we can't believe it too – grab your bundle now before we change our minds. This sale is limited time only and the last day to buy the bundle is Monday 18th September 2023. After that, it will be gone for good.
LIMITED TIME OFFER – THIS WILL ONLY BE AVAILABLE FOR A SHORT TIME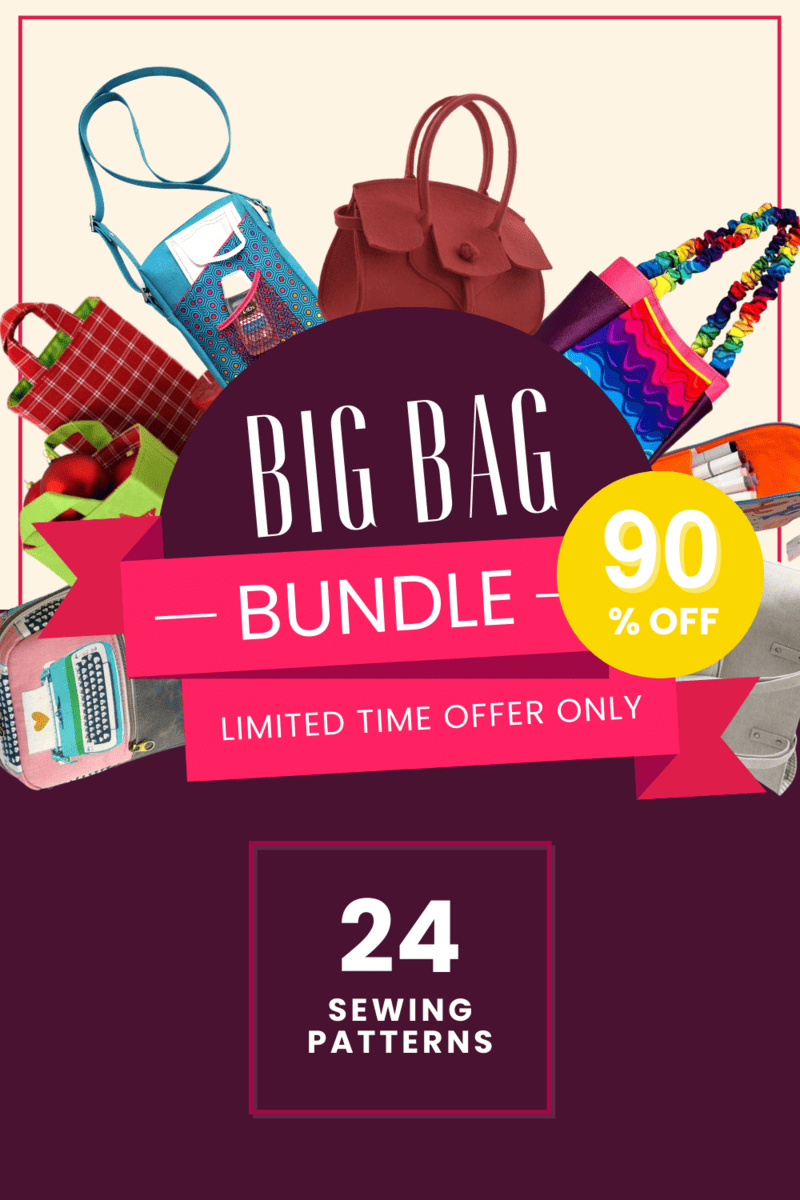 WHAT'S INCLUDED IN THE BIG BAG BUNDLE SALE?
You'll get 25 full products, 24 awesome bag sewing patterns from the team plus our Sew Modern bonus. These are all the full patterns with step-by-step instructions that you would get if you were paying full price. Some also include video lessons too.
1) Meridian Sling Bag by Hold It Right There (with video)
This is a spacious and versatile hands-free bag to wear across your back or chest. It has a roomy interior main compartment for everyday gear or travel.
There's a lining slip pocket that allows you to organize smaller items and card slots where you'll be able to keep favorite cards in easy reach. There's also a curved front exterior zipper pocket that is ideal for your phone and a back exterior zipper pocket secures your wallet, passport, and other important belongings.
The adjustable crossbody strap created from webbing includes detailed instructions for stitching a functional and decorative "X" square.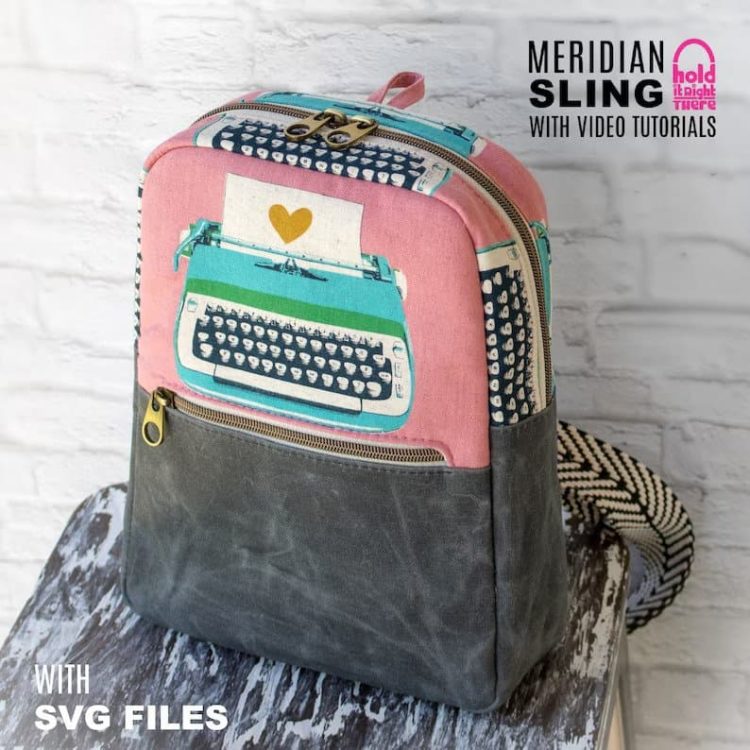 2) Roadie Mini Tote by K Dill Handmade (with video)
The Roadie is a mini version of the Road Tripster Tote and is such a great size. It will quickly become your favorite go-to for an every day bag.
The Roadie has many of your favorite features from it's larger sibling (like all of those pockets!), but includes some extra goodies like a recessed zipper option and a bottle sleeve. A zipper closure on top keeps everything secure inside. You can use cotton, canvas, cork, or vinyl.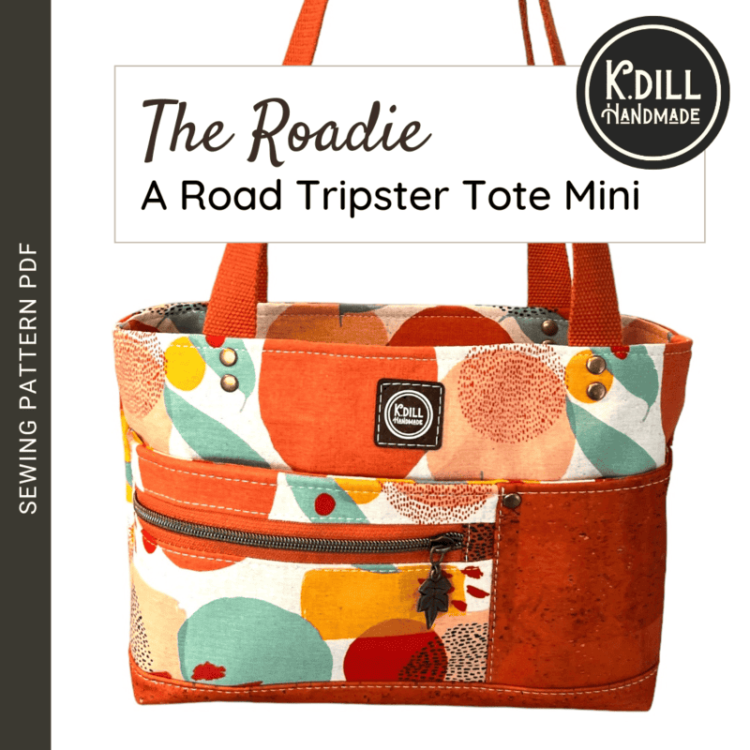 3) Stand Up and Tote Notice by Andrie Designs (3 sizes)
An easy to follow sewing pattern to create your very own Stand Up & Tote Notice tote bag. This beautiful tote bag pattern comes in 3 sizes to suit any and every occasion. The use of foam gives the bag a wonderful structure, enabling it to stand up at all times, making loading and unloading a breeze.
The Stand Up & Tote Notice tote bag has two outer slip pockets – one on the front and one on the back – giving you quick and easy access to things like your mobile phone and keys. It also has four inner slip pockets to help keep the contents of your bag nicely organised. A simple magnetic snap is all that is needed to keep this tote bag closed, making it a perfect choice for those who are yet to attempt zippers or are just looking for a nice easy sew with minimal hardware. The medium and large sizes would also make fantastic diaper/nappy bags!!!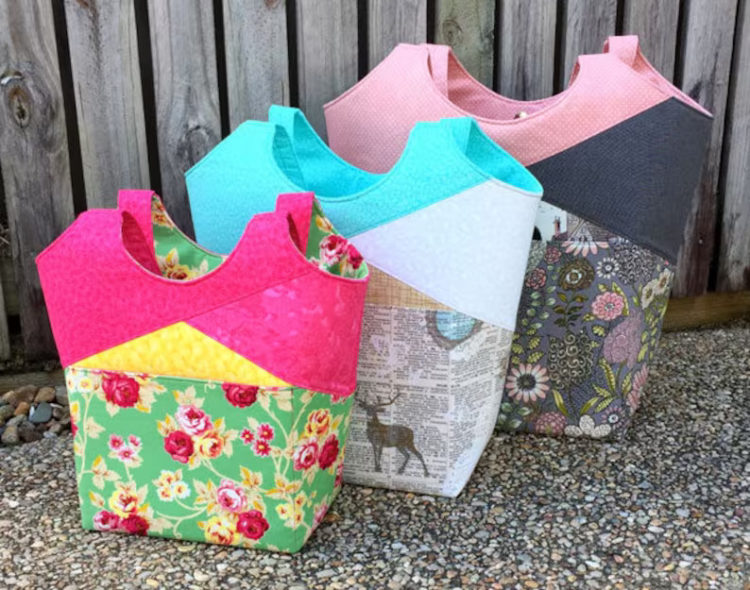 4) Winnie Utility Pouch by All Sew Petite (with video)
Fitted with an abundance of pockets, Winnie is a perfect pouch to neatly store and organize your favorite craft supplies, tools, stationery, cosmetics, and more.
The pouch features three pen slots, a cargo pocket with a flap, and a large slip pocket on the front, plus an additional zipper and two slip pockets on the back. Winnie utility pouch opens up on the top with a zipper. The fully lined main compartment is large enough to hold an A5 journal or a small tablet. There is an internal zippered mesh pocket, and the edges are finished using a bias binding.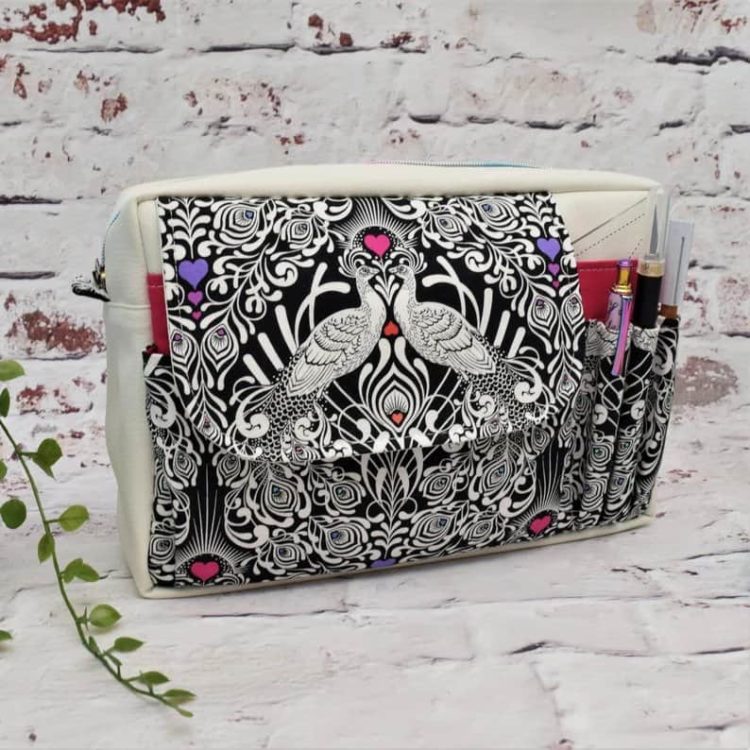 5) Pixie Crossbody Bag by Spencer-Ogg Patterns (with video)
The Pixie is one Spencer Ogg's most popular patterns, so we wanted to share it with you too! Here's a compact crossbody bag that is suitable for fabric, cork, or vinyl. It's designed for domestic sewing machines and makes an ideal man-bag too!
Phone bag a bit too small? Crossbody a bit too big? This is the perfect happy medium bag that has space for everything you need without being bulky. Think you can't make a zip on the curve? Now you can. It's attached straight to the fabric, then bend the fabric round and hey, your zipper is on a curve! It's a really easy zip insertion method.
Generous inside compartment with slip pockets, two angled front pockets, a large back zip pocket for valuables and an adjustable strap. Includes full-size pattern pieces, written instructions and a Spencer Ogg sew along video. Oklaroots has a tutorial too – just pop over to watch.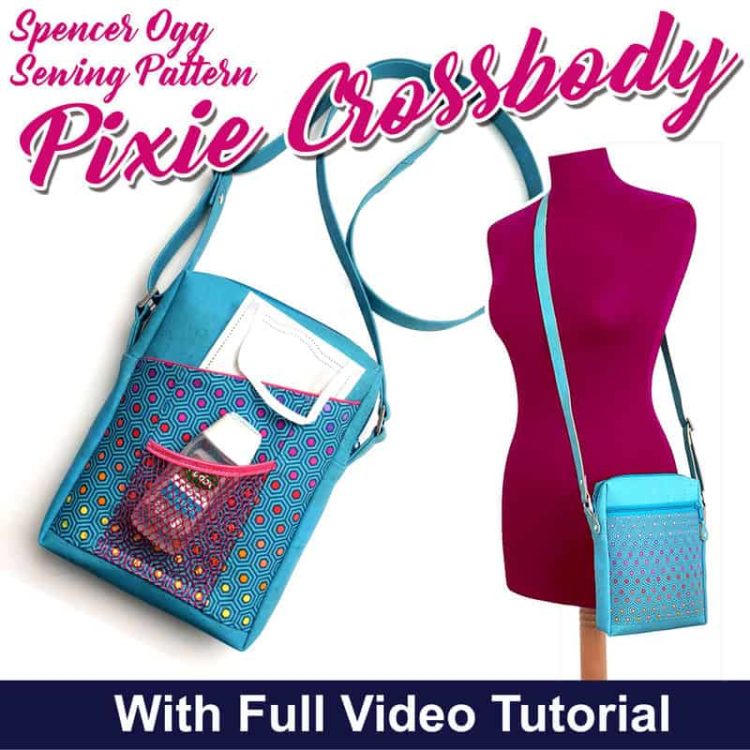 6) The Viewables by Moments by Liz (5 pouches plus 2 bonus sizes)
The Viewables are a set of five really clever expanding pouches (plus two bonus sizes). They have so many uses it's amazing. They are perfect to put your projects in to keep them nice and neat. Or for your special lingerie, for a weekend trip. Maybe you could use them for pencils, medical supplies, kid's toys, sewing notions. Whatever you use them for you will love them because you can see what is in each one and the sides expand so you can get more in them.
They are quick and easy to make and are a great stash buster! A perfect project to use up those fat quarters!! Make them as a matching set or with different fabrics, colorful and fun. The possibilities are endless. Be warned..they are a little addictive!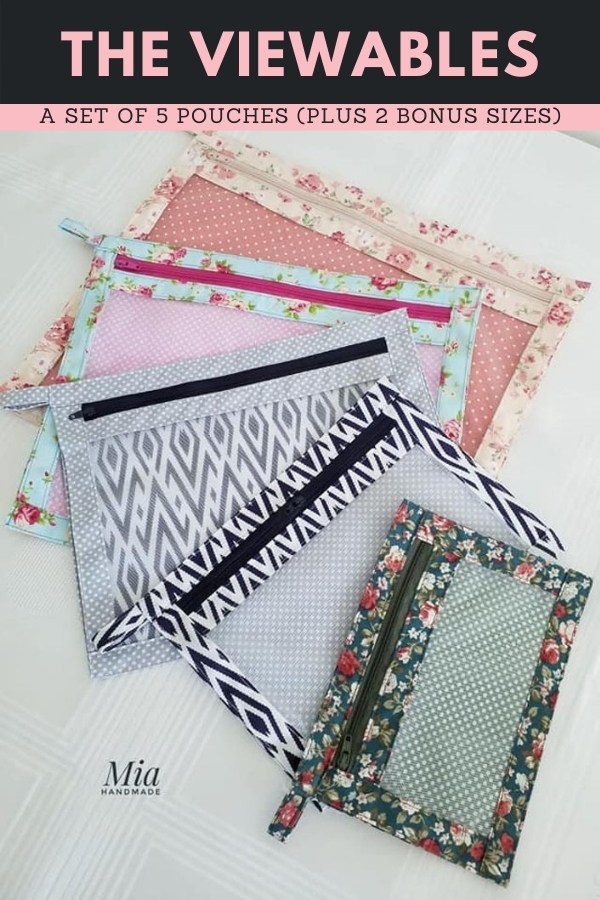 7) Foldover Wallet Purse by Hole House Bags (with video)
The Foldover Purse is a handy little wallet, with multiple card slots and sections to keep you organised. It makes a perfect alternative to a clutch bag and can be made in a variety of fabrics.
The pattern includes additional guidelines for using directional fabric and alternatives to using concealed magnets. The finished dimensions are 19 x 12cm and the pattern is suitable for those with a little bag making experience. Also included is access to the dedicated Facebook 'Stitch a long' Group which contains video tutorials which might make it suitable for adventurous beginners!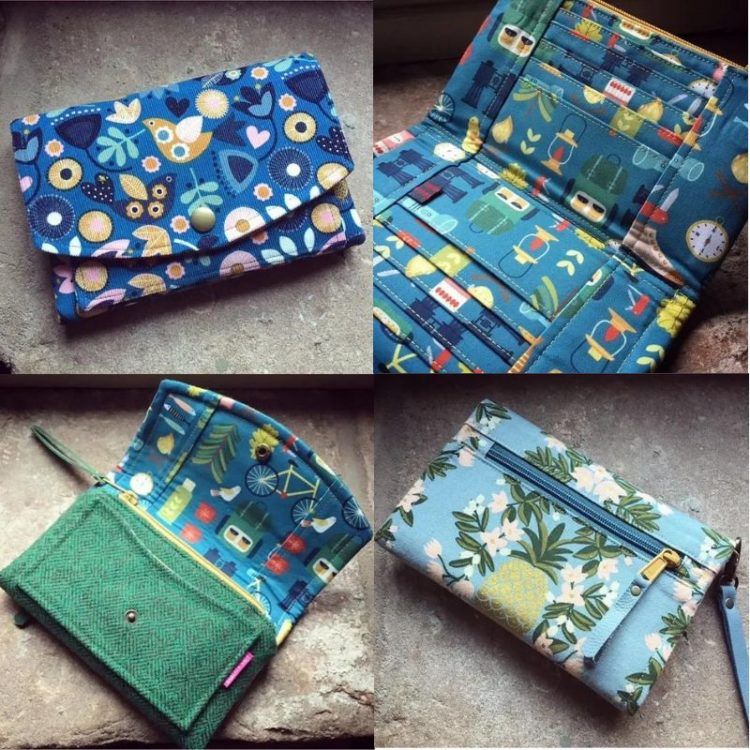 8) Divide and Go by Studio 7T7 (with video)
The Divide and Go is a sewing caddy, tool caddy, drinks caddy and more! There are 6 divided sections in the middle that have a removable insert to keep everything organised. On each end there are zipper pockets for smaller items and each long edge has pleated slip pockets to hold more items!
This caddy is so useful and features no binding! With a full video tutorial, this pattern has lots of tips and tricks as you sew too. It's hard to stop at one Divide and Go as they are just so useful for so many things! This pattern comes with SVGs and a Projector file as well as Letter and A4 sized PDF files.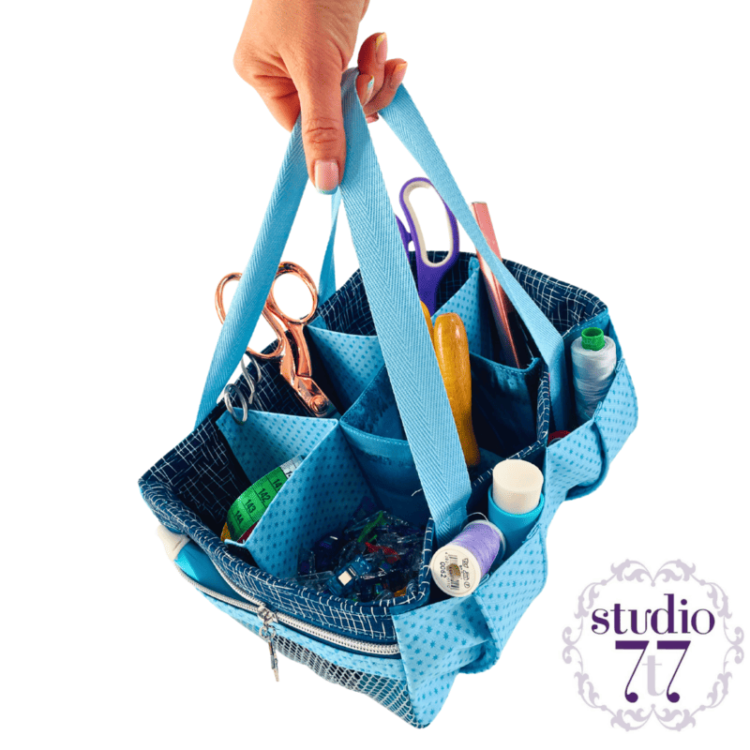 9) Perry the Happy Traveler by KMG Handmade (with video)
Welcome to the world of wanderlust with Perry the Happy Traveler Bag, an enchanting and multifunctional pattern you'll love to sew for a bag you'll want to use every day! Whether you're a seasoned globetrotter or a weekend adventurer, this delightful bag will be your ultimate companion on all your journeys.
The bag boasts a chic and contemporary design that will turn heads wherever you go. Its elegant silhouette and eye-catching details make it a standout piece in any setting. Multiple compartments are thoughtfully incorporated into the bag's design. Ample room inside allows you to pack your essentials effortlessly, from travel documents to gadgets and H2O bottle. The sturdy construction method ensures your belongings are safe and secure throughout your travels. Switch effortlessly between backpack and shoulder bag with a pull of the strap.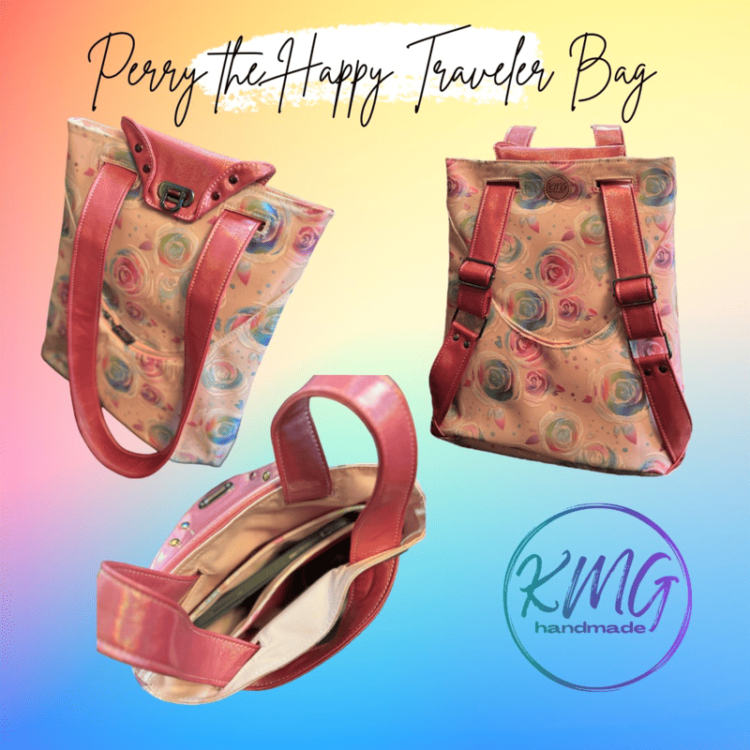 10) Nautilus Hobo Bag by Needle & Anchor (with video)
This chic bag features an exterior that can be customized to your liking! The inside features two slip pockets and a choice of a magnetic snap flap or a zipper panel closure to keep your belongings safe. There are two sized bag handles to choose from also! It can be made from various fabric mediums such as pliable faux leathers, vinyl, cork fabric, quilting cotton or even thin leather. This pattern features a few unique sewing techniques that you can use when sewing other bag patterns. This pattern is such a fun sew!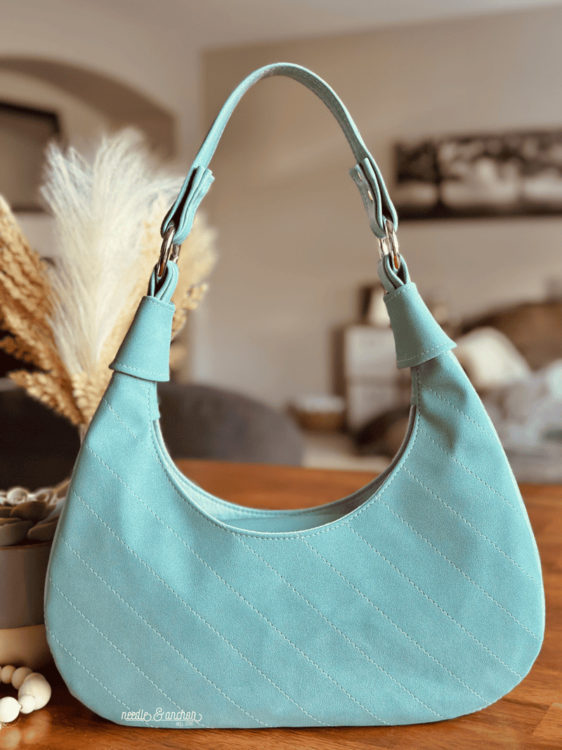 11) The Stanley Satchel Bag by Mrs H (+video)
If you've been waiting for a classic Satchel style bag, then this pattern is just for you! This bag is a classic satchel shape, infinitely practical size with just a touch of bling. The bag closes with two magnetic snaps, with a roomy interior, well fitting lining, a zip pocket and two slip pockets.
The Stanley Satchel bag is a perfect confident beginner friendly bag with a full video sew along, a little touch of bling, and an infinitely practical size.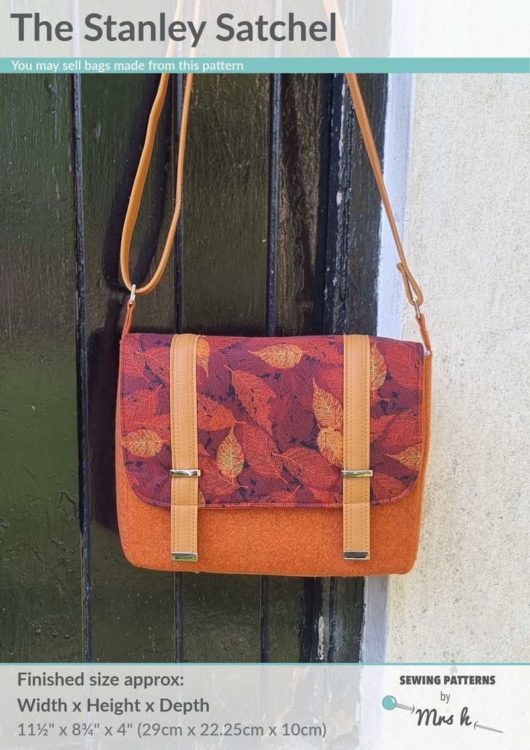 12) Morgan Bag By Deja Designs (+video)
Morgan is a medium size bag that can be made as a handbag or shoulder bag, along with having a removable and adjustable crossbody strap. It has options for gorgeous tassel connectors, or if you don't like tassels, the pattern offers regular connectors. It can also be expandable, or not if you prefer it that way. You choose!
She is versatile and customizable, easy to make this bag your own with the options the pattern offers. A great size and perfect for color blocking, mixing of materials, colors and textures. And along with the interesting features, the pattern also has some new techniques and different ways of doing things, all of which can be applied to any other bag you make!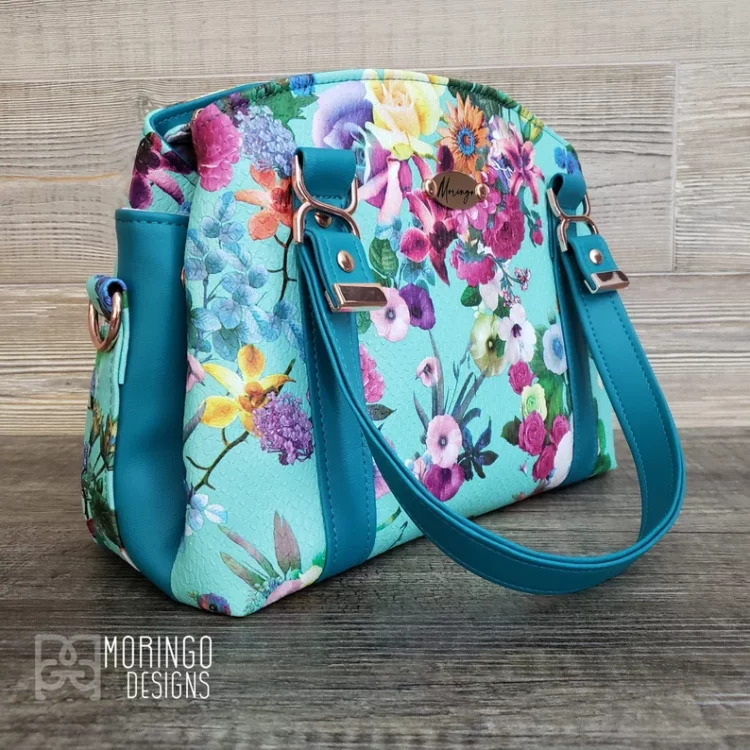 13) The Lisbeth Trio (3 sizes) by ISY Sew
A unique and fashionable zipper pouch that is fully lined and offers a wide zipper opening but you can be sure your items will stay safe and secure. This fun and versatile bag comes in 3 sizes (large, medium, and small) and is perfect for any kind of dress, occasion, or event.
Some of the interesting features of this bag are the side wings that fold up to form ring connectors for any of the sizes as well as the alternative chain strap that can be made with any non-fraying fabric. The LISBETH TRIO has a wide range of uses and can store items such as small or medium notepads, phones, passports, cash, and any other items you deem fit. As a beginner-friendly pattern, you only need to know how to install zippers and set rivets and you will be sewing your lovely LISBETH TRIO in no time.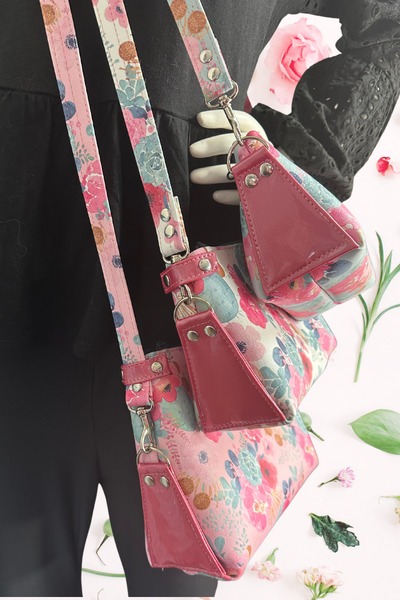 14) Tiffany Tote Bag by Geta's Quilting Studio
Do you want to try out a new technique? As a result, you'll have a one-of-a-kind tote bag that you'll be delighted to show off! This amazing technique is a game-changer, and once you learn it, you'll find yourself using it over and over again. And guess what? It's not just for bags; it works like a charm for quilts too and other creative projects! It's different from what you're used to, so it will keep things interesting and fun. Plus, the pattern comes with six cool designs for the bag's front panel to keep you excited and inspired. A short video that shows all the important steps – how to cutout and sew the designs – is included.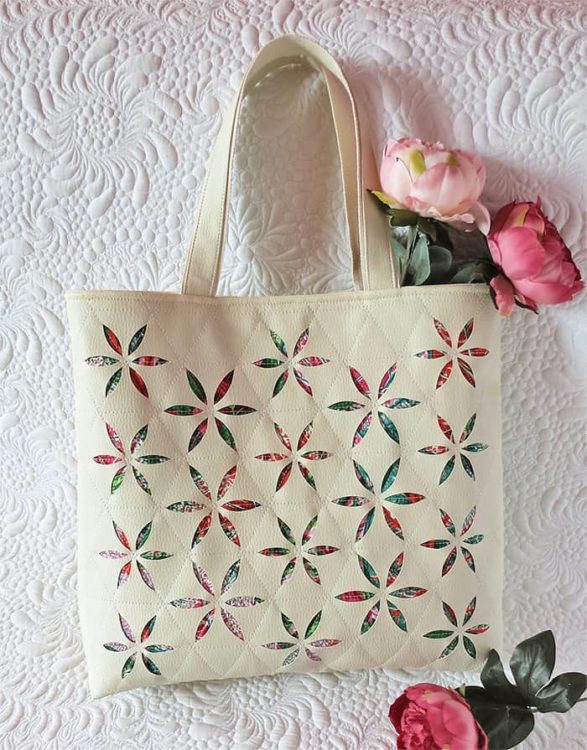 15) Lady Anderson Purse by Fable and Guild
The Lady Anderson is a must-have catwalk showstopper and a timeless classic vintage design that will never go out of fashion! Destined to be the centre of attention amongst all your friends, making this vintage style bag will be a conversation piece you will be proud of.…."Did she really make that bag!" we hear them say?
With a cute button and lace fastening, hand-stitched finishing and stay shape handles for that little touch of everyday elegance and style, you will just love this ready to make couture sewing project. For that extra touch of self-made luxury we recommend the Lady 'A' is made from 3mm – 4mm 100% felted wool although a good quality non-fraying coat weight fabric will also be wonderful!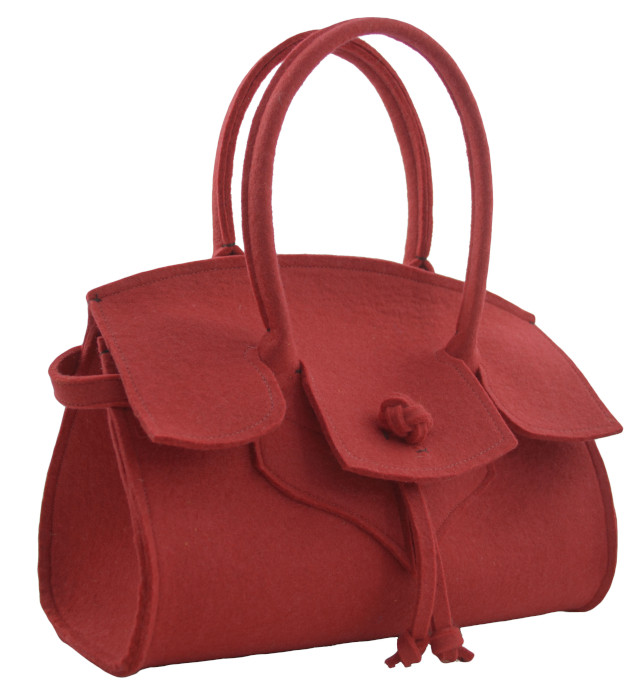 16) Mini Backpack by Emel's Handicraft (with video)
This cute bag has one very roomy zippered pocket on the front outside and one phone pocket inside. You can of course add extra pockets of your own design to suit what you need to carry. If you like you can change the configuration of the straps and you can use this bag as a shoulder bag as well. The instructions show you the perfect strap hardware to use that allows the back to be convertible and so versatile.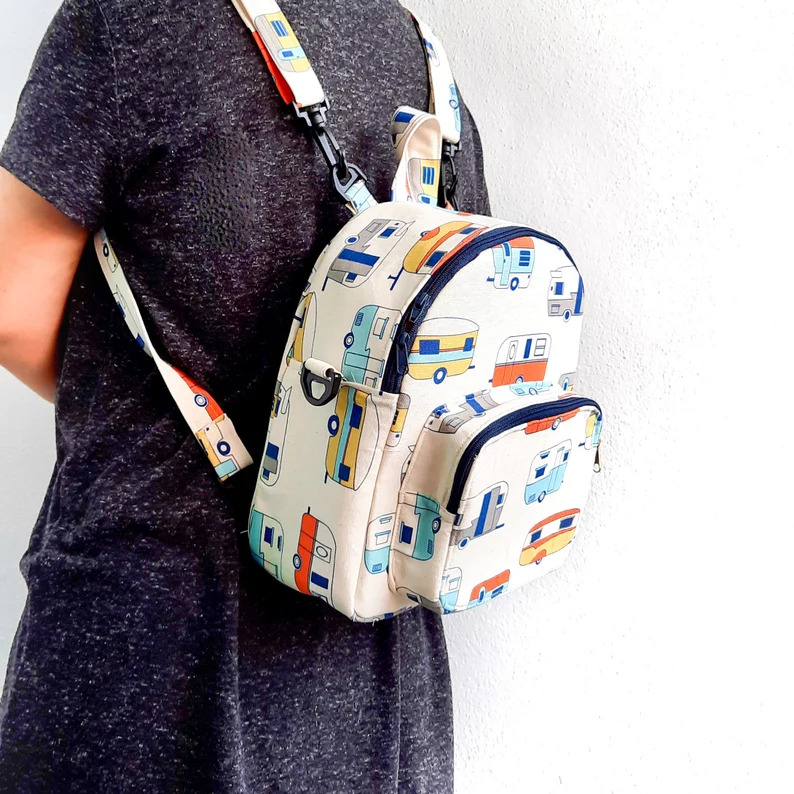 17) Tall Wallet by SewGnar (with video)
A slim profile vertical wallet with ten recessed card slots, an ID slot, two cash or check areas, and one zipper coin pouch. This easy-to-follow PDF pattern walks you through each step, from printing to finishing your piece. Once completed, you will have your very own Tall Wallet, great for gifting or small business personal selling.
Wallet features:
A slim vertical wallet that fits multiple business cards, gift cards, or credit cards, checkbooks, cash, cell phone (depending on model). A confident beginner project that teaches new techniques!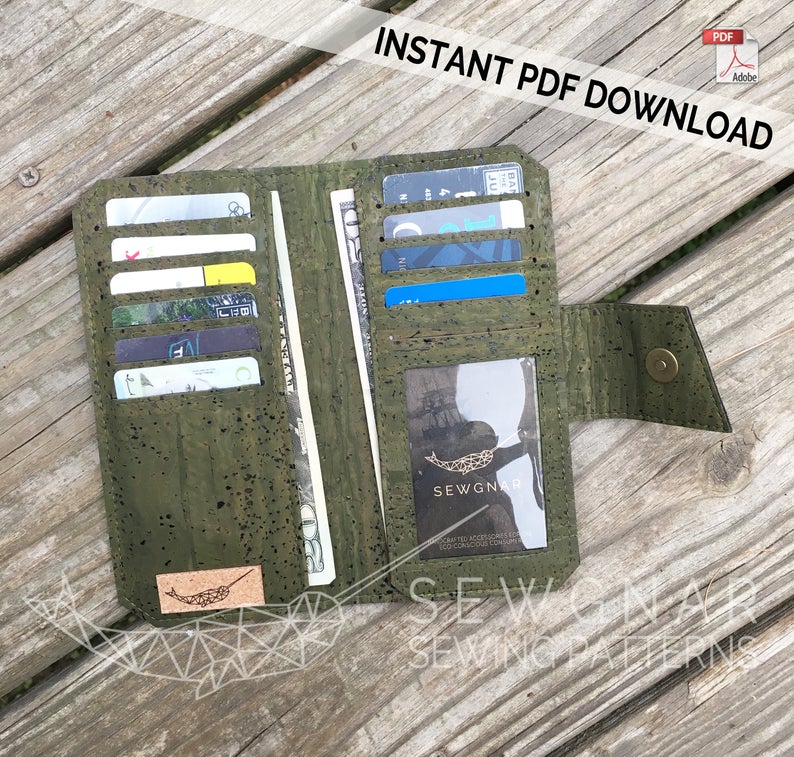 18) Charlotte Tote Bag and Crossbody Bag 2 pattern combo by Merge Patterns
The "Charlotte Tote" pattern with included crossbody purse is a great travel bag set, shopping, or everyday work bag. It can hold can it all with room to spare. The zippered pouch slips inside the large structured tote for maximum organization. The crossbody purse can also be carried separately. This combination makes it perfect when you travel and need to carry many items in the plane or car but can separate them later and carry just the smaller bag and be hands-free!
Sturdy construction and interfacing make them both strong. Four large pockets are designed inside the tote along with a zippered pocket and magnetic snap closure. The crossbody purse has a top zippered closure, an adjustable strap with swivel hooks, and contains four slip pockets on the inside. I have included many tips for making your bag better.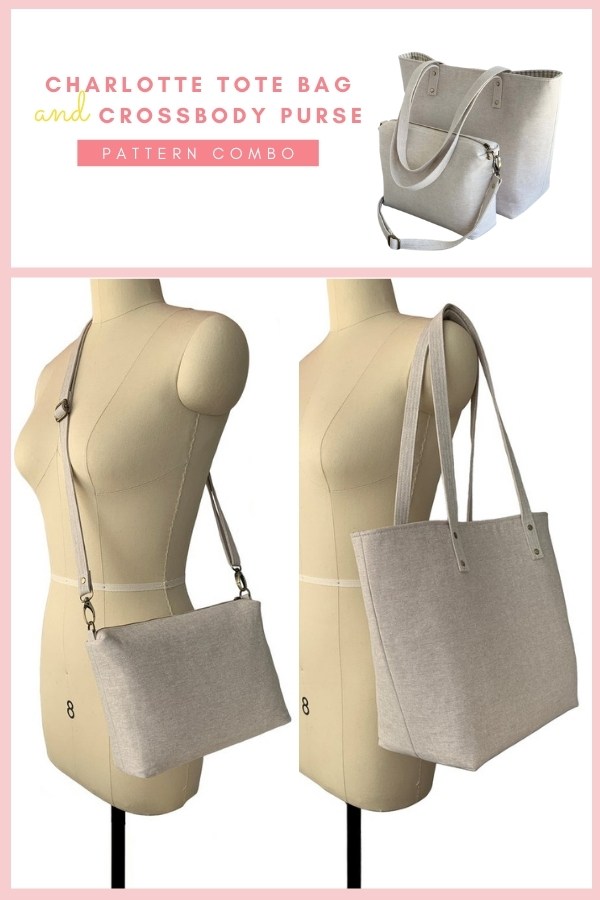 19) Double Trouble Crossbody Bag and Clutch Combo by Bags by Bags of Style (with video)
The Double Trouble Collection PDF sewing pattern with video tutorial. This is a 'two bags in one' sewing pattern. The clutch size is perfect for an evening out, either with a wrist strap or as a small Crossbody by adding a second connector and a long strap. With two main compartments and a handy slip pocket secured with a single zipper fastening. The perfect "grab and go" compact Clutch.
The Crossbody has the same simple styling but also includes two internal zipper pockets and six integrated card slots. An interesting and quick sew, as with all of the designers patterns, you will find lots of helpful hints and tips in the video that can be applied to all of your bag sewing.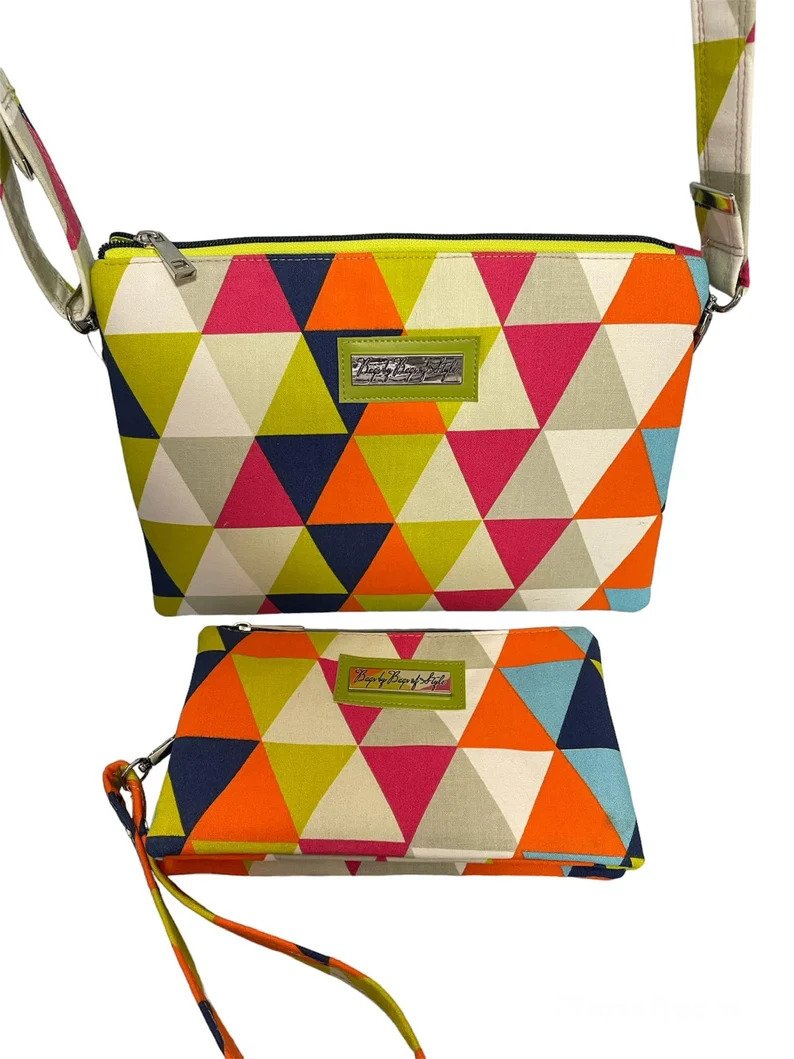 20) Ruffled Runaway by Chris W Designs
The Ruffled Runaway is a cute, modern and fun sew. It features a front and back centre pocket, perfect for your phone or sunglasses, and two handy side slip pockets to drop your keys into. The main compartment closes with a recessed zipper and is quite roomy for such a petite little bag. Inside is a zipper pocket for stashing your valuables. The bag has ruffled handle straps and an optional cross body strap which clips into optional grommets at the sides (You can easily add tabs if you don't like to use grommets!).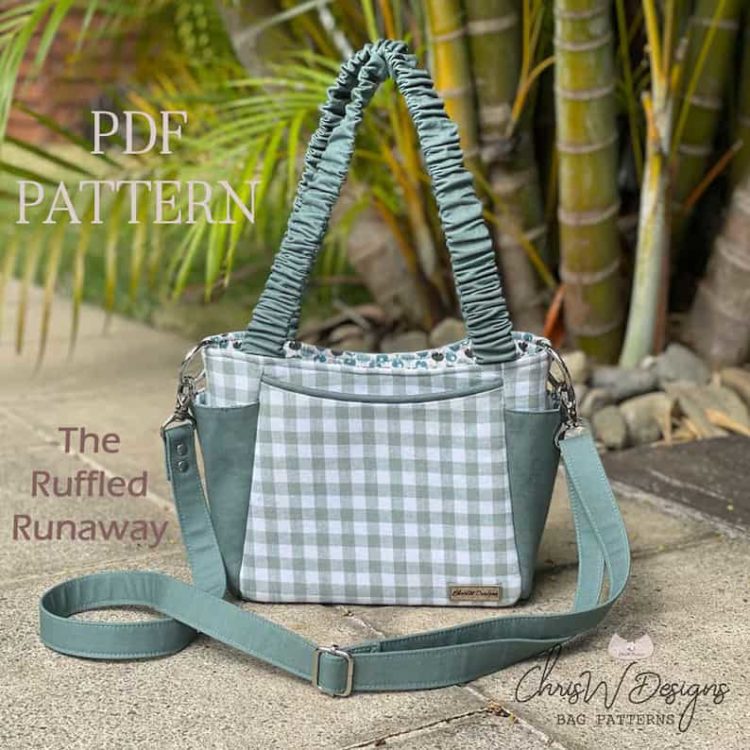 21) Nine to Five Lunch Bag by Sew Sofia (with video)
The Nine to Five Lunch Bag is a stylish and modern alternative to the usual lunch bag.
Aimed at the intermediate sewer, the Nine to Five Lunch Bag pattern will teach you a range of useful bag making techniques as well as sewing with waterproof fabrics, with plenty of scope to add your own style.
With it's generous boxy size and optional insulated fleece to keep food and drink warmer or cooler for longer, the Nine to Five Lunch Bag is ideal for storing your lunch, a small picnic for two, baby food and bottles, or even snacks for the family on a day trip.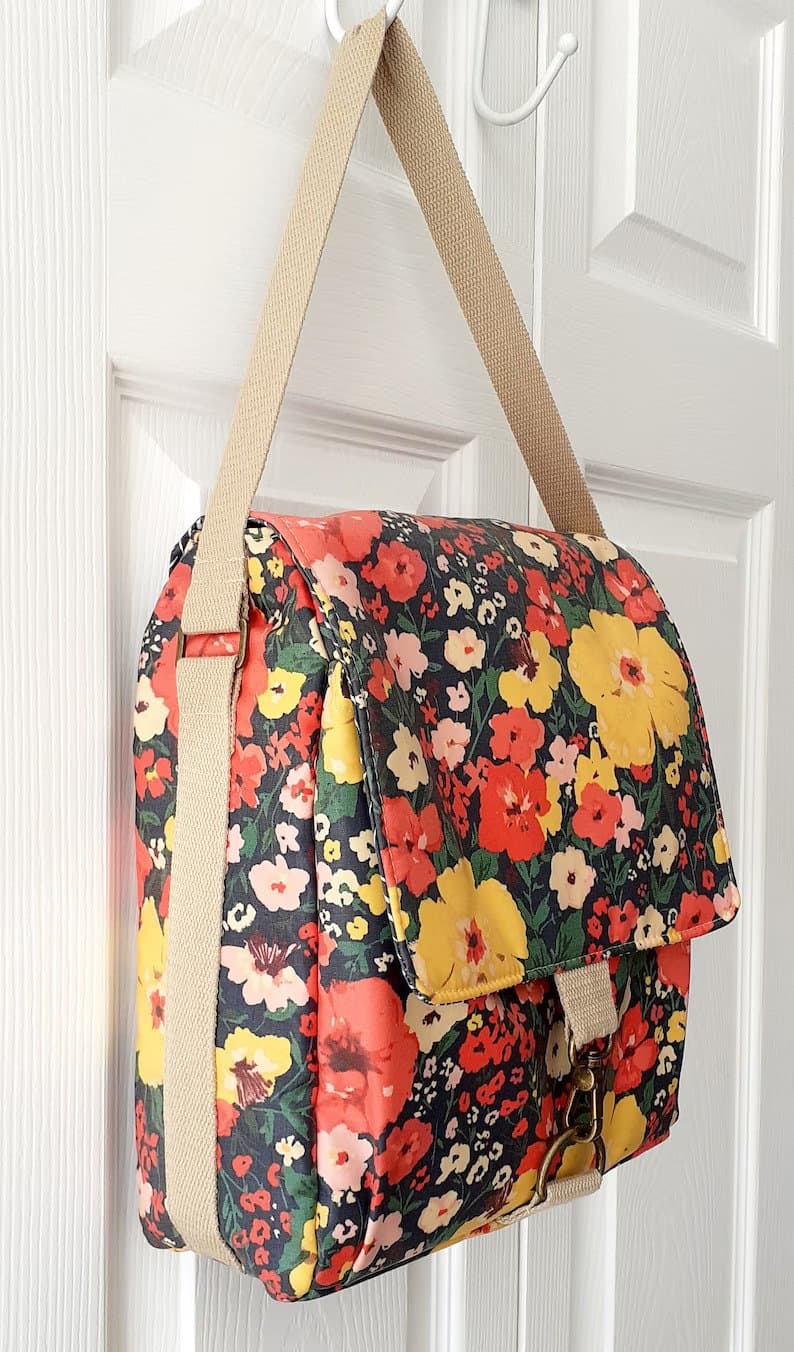 22) Standing Zipper Case by Swan Family Patterns
This zip pouch can stand up by itself. Functional and stylish pencil holder, it also has 3 interior pockets as well.
Sew a cute zipper pouch that is long enough to hold pencils, markers, and more! It is a very CUTE gift for birthdays and holidays for children and even for adults.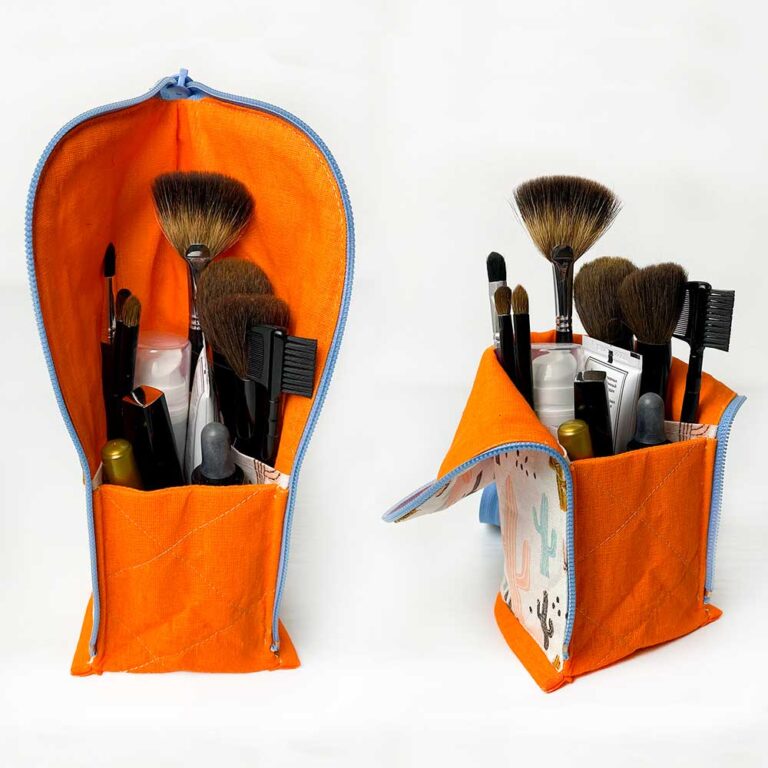 23) Primula Satchel by Blue Calla (with video)
The Primula Satchel is a medium sized, cross body bag that is perfect for every day use. The flap closure is a small tab that is sewn to the bottom edge of the flap with either a turn lock or a magnetic snap. On the bag's back exterior side is one zippered pocket. The strap is sewn within the seam allowance of the top edges of the gusset on both sides of the bag.
Inside the bag is another zippered pocket and 2 slip pockets with decorative binding along the top edge.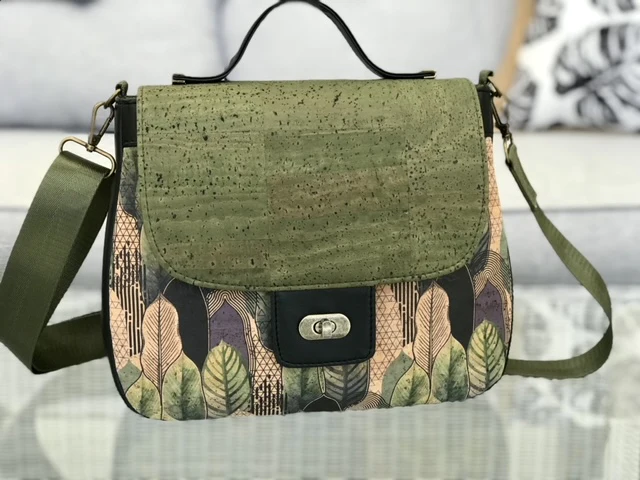 24) Fabric Gift Bags by AppleGreen Cottage (6 sizes)
Sewing a fabric gift bag is the eco-friendly way to avoid paper waste and it adds a little something extra to your gift. This pattern includes sizing for 6 different fabric gift bags, in options for tall, square or wide. The designs can also be up and downsized as needed if you want to create bags in different sizes.
Don't just sew them for Christmas, they'll be great for birthdays, weddings and any other gift-giving occasions. These bags fold flat when not in use so can be easily stored for when you need one. Sew them in a batch and you'll always have one ready for that unexpected birthday! You'll love the way the boxed corners are created on these bags. So easy and yet so beautiful!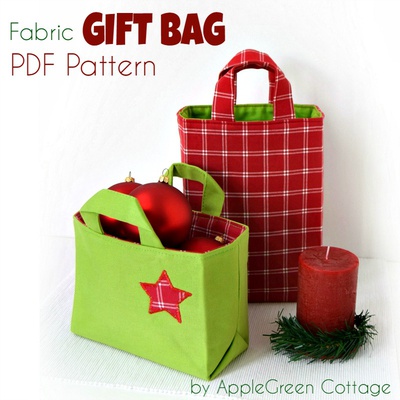 BONUS 25) The Custom Boxy Bag Pattern Generator by Sew Modern Bags
And lastly our Sew Modern Bags bonus, and a new release for the Big Bag Bundle Sale. A custom pattern generator that will allow you to make the perfect pattern for the perfect boxy bag in ANY size. Long and narrow, short and square, tall and wide – this custom boxy bag pattern generator has you covered. Simple to use, simple to cut, simple to sew. Step by step instructions included. And no binding needed!
The essential Boxy Bag is ubiquitous with every day storage for all of your bits and pieces. A nice wide zipper opening, a convenient and practical boxy shape, a flat bottom, and an easy sew. But what if you have something unusual you want to store and you need a bag just the right size? That's where our Custom Boxy Bag Pattern Generator is just what you need.
This custom pattern generator takes your simple measurements for length, height, width and seam allowance and creates a custom template and set of measurements that will result in a bag of the perfect dimensions.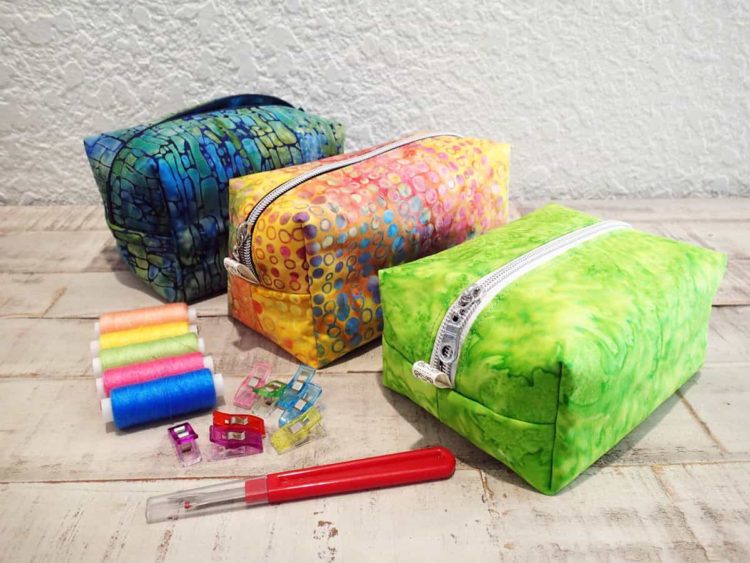 ---
THAT'S MORE THAN $245 OF GORGEOUS SEWING PATTERN VALUE FOR JUST $24.95. IT'S A BARGAIN YOU WON'T SEE HERE OR ANYWHERE ELSE AGAIN.
---
ONLY AVAILABLE FOR A LIMITED TIME
Don't delay, this amazing sewing pattern bundle is only available until Monday 18th September and then it will be gone for good. You can check out with Paypal or your bank/credit card. And the 18th really is the last day to buy.
HOW TO GET YOUR BIG BUNDLE OF BAG SEWING PATTERN
As this is a super-special limited-time offer, it's kept separate from our usual pattern store. We ask that you make your purchase on PayHip and download your patterns from there.
Add your bundle to the cart
Checkout (you can set up an account if you don't already have one with Payhip or checkout as a guest)
Pay with Paypal or a debit/credit card
Download your pattern files (please do it right away)
Keep the files safely
Sew a bunch of totally awesome bags
Terms and conditions of the offer:
* The special bundle pricing is only available from 13th to 18th September 2023 (Timezone UTC -5). Sorry, no rainchecks.
* This offer is for digital PDF files only. There are NO paper patterns and nothing will be sent to you in the mail. Your patterns must be downloaded and saved to your device.
* As these are digital items, they cannot be 'returned'. Your purchase is final and no refunds can be given, either in full or in part.
* VAT/taxes may be charged in addition to the purchase price if that is relevant for your country. This is collected by PayHip and sent to the appropriate tax authorities.
* Please download your files immediately.