BIG Bag Bundle Sale – limited time offer
|
All posts may contain affiliate links.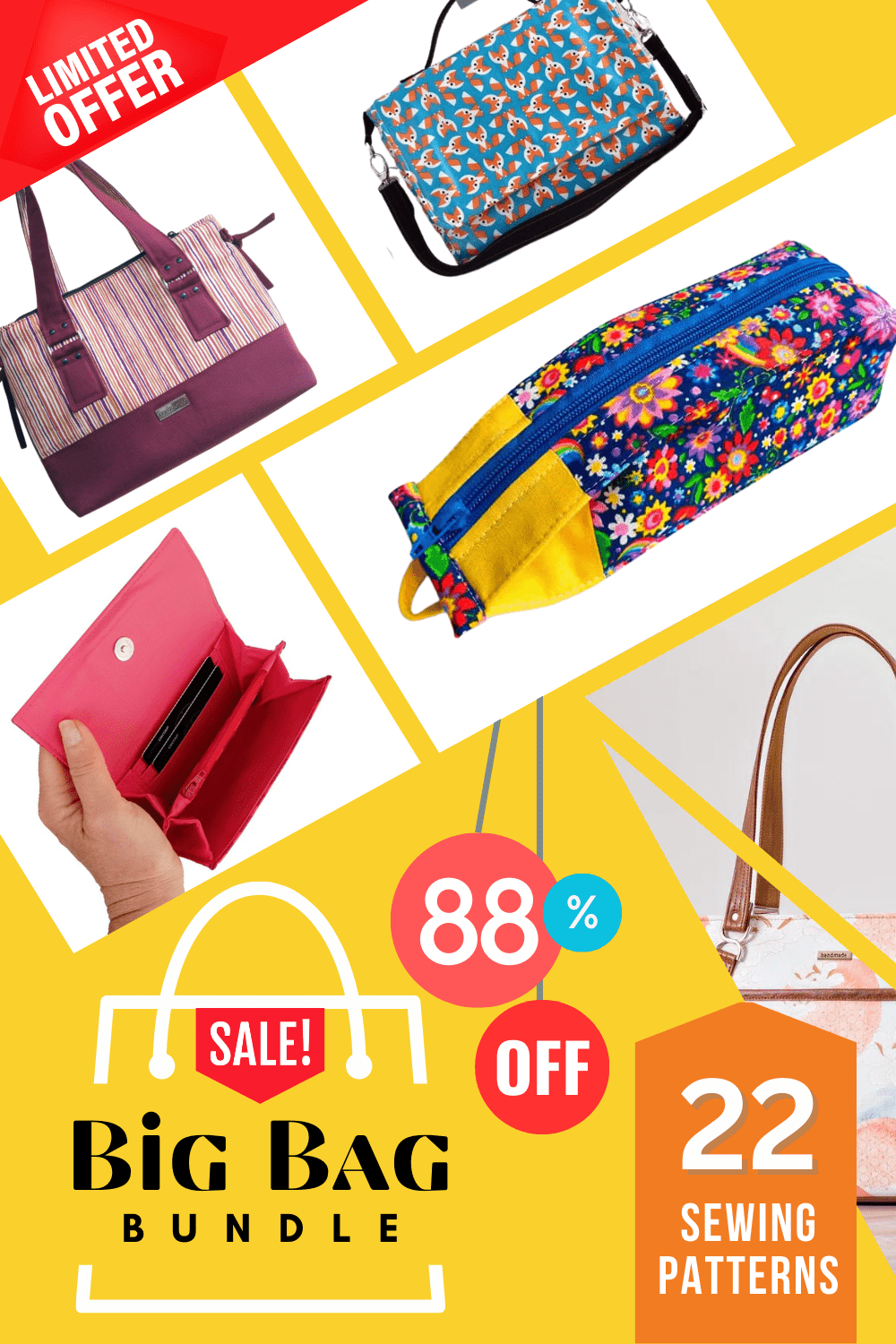 [THE BUNDLE SALE IS NOW CLOSED. WE HOPE ALL OF YOU ENJOY SEWING UP YOUR NEW PATTERNS AND PROJECTS. JOIN OUR MAILING LIST TO MAKE SURE YOU HEAR ABOUT THE NEXT BIG BAG BUNDLE SALE]
We have something very special for you – a BIG Bundle of Bag Sewing Patterns at a price that's almost too good to be true… yet it is!
We've heard how much you loved our previous bundle sales, and the opportunity to try a wide range of different patterns from lots of different designers. This time we've expanded on the selection by including an even wider range of patterns, from designers you may not have seen featured on our site before. Each and every one of them offers outstanding patterns that should be in your bag sewing pattern collection.
We truly wanted to blow you away with this bundle deal, so it's out biggest bundle yet!
We think we've done it with a 'super-special-once-only-limited-time-almost-unbelievable-offer' that we hope you'll love. If you like to sew bags (and we know you do) then you are going to love this package we put together for you. It's about time that you treated yourself and we're here to make that possible.
It's the BEST EVER sewing pattern deal carefully curated for you by the team at Sew Modern Bags, and incorporating some of your best-loved bag pattern designers. If you love to sew bags, purses, totes, wristlets, zipper bags, backpacks and storage, then THIS bag sewing pattern bundle is perfect for YOU.

WHAT'S THE DEAL WITH THE BIG BAG BUNDLE SALE?
There are 22 complete bag sewing pattern PDF downloads. Incredible value awaits with this Big Bag Bundle. We want to blow you away with a total value of more than $200 available at a limited-time price of just $23.95 for everything.
Even if you might already own one of two of these excellent patterns, it's still a fabulous deal to get the rest at such a discounted price. And this time we've gone the extra mile to bring you a wider range of patterns from designers we haven't featured before.
Yes, we can't believe it too – grab your bundle now before we change our minds. This sale is limited time only and the last day to buy the bundle is Monday 20th March 2023. After that, it will be gone for good.
LIMITED TIME OFFER – THIS WILL ONLY BE AVAILABLE FOR A SHORT TIME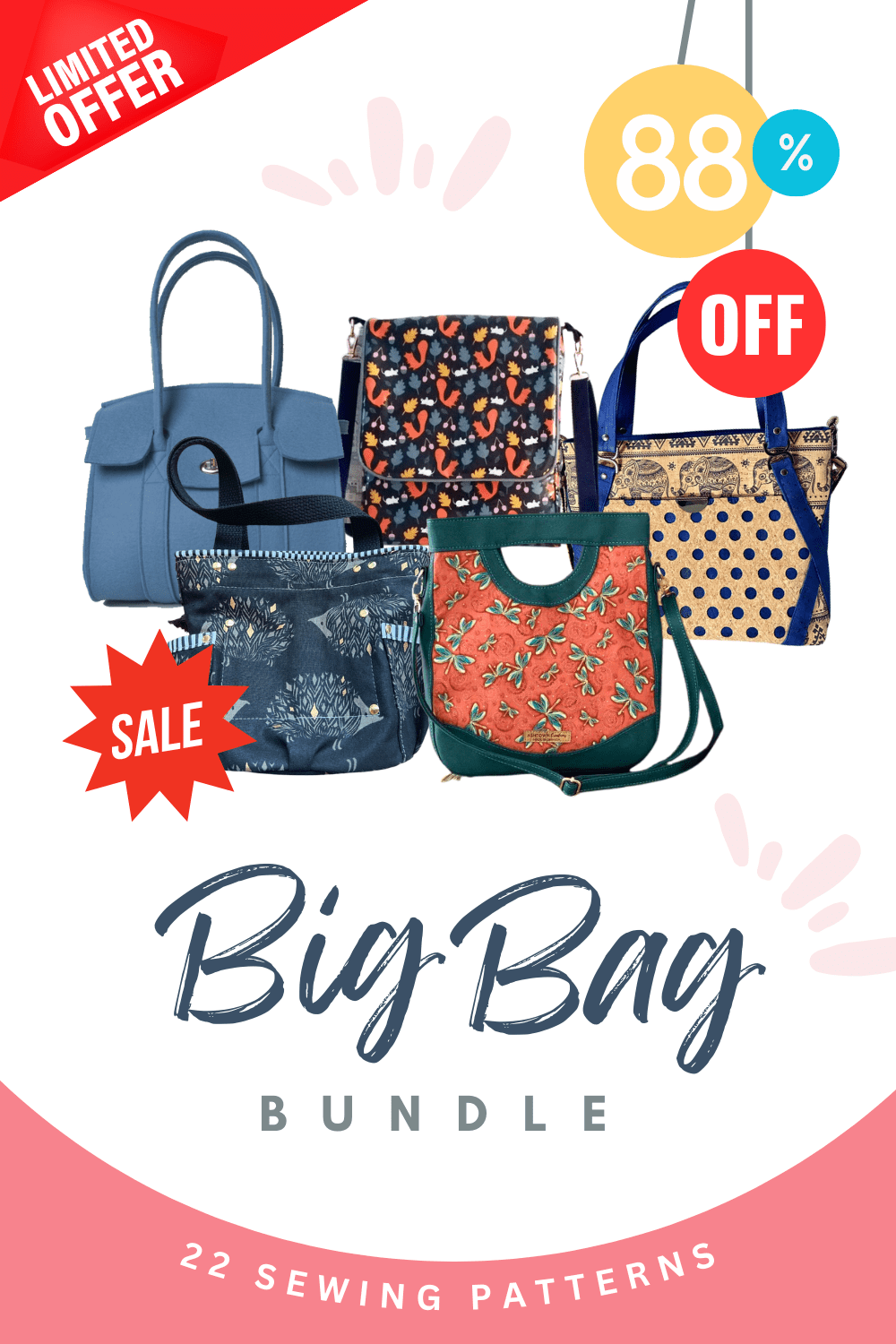 WHAT'S INCLUDED IN THE BIG BAG BUNDLE SALE?
You'll get 22 full sewing pattern downloads. These are all the full patterns with step-by-step instructions that you would get if you were paying full price. Some also include video lessons too.
1) Compact Accordion Wallet by Spencer-Ogg (with video)
A fun and compact wallet with a wristlet strap and with a full video tutorial. Engineered so you can make an accordion purse on a domestic machine with ease.

This amazing compact purse has everything you need in a handy small size:-

• Credit card slots, each one large enough to hold numerous cards – choose to add one credit card unit or two.
• A rear coupon pocket.
• 2 large compartments for notes.
• A generous zipped coin section.
• Options for a plain or panelled body and a wrist strap.
• With gussets to the side to allow the wallet to open wide for ease of use.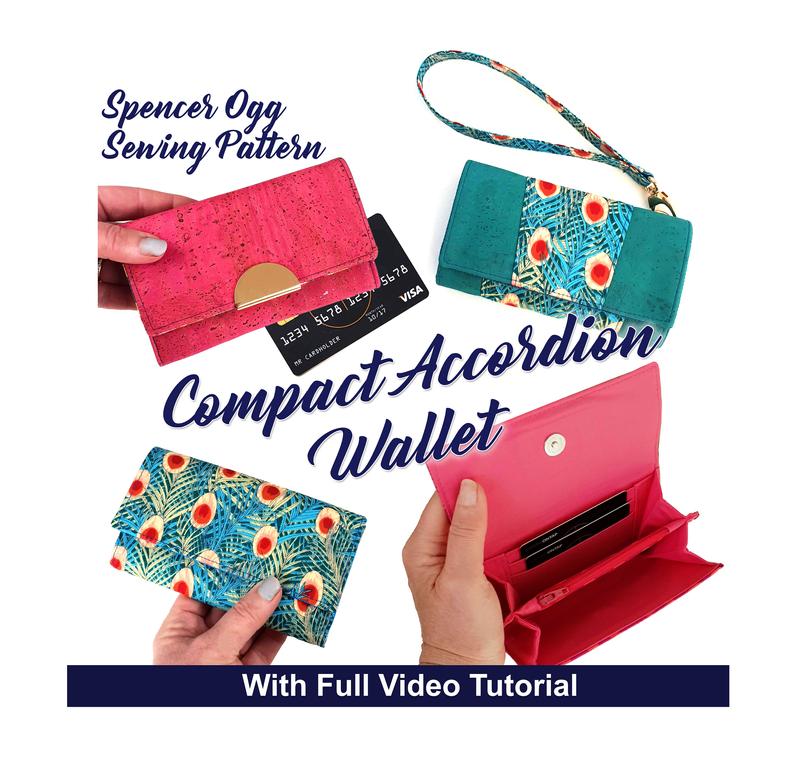 2) Passion Flower Tote by Blue Calla Patterns (with video)
The Passion Flower tote is a medium sized tote with a zippered closure and strap accents on the exterior. The pattern can be made with either shoulder length straps or shorter handles. It also has a crossbody strap which can be omitted if you are making the shoulder straps.

There is one exterior slip pocket with a magnetic snap closure however, a turn lock can be used in place of the magnetic snap to add your own creative touch. Many tester bags used twisted strap rings however you can use regular rectangle rings or any strap rings you have on hand.

Inside the bag are 3 slip pockets and a zippered pocket.
3) Ferndown Jewelry Pouch by Sew Modern Bags
This easy to sew small jewelry pouch is the ideal gift to sew for your friends, or just perfect for sew-to-sell projects. It only requires fabric and a drawstring or ribbon, so is very affordable to make and doesn't need fancy hardware or interfacing. Add a special item of jewelry and it makes a lovely handmade and personal gift.

But of course there is no need to give it away! Sew one for yourself and use it to store your jewelry items, or take them with you when you travel.

Inside you'll find 8 individual pockets for storing small items such as chains, pendants, earrings and brooches. The round base has plenty of room for bangles and chunkier items.

It closes up securely at the top with a double dawstring cinch closure, making sure nothing will fall out. The ideal way to store jewelry at home or for travel without things getting tangled, broken, dirty or lost.




4) Sophisticated Sling Bag by Sewing Patterns by Mrs H (with video)

The Sophisticated Sling is quick, light on hardware, low on expensive supplies and exceptionally stylish! It's an absolute must sew for your pattern collection.
This shoulder bag has an adjustable strap, a firm flat bottom with optional feet, an inside zipper pocket, and closes with a tuck lock.

Make one for yourself, make one for a friend, make one for a gift, or to add to your handmade craft stall….it's sure to be a winner!
5) Zippered Pencil Case by Swan Family Patterns
Sew up this cute zipper pouch that is long enough to hold pencils, markers, sewing tools, and more! The zipper ensures that your things are kept securely. It is a very CUTE gift for birthdays and holidays for children and even for adults! You can tuck a little surprise inside it.

Sizing info (approximately):
2½" (6.5 cm) by 2½" (6.5 cm) by 8¾" (22 cm).




6) Vignette Crossbody Bag by Hold It Right There (with video)
The Vignette Phone Crossbody Bag features card slots and a slip pocket ideal for a phone and cash securely snapped beneath a flap. Instructions are included for both Heavy-Duty Snaps and Magnetic Snaps.

A main compartment keeps essentials handy. The adjustable crossbody strap created from webbing includes detailed instructions for stitching functional and decorative "X" squares.

Minimal supplies are required. This is a quick sew for gifts or craft fairs. Video tutorial included.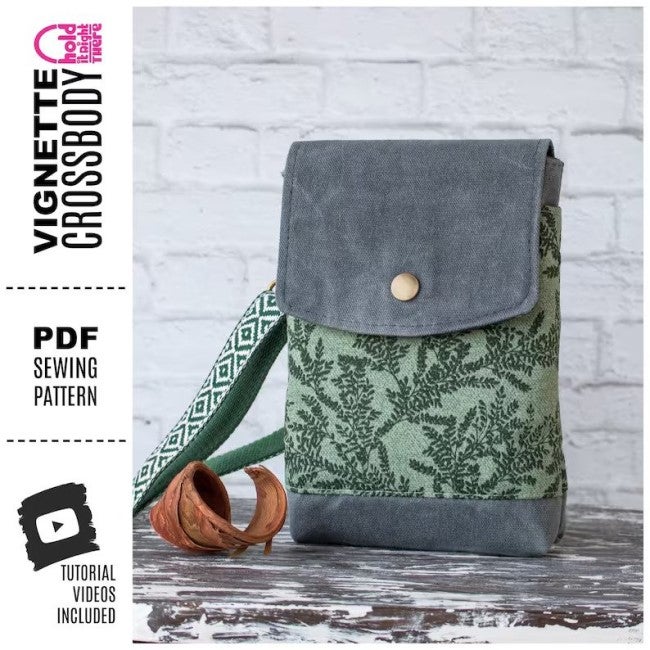 7) Isabella Pouch by All Sew Petite (with video)
The Isabella Pouch has a stylish rectangular shape that looks great on a dressing table or in your bathroom but is large enough if you need to pack for a trip away.

It is a soft pouch that opens up on the top with a zipper. It features a handle on each side for easy carrying, which makes it a perfect pouch for left and right-handers alike.

Two external zipped pockets make it easier to keep smaller essentials organized, and the main fully lined compartment can carry your toiletries, skincare, cosmetics, and more.



8) Charley Mini Bucket Bag by K Dill Handmade (with video)
The Charley Mini is a fun sew and a great skill builder. Features include two outside side pockets and an interior slip pocket. The sides are finished using french seams. And NO hardware is required!
The size is perfect for teacher gifts, mommy and me sets (when used with the original Charley), and small project bags. The pattern includes coordinating photos, full pattern pieces, and a video tutorial.
9) Aphrodite Versa Bag (2 styles) by Needle and Anchor (with video)
The Aphrodite Versa-Bag is truly versatile! This classy and chic bag has 2 versions – a half circle trim version that is geared towards intermediate sewists and a beginner friendly version that is more simplified. The lining features a zippered pocket and a slip pocket. The bag is generously sized without being too large.

This beautiful bag has a magnetic snap closure or a hex/facile frame closure (intermediate version only). They can be made from various fabric mediums such as faux leathers, vinyl, cork fabric or even quilting cotton. These patterns are domestic machine friendly if you choose your materials wisely.
10) The Hartswood Tote Purse from Fable and Guild
As a Ready To Make PDF sewing pattern the Hartswood handbag just oozes well-bred elegance and stately high fashion appeal. Although a modest design she is a 'go to' wardrobe must have and one that will stand the test of time season after season. The stay shape handles sit tall for a 'carry all' handbag or she is equally at home sitting comfortably over the shoulder. The twist lock clasp provides that professional touch and the hand-stitched bar tacks just finish the Hartswood beautifully!

For that extra touch of self-made sewing pattern luxury we recommend the Hartswood is made from 3mm 100% wool felt.
11) Carriers Conquest by Chris W Designs
Do you like pockets? The Carriers Conquest is LOADED with pockets so you can be super organised. This was the first of my patterns to feature my unique quick access phone pocket. I can't live without that now and you won't be able to either!

Also featuring two spacious top edge zipper pockets, with the front zipper pocket also containing two slip pockets. The roomy centre compartment closes with a flap and magnetic snap.

Inside are two more slip pockets and a clever pocket which is designed to hold a wallet.

12) Rollie Pollie Organizer in 3 sizes by Cozy Nest Designs
The Rollie Pollie is a fabulous all-purpose organizer featuring 4 detachable, zipped pouches that all roll up into a secure little package.

Hang it up using your choice of a d-ring or grommet and fold it flat for compact storage when not in use. Hook and loop strips hold the pouches and flap securely in place.

A convenient side handle makes for easy carrying. Perfect for cosmetics, sewing and craft supplies, jewelry, toys, and gift giving.
Instructions included for 3 different sizes.


13) Aquadrop Backpack/Sling Bag by ISY SEW Patterns
The "AQUADROP BACKPACK/SLING" is a fun waterdrop-shaped backpack that features pockets on the front, back, and inside! It includes a fully lined interior and a zipper opening that can be placed either along the side or across the top. Front zipper pockets are functional with card slots, cash pocket, and a key hook. The second pocket is perfect for your earbuds, some change, or your favorite shade of lipstick or a tube of moisturizer.
The back zipper pocket is roomy enough to hold your gloves or passport. Pockets continue on the inside with even more (optional) cards slot and cash pocket, sewn on top of a roomy slip pocket. Opposite this feature are pockets for your pen or nail file, as well as gusseted pockets for your charging cords or any other small bulky items. You only need to know how to install zippers as this bag has a lot of them. With these skills, you will be sewing your lovely AQUADROP in no time.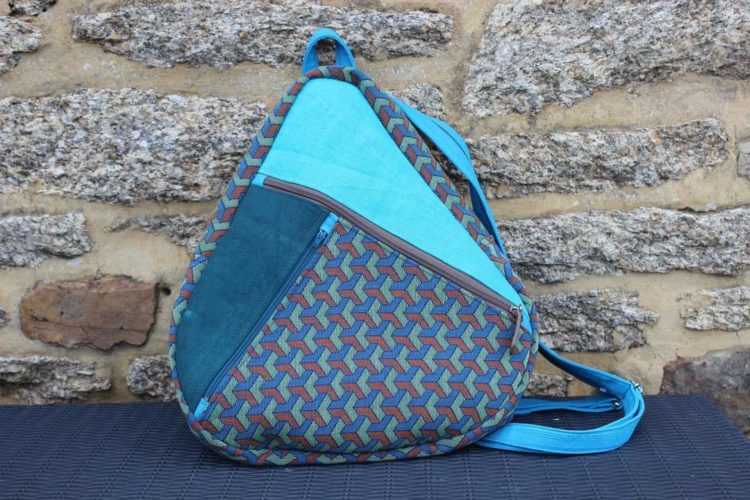 14) Duffel Bag in 3 sizes by Emels Handicraft (with video)
This awesome Duffel Bag comes in three different sizes. Ideal for children, teens and adult sizes, or just when you have differing amounts you need to carry.

The small one would work as an everyday purse, the mid-size is good for the gym or an overnight bag, and the large is for a weekend away or when you have a lot to carry.
15) Treasure Trove Jewelry Case by Bags by Bags of Style (with video)
We all need somewhere to keep our jewellery safe when we travel. Going on holiday or away for a weekend, it's easy to lose your valuables in your suitcase. The Treasure Trove Jewellery Case allows you to keep everything safe and secure.

The case has room to store up to six pairs of earrings, a ring holder that will keep all of your rings safe and secure and two zippered pockets for necklaces, bangles etc.

The pattern also includes Treasure Pouches, designed to keep your necklaces and chains safe and tangle free.

The Treasure Trove is the perfect travel accessory for the discerning traveller.




16) Suburbanite Handbag in 3 sizes by Toriska
The Suburbanite Handbag has a traditional tote shape and simple lines, but the corded handles and single adjustable shoulder strap provide a classy twist. There are several exterior and interior pockets to keep you organized. The purse can be closed with either two magnetic snaps or a zipper. The finishing method is unique and simple to execute.

The Suburbanite can be made in three sizes: the small is perfect for carrying the basics, the medium is a great everyday bag, and the large is roomy enough for a small laptop.




17) Deimos Wallet by SewGnar (with video)
A slim style bifold wallet with four cards slots, a snap pouch for coins, one long rear cash slot for notes, and two smaller slip pockets. This handy wallat is the perfect beginner project for those excited to try out cork fabric for the first time! This pattern is designed to use non-fraying textiles ONLY (cork, vinyl, thin leather, etc).

A step by step video tutorial accompanies the written pattern.
18) Restoration Handbag by KMG Handmade (Exclusive to the bundle)
The Restoration Bag will be available exclusively in the Big Bag Bundle and is not due to release to the public elsewhere until late April. It's like getting 3 patterns or more in one because sewers will be able to choose a skill level to get a different style of bag upon completion. Leave off the handles altogether and you get a beautiful crossbody style. Lengthen the handles for a shoulder bag. You are only limited by your own imagination!
Including a fabric vs machine recommendation file as well as SVGs and A0 files with this pattern.
Features:
Exterior Zipper Pocket
Seamed front panel
Perfect fit base
Center Divider Zipper Pocket
Divided Slip Pocket
Keyminder and Logo Badge Accessories
Rolled Handles or Straight Handles
Crossbody Strap
Finishes by birthing or drop in, no binding required.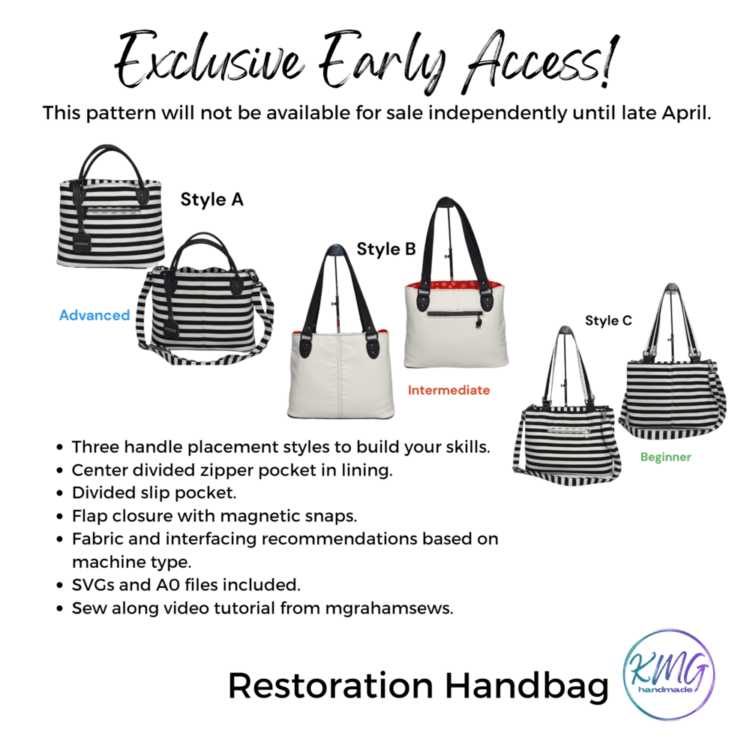 19) Carina Satchel Bag in 2 sizes by Sew Sofia
The Carina School Satchel is a great pattern for confident beginners in bag making, teaching you basic bag-making techniques, as well as sewing with laminated cotton and other wipe clean fabrics.

Features:
The bag features two inner pockets, a wide back slip pocket, a keyring loop, an adjustable and detachable shoulder strap, an optional short carry handle, two flap options with magnetic snap closure and piping for a professional finish. A versatile pattern, there is plenty of scope to add your own style to the bag, such as extra pockets inside and out, a different flap closure and type of strap.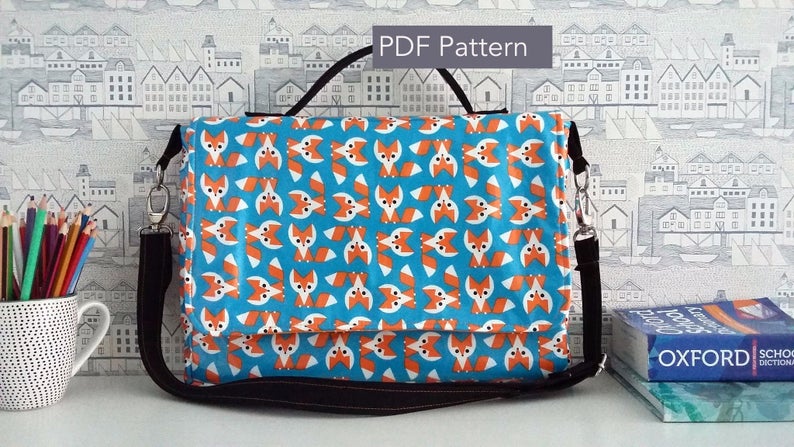 20) Coloring Caddy by Studio 7T7 (with video)
The Colouring Caddy is a pack it and go tote that is perfect for creativity on the move!

With slots for pens and crayons, a zipper pocket for other supplies and even slip pockets for large colouring books, there's space for it all and no room for boredom!

The Colouring Caddy was inspired for all those who like to colour or create on the move. Designed for little ones but loved by adults too (why does creativity have to stop as you grow?!), this is the 'take to the restaurant' bag, the bag you pack for long journeys or plane trips and the bag that has everything you need for creativity on the go.
21) Scout Small Messenger Bag by 4 Girls Designs
The Scout Small Messenger Bag is a fun bag that is good for anyone. You can make it out of durable and rugged materials using an industrial sewing machine or make a custom bag from cotton fabrics to sew on your domestic sewing machine.
Features of the Scout Small Messenger Bag:
-3-Slip Pockets
-1-2 Zipper Pockets
-6-Credit Card Pockets
AND two different flap sizes as well as the option to add a recessed zipper or leave the wider flap to cover the top opening to keep your items safe inside.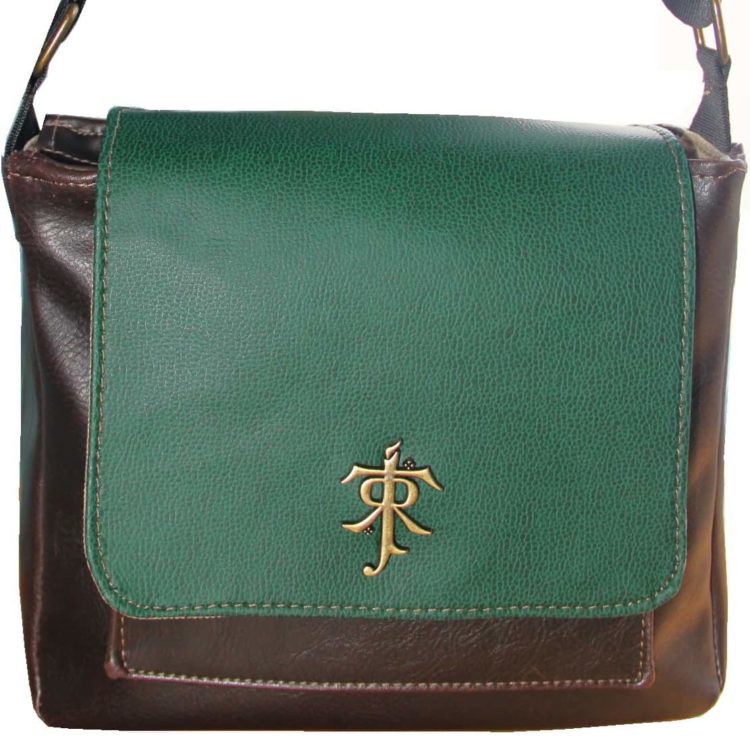 22) Sophia Fold Over Clutch and Crossbody by AppleGreen Cottage
This sleek and stylish fold-over clutch bag comes with lots of options. Not only are there three different sizes of bag in this one pattern, but you can also decide to add a removable shoulder or crossbody strap and again 2 lengths are provided, or you can choose your own.

The smallest clutch is ideal for a phone pouch, as quick grab and go bag for your essentials or as a smaller bag used within the large-sized Sophia. The medium clutch will fit a tablet or e-reader, while the largest size is the perfect crossbody bag for everyday use when you need a little more space.
---
THAT'S MORE THAN $200 OF GORGEOUS SEWING PATTERN VALUE FOR JUST $23.95. IT'S A BARGAIN YOU WON'T SEE HERE OR ANYWHERE ELSE AGAIN.
---
ONLY AVAILABLE FOR A LIMITED TIME
Don't delay, this amazing sewing pattern bundle is only available until Monday 20th March and then it will be gone for good. You can check out with Paypal or your bank/credit card. And the 20th really is the last day to buy.
HOW TO GET YOUR BIG BUNDLE OF BAG SEWING PATTERN
As this is a super-special limited-time offer, it's kept separate from our usual pattern store. We ask that you make your purchase on PayHip and download your patterns from there.
Add your bundle to the cart
Checkout (you can set up an account if you don't already have one with Payhip)
Pay with Paypal or a debit/credit card
Download your pattern files right away
Keep the files safely
Sew a bunch of totally awesome bags
Terms and conditions of the offer:
* The special bundle pricing is only available from 15th to 20th March 2023 (Timezone UTC -5). Sorry, no rainchecks.
* This offer is for digital PDF files only. There are NO paper patterns and nothing will be sent to you in the mail. Your patterns must be downloaded and saved to your device.
* As these are digital items, they cannot be 'returned'. Your purchase is final and no refunds can be given, either in full or in part.
* VAT/taxes may be charged in addition to the purchase price if that is relevant for your country. This is collected by PayHip and sent to the appropriate tax authorities.
* Please download your files immediately as you may not have access to them later.