Trinity Bag – great design
|
All posts may contain affiliate links.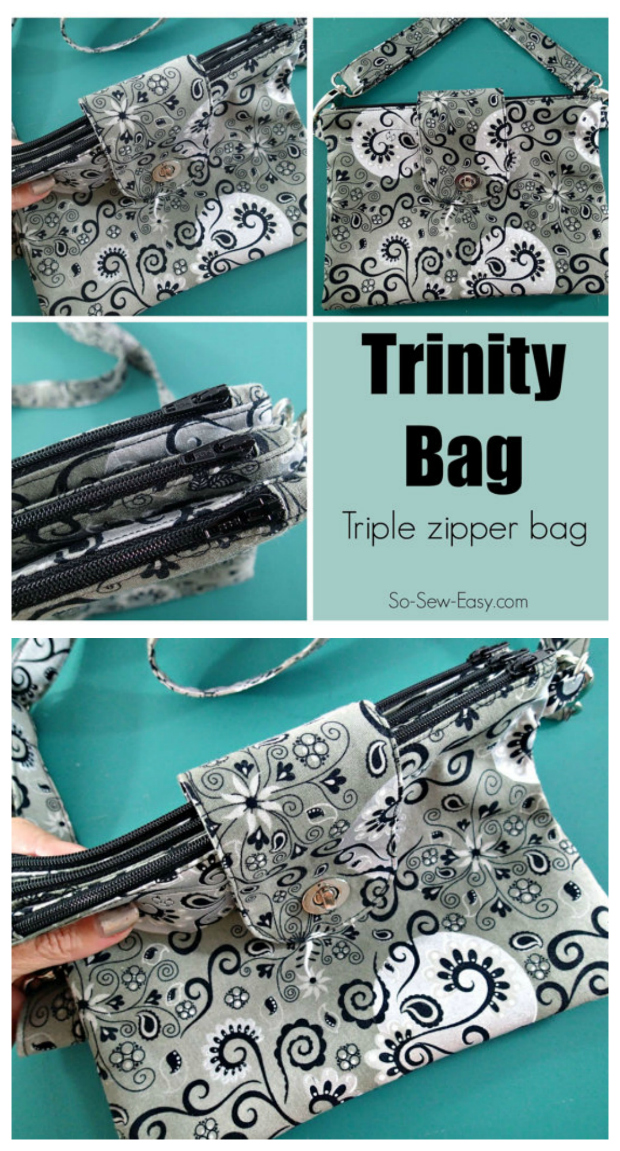 Why settle for one bag when you can have three-in-one. The Trinity bag has three zipper pouches, each with slip pockets in the lining, to keep all of your bits and pieces organized.
Use it as a clutch, or make an adjustable and removable strap to wear it on your shoulder or as a cross-body bag. The closing flap can have a tuck lock or twist lock. And the finished size is 9.5" wide, 6.5" high and 1.0" deep.
This pattern has been rated by the pattern testing team as Intermediate.
Materials needed:-
Main Bag – 2/3  yard,
Lining  – 1/2 yard,
Mid-weight interfacing such as Shape Flex 101 – ¾ yard at 20 inches wide,
Lightweight Interfacing (optional for strap) – 1/4 yard,
Coordinating Thread,
3 x 10" zipper (or larger),
2 x 1-inch swivel hooks,
1 x 1-inch slider buckle,
1 x small 1-inch twist lock or tuck lock,
6 x ½ inch round closed rings (or small D-Rings will work too),
Even more crossbody bag sewing patterns you won't be able to resist
Want even more crossbody bag sewing patterns? These are the top best selling crossbody bag patterns in our store. Take a look at the category on our shop page for even more - 60+ more!