Art Book sewing pattern
|
All posts may contain affiliate links.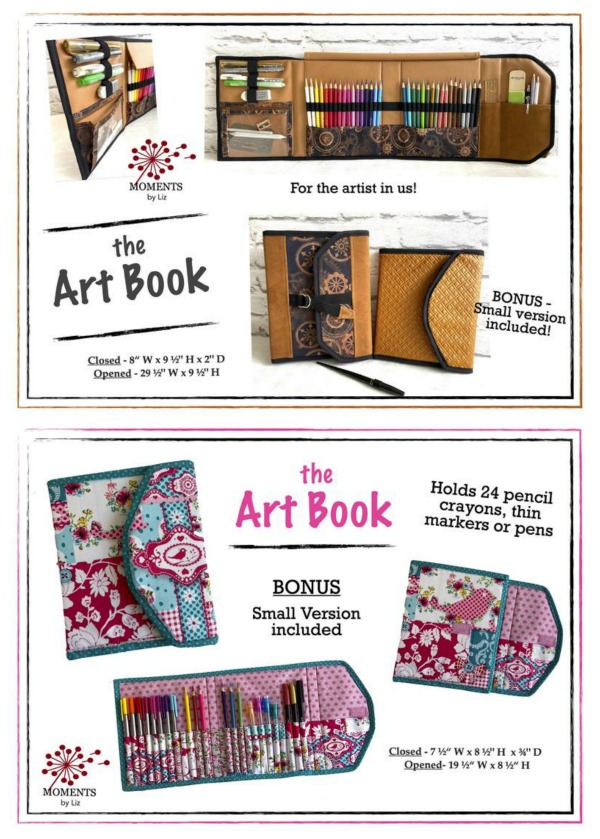 These two sizes of Art Books are perfect for all art lovers, bullet journalers, zentanglers, or anyone that loves cases and organizers.
The large case will hold an A5 notebook in the front pocket and 32 pencils! You can store more pencils in the flap pocket or above the clear zipper pocket. There is also a clear, pleated zipper pocket for all those extras.
This is a great "hold all" for your art supplies, just grab it and create it when the desire hits you. Perfect for vacations, days in the park, or in the garden.
As a BONUS, the designer has also included a smaller case that holds 24 pencils. Make one for the kids and send them to school in style with their own personalized case.
You can now STOP searching for your supplies, they are now all nicely boxed up in one place!
Skill level:
The designer rates her project as suitable for an intermediate sewer.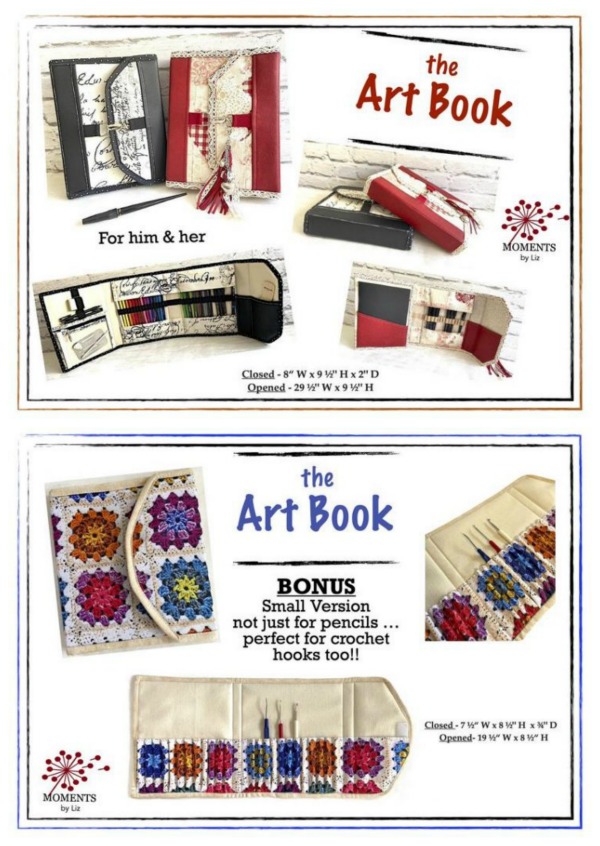 When you have finished making an Art Book it will measure approximately:-
Large – Closed = 8″ wide by 9 1/2″ high by 2″ deep.
Large – Opened = 29 1/2″ wide by 9 1/2″ high by 2″ deep.
Small – Closed = 7 1/2″ wide by 8 1/2″ high by 3/4″ deep.
Small – Opened = 19 1/2″ wide by 8 1/2″ high by 3/4″ deep.
What you will need to make an Art Book:-
1/3 of a yard of cotton for the exterior fabric,
9 1/2″ by 14 3/8″ of Faux leather or cork for the exterior accent fabric,
19 1/2″ by 29 1/2″ of cotton, laminated cotton, Cordura, vinyl for the lining fabric,
5/8 yards of non-woven medium weight fusible interfacing H250,
One 8″ #3 zipper,
One 3⁄4″ swivel hook for version 1,
One 3⁄4″ D-Ring for version 1,
Two 3⁄4″ D-Rings for version 2,
A 1/4″ piece of Velcro for the small version,
5″ by 6″ piece of clear vinyl,
1 yard of 3/4 – 1″ wide elastic,
2 mm Greyboard, cardboard, or 2 comic book boards glued together,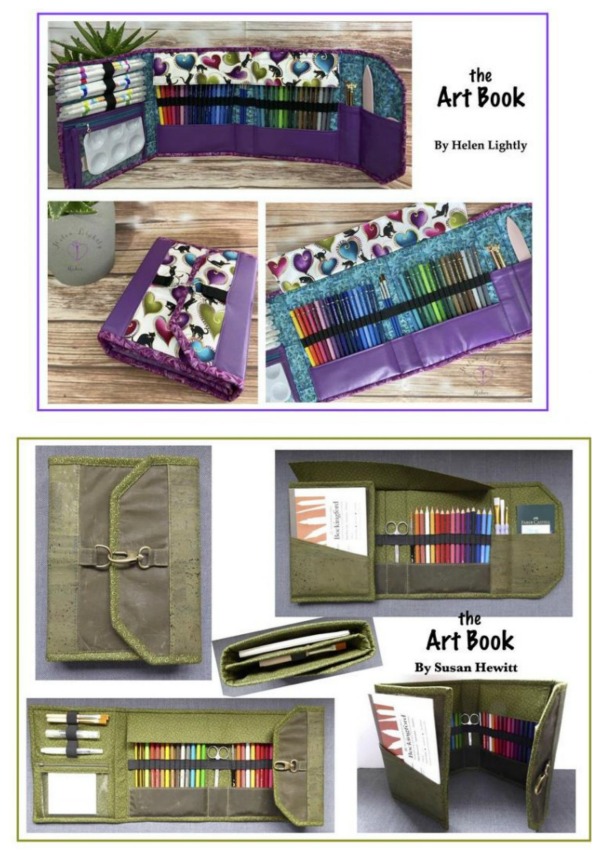 This is a PDF pattern, consisting of 39 pages of step-by-step instructions with color photos and 23 pages of full-size pattern pieces. Cutting from measurements (when possible) is also included. If you would like to download the pattern you can click on the blue button below.
This designer, Moments By Liz, has some other fantastic patterns that you can download by clicking on the red button below.
See all the patterns from this designer here
Keep organized with these storage and project bag ideas to sew
Want even more project bags, storage and organizers to sew? Our shop is packed full of hand-picked favorites from talented designers, big and small. Here is a sample selection you might like. Check them all out in our shop.