Wanderer Wallet sewing pattern
|
All posts may contain affiliate links.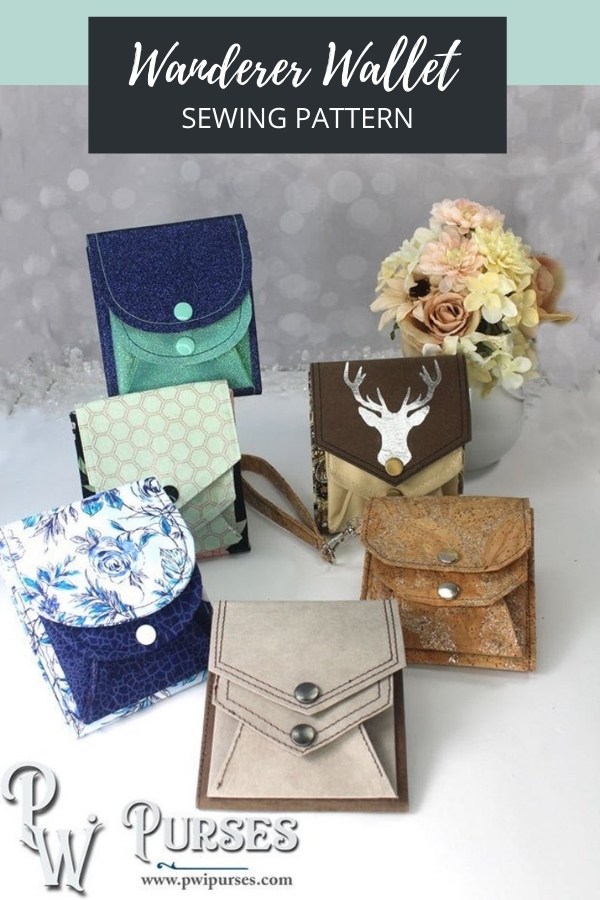 The Wanderer Wallet is a small, elegant and slimline wallet designed to hold cards, coins, and notes in a neat package. The three different designs allow you to have a bit of fun with them. And it's also an ideal project to sew for your guy.
This wallet is actually perfect for those that prefer a smaller wallet to tuck into their pocket, or who like to just carry a small bag with the essentials, without carrying a full large wallet. This pattern is fast and easy, and the designer is convinced that once all your friends and family see yours that they'll be asking you for one!

These make a great stocking stuffer idea too so grab the pattern now and start sewing them up for the festive season. Ideal for special occasions and last-minute birthdays you had forgotten about. Pop in a gift card and you're done! Phew.
Features of the Wanderer Wallet:-
It comes with three different flap/coin designs.
It holds six credit cards, plus bills.
It has a cool coin pocket.
It is only 4″ by 4½". and it is thin! The designer's man loves it!
It does not require a lot of fabric.
There are no zippers!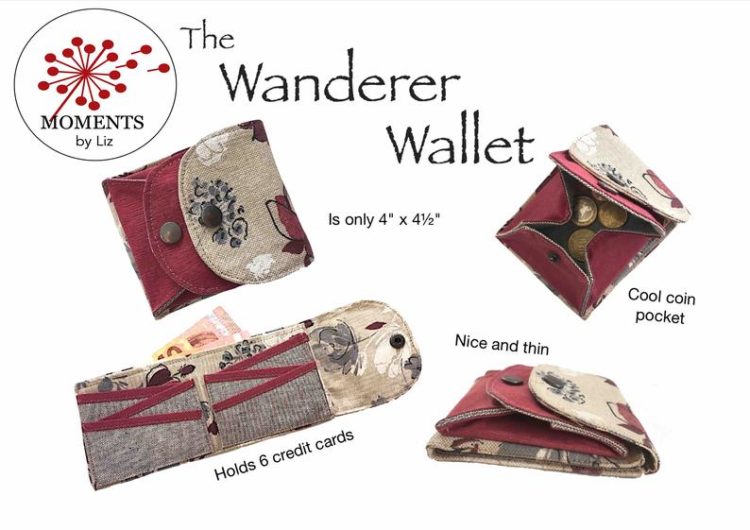 The Wanderer Wallet is designed to be sewn with non-fraying fabrics such as cork, Kraft-Tex, or thin vinyl. But don't worry, there's a fabric version too.
As all of us have supplies of pretty pieces of cotton, the designer has also included instructions for sewing with cotton, However, please be warned that the card slots have raw edges! They are fused with fusible webbing to reduce fraying, but they are raw. If you don't like raw edges, then sewing this pattern in cotton is not for you. Or make the card slots with non-fraying materials such as Kraft Tex, vinyl, cork or even felt!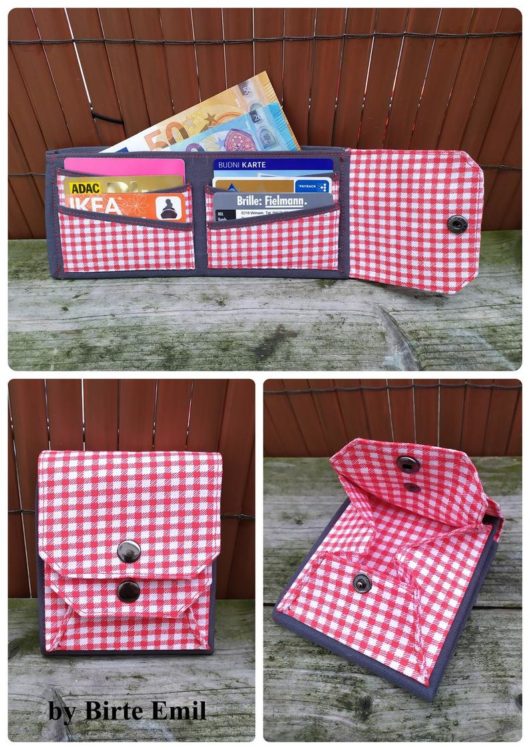 Skill level:
Confident Beginner to Intermediate Sewer,
Finished Size:
4″ high by 4 1/2″ wide when closed.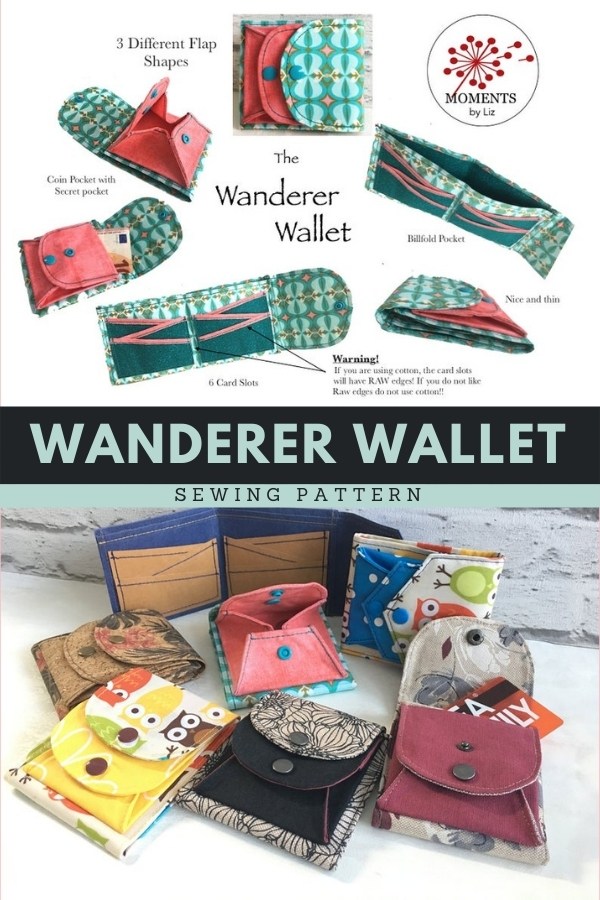 What you will need to sew the Wander Wallet (the cotton version):
Recommended – thin non-fraying fabrics – Laminated Cotton Oilcloth. * Cotton can be used but you will have raw edges on your card slots!!!
10″ by 14″ for the exterior fabric,
14″ by 16″ for the accent 1 fabric – Coin Pocket and Card Slots-Back,
9″ by 16″ for the accent 2 fabric – Card Slots-Front and Wallet Lining,
A 1/4 yard of medium weight interfacing (SF101 or G700) – for Cotton only*,
1/3 of a yard of fusible web – Bondaweb, Vliesofix, Heat n Bond Light,
3 1/2″ by 3 1/2″ piece of heavy stabilizer – Decovil Light, Stiff Stuff,
Scraps of medium interfacing.
Two Snaps (Metal or Kam Snaps).
What you will need to sew the Wander Wallet (the raw-edge version):
Recommended for the raw edge fabrics – Cork, Kraft-Tex, Cordura & thin vinyl​,
9″ by 12″ for the exterior fabric,
14″ by 15″ of accent fabric (Coin Pocket, Card Slots),
Two snaps (Metal or Kam Snaps).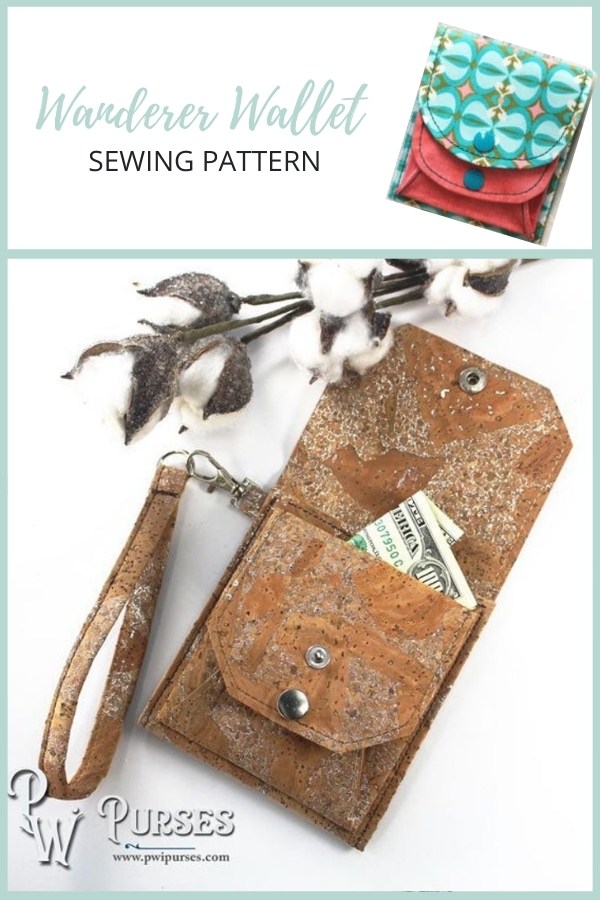 The pattern:
You will receive two PDF files -one for sewing with cotton and one for a RAW edge: perfect for Cork, Kraft-Tex, or thin faux leathers. Each PDF has over 20 pages of step-by-step instructions with color photos and 8 pages of full-size pattern pieces. Cutting from measurements is also included. The pattern includes instructions and full-size pattern pieces for sewing with thin, non-fraying fabrics that can be turned, like Laminated Cotton, and it also includes instructions and pattern pieces for sewing raw edge with materials that would be a nightmare to turn like Cork, Cordura, Kraft-Tex and thin Glitter vinyl.
If you would like to download the pattern you can click on the blue button below.
And if you would like to see other bag sewing patterns from this designer then you can click on the red button below.
See all the patterns from this designer here
Want more wallet sewing pattern ideas?
If you love
sewing wallets
but this one isn't quite right for you, then don't worry, we have LOTS more wallet sewing patterns for you to choose from. Check out just a few from our selection here.