Sorbet Bag (with video) sewing pattern
|
All posts may contain affiliate links.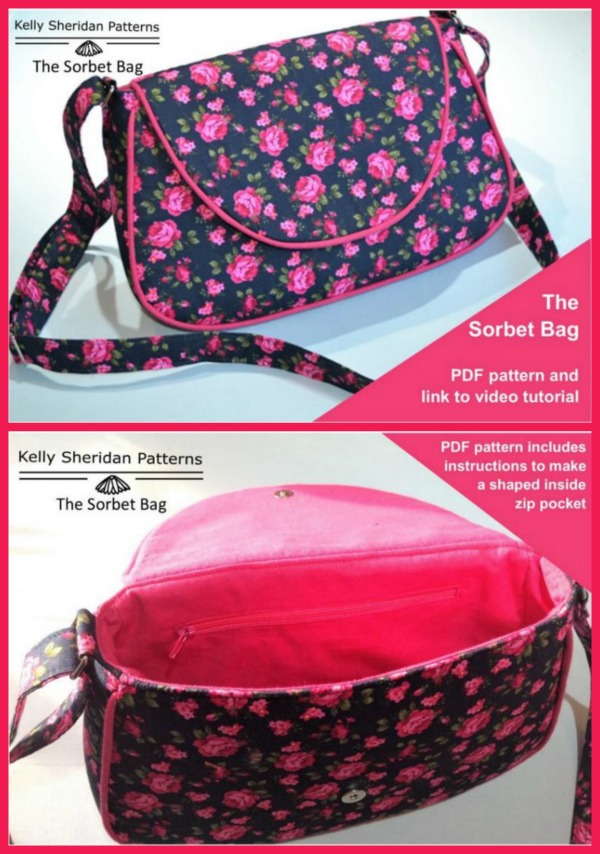 Here's the Sorbet Bag sewing pattern. It's a smart curved purse to carry as a shoulder or crossbody bag. The piping echos the lovely shape. A full video tutorial is included along with written instructions.
This beautiful bag is styled with slimline piping that defines the curved form of the exterior and accentuates the well-proportioned flap.
The interior is fully lined and features a zip pocket and slip pocket, both of which are curved to reflect the shape of the bag's body and to maximise the capacity and usefulness of the pockets. The bag fastens easily with a simple magnetic clasp, whilst the strap is fully extendable meaning it can be worn as both a shoulder and a cross-body bag.
Check out the video for a preview of the Sorbet Bag below:-
Sizing info:
The Sorbet bag is ideally sized to carry essential everyday items with finished dimensions of 11" (28 cm) wide by 7" (18 cm) high by 2" (5 cm) deep.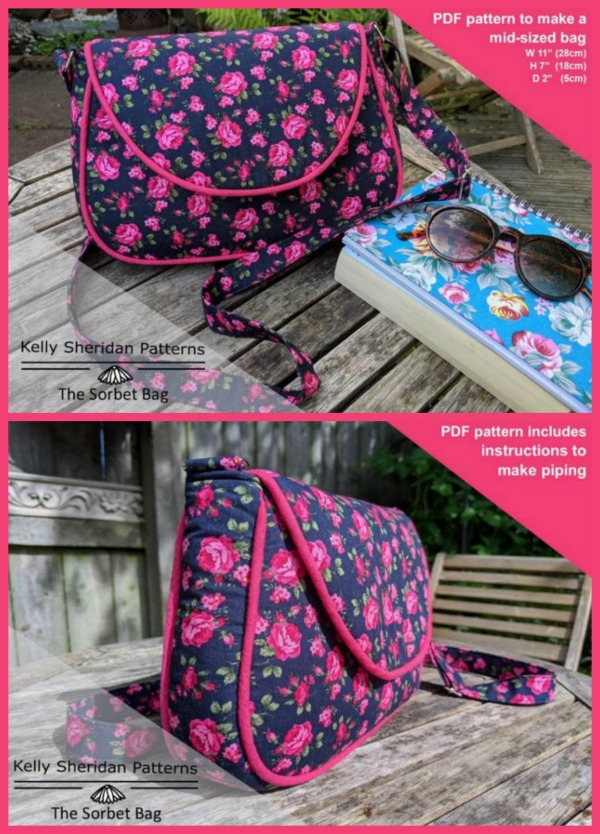 What you will need to make a Sorbet Bag:–
2/3 yd or 1/2m of 45" (115cm) wide quilting cotton for the exterior of the bag,
2/3 yd or 1/2 of 45" (115cm) wide quilting cotton for the lining of the bag,
2/3 yd or 2/3 m of 35" (90cm) wide medium weight fusible interfacing,
25" or 65cm of 18" (45cm wide) sew-in foam stabilizer,
More fabric may be needed for large scale prints, directional prints or fussy cutting,
One 7" (18 cm) Nylon Zip or longer (size 3),
Two 1" Hardware Rectangles,
One 1" 3-bar slider (Strap extender),
One Magnetic fastener,
70" of piping – either pre-made piping in a coordinating color or 70″ x 3mm piping cord and about a fat quarter of coordinating fabric,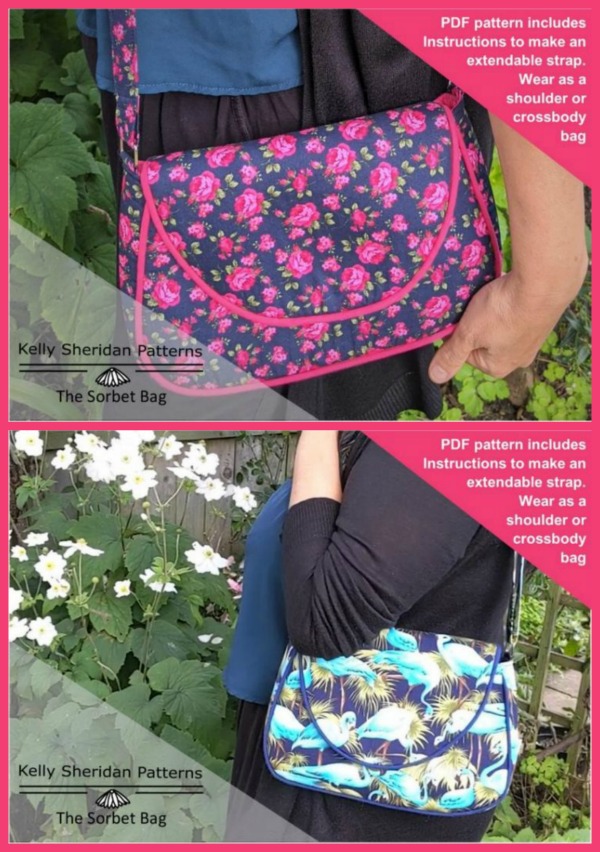 When you download the pattern there is an included 2-hour video tutorial. The pattern contains 20 pages of step-by-step instructions and color photographs. The last 3 pages are the pattern piece templates.
The instructions are organized into chapters and are clearly set out to make it easy to follow. Each chapter indicates the respective timing within the 2-hour video tutorial. The front page of the PDF pattern contains a link to the video tutorial. You will be sent pattern files in both A4 format and US letter, so according to your location, you can download the file appropriate for your preferred paper size.
You can download the pattern by clicking on the light blue button below.
Sew more crossbody bags and you'll be happier - we promise 😉
For the easiest shopping and days out, you can't beat a crossbody bag for leaving you hands-free. We've got 60+ of our favorite crossbody bag patterns hand-picked for you in the store. Go to the shop page to find them all saved by category.