Oliso Pro TG1600 iron review
|
All posts may contain affiliate links.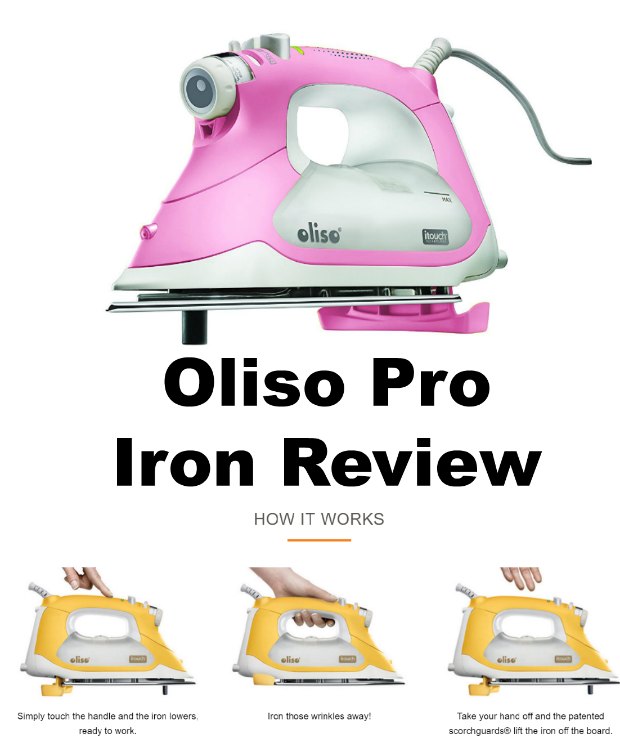 I was so delighted when I got my new iron that I wanted to share some of the features of it with you. You won't regret buying the Oliso Pro with the iTouch feature. If you suffer from scorching to your ironing board where you forget and leave the iron face down sometimes, this will blow your mind.
If you sew or quilt, this is THE iron that you need to get. If you don't do a lot of fabric crafts, but you do a lot of ironing – then you need this too!
Features of this iron that I adore:
the iTouch technology that lifts it when you are done ironing
I can't accidently knock it over now because it's never left sitting on its end
the easy to fill spout so you can fill the iron with it sitting face down
the really long cord with the 360 degree swivel (I measured, it's 12 feet)
the vertical steam so I can quickly give hubby's shirts a quick blast of steam while they are on hangers
extra large water tank
anti-drip technology that shuts off the water as soon as you let go
fast heat up
See the iron in action and read more about all the features on the Oliso Website here.
This iron is perfect for sewing and quilting. You know when you buy fabric it comes folded and you get that really sharp crease down the center? I've never been able to get that crease out with my old iron and had to actually place my designs around that center line of the fabric. Not any more with this iron, it takes care of ALL the creases, even that stubborn one, so now I can lie out my pattern pieces anywhere on the fabric and get the best placement.




I'm also happy that the lovely folks at Oliso have given all the readers a generous 15% discount if you buy through their site. simply click the banner below, and use coded SAVE15 to claim your discount.
Then marvel and enjoy your new iron. Honestly, I think it even makes ironing just that little bit fun!