Japanese Knot Bag FREE sewing pattern (+ video)
|
All posts may contain affiliate links.
This cute little Japanese Knot Bag is so easy and so fast to sew, and makes an excellent beginner sewing project!
No templates are needed for making this adorable Japanese Knot Bag.
With this FREE sewing pattern, you can give this mini bag away as gifts with a little surprise tucked inside.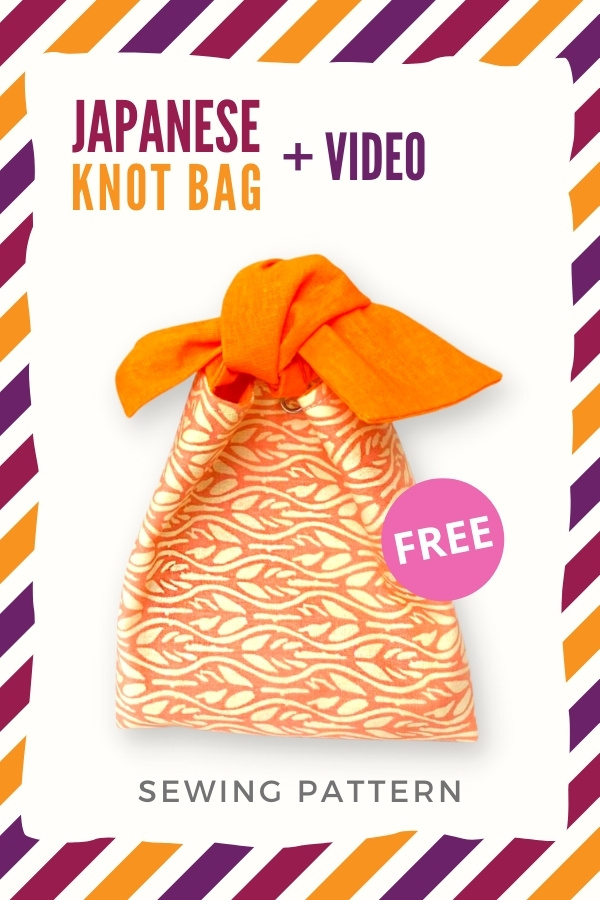 When you have finished making your own Japanese Knot Bag it will measure approximately 5¼" (13.5 cm) high by 4¾" (12 cm) wide by 3¼" (8 cm) deep.
This is a great beginner sewing project that includes a FREE video tutorial that you can view below:-
What is needed to make a Japanese Knot Bag:–
One rectangle 15'' by 8¾"' (38 cm by 22 cm) from exterior fabric.*
One rectangle 15'' by 8¾" (38 cm by 22 cm) from lining fabric.*
Two rectangles 8¾" by 5½" (22 cm by 14 cm) for straps.*
One rectangle 15'' by 8¾" (38 cm by 22 cm) from Non-woven fusible interfacing or Fusible fleece** (for exterior rectangle).
Woven fusible interfacing – two rectangles 8¾" by 5½" (22 cm by 14 cm) for straps pieces.
One metal snap or one sew-on magnetic snap closure***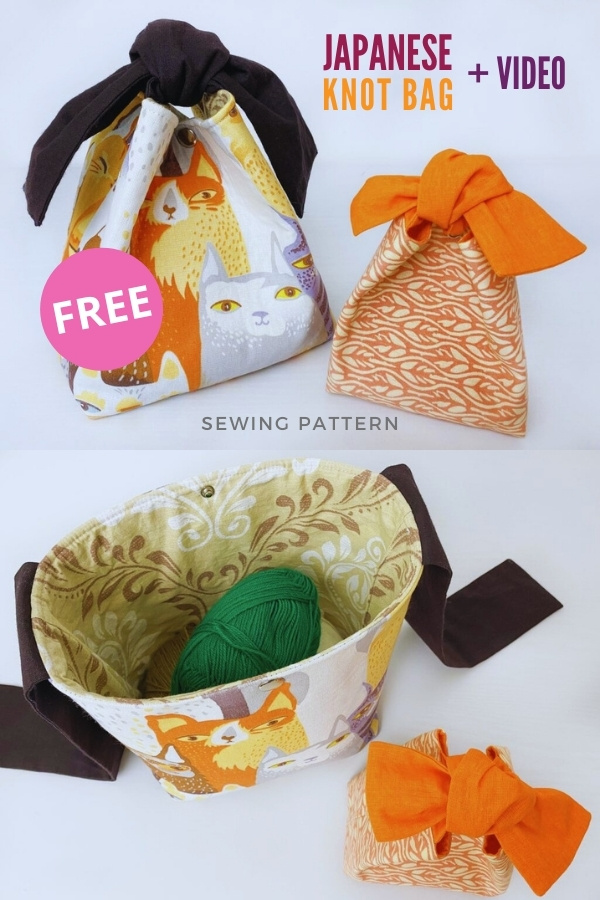 *The designer suggests cotton fabric (like quilting cotton). Remember about directional prints when cutting. For straps, you can use contrast cotton fabric or cut from exterior or lining fabric.
**For small size use a thinner fusible fleece. Press to fuse the interfacing and fleece to the wrong side of all the needed details. NOTE! Following the manufacturer's instructions on the interfacing.
***If you will attach the metal snap by hand, then follow the instructions on the package. Use the metal snap for the press if you have a press. If you want the outside of the bag to be clean, then use the sew-on magnetic snap.
All of the seam allowances are ⅜" (1 cm) unless otherwise noted.
If you would like to download the pattern you can click on the purple button below.
Click here for the FREE pattern
This sewing tutorial is totally FREE! Also, this pattern is available to buy as a set of two sizes in our shop by clicking HERE. The larger bag measures: Height – 8¼" (21 cm), Wide – 7¼" (18.5 cm), Depth – 4¾" (12 cm). These bags make a cute gift for any crocheter, knitter, or sewer!
Swan Family Patterns is so generous for offering this free pattern for you to sew. Don't forget that all of these freebies are offered as a "try me" in the hope that you will like their patterns and go on to try a paid one. Swan Family Patterns always offers beautiful bags to sew. You can find a selection of them below.
Liking this free pattern? Great! You would make our day if you 'bought us a coffee' to help with the site running costs. Thank you.

More storage and organizers to sew
Want even more ideas for projects to sew for storage and organizers? We love to sew bags that help to keep things neat and tidy. Check out a few recent storage ideas to sew from our store.