Grocery Tote Bag – FREE pattern & video
|
All posts may contain affiliate links.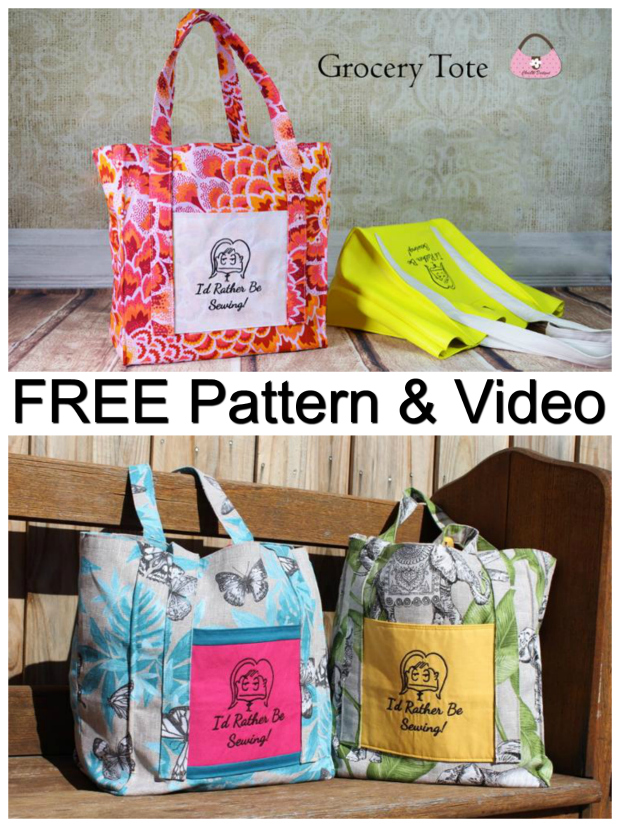 Here is a FREE pattern that comes with a FREE video showing you how to make this Grocery Tote bag. It's a simple project for a beginner sewer. With the push towards going (as far as you can) plastic-free these days, we should all be using these reusable fabric tote bags for our groceries. Keep them in the car, in your desk at work, hanging by the door as you go out and then you can do your part by not asking for a single use plastic bag.

Here are some customer reviews, who clearly love this Grocery Tote Bag:
SHOPPING IN STYLE! This bag comes together so easily and is a really nice design. I love the piping method! (From someone who hates piping, it was easy!)

GROCERY TOTE. What a well thought out pattern and excellent video. I've made it into some fabulous grocery bags. It's certainly one to try.

PERFECT. This perfect sized tote is amazing not only for groceries but so much more. The instructions give a quick clear overview of the overall bag. The video is fantastic. Very easy to follow and it is not full of unnecessary stuff. Very direct to the point and not at all boring. I learned so many new techniques with this video. Thank you.
ANOTHER EXCELLENT BAG. Christine writes excellent instructions for her pdf patterns and now she has branched out into video instructions as well, which is great for those visual learners and beginners. This Grocery Tote is no exception and it's FREE!!! So what's not to like about free? Once you make this tote and see how easy it is, you will want to try Christine's other bag and wallet patterns too. But this grocery tote, large or small is so useful for groceries or other shopping or just using to haul other stuff. Great to make for gifts. I made both sizes and know I will be making more.