Lined Drawstring Bags sewing pattern (3 styles 6 sizes)
|
All posts may contain affiliate links.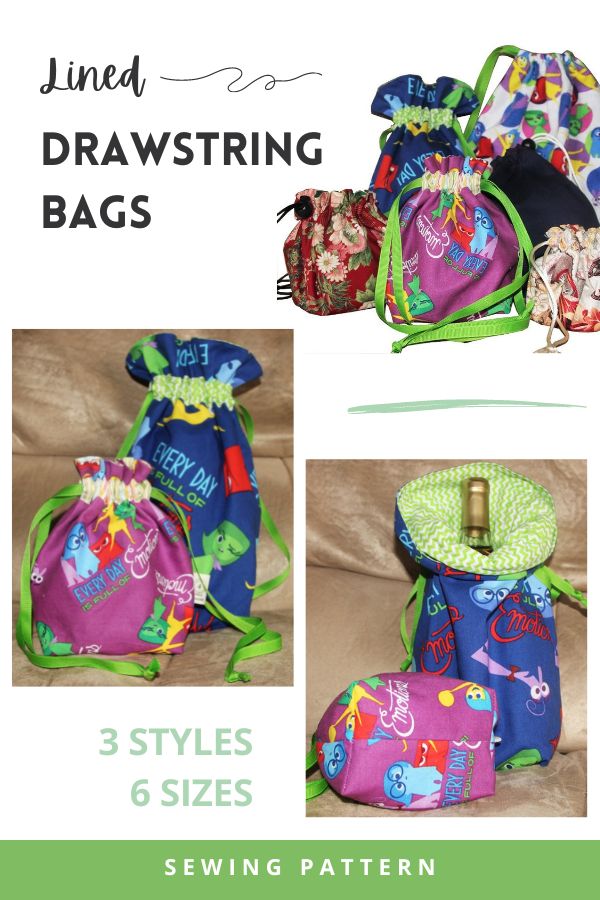 This is the Lined Drawstring Bags sewing pattern (3 different styles and 6 sizes) from the designer 4 Girls Designs.
Here are 6 Drawstring Bags just in time for the Holidays! These aren't just your ordinary drawstring bags.
* There are instructions for a dice bag and/or jewelry storage bag with pockets in 2 sizes.
* Unusual boxed-bottom drawstring bags that stand up with a flat bottom and are great for storage, bottle bags, and project bags. 2 sizes.
* Traditional drawstring bags that can be lined or unlined. 2 sizes.
Now you can make bags to use as gift wrap that is as special as the gift inside. Even better these bags themselves make perfect gifts! You will become a master of drawstring bags after these projects. It is helpful for the sewer to understand how to make a buttonhole for the Jewelry Organizer Bag.
Your sewing machine may even have a buttonhole setting or stitch on it, so get out some scraps of fabric and give that setting a try! We love learning new skills so this simple drawstring bag is the ideal opportunity for a fairly new sewer to get in some bag-making experience and learn button holes at the same time!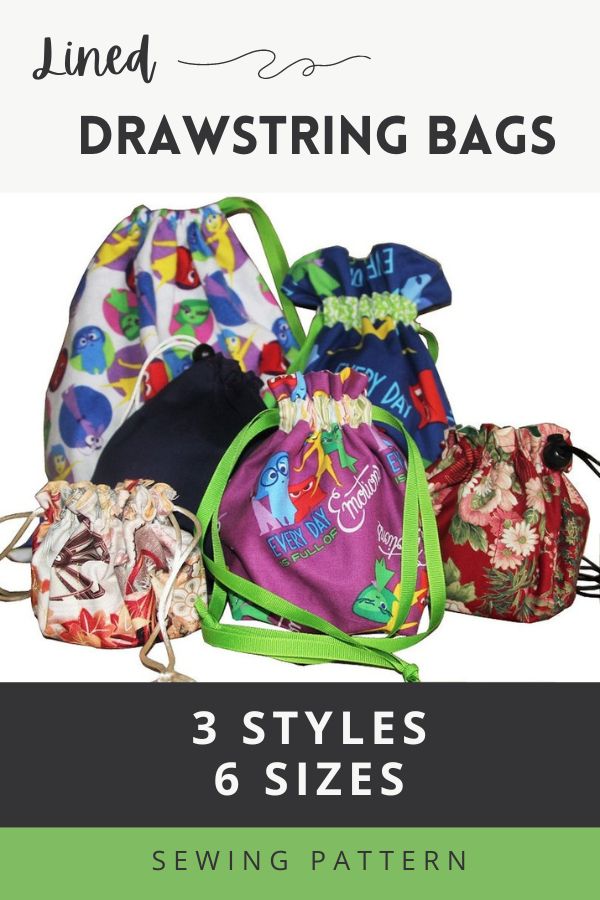 You receive photos, drawings, step-by-step directions, and full-size pattern pieces to make each of these bags without exposed seams:
* Jewelry Organizer Bag that has 9-pockets to hold a variety of jewelry items for traveling. It is also just as useful as a Dice Bag holding a variety of sizes of dice for all your gaming needs. There are two sizes included.
* Box Bottom Drawstring Bags, also in two sizes, are great for craft projects, gaming needs, gift wrap, handbags, wine bottle gift bags, art supplies, knit or crochet project bags, the list goes on and on…the flat bottom enables it to stand upright and the drawstring can be closed to keep everything safe inside or leave a gap for the yarn to feed out for your knitting project.
* Carry-All Drawstring Bags, in two sizes, and instructions are included for making the bag lined or unlined. These make fast and easy gift bags and you will be able to apply these instructions to any size bag you may need after you make a couple of them. A decorative fabric bag can dress up any gift!
Fabric requirements range from as small as two Fat Eighth pieces to two Half Yard pieces.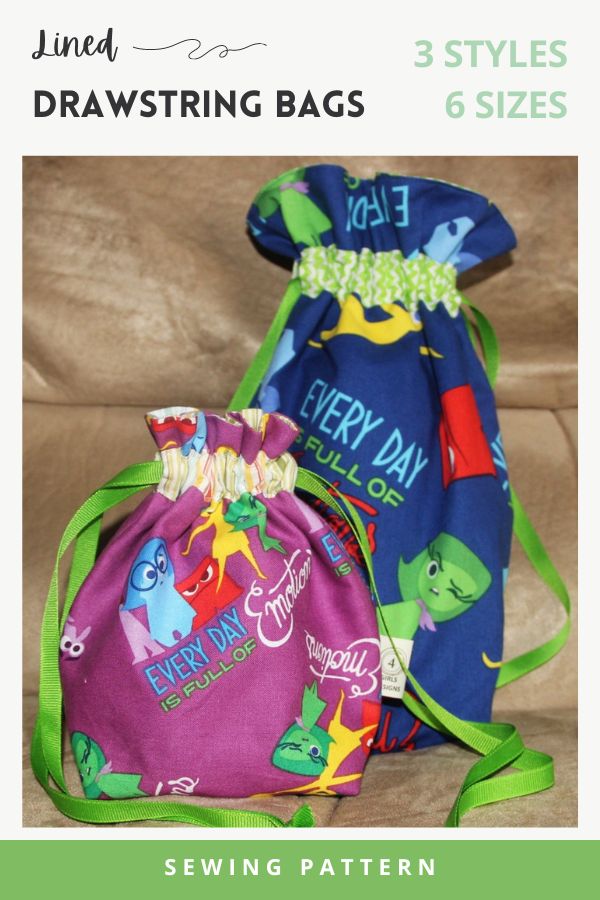 These three types of bags will serve you well when you need a bag for a special occasion or to keep your next project's materials in or take along a snack. We hope you enjoy making them! After you have made a few of these you should have the confidence and understanding to make a bag for whatever you like. Many create dice bags, jewelry bags, travel bags, toiletry bags, shoe bags, etc. with these patterns.
If you would like to download the pattern you can click on the blue button below.
And if you would like to see other bag sewing patterns from this designer then you can click on the red button below.
Keep organized with these storage and project bag ideas to sew
Want even more project bags, storage and organizers to sew? Our shop is packed full of hand-picked favorites from talented designers, big and small. Here is a sample selection you might like. Check them all out in our shop.