Fabric Baskets FREE video sewing tutorial
|
All posts may contain affiliate links.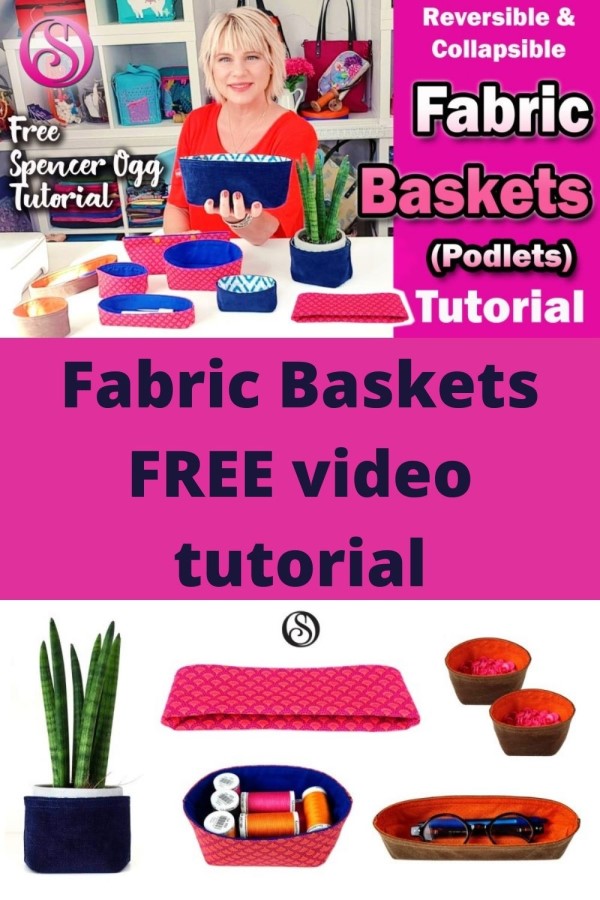 This is a FREE video sewing tutorial from the fantastic designer Spencer Ogg Sewing Patterns.
These super-quick reversible fold-flat fabric baskets come in a range of sizes.
It's a beginner-friendly project where the only sewing is literally just two seams, a few clever folds, and a little topstitching! The designer says each one will take you no more than 15-minutes to sew.
You can use them for anything – like a pencil pot, for sewing clips, plastic snaps, scissors, sewing feet, cutlery, napkins, nuts, and bolts, to hold a plant, or even for your choccy biccies (that's a British phrase for chocolate cookies).
The FREE video tutorial will walk you through everything you need to make these little cuties. Follow the dimensions given on-screen to make the large size shown in the video, which you can watch below.
For all the other sizes shown you should head to the designer's Facebook Group which you can find HERE. There you will be able to download the free PDF document from the files section.
Once you have mastered the technique then you can play around with the dimensions. You can create your own sizes of basket for anything you want. These measurements are just a starting point!
You can add little handles to the sides or your own branded tags to make cute storage baskets. You can add plastic snaps to the top. You can make tiny ones as desk organizers, or a huge one with shoulder straps to use as a fold-away shopping tote.
There's NO DOWNLOAD for this one, just watch the video for the instructions on how to sew the large and grab other sizes from the Facebook Group if you need them.
More bags with video tutorials
Want MORE Free sewing patterns?
Want to find more
FREE sewing patterns
for bags and more? Why not follow the Sew Modern Bags board dedicated to our favorite FREE sewing patterns here. Pin and save your favorite bag sewing patterns to your own boards for later. Don't forget to pin this article too.
We think you'll like these patterns for storage and organizers to sew
We know our readers just love to sew storage and organizer projects so we've got lots of them. We've handpicked some of our favorites to feature in our pattern store. These are some of the most popular that are readers are sewing now!