Elysian Phone Sling Bag sewing pattern (with video)
|
All posts may contain affiliate links.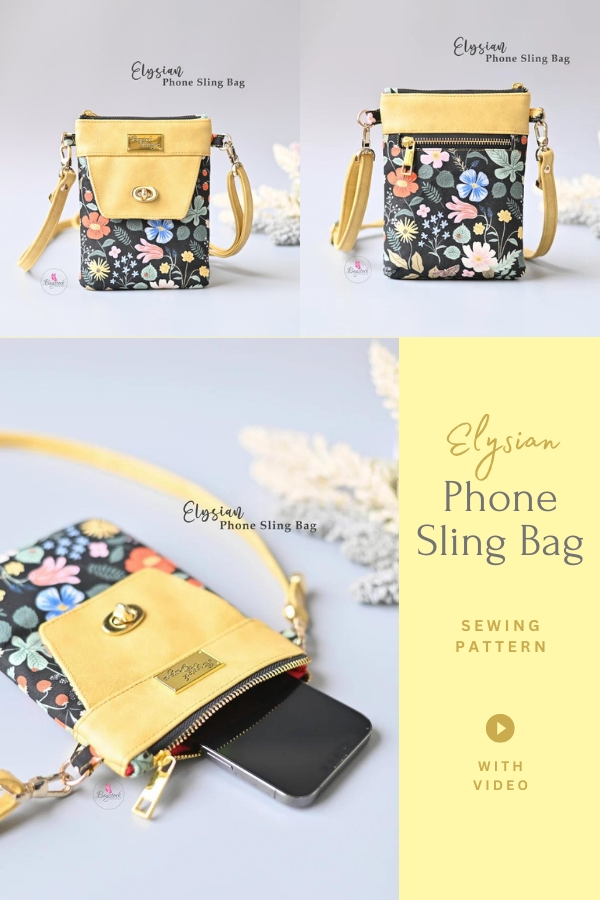 This is the Elysian Phone Sling Bag pdf sewing pattern from the designer Bagstock Designs.
This bag has phone in the title but it's a bit bigger than that. It's a small bag, but it's great when you need a bag that's big enough to carry the absolute essentials with you.
The Elysian Phone Sling Bag has the following excellent features:-
An exterior front slip pocket with flap,
An exterior back zipper pocket,
Three credit card slots inside,
A top zipper closure.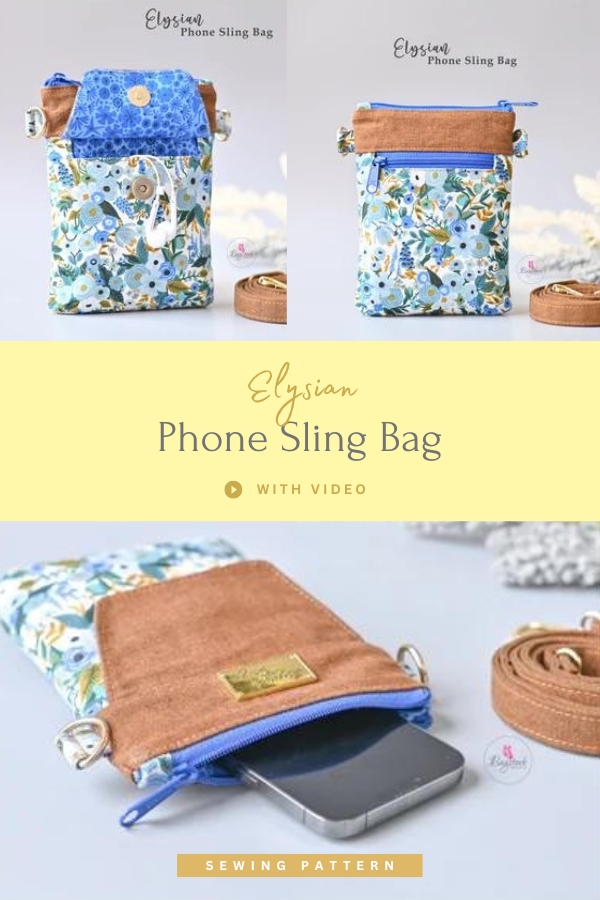 Skill level:
The designer rates her sewing project as suitable for a beginner sewer.
Sizing info:
When you have finished making your very own Elysian Phone Sling Bag it will measure approximately 6" wide by 7½" high by ¾" deep at the bottom.
Video Tutorials:-
We found two YouTube video tutorials showing you how to make the Elysian Phone Sling Bag. The first one is from SiahSwag and is 1-hour 3-minutes long and can be viewed below.
The second one is from That's Sew Nova and is 1-hour 30-minutes long and can be viewed below.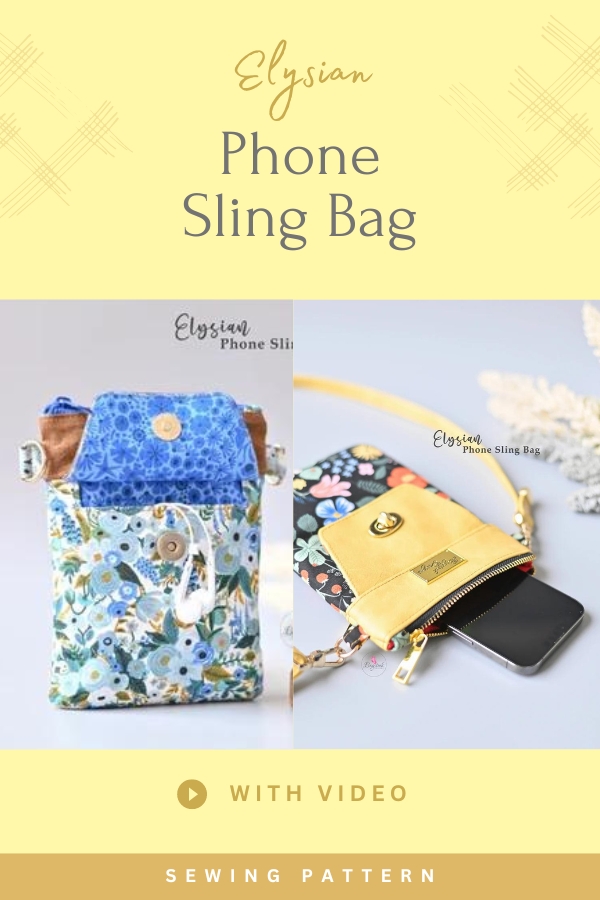 What's needed to make an Elysian Phone Sling Bag:-
A fat eighth of quilting weight exterior fabric,
⅓ yard of 44″ woven or ¼ yard (½ yard if using directional print) 54" vinyl/cork contrasting fabric,
⅓ yard of 44″ quilting weight lining fabric (¾ yard if using directional print),
1¼ yards of fusible woven interfacing – 20″ wide (Pellon SF-101 Shapeflex) (⅔ yard if using 45″ wide),
5" by 3" piece of Decovil Light/ fusible fleece for the flap (Pellon Thermolam plus TP971),
Two 7″ or longer #4.5 / #5 zipper (Main zipper closure & Exterior back zipper pocket),
One magnetic snap (Exterior front slip pocket) Note – You can also use a twist lock,
Two ¾" D-rings,
Two ¾" swivel hooks,
One ¾" slider Note – You can also use ½" hardware,
Two double cap rivets – post size 8mm (10mm if using thicker fabrics). Note – You can also use Chicago Screws. Rivets/Chicago Screws are optional,
The pattern includes thirty-three pages of easy step-by-step instructions with color photos to help you through each step. Also included are printable pattern pieces and a seam allowance is included.
If you would like to download the pdf pattern you can click on the blue button below.
These are our most popular purse and handbag sewing patterns
Want even more purses and handbags to sew? Our shop is packed full of hand-picked favorites from talented designers, big and small. Here are a few recent additions you might like. Check them all out in our shop.