Wayfarer Sling Backpack sewing pattern
|
All posts may contain affiliate links.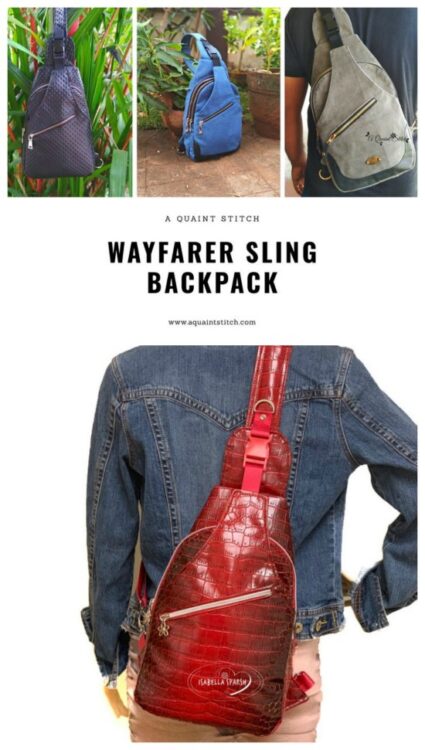 If you want to make a sleek and functional everyday carry sling backpack then this designer has given you instructions to make the backpack in two different styles.
The Wayfarer Sling Backpack has a re-positionable cross-body strap design which makes it easy to sling the backpack from the back to the front or carry it as a shoulder bag while allowing quick access to all compartments.
The Wayfarer Sling Backpack has the following bag features:
Zipper pocket on the front flap
1 or 2 main zipper compartments based on style
Zippered back pocket
Interior zipper pockets
Miscellaneous interior pockets
An adjustable strap
A real 'bought it in a good shop' design
This sling backpack sewing pattern is ideal for a range of fabrics and can be made to suit the whole family. Mix and match fabrics too, and combine pretty prints with solids. Try canvas, home decor weight fabrics, pretty cottons, oilskin, leather, vinyl, and more! You can really let your design skills go to town and create something truly unique.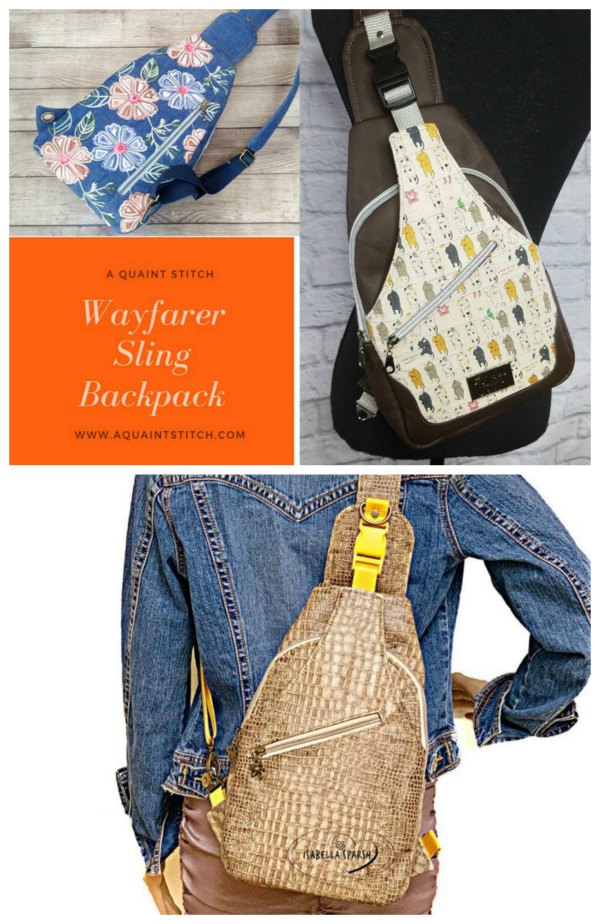 The main zipper compartments contain interior zippers and storage slots to organize basic everyday essentials and the front flap pocket is perfect for storing quick-access items. The back pocket can function as a concealed pocket to keep your wallet safe and reachable while traveling. The bag has no exposed raw edges and does not use bias tape.
When you purchase the digital pattern it includes 33 pages of concise step-by-step instructions with colour photographs to help you through each step. The pattern also comprises printable pattern pieces and all pattern pieces include a seam allowance.
As mentioned instructions are provided to make the backpack in two styles. Style 1 is a more simple backpack with a single large zippered compartment and can be sewn by an intermediate sewer. While Style 2 is an advanced backpack with a double zippered compartment and is more suited to an advanced sewer.
When finished the Wayfarer Sling Backpack will measure approximately:
Style 1 – 8" wide by 17" high by 2.50" deep.
Style 2 – 8" wide by 17" high by 3.25" deep.
To make the Wayfarer Sling Backpack you will need some basic skills as follows:
Basic sewing skills
Familiarity with sewing patterns
Sewing curved seams
Installing a zipper
Determine Interfacing requirements based on your choice of fabrics and materials.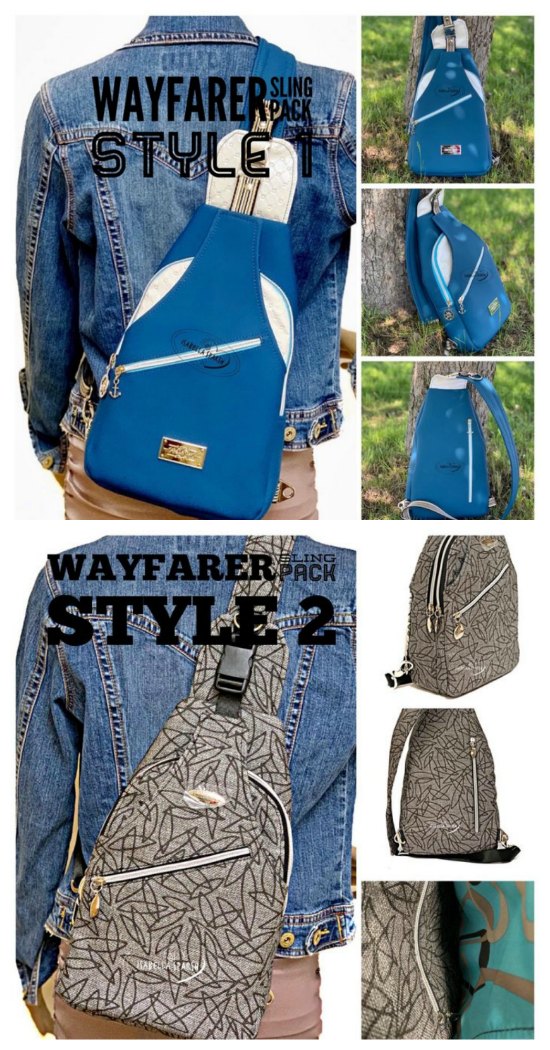 What you will need to make the Wayfarer Sling Backpack
1 yard of exterior fabric (decor weight fabric recommended)
2 yards of lining fabric
3 yards of fusible medium weight woven interfacing*
¾ yard of foam/fusible fleece interfacing (optional)
One 10" long all-purpose zipper for the exterior back
One 7.5" long all-purpose zipper for the exterior front flap
Three 1" D-rings
One 1" swivel clasp for strap
One 1" tri-glide slider
One 1" wide side release buckle
1¼ yard of 1" wide nylon webbing/strapping
For Style 1 you will need one 7.5" long nylon zipper for the bag interior and one 16.5" long all-purpose zipper for the bag compartment
For Style 2 you will need two 7.5" long nylon zippers for the bag interior and two 16.5" long all-purpose zippers for the bag compartments