Walkies (Doggie) Crossbody Bag sewing pattern
|
All posts may contain affiliate links.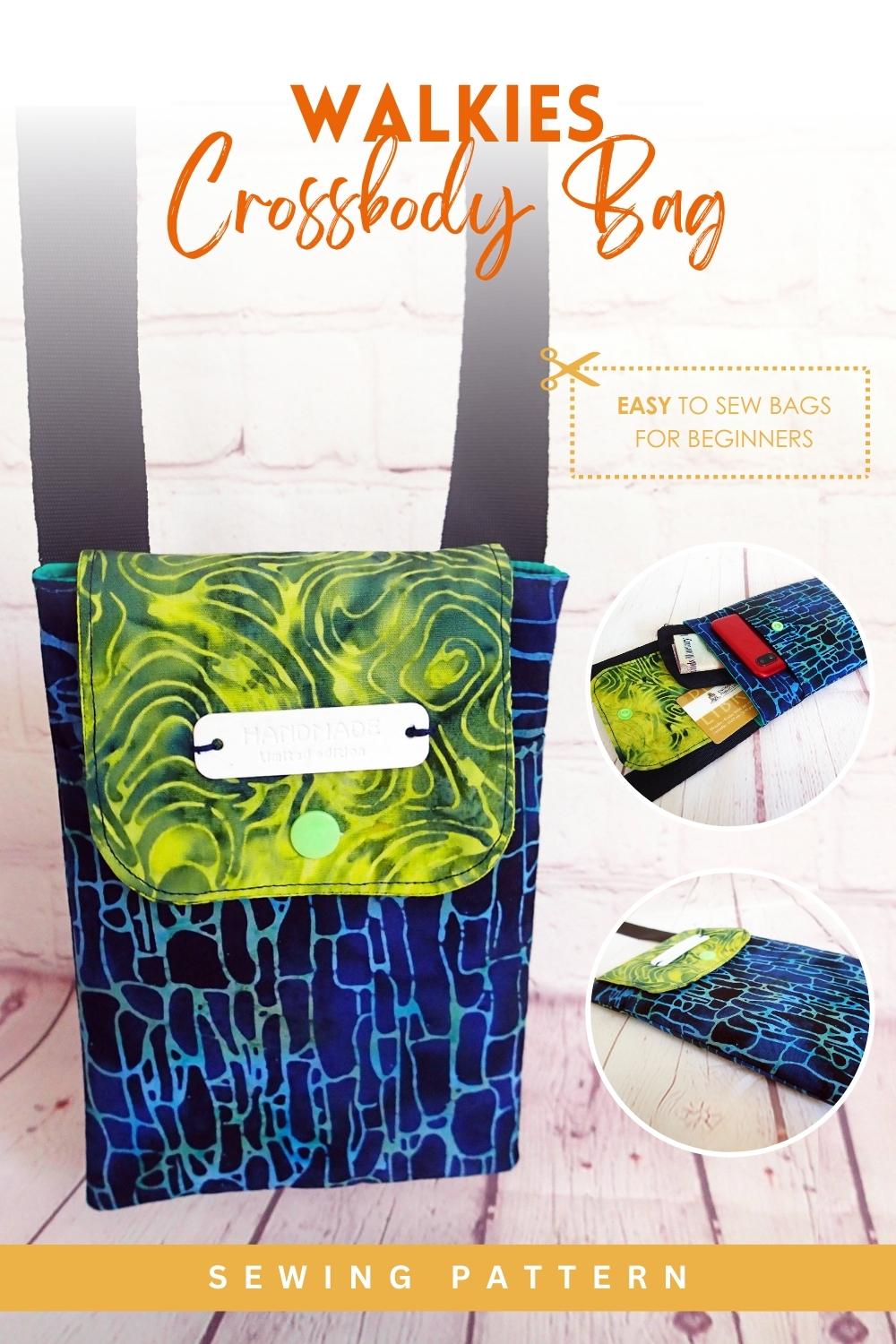 The Walkies (Doggie) Crossbody Bag is a simple to sew fully lined crossbody cellphone pouch with a front pocket, a snap closing flap and an optional space for your doggie waste bags. It was designed as a charity project for the designers local Humane Society to raise funds for the animal shelter. It's ideal as a doggie walking bag, just big enough to carry your phone, keys, a bit of cash, a few dog treats…and there's an optional slot on the front of the bag where you can carry your doggie waste bags and easily pull the bag out through the slot in the pocket. Perfect!
But it's also ideal for everyone else too, even if you don't have a dog. It's a nice lightweight bag, just enough for carrying essentials for an evening out or lunch with friends. Everyone should sew one of these quick and easy grab and go bags!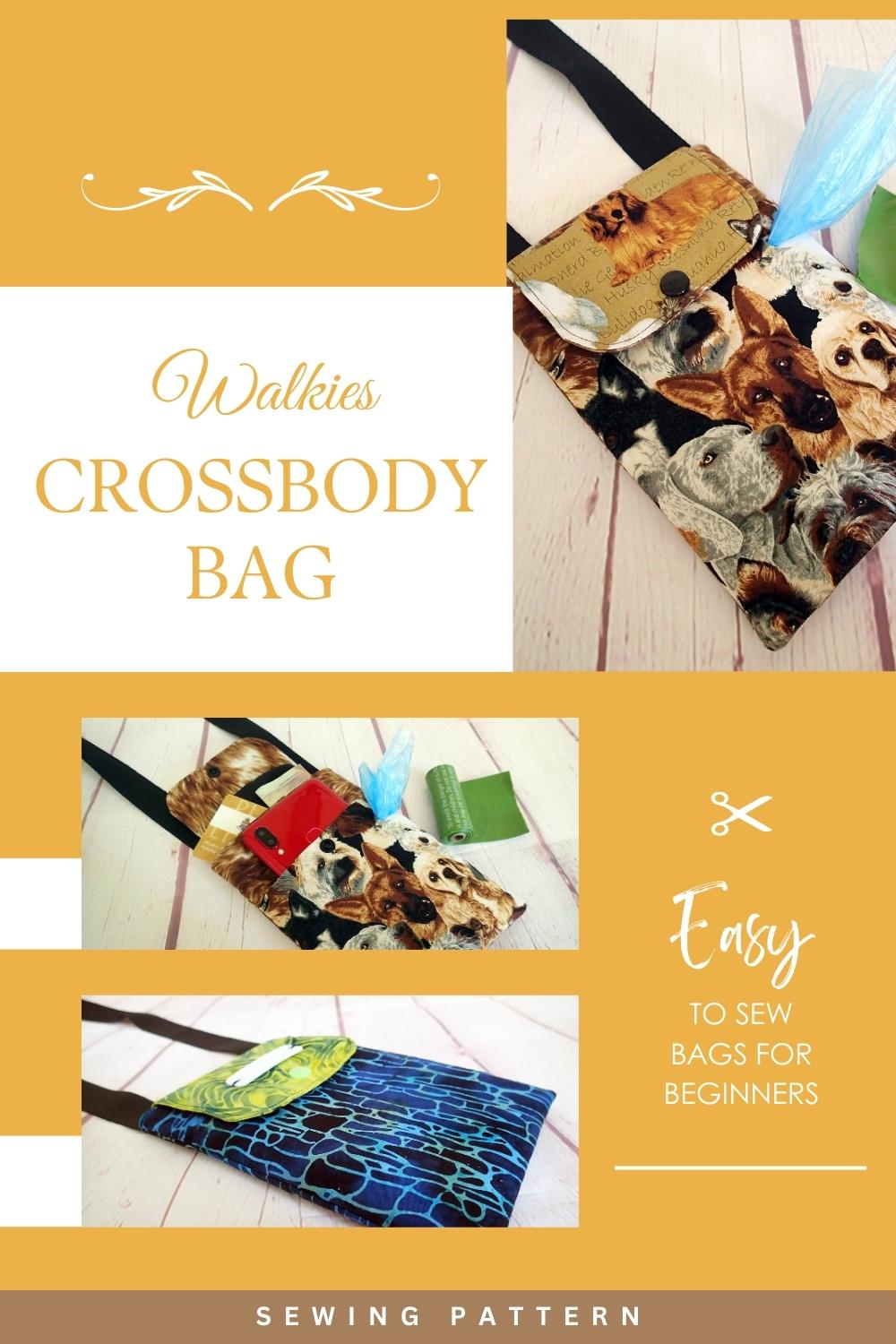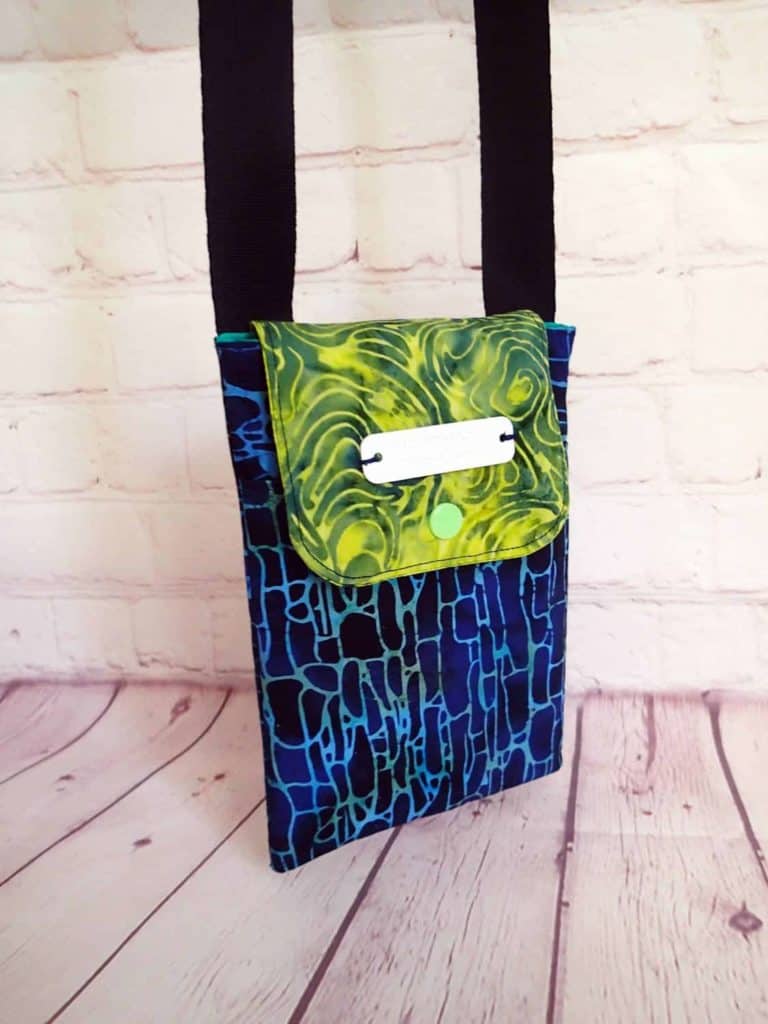 This easy crossbody bag is Fat Quarter friendly, a quick project, very light on materials, no zippers, and requires no printing of pattern pieces. Ideal if you don't have a printer at home. This is a measure and cut pattern. Follow the simple cutting chart using a ruler and rotary cutter, or measure onto the fabric, mark and cut with scissors. There are only three sizes to cut, all rectangles, so it's very easy. The back/front/lining, the pocket, and the flap. Quicker than printing a pattern!
Use it as a simple shoulder bag for an evening out. Big enough to hold your phone, some cards or cash, and a lipstick and keys for date night.
This is a great sew to sell pattern – quick and easy to sew, no fancy or expensive materials needed, and everyone can use one. Great gift for doggy people, or sew to raise money for your favorite animal charity.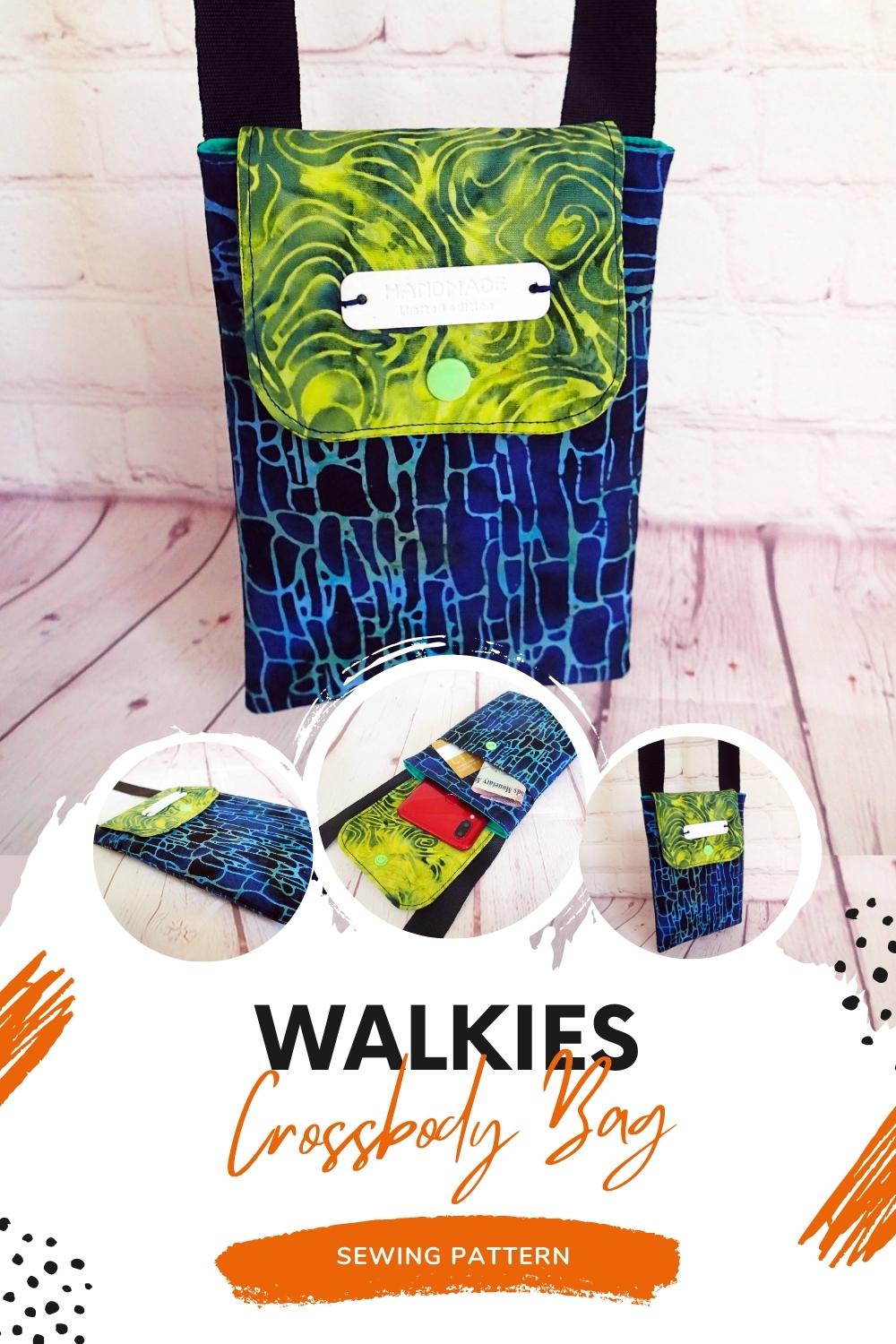 Features of the Walkies Crossbody Bag Sewing Pattern
One main compartment and one exterior front pocket, underneath the flap
Closes with a flap to keep things safe inside
Use a snap fastener, button or Velcro
Webbing strap, wear it as a shoulder bag or crossbody bag
Big enough for your phone and case
Quick and easy to sew
Print-free pattern (cut from measurements)
Measurements in Inches and Centimetres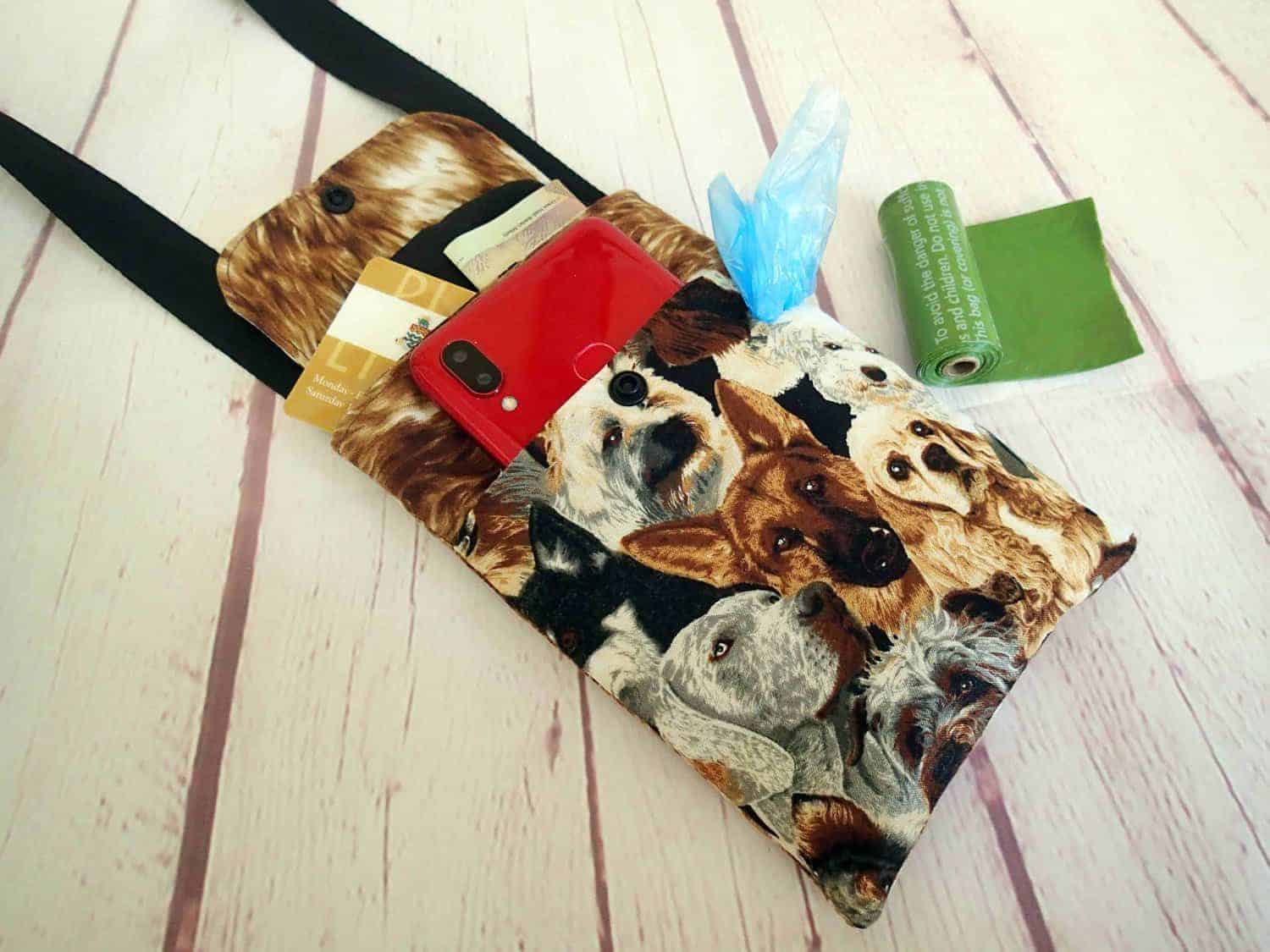 Finished measurements:
Approx 5 inches wide, 7 inches tall, ½ inch deep (12cm x 18cm x 1cm) approx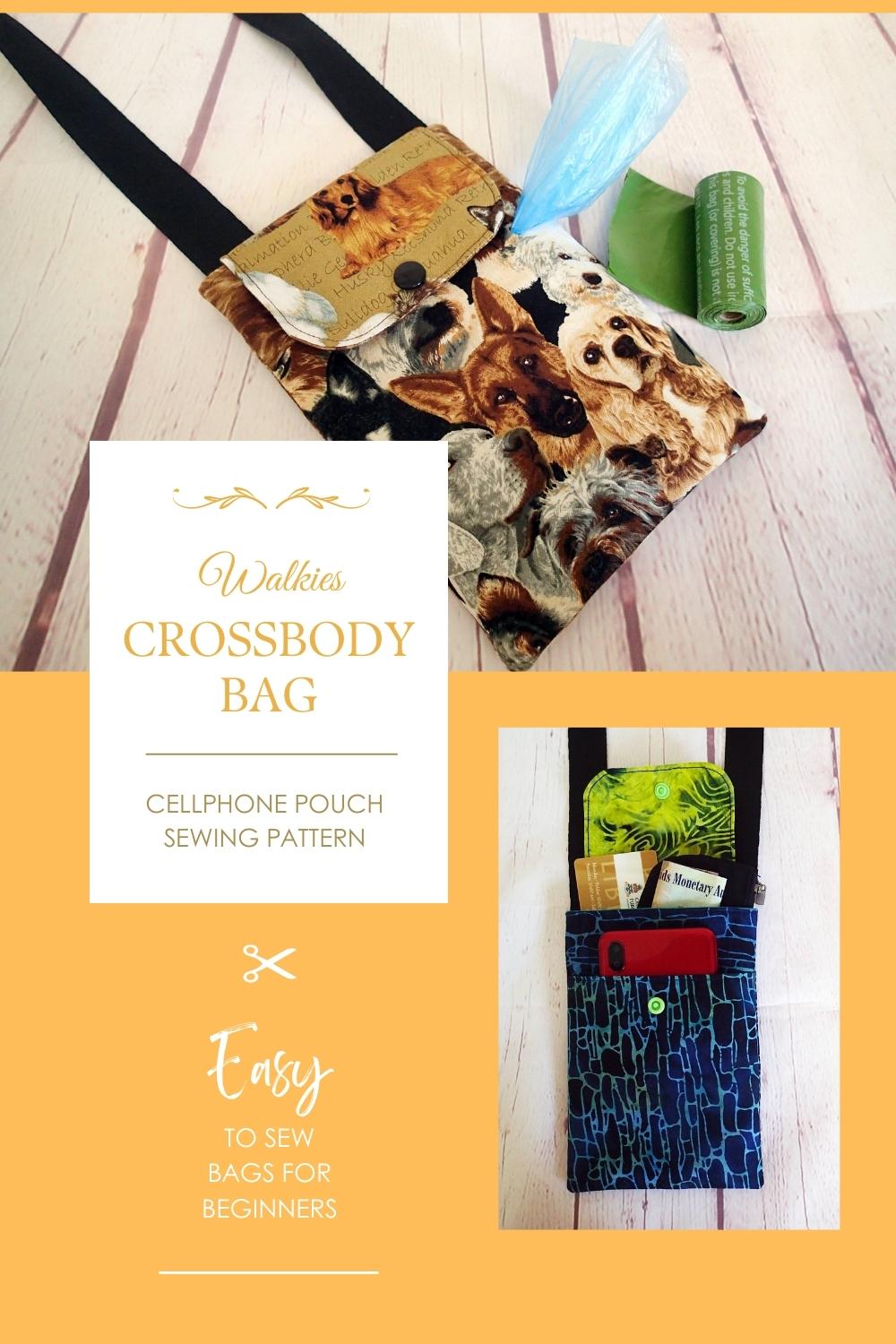 Skill level:
This is a beginner level sewing pattern. If you can sew a straight line with a sewing machine, with some careful sewing you can get a good result with this easy crossbody bag sewing pattern.
Recommended materials for the Walkies Crossbody Bag sewing pattern
This pouch can be sewn with any light to medium weight non-stretch fabrics. I recommend quilting weight cottons, but even old cotton bedsheets and pillow cases or old shirts can be cut up and used to sew these easy bags.
Small pieces of woven interfacing and fusible fleece are also needed, and 1 inch webbing is used for the strap.
More experienced sewers can use fancy fabrics such as silk, satin or crepe de chine. These fabrics can be very floaty and slippery and are not easy to work with if you are a beginner, but can make gorgeous and luxurious bags that are ideal for evening bags.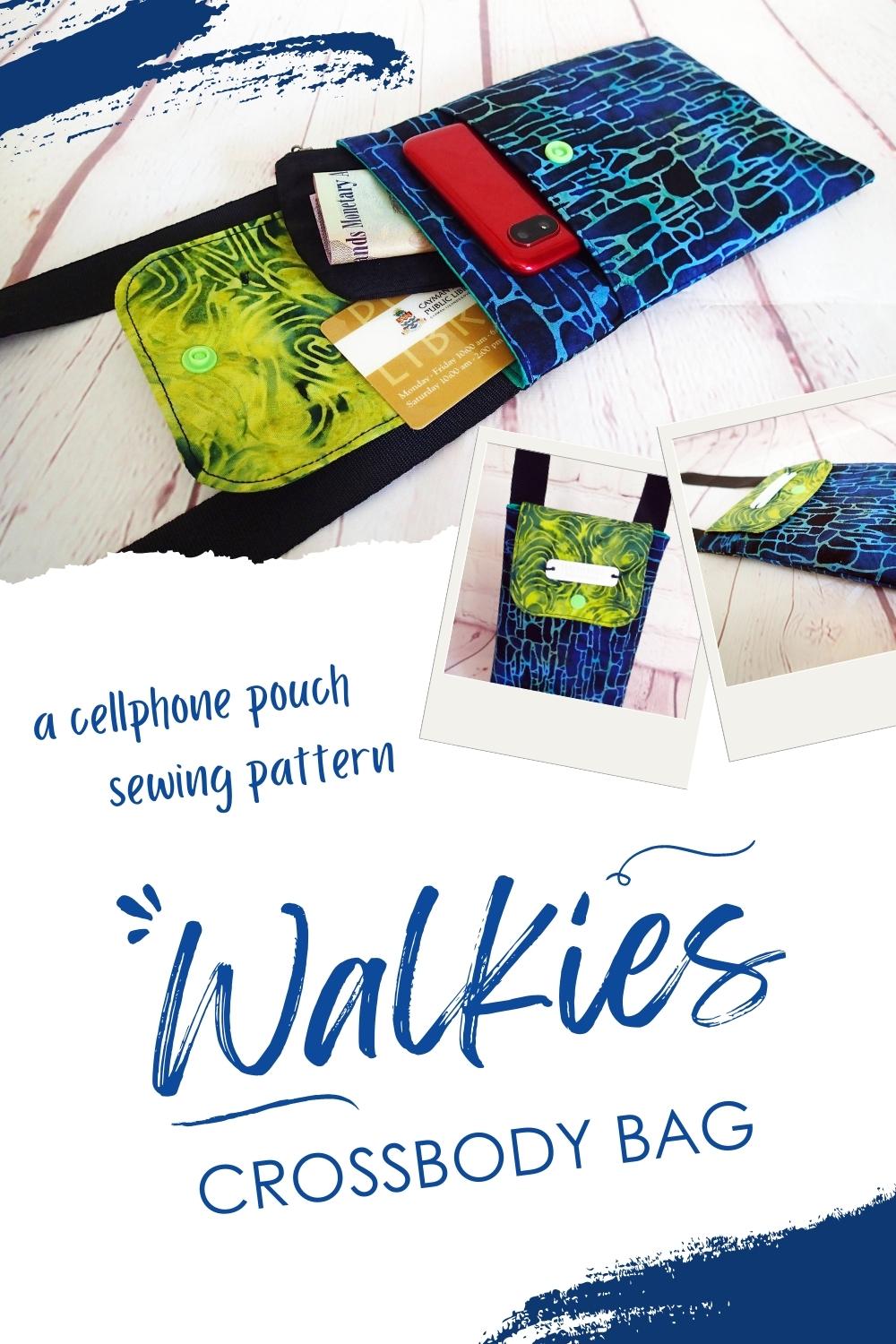 Materials needed:
Fabric – quilting cotton or similar fabric recommended:
Outer – One Fat Quarter (can get 3 bags from a half yard piece)
Lining – One Fat Quarter (can get 4 bag linings from a half yard piece)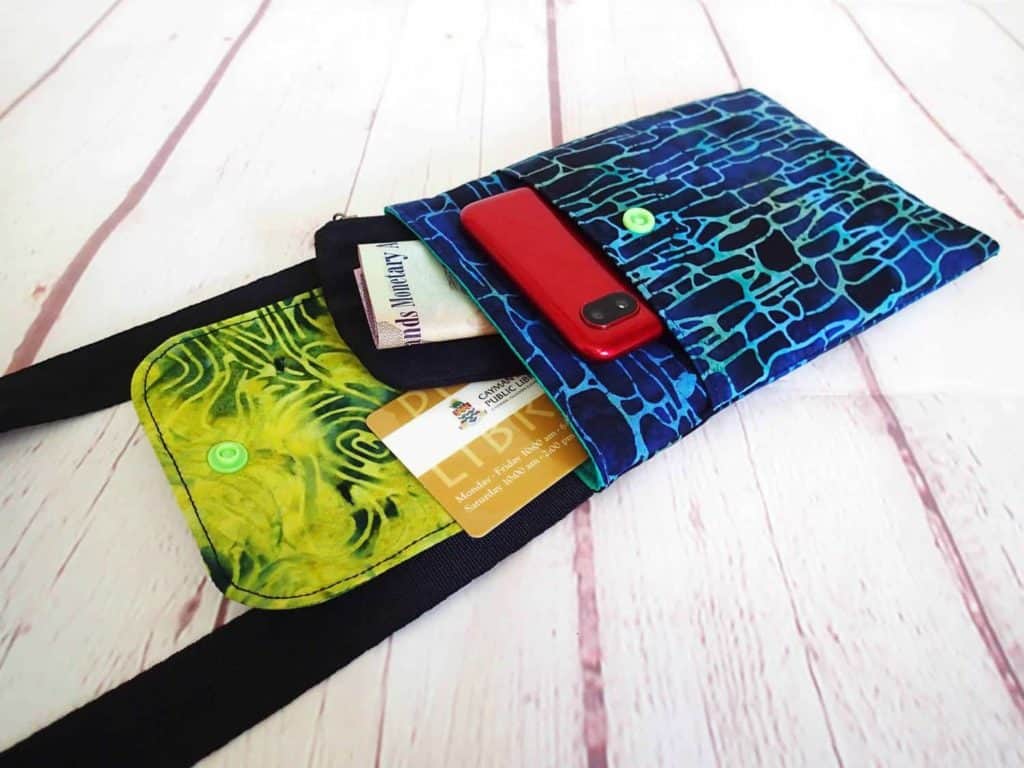 Grab this pattern stash essential now!
Designed as a small doggy walking bag, but ideal for so much more. A cell phone pouch, small crossbody bag or grab and go essentials bag, the Walkies (Doggie) Crossbody Bag has enough space to keep your essentials on hand. You'll love the simplicity of the design, fabric cutting, and construction.
Great gifts for friends or family, a quick and easy sew when you just need to get something done today, and no expensive materials needed. And yes, you can 'sew to sell' these too if you have an Etsy store or sell at craft fairs.
If you would like to download the pdf pattern you can click on the blue button below.
And if you would like to see other bag sewing patterns from this designer then you can click on the red button below.