Vintage Purses to Make, Sew & Embroider
|
All posts may contain affiliate links.

The best thing about making your own bags? You can make them in any style you like, from vintage to ultra-modern, traditional to wacky, plain to bright and bold, and anything and everything in between. This book on Sewing Vintage Style Bags caught our eye this week and is certainly worth adding to your pattern and reference library – with 19 vintage style projects.
Sandrine Kielt-Michaud invites you to make these chic and stylish clasp purses, pouches and cases decorated with vintage fastenings of every size and shape. These wonderful designs are embellished with lace, charms, and stitch embroidery. The book contains 19 projects, ranging from the simple to the highly sophisticated. These purses and pouches will make fantastic gifts for friends and family or perhaps just beautiful accessories of your own.
There are all sorts of small projects that would be ideal for being creative with your fabric scraps, or for adding small embellishments such as hand embroidery, small pieces of lace or trims, and even little charms. These really are very cute and inspiring ideas for making very attractive little bags, pouches and purses.
Choose from 19 vintage-style projects to create evening bags, spectacle cases, coin purses and even small sewing kits. The projects use metal purse frames and there is a useful guide on how to handle these. Many of the projects include pretty hand embroidery and all are beautifully illustrated and with full instructions and templates.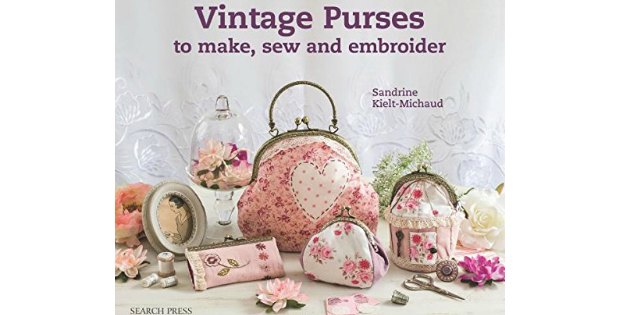 There are great reviews for this book, so do pop on over to Amazon and check out the inside of the book and the reviews, if this looks like it's your style.
Check out the book on Amazon here
These are our most popular purse and handbag sewing patterns
Want even more purses and handbags to sew? Our shop is packed full of hand-picked favorites from talented designers, big and small. Here are a few recent additions you might like. Check them all out in our shop.