Two-timing Tote/Diaper Bag FREE sewing pattern sew-along
|
All posts may contain affiliate links.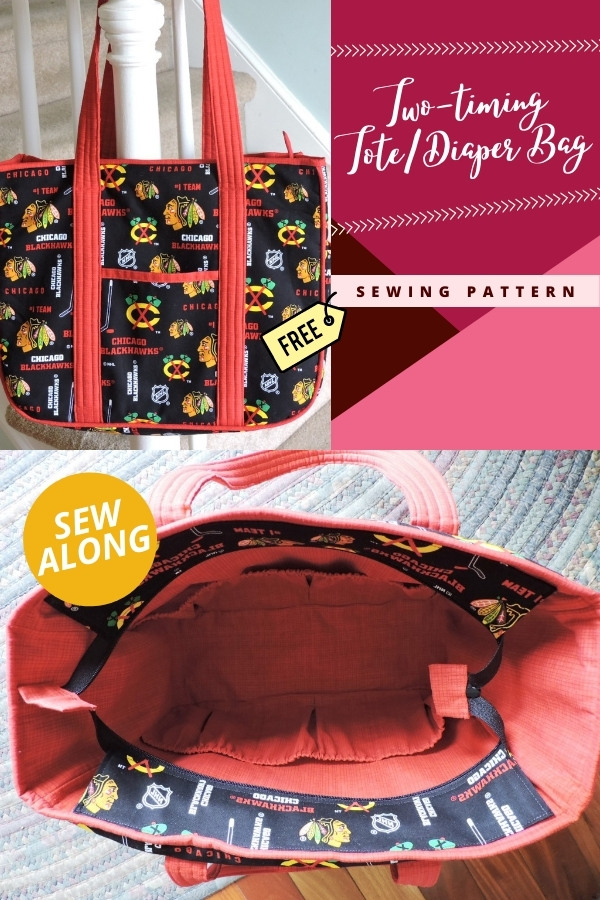 This is the Two-timing Tote/Diaper Bag FREE sewing pattern sew-along from the very talented and generous designer Sweet Bee Buzzings.
Her Two-Timing Tote Bag can also be used as a fabulous diaper bag or as a plain old roomy tote with lots of pockets.
The designer has made these bags using three fabrics before but her favorite way to make them is with two fabrics as she gets to create that faux-piping look at the top! Check out the tutorial for how you can make them and learn a new bag making skill that you can apply to any of your other patterns.
If you've never taken part in one of Sweet Bee Buzzings sew-alongs before then here are a few helpful tidbits:-
She recommends reading through the instructions before you get sewing. In the past, she used to say "Bah!" to instructions (because of course, she knew everything there is to know about everything), and would often find herself ripping out stitches in frustration due to her haste. Reading through might save you some time and will let you know what's coming up.
As if you couldn't already tell, the designer is wordy. She'd rather err on the side of lots of pictures and thorough descriptions (which might annoy the experts — sorry!) than leave you with questions on your project. Also, she hopes that if she gives you a good amount of info you'll be able to adapt it for other projects and really customize your work.
If you're going along and have a "Why didn't she just do it this way instead?" moment please leave a comment. She may have done it for a reason, but she says chances are good you know something she doesn't. She likes to learn new things, especially if it's something easier on her in the end. So if you have a simpler/better way, please do share!
You might find it helpful to label your pieces.
Unless she tells you not to, backstitch at the beginning and end of each seam.
Things you'll learn in this Sweet Bee Buzzings sew-along:-
Making and attaching your own piping (optional, but super cute),
Making elasticized pockets, inside and out (optional, but super functional),
Inserting a 'suspension bridge' zipper (optional but something she wished she had done in all of her diaper bags instead of the ties she used to do),
How to tie a secure pull onto your zipper (optional but she felt like a genius when she figured out this silly little thing…sometimes she's slow 🙂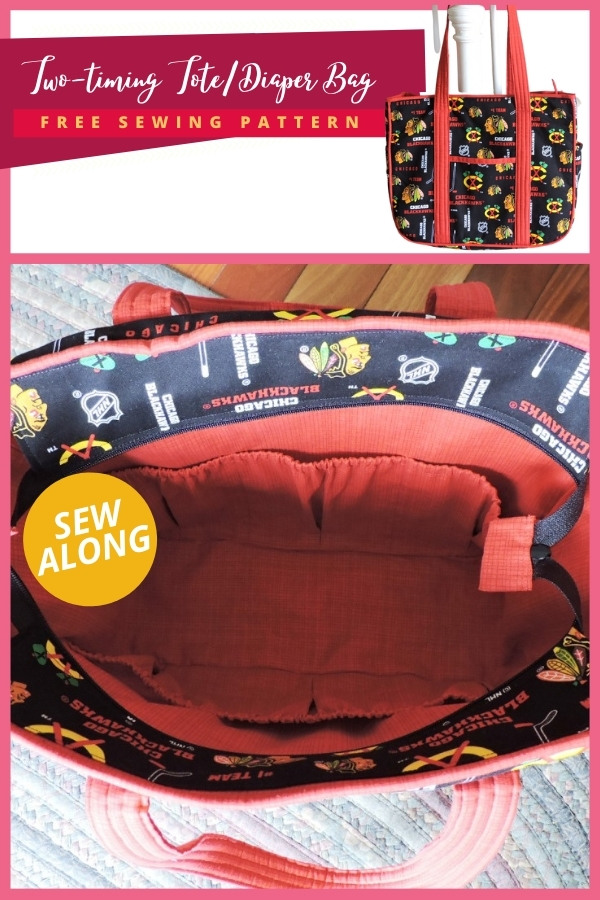 You should figure out what you'll want in your bag so you'll know what supplies you need. Here is the full list for the bag she made including all the bells and whistles. She lists what she used but it is not a requirement — use what is available or what you can afford as this is a more extensive list than usual for one of her projects:-
1 yard of exterior fabric (She used quilting cotton),
2 yards of fabric for the lining, straps, piping, and inside pockets (again, quilting cotton),
2.5 yards of 3/16″ piping cord or similar (see this post for what she used, as well as a tutorial for how to make your piping using either a piping foot or a zipper foot),
One zipper, 22 – 24″ She recommends long pull purse zippers for this large bag as they're a bit sturdier,
One package of 3/8″ elastic,
5/8 yard sew-in fleece (She used Thermolam–if you're a Soft and Stable fan that will work, too. You could also use fusible, but she had trouble getting hers to fuse nicely so she has switched to sew-in. Use what you like),
1/4 yard of fusible fleece (again, she used Thermolam),
2 3/4 yards of fusible interfacing (She used woven Shape Flex 101, 20″ wide),
If you would like to sew up this FREE sewing pattern and follow along with the sew along you can click on the purple button below for all of the info. We hope when your bag is done you will come and share it in our Facebook group.
Click here for the FREE pattern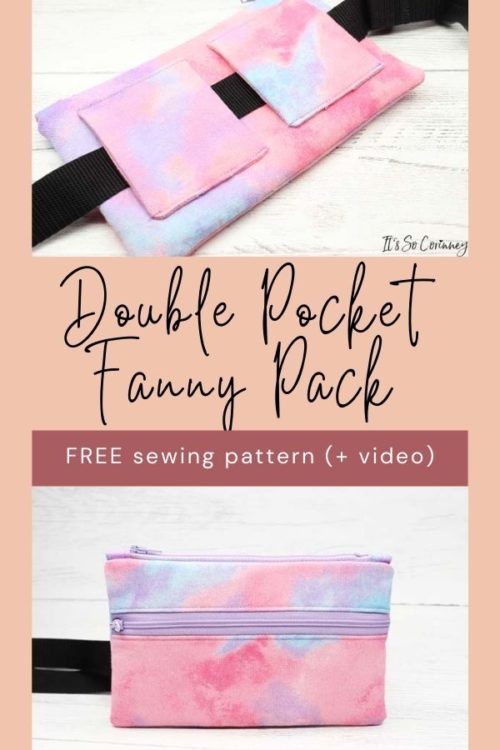 Liking this free pattern? Great! You would make our day if you 'bought us a coffee' to help with the site running costs. Thank you.

Want MORE Free sewing patterns?
Want to find more
FREE sewing patterns
for bags and more? Why not follow the Sew Modern Bags board dedicated to our favorite FREE sewing patterns here. Pin and save your favorite bag sewing patterns to your own boards for later. Don't forget to pin this article too.
More Tote Bags to sew
Everyone needs (a lot) more than one tote bag. They are a staple pattern in every sewing pattern collection and so versatile and adaptable. Check out a few recent tote bag patterns to sew from our store.