Travel Bags sewing pattern (3 sizes)
|
All posts may contain affiliate links.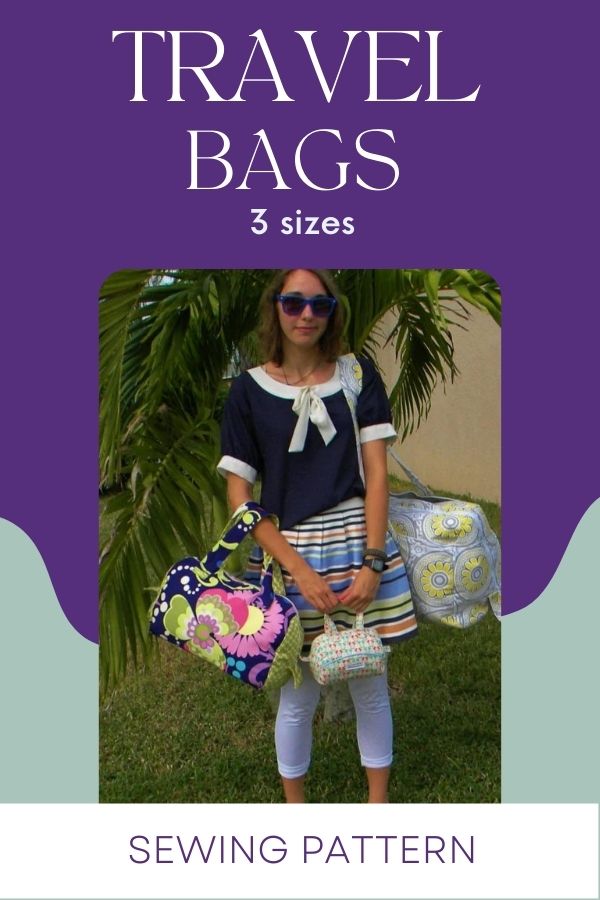 Going somewhere? Got things to store or carry? Then you need just the right set of bags. Then here is a great pattern that has Pack and Go travel bags in three sizes.
Want to sew something for your guy to carry? This pattern works for that too because in the right fabrics, these are a unisex style and they are great for the gym and travel for guys too.
Just choose a fabric that is appropriate for the person receiving the bag and it will be a great hit! The designer created this set of bags to meet the needs of her child's sports gear, her own cosmetics (because she loves the shape of these bags), and for travel. She especially wanted a bag that you could travel with folded up inside the larger bag and then fill up with souvenirs to bring home. She likes that they are lightweight, collapsible, and strong. She hopes they meet your needs as well.
The bags are fully lined, have zipper closures, designed for strength and low weight. The Medium and Large bags have webbing inside the cotton strap covers that create a beautiful strap and one that can handle what you want to put in it. The bottoms are flat and reinforced so they will stay flat and the wide opening makes it easy to get to every inch of space.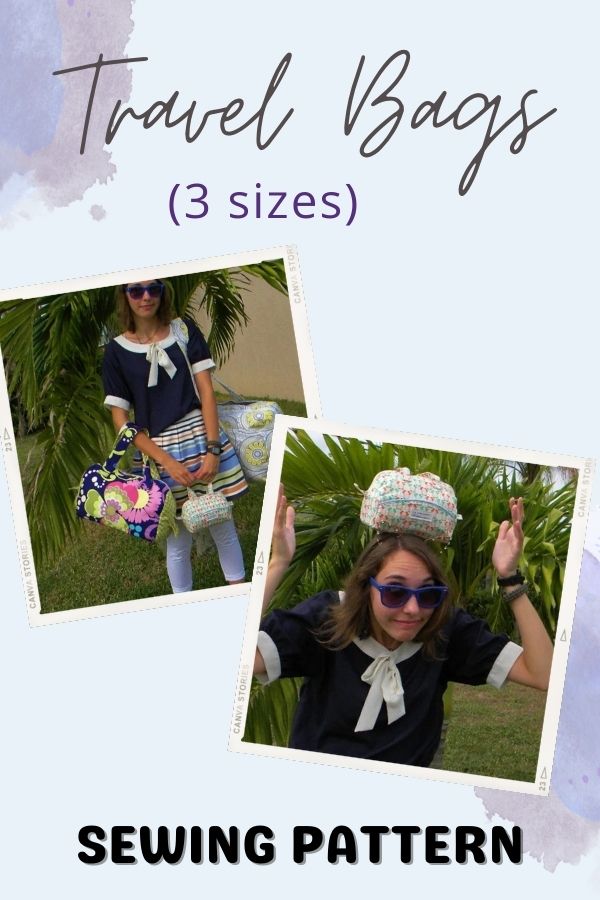 Sizing info:
Small Pack and Go Bag: base is 7¼" by 4″, 4½" high, handles are 10″ long with a 4¾" drop. Has one outside pocket.
Medium Pack and Go Bag: base is 15¾" by 8½", 9½" high, handles are 19½" long with a 9½" drop. Has an outside pocket and an inside pocket.
Large Pack and Go Bag: base is 24″ by 15″, 12½" high, the straps are 43¾" long with a 21½" drop; There are two large outside pockets and multiple inside pockets. You can carry the large bag in a number of different ways due to the longer strap length.
Skill level:
Experienced sewer.
Materials needed:
Small Bag (cosmetic size): ⅓ yards of Fabric A; ⅓ yards of  Fabric B; ⅓ yards of Fusible Fleece Interfacing; ⅓ yards of Fusible Interfacing; a piece of Peltex Interfacing; Zipper 13″; a piece of hook and loop such as Velcro, piping.
Medium Bag (overnight bag/gym gear size): 1 yard of Fabric A; 1 yard of Fabric Lining; ½ yard of Fabric B; ⅓ yards of Fusible Interfacing; ⅔ yards of Fusible Fleece Interfacing; a piece of Peltex interfacing; 28″ two-way zipper; hook and loop; ¾" of Polypropylene webbing, piping.
Large Bag (Travel Bag); 2⅓ yards of Fabric A; 2¾ yards of Fabric B; 2 yards of Fusible Interfacing; 1⅓ yards of Fusible Fleece Interfacing; Peltex Interfacing; 48″ Dual Side Zipper; optional: ¼ yard of heavy canvas or home dec fabric for bottom; hook and loop; 2″ wide seat belt nylon, two pieces 69½" long, piping.
Check out our RESOURCES PAGE full of great recommendations and links for fabric stores and suppliers, interfacing and stabilizers, hardware resources, and zippers.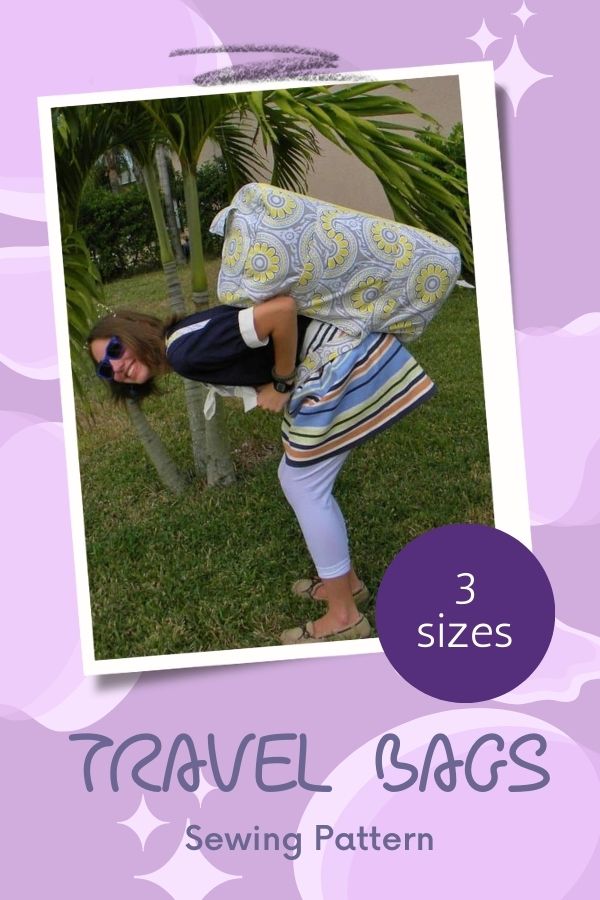 The pattern:
Is full of full-color photographs and also diagrams to accompany the written instructions to give you step-by-step guidance to complete a great bag. Some pattern pieces are obviously larger than the standard 8½" by 11″ so you are given pattern pieces that are complete and just need to be enlarged prior to cutting out. AND you have pattern pieces that will print at 100% on your home printer and then you will need to tape them together. You choose which way you want to print and use the pattern pieces. The designer is available to answer any questions you may have.
Download:
Please note this is a digital download PDF file, not a paper pattern. Please download it immediately after check out.
If you would like to download the pdf pattern you can click on the blue button below.
We think you'll like these patterns for storage and organizers to sew
We know our readers just love to sew storage and organizer projects so we've got lots of them. We've handpicked some of our favorites to feature in our pattern store. These are some of the most popular that are readers are sewing now!