The Journey Bag pattern
|
All posts may contain affiliate links.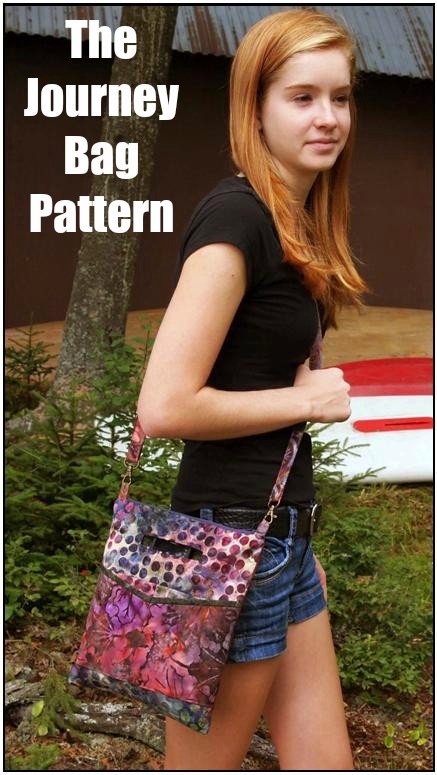 This is the perfect slimline crossbody bag to carry just the essentials, including a specially designed padded pocket for your tablet or e-reader.
The Journey Bag is a fun slimline crossbody bag that has a special front pocket for your cell phone and a padded pocket on the back for any iPad, tablet, or electronic reader. An adjustable strap means you can carry it on the shoulder or as a crossbody bag.
The diagonal pockets make it easy to grab out what you need, when you want it, while also adding an interesting design. The neat trim on the top of the pockets can be sewn in a matching or a contrast fabric, to add to the design.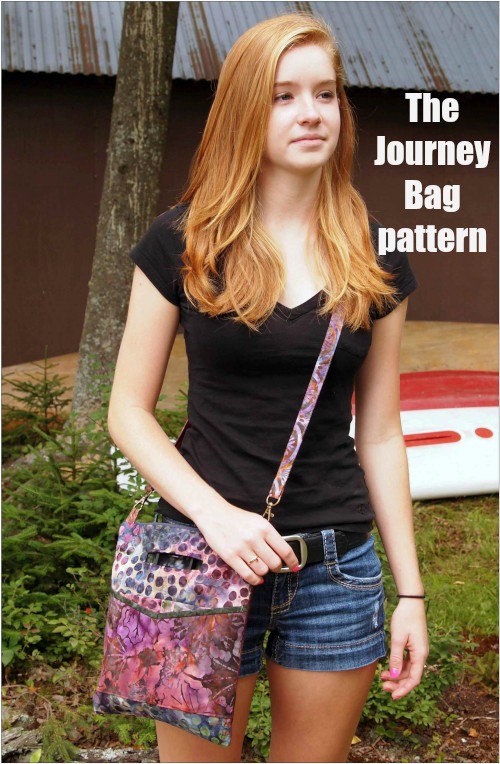 The Journey Bag is a slightly larger crossbody bag than the Izzy Bag by the same designer and with some additional features that might be perfect for you. The designer says – if you fell in love with the Izzy Bag, you'll be in 7th heaven with this crossbody purse.
The front has three outside pockets including one for your cell phone. The back has a large padded pocket for a tablet or iPad
This pattern is fat-quarter-friendly so you can mix and match some pretty coordinating prints or solids, or just use up some smaller leftover pieces of fabric.
When you make your own Journey Bag it will measure approximately 10″ wide by 11.5″ high by 0.5″ deep.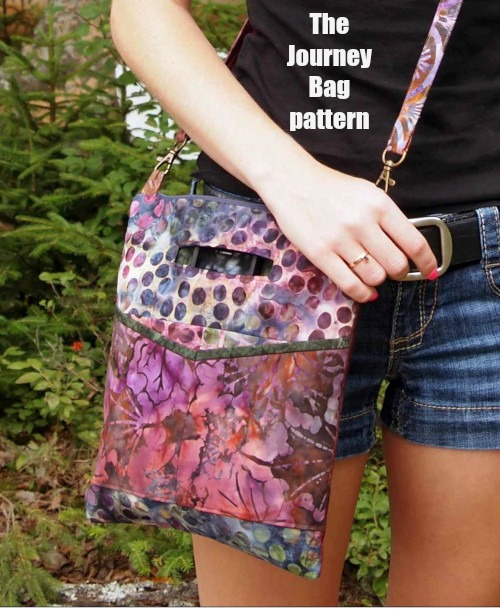 What you will need to make The Journey Bag:-
Please note this is a digital download PDF file, not a paper sewing pattern. And as this pattern is digital no hardware is included. If you would like to download The Journey Bag pattern then you should click on the light blue button below.
And if you would like to see other bag sewing patterns from this designer then you can click on the red button below.
See all patterns by this designer here
Sew more crossbody bags and you'll be happier - we promise 😉
For the easiest shopping and days out, you can't beat a crossbody bag for leaving you hands-free. We've got 60+ of our favorite crossbody bag patterns hand-picked for you in the store. Go to the shop page to find them all saved by category.