The Forever Shopper Bag pattern
|
All posts may contain affiliate links.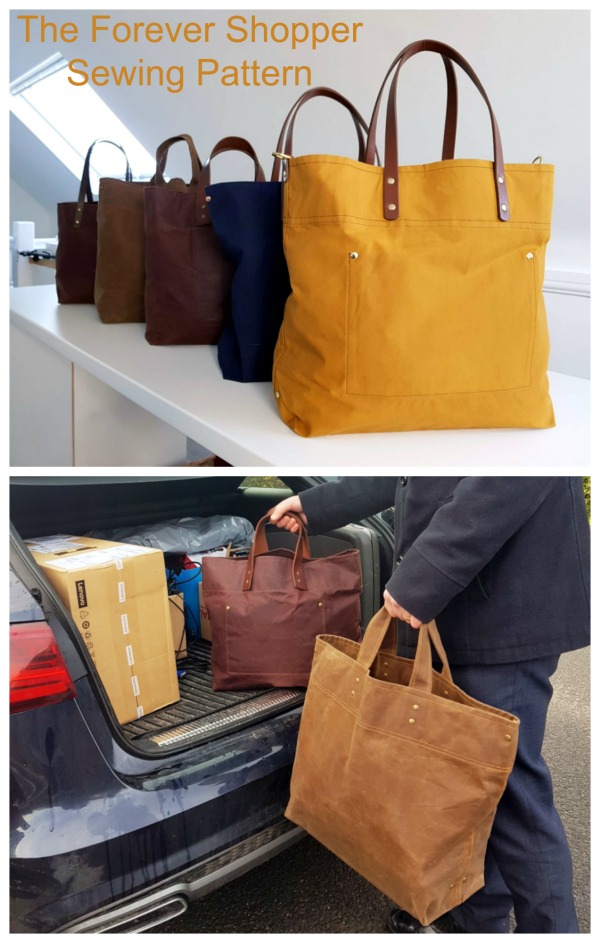 Here's the Forever Shopper Sewing Pattern, which you can download below. We love this designer. Her patterns and tutorials are always professional, concise and very well written. And now the designer has begun to produce YouTube videos, which is excellent news. You can watch the 3 minutes 40-second video below.
The Forever Shopping Sewing Pattern is great for both men and women and actually comes in 2 sizes, with the second smaller sized bag being an added bonus addition to the pattern.
This is a proper retro shopper bag like the good old days, just like your granddad used to have in the cupboard under the stairs. A bag that will last for years and age beautifully, and put an end to wasting money and the planet's resources on disposable bags.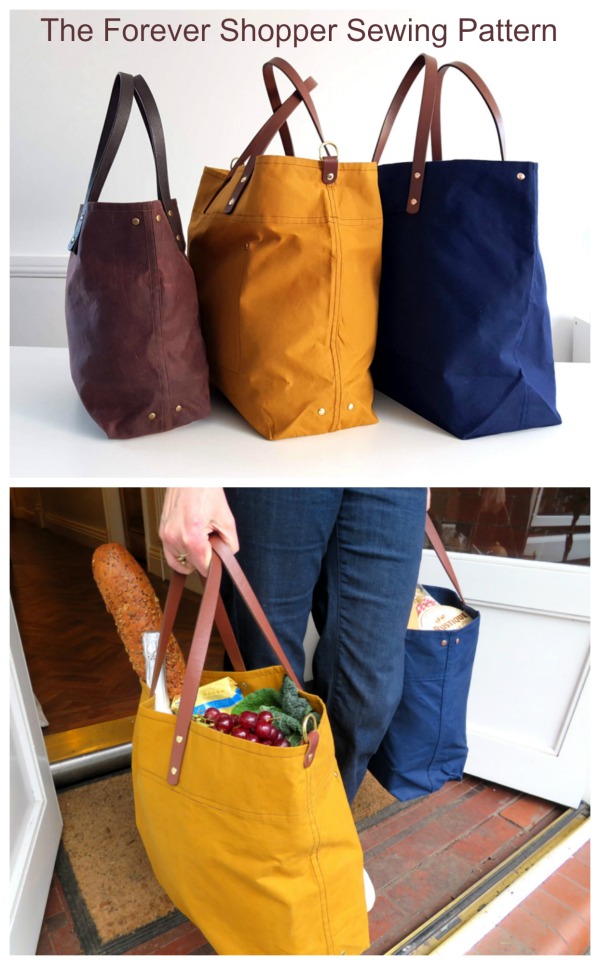 It is made in oilskin, waxed canvas, heavy duck canvas or dry wax canvas so it virtually stands up on its own – an important factor in shopping. The bag has a flat base to allow for huge amounts of shopping and to hold its shape.
With super strong stabilised handles, a generous inside zipper security pocket and a front profile stitched pocket, this bag has everything you need in a shopper bag. You also have an option to add side D-rings to attach a shoulder strap.
Oilskin and waxed canvas are amazing fabrics and virtually stand on their own, making them perfect for a large shopper, yet easy to sew on a domestic machine. Your menfolk are going to love this too, particularly in oilskin, and we know how hard it is to find a bag for men – it looks so weathered and vintage, and it's really water resistant so great for the outdoors.
Here's that short YouTube video we promised you earlier.
Three of these fit beautifully into a large shopping trolley and can accommodate the whole weekly shop, yet fold flat for easy storage.
The second smaller size pattern which is included with the pattern as a bonus is large enough to use as a handbag size shopper. It's great for coffee and shopping at the mall and days out at the park and really great for rainy days. A bag for the outdoors girl.
Oilskin is super strong yet supple, can be sponged clean, and if the look starts getting a little too vintage for you, simply reset the oil or wax again with a hairdryer.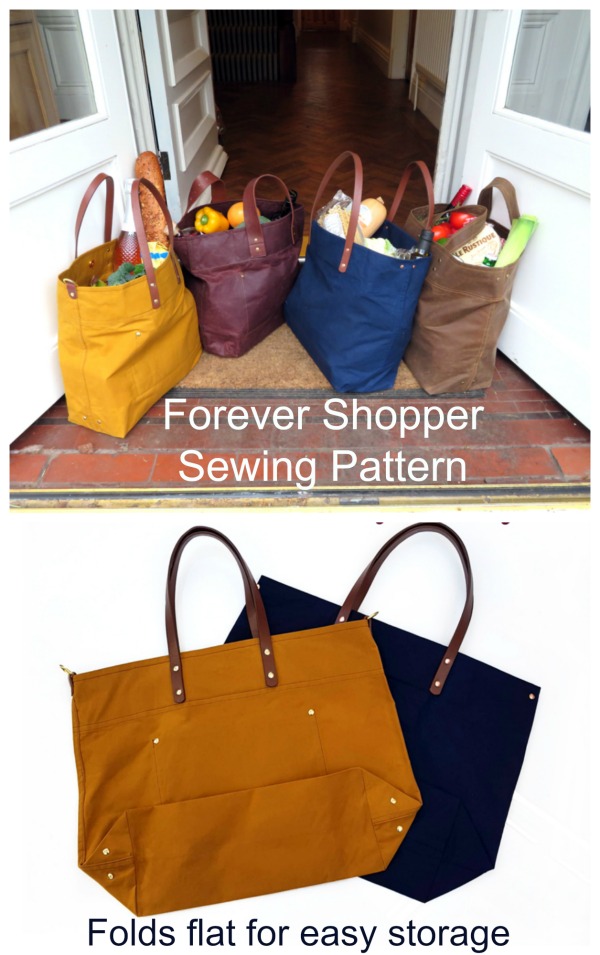 The bag is unlined to keep the bulk down but with chunky feature facings and inside pockets, and made using a super strong durable utility construction of French seams that conceal all raw edges so it will last for years and age beautifully.
Make it with bought straps, ready-made purse handles, self-fabric straps, webbing or even a stolen belt from your partner's wardrobe – the designer includes instructions for all types.
When finished the Forever Shopper Bag measures approximately 19″ by 15″ (48.5 cm by 38 cm) for the large bag and 15″ by 12 ¼" (38 cm by 31 cm) for the small bag.
And if you would like to grab the patterns (and save the planet with your reusable bags) then click on the link below.
See all the patterns for this designer here
Even more tote bag sewing patterns you won't be able to resist
Want even more tote bag sewing patterns? These are the top best selling tote bag patterns in our store. Take a look at the tote bag category on our shop page for even more!