Factotum Office Tote Bag sewing pattern
|
All posts may contain affiliate links.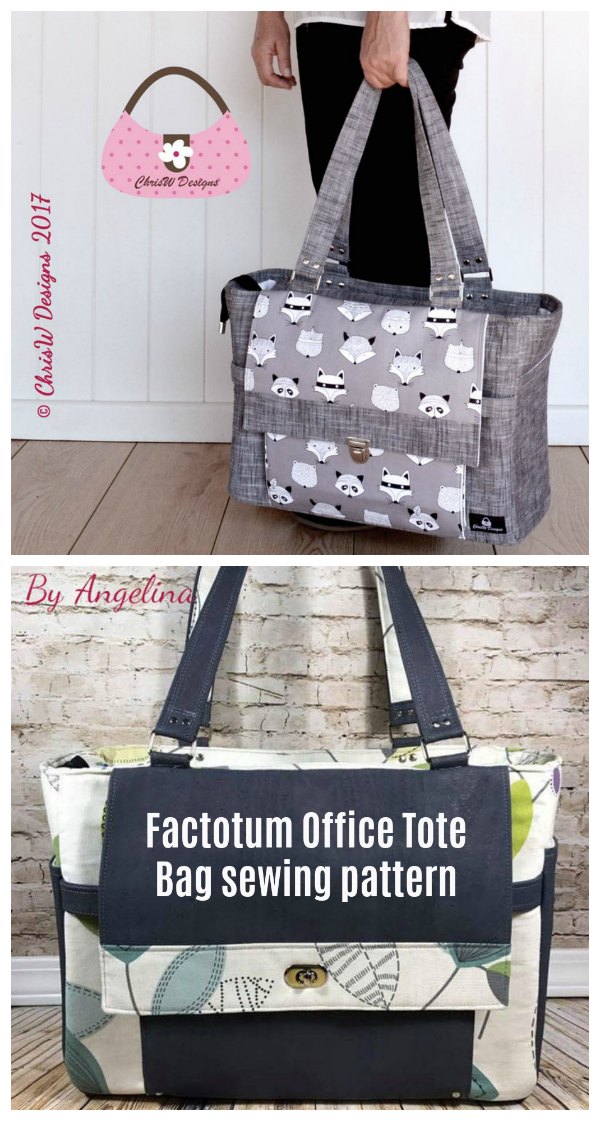 Looking for a big bag to take to work, the office or college? You might just need the Factorum Office Tote Bag. It's a great size and is crammed full of pockets for storage and organization. It definitely looks good and the feedback from sewers and daily users is that it works very well.
It's a BIG bag with not only space for everything, but also all of the pockets and organisation you need when you have a lot to carry.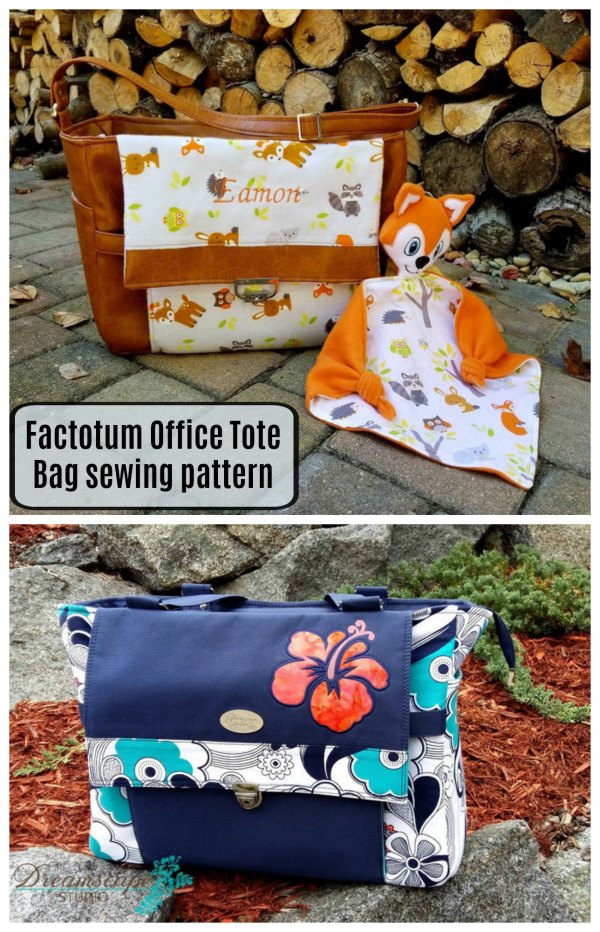 The Factotum has the following features:
At the front of the bag, under the flap, are pen pockets, slip pockets, a divided middle section, and a zipper pocket.
At the back of the bag is a hidden zipper opening to a large document pocket. The document pocket fits A4 & Foolscap folders easily.
There is a slip pocket on each side of the bag.
The main compartment is closed by a recessed zipper.
Inside you will find a Laptop pocket, two side pockets, 2 large slip pockets with a center pen pocket, and a large zipper pocket.
If you want there is also plenty of room inside for another bag to fit. The designer made her Minifacto purse/handbag, which is a smaller crossbody bag, especially for that job.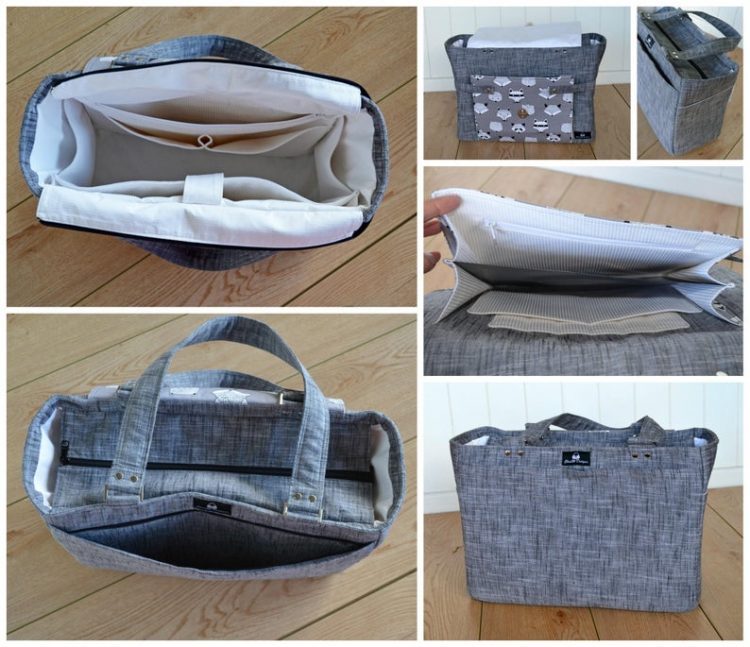 Skill level:
The designer says the Factotum pattern is rated as an advanced project. This is not because it is difficult to sew but because it is a long sew with many pieces to manage and keep track of. It helps to use the cutting labels provided, pinned to your work so you don't lose track of what everything is.
Sizing info:
When you have finished making the Factotum Office Tote Bag it will measure approximately 41cm (16″) wide by 30½cm (12″) high by 18cm (7″) deep.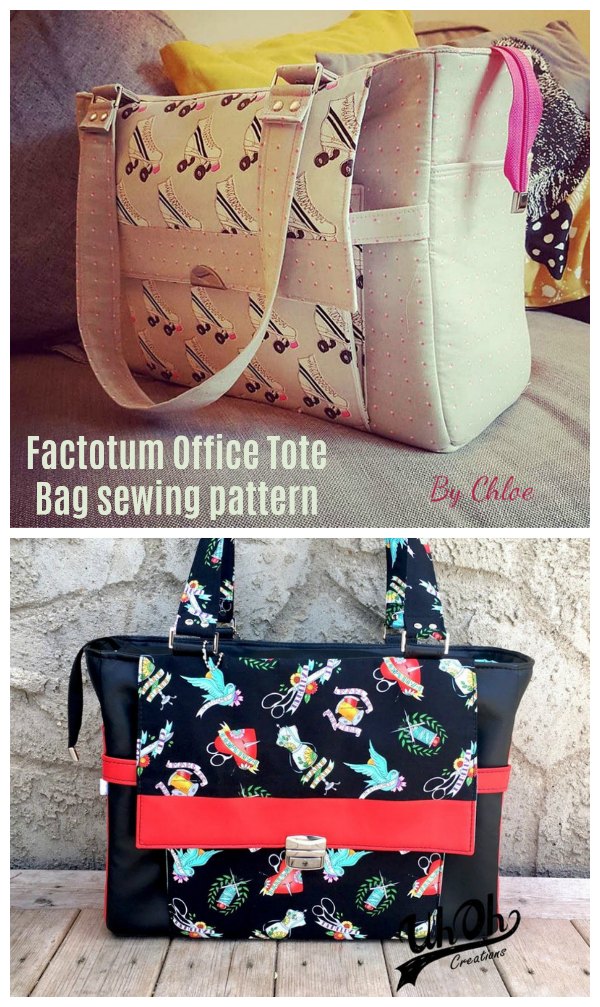 What you will need to make the Factotum Office Tote Bag
1.35m (1½ yard) of 112cm (44") wide exterior fabric.
45cm (½ yard) of 112cm (44") wide of a second exterior fabric.
2.3m (2½ yard) of 112cm (44") wide lining fabric.
51cm (20") wide of Pellon Shape-Flex SF101 fusible woven interfacing. Substitutes are 9.15m (10 yards) of Vilene G700, Therm-o-web HeatnBond, or DHJ501.
30cm (12") of Fusible Fleece such as Thermolam Plus or Vilene H640.
40½cm (16″) wide by 16cm (6¼") high Coreflute.
Matching thread.
One #5 56cm (22″) handbag zipper for the main closure.
One 23cm (9") dress zipper for the front zipper pocket.
One 35cm (14″) dress zipper for the interior zipper pocket.
One 46cm (18″) dress zipper for the hidden zipper pocket.
Four 3.8cm (1½) "rectangular rings.
One thumb catch.
Three press snaps.
Four 12mm bag feet.
One metal zipper end.
Twenty 9mm (cap) by 8mm (stem) double capped rivets or Chicago screws.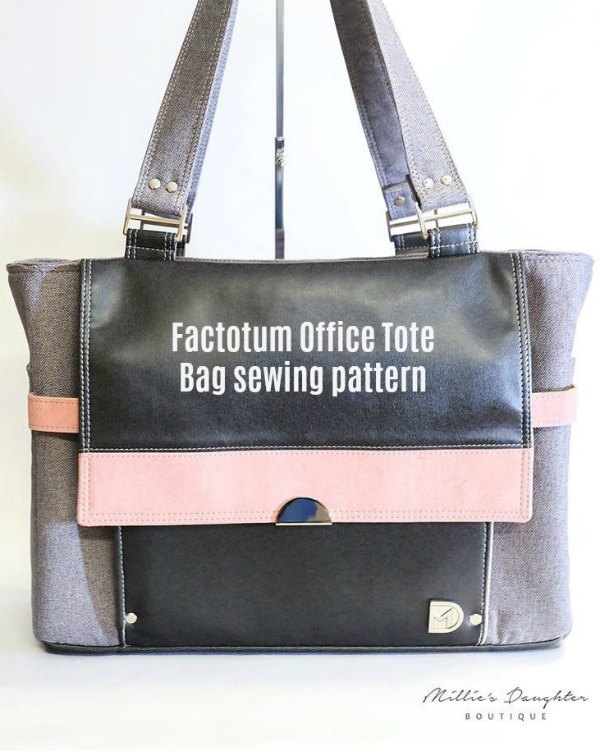 If you would like to buy yourself the digital pattern for the Factotum Office Tote Bag then you should click on the link below. You will then be able to download your full requirements list and 47 pages of comprehensive instructions which include 144 step by step color photos. There are printing instructions and test squares to check your scale, plus 5 pattern pieces are included for shaped pieces. Cutting Labels are provided for measurement pieces for your convenience.
---
---
Even more tote bag sewing patterns you won't be able to resist
Want even more tote bag sewing patterns? These are the top best selling tote bag patterns in our store. Take a look at the tote bag category on our shop page for even more!