The Crafty Pack sewing pattern
|
All posts may contain affiliate links.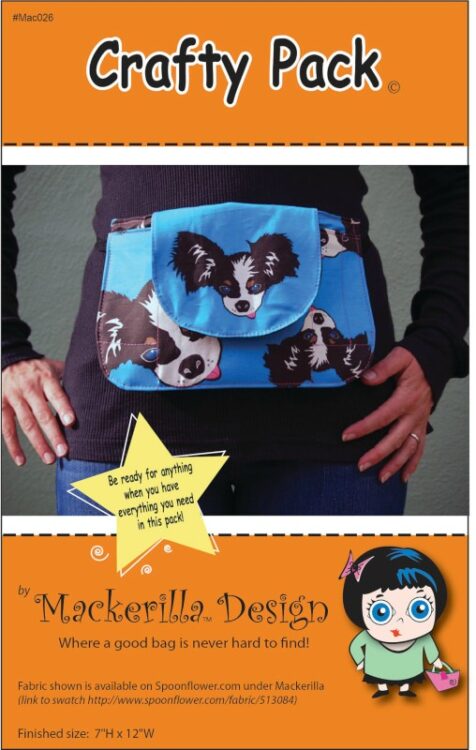 This talented designer has designed a waist bag suitable for crafters, sellers, gardeners, or for traveling. It's definitely a fun and practical project.
This pattern is a cheeky take on the ol' fanny pack! Great for anyone that is a vendor at craft fairs. You can carry everything you need for your sales, especially your money pouch!
It's also a great design for anyone who is in the service industry like a waiter or waitress, or wedding coordinator and needs to be hands-on with their stuff.
As to which fabrics you should use the designer recommends:-
lightweight cotton fabric (use stabilizer with light cotton),
heavy cotton canvas or twill,
upholstery fabric,
cotton duck or Cordura.
When you have finished making yourself a Crafty Pack it will measure approximately 7″ high by 12″ wide.
What you will need to make a Crafty Pack:-
1/2 yard of 44″ – 46″ wide fabric,
1-yard at 22″ wide of stabilizer (optional),
1″ wide shoe lace at 54″ or longer or 1″ wide of ribbon,
Velcro (either precut square or circle at 1″),
See all the patterns by this designer
More storage and organizers to sew
Want even more ideas for projects to sew for storage and organizers? We love to sew bags that help to keep things neat and tidy. Check out a few recent storage ideas to sew from our store.