The Carry It All Reversible Tote Bag – FREE sewing tutorial
|
All posts may contain affiliate links.
UPDATE – October 2019. Please note that this pattern is no longer available as the website (My Daily Bubble) that it was featured on has since shut down.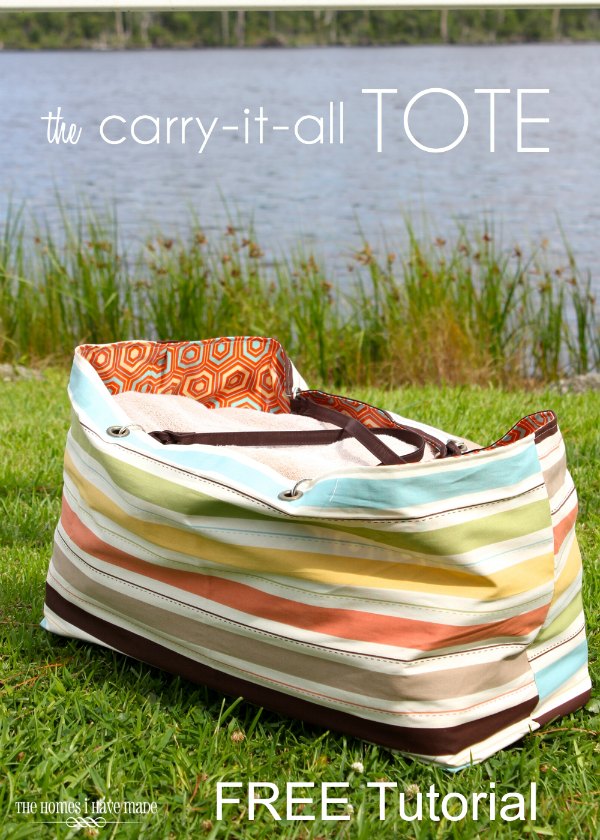 At SewModernBags we are always looking out for FREE patterns and tutorials and now and again we find one from a designer which is absolutely fabulous. The Carry It All Tote Bag is one of those tutorials. The designer has clearly spent many many hours of her time on the tutorial and the step by step tutorial photos are awesome.
This is the perfect bag to make your beach and pool days a lot easier. This super-sized tote will carry everything you and your young ones want to take. The designer has said that her pictures might be a bit deceiving, but she has 5 full-sized beach towels stuffed into her Carry It All Tote Bag with room to spare.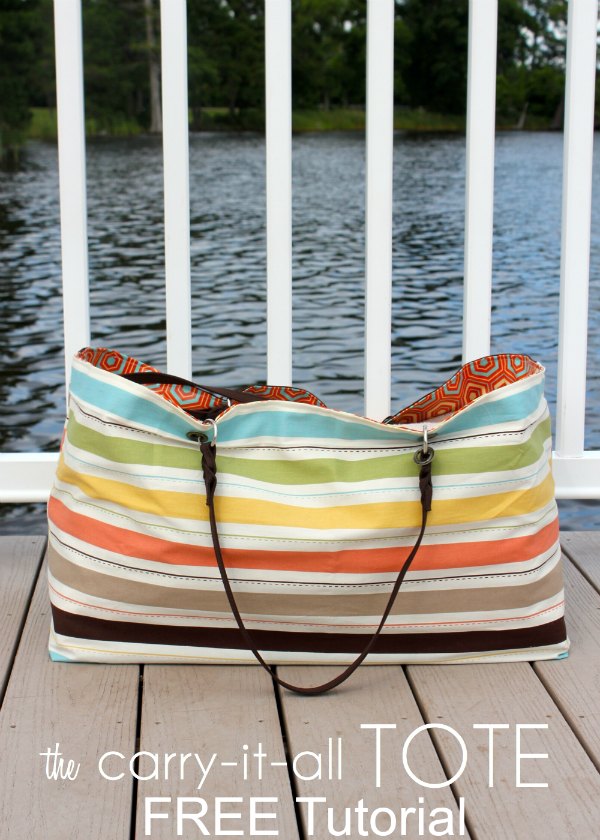 And as an added bonus this Tote Bag is reversible. If you take a heavy-weight cotton twill with a coordinating oil-cloth then you'll be able to make your Tote Bag both reversible and also water-proof. This means you can use your Tote Bag to carry wet towels (oil-cloth side in) or you can place your Tote Bag down on a wet pool deck (oil-cloth side out). The designer in her example of Tote Bag used some hex oilcloth which she then matched with an old striped shower curtain from Target.
The Carry It All Tote Bag is the ideal project for a beginner sewer as it is both quick and simple. The finished bag measures 23" wide by 10" deep by 15" high. But if you want to make it bigger or smaller it is easy to make a few changes.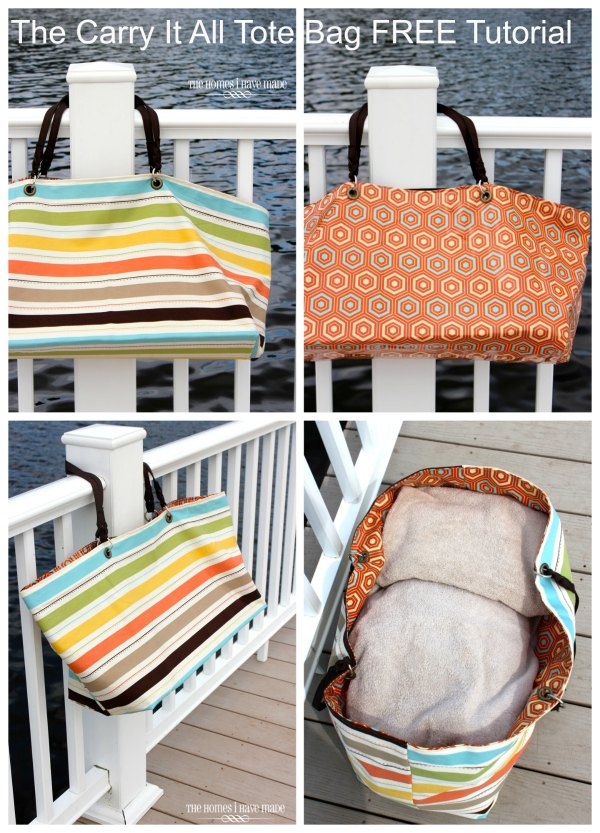 What you will need to make The Carry It All Tote Bag
1 yard of cotton fabric, the heavier the weight the better for extra strength
1 yard of oilcloth, optional (you can also line it with another cotton, the same print as the outside, or nothing at all)
½ yard of ultra-firm stabilizer, optional (this is for the bottom of the bag, the designer used Peltex)
Grommets in the size and shape of your choice (the designers were 7/16th")
Purse handle of your choice (the designers' brown braided handle was from Hancock Fabrics)
Coordinating thread
NOTE the pattern is no longer available. click here for our entire archive of tote bag patterns instead
Even more tote bag sewing patterns you won't be able to resist
Want even more tote bag sewing patterns? These are the top best selling tote bag patterns in our store. Take a look at the tote bag category on our shop page for even more!