How to tie an easy knot in thread – FREE video tutorial
|
All posts may contain affiliate links.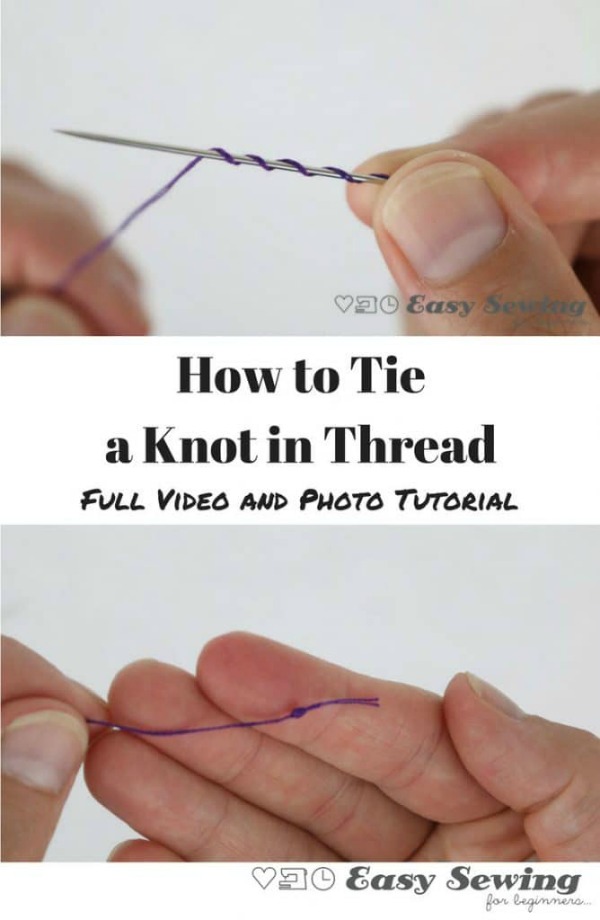 At Sew Modern Bags we bring you lots of fabulous sewing patterns each week. However, now and again we come across a training video or photo tutorial that we feel we just HAVE to share with you! Some popular sewing bloggers are so talented and so easy to watch and listen to that they are a must to see.
Whether your best way to learn is to watch a video or to read a tutorial and look at some photos, we have an excellent post for you here. It's a basic sewing task that we all have to do every day but it's always great to learn a novel way to do it. It's the task of how to tie an easy knot in a piece of thread, using a quilter's knot.
Domenica of Easy Sewing For Beginners advises that this knot is so fantastic because you can make a small knot or a larger knot by doing one part of the technique slightly differently. Once you know how to do this knot you will find it very easy and with a bit of practice at it you'll use it for all your knots in thread.
And as a real help to everyone, Domenica will be showing you the left-handed way as well as the right-handed way. As Domenica is left-handed she had to practice the right-handed way which we are very happy she did as we are not left-handed. That would have been very confusing for us trying to do it left-handed.
So all you now have to do is decide whether you want to watch the video or read the photo tutorial.
Dominica's video tutorial is shown just here and if you want to read Dominica's photo tutorial then click on the purple button below.
Click here for the FREE video tutorial
Liking this free pattern? Great! You would make our day if you 'bought us a coffee' to help with the site running costs. Thank you.

Want MORE Free sewing patterns?
Want to find more
FREE sewing patterns
for bags and more? Why not follow the Sew Modern Bags board dedicated to our favorite FREE sewing patterns here. Pin and save your favorite bag sewing patterns to your own boards for later. Don't forget to pin this article too.