Sew an easy fabric wallet – video
|
All posts may contain affiliate links.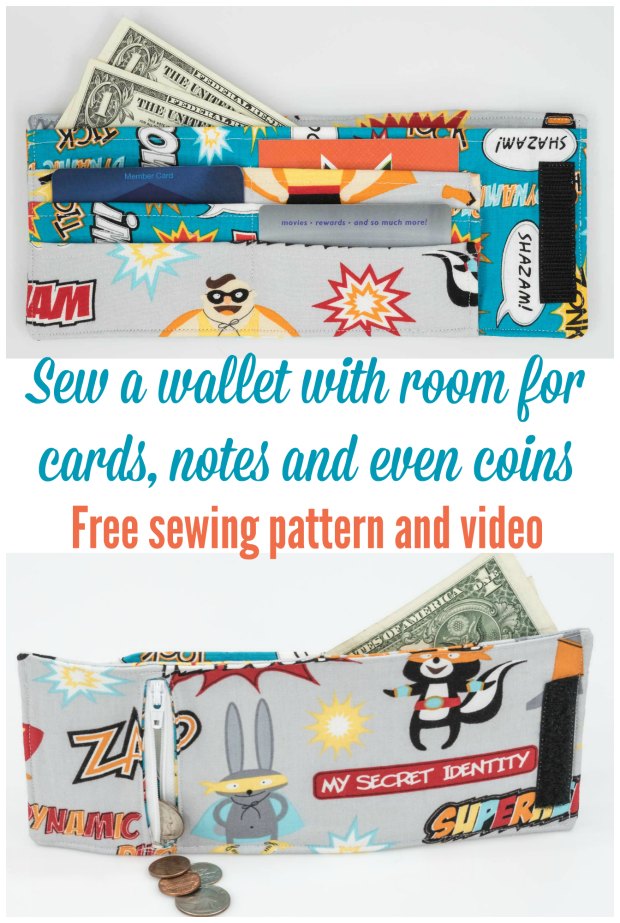 Is there anything you can't make with fabric?  Actually, there's quite a few things, but, there's also a lot of cool things that you can make with fabric, like this really snappy wallet.  Regardless, if you're using 1 type of fabric or 2 types, you can make a cute wallet either for yourself or a friend.  This tutorial covers making the pattern pieces and the assembly of the wallet.
Wallet features:
Room for 6 cards
Space in the back for your notes
A small zipper pocket for coins
Hook and loop closure
Full video tutorial – below.
This wallet has a hook and loop closure but you can always change this if you wish for a snap or magnetic closure.  For the coin zippered pocket, use a zipper shortened to 3 1/2″.  Also, because you're sewing through a lot of layers, you may want to use a heavier needle, like a denim needle.
Correct Pattern Sizes
Main Wallet 4.5″ X 10.5″
Large Pocket 8″ X 10.5″
Credit Card Pockets 4″ X 8.5″
Coin Pocket 6″ X 4.5″
Want to learn more about sewing wallets, and try your hand at 3 different projects?  Check out the Sewing Wallets, Step by Step class on Craftsy.